Hello, and welcome back to Tomorrow Will Be Worse!
In light of recent news that Elon Musk's extremely pro-Russian proposal to end the war in Ukraine had actually/allegedly been born of a conversation he had with Vladimir Putin, I've been thinking a lot more about how Musk is our generation's Henry Ford. A brilliant automotive innovator and industrialist who, to our chagrin, decides that making cars better and better is too small a job for his large mind and decides to dabble in politics. If he could solve cars, why couldn't he solve the world's most complex political problems? He is, after all, a genius.
Unfortunately, for all of us, both Musk and Ford's egos come with some pretty ugly politics. Ford bought a newspaper just so he could the publish anti-Semitic tracts that were too outlandish for other outlets, and played footsie with Adolf Hitler, whom he evidently saw as a great man. Must wants to buy Twitter because he thinks he knows better how that media platform should be run and is playing footsie with the land-grabbing, European ethnofascist du jour: Vladimir Putin.
But those are just my musings. My colleague Tina Nguyen went and got the goods, diving into the reams of Elon Musk's text messages that came out in the now-likely-defunct Twitter lawsuit. Tina does a masterful job of decoding them and taking us on this safari, telling us which right-winger whispering in Musk's ear is which. What struck me about Tina's piece, though, is the extent to which Musk, who loves to pat himself on the back as an independent, even renegade, thinker, is so at the mercy of the advice of right-wingers pinging his phone. It's like he's less of a thought leader, and more of a weathervane.
Have a look for yourself.
I'll see you back here next week everybody. In the meantime, good night. Tomorrow will be worse.
Julia
I was poring over the 33 pages of Elon Musk's texts, recently disclosed in court filings submitted in his now possibly defunct Twitter litigation, when I stumbled across an intriguing exchange. An unidentified person, their name redacted by the court, had sent Musk an article hypothesizing the potential backlash to him owning Twitter, and offering suggestions about how to manage the re-platforming of certain banned right-wing power users, including "the boss"—codename among Trump's underlings for the big man, himself.

The link to the article wasn't included in the exchange, but it was simple enough to uncover its origin on the far-right website Revolver News. The piece heralded Musk's potential acquisition as "nothing less than a declaration of war against the Globalist American Empire" and went on to describe Twitter as a platform controlled by "America's decrepit and illegitimate ruling class" to promote its liberal agenda on everything from transgender people to the war in Ukraine.

It is unclear how Musk responded to this person, if he did so at all. The contents of the article, after all, are pretty edgy, even for Musk, a self-described "edge-lord" whose politics have drifted steadily rightward in the post-Obama era. But it's representative of the broader intellectual pressure campaign by major conservative business leaders, personalities, donors, and politicians to shape Musk's thinking about free speech and his moderation policies on Twitter.

The Musk emails and texts have made a couple of things clear about the billionaire's increasingly reckless and over-expensive attempt to colonize Twitter. First, it seems like his impulsive decision to buy the platform may have been influenced by his various buddies and hangers-on. Secondly, his channels sure suggest that he's very aware of their ideas about how he might manage his new toy. Regarding the latter, Musk seems open to being the fawned-over subject of a not-so-secret influence campaign regarding content moderation and other matters. The influence is subtle, but tells what sort of ideas are floating around Musk's circles, and maybe even penetrating his brain. (Despite agreeing to the terms of the original $54.20/share deal in order to avoid litigation, Musk is still far from consummation. See my Puck partner Bill Cohan's brilliant analysis of the forthcoming dynamite stick he needs to defuse.)

Some of these ideological trial balloons are facilitated by wealthy interlocutors conveying messages between Elon and G.O.P figures, like former congressman Justin Amash (a libertarian who allegedly offered advice on navigating Section 230), to Florida Governor Ron DeSantis (who, according to the texts, called venture capitalist Joe Lonsdale with "ideas how to help"). A contact named "TJ" decried "woke-ism" and Twitter's suspension of the conservative satire site The Babylon Bee, while Mathias Döpfner, the Axel Springer C.E.O., peppered him with algorithmically-driven proposals to make the platform more robust.

Whoever sent Musk the Revolver News article is likely a member of the Tucker Carlson School of Twitter Philosophy, which espouses that Twitter is part of a nefarious national security apparatus manipulated by global elites. (This person also suggested that Elon could disrupt Twitter's own deep state by hiring "someone who has a savvy cultural/political view to be VP of actual enforcement. A Blake Masters type.") And then there's Joe Rogan, the mega-popular podcaster, whose amorphous approach to anti-woke culture might be the most similar to Musk, who suggested that they throw a "hell of a party" if the acquisition were to be completed.

Musk's texts don't indicate exactly where his head is—he insisted later to investor Michael Kives that Twitter was not going to turn into "some right-wing nuthouse"—but given the capricious nature of how he's approached the Twitter acquisition, and his recent prevarications on the Russia-Ukrainian war, I would not be surprised if his definition of "right-wing nuthouse" changes over time, too. But it should be noted that if things were to go the way of the mysterious unidentified texter, one might see a situation where Musk lays out a sketchy, laissez-faire free speech policy that's designed to please everyone on the surface, but hands over responsibility of enforcing those rules on a day-to-day basis to someone more ideologically stringent. After all, it's the realities of running a large corporation, and Musk, who's already running Tesla and SpaceX, cannot personally call everyone who posts an offensive tweet and tell them why they are wrong, like he recently did after Kanye West posted a blatantly anti-Semitic tweet.

Whoever Musk taps for this position may have the most consequential job in the American discourse, or at least the shittiest. And considering the people in his address book, he might end up going with "a Blake Masters type" after all.
ADVERTISEMENT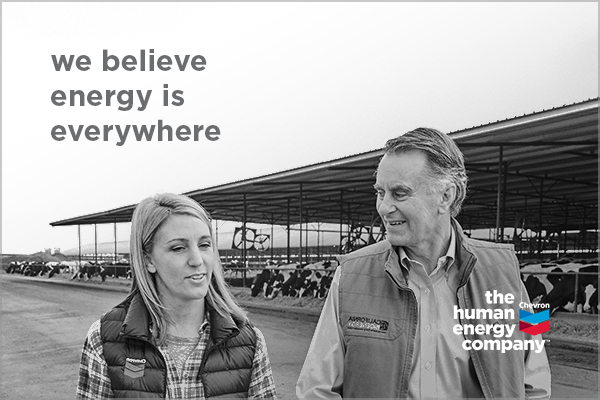 We believe the future of energy is lower carbon, and we're looking into some unexpected places to help get there. At Chevron, we're exploring innovative energy solutions, like creating renewable natural gas (RNG) from dairy cow waste. In collaboration with CalBio Biogas, we're converting the methane from the waste equivalent of nearly 80,000 dairy cows into RNG. This RNG could help reduce yearly emissions from animal manure by 258 million tons. And, we're ahead of our plans to grow RNG production 10x by 2025. Because we believe renewable fuels will help us reach a brighter future. And we're looking far and wide—even to dairy cows—to help get there.
Musk's revived prospective Twitter takeover seems to be accelerating the already drawn-out, prolonged death of the proposed merger between the Trump Media and Technology Group (TMTG), Trump's fledgling multimedia company and Truth Social parentco, and DWAC, the special purpose acquisition company that was supposed to turn TMTG into a publicly-traded, billion-dollar behemoth. The stock took another hit in the days after Musk re-announced he would buy Twitter—DWAC is now trading at roughly $16 a share, down from its all-time high of $97.

On Monday, DWAC punted a shareholder vote to extend the deadline for a consummated merger for the second time because they were unable to get a supermajority of shareholders to participate—despite C.E.O. Patrick Orlando practically begging Truth Social users to vote. Worse, Trump seems to be less and less interested in helping complete the merger, saying at a rally earlier this month that Truth Social was "hot as a pistol" and didn't need DWAC's money to keep going: "Now look, if they don't come up with the financing, I'll have it private. Truth Social is hot, easy to have it private. You don't have to go through all this."

This has been, as the kids put it, an extremely cursed transaction, rife with far too many confusing acronyms: an S.E.C. investigation into whether TMTG and DWAC improperly communicated with each other (prior to DWAC going public) has delayed the merger numerous times, and investors in a separate PIPE financing vehicle have begun pulling their money out. Throw in the prospect of a Musk-controlled Twitter, which could pose an existential threat to smaller, anti-woke, cancel-free social media platforms, and it's no wonder that investors are fleeing.

While Truth Social has notched a few wins in the past few weeks, such as launching an Android version of the app for Samsung Galaxy phones, and has become known as the place to read what Trump's thinking at any given moment, it's unclear whether a privately-owned Truth Social can pull in enough advertising revenue to be financially solvent, or who might float the necessary cash to sustain its operations until it reaches some modicum of profitability. TMTG currently owes RightForge, one of the vendors providing Truth Social with web-servicing infrastructure, $1.6 million dollars. That's not a lot of dough, to be sure, but it's not a good sign if Trump is already stiffing people. That usually comes later in his business cycle.

And then there's the multimillion-dollar question: if Musk comes back, would Trump scrap the entire project and actually return to Twitter and his 80 million followers, thus obviating the need to have Truth Social in the first place? "I'm not sure he even knows," a Trumpworld advisor told me when I asked. "I think it depends on what he does. If he doesn't run again, there's really no need for Twitter. If he does run, it'll be a big political tool."
ADVERTISEMENT

Now, Back to Planet Earth… Sort of…
Last month, I was talking to Pittsburgh-based political reporter Salena Zito, who relayed an odd political totem that she'd begun to see around Pennsylvania: lawn signs that were promoting both Josh Shapiro and Mehmet Oz—the Democratic candidate for governor, and the Republican candidate for the Senate, respectively —on the same placard. It's the latest in a string of anec-data points suggesting that split-ticket Oz-Shapiro voters are a legitimate phenomenon, seemingly defying the trends of 2022 tribalism. Against all odds, Oz, who started the summer with a double-digit gulf behind his Democratic rival John Fetterman, is slowly clawing his way back up the polls while support for his aspiring gubernatorial counterpart, the highly-conspiratorial, election-denying Christian nationalist Doug Mastriano, has stagnated. "That's going against the grain in recent elections where we've seen an increase in straight party voting," Terry Madonna, the former director of the Franklin & Marshall College Poll and the Senior Fellow in Residence for Political Affairs at Millersville University, told me. "That has to do in part with the positive side of Shapiro, and in part the downsides for Mastriano. His positions have caused tremors for traditional establishment Republicans."

Granted, those same polls show Fetterman still hanging onto the lead, both in terms of voters and favorability. But factor in a growing sense that those very polls might over-index in the Democrats' favor, and mounting coverage of Fetterman's health—the lieutenant governor suffered a stroke around the primaries, and he is still in active recovery—and you suddenly understand why the Cook Political Report shifted the race back into the "Toss Up" category last week. "Higher income folks and suburban communities, I think, are probably not comfortable with Fetterman," former Republican congressman Charlie Dent told me, explaining why the vibe shift momentum has flipped back towards Oz. "They don't usually embrace those economic populist issues, and they're not also anti-corporate or anti-establishment." Moreover, Dent added, while Fetterman's hoodie-wearing, marijuana-supporting, Twitter-war-sparking ways might drive millennial and Gen Z votes, "who's gonna vote in bigger numbers? Seniors. He's certainly not doing as well among seniors as he should."

The upshot for Oz, as Madonna described it to me, is that there's a clear opportunity for the comparatively moderate Republican candidate—especially juxtaposed between the hyper-progressive Fetterman to his left and Jan 6 riot attendee Mastriano to his right—to triangulate his way into the hearts of a majority of Pennsylvania voters. "Rural and small town Pennsylvania is important, but you need to expand your base from there," Madonna explained. "You can't let the Democrats ride roughshod over you in the suburbs of our state and still win statewide." That means courting some portion of voters who might even be down with Shapiro for governor, or at least draw the line at Mastriano.

Of course, we're unlikely to see Shapiro or Oz formally recognizing that crossover opportunity. Oz has stated tepidly that he endorses "the entire Republican slate." But Pennsylvania Republican power brokers I've spoken to have openly acknowledged that they are likely ticket-splitters, themselves. This unusual comity extends into the money game, too: Sheryl Bartos, the wife of Oz campaign co-chair Jeff Bartos, recently co-hosted a fundraiser for Shapiro, a longtime family friend. Jeff and Sheryl are also unlikely family friends with Fetterman and his wife, Gisele, whom they've had over for dinner.

Mastriano, who has barely acknowledged Oz's existence, is clearly on the outside of this cross-partisan dynamic—which might help to explain, in part, why he's somewhat further behind Shapiro than Oz is behind Fetterman. "For me, it's pretty simple," said Dent, an Oz-Shapiro voter himself. "I'm against the guy who's completely, totally unfit and, frankly, a danger to democratic institutions. And so that's a pretty easy call."
FOUR STORIES WE'RE TALKING ABOUT
Elon's $13B Nightmare
Bill Cohan and Peter identify the dynamite stick in Musk's Twitter deal.
PETER HAMBY & BILL COHAN

General Armageddon
A profile of the man running Putin's latest terror campaign.
JULIA IOFFE
You received this message because you signed up to receive emails from Puck

Was this email forwarded to you?

Sign up for Puck here

Interested in exploring our newsletter offerings?

Manage your preferences

Puck is published by Heat Media LLC

227 W 17th St

New York, NY 10011

For support, just reply to this e-mail

For brand partnerships, email ads@puck.news