Casey at the Bat, Thiel vs. Hoffman, Inflation Ennui
Welcome back to The Daily Courant, your afternoon guide to what's new at Puck.
Today, Tina Nguyen turns the spotlight on Casey DeSantis, the media-savvy Florida governor's wife, whose early training in the television dark arts could be the key to turning America into Florida North.
Plus, below the fold, Teddy Schleifer tracks the evolution of a billionaire political battle from Stanford to Ohio. And Bill Cohan stops by The Powers That Be to discuss Biden's faltering attempts to placate the public while tickling Wall Street.
SPONSORED BY COMEDY CENTRAL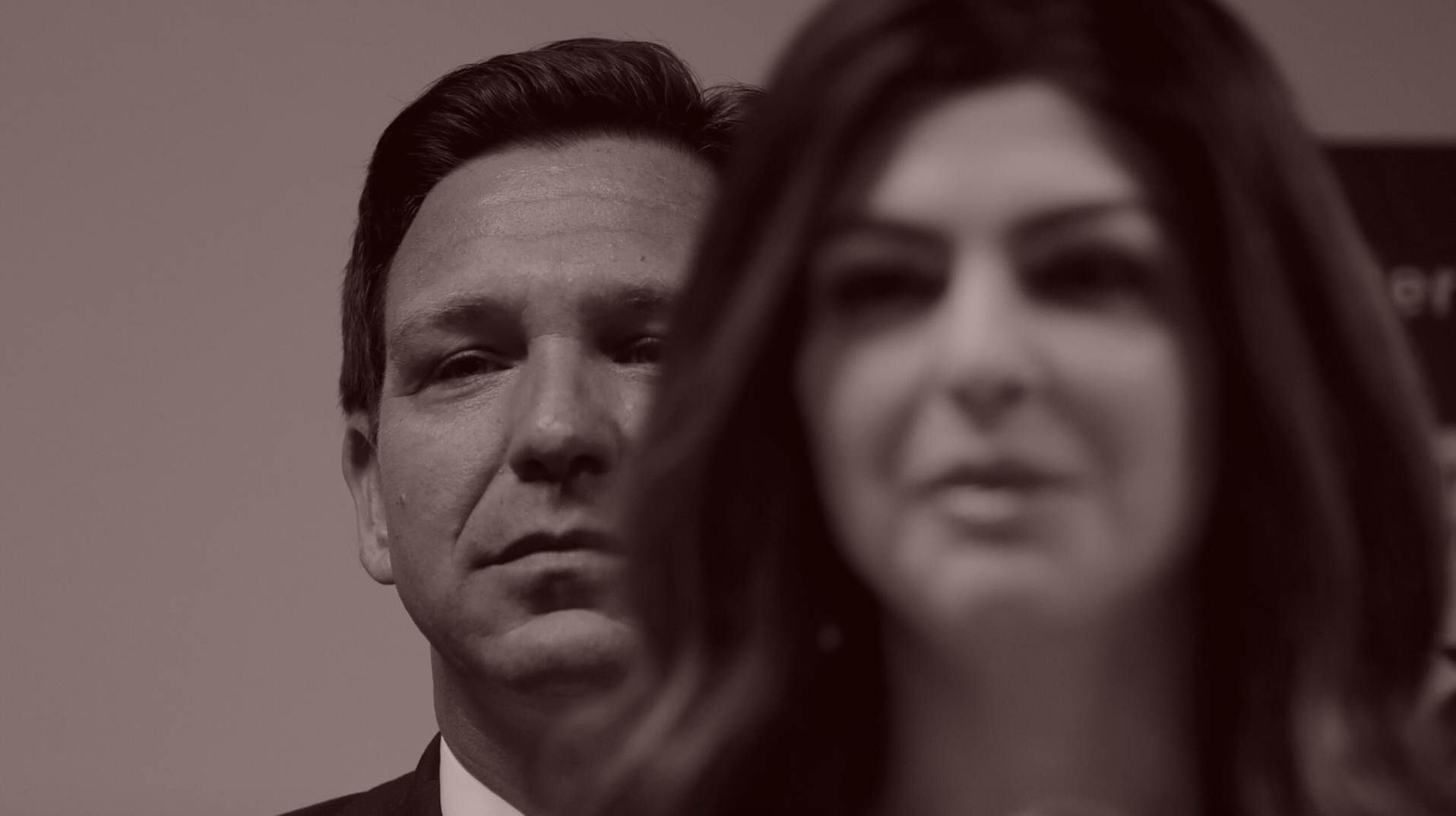 Ronny & Nancy of Tallahassee
In some ways, the DeSantii are the political marriage of our times. Were it not for Casey DeSantis, her husband might be just another ambitious Ivy League Republican with presidential aspirations. The former TV anchor is increasingly viewed as the brains of the operation—and the brawn.
A few months back, a G.O.P. operative was telling me about an old employee of his who had sought a job with Ron DeSantis, the Florida governor on a meteoric rise through the MAGA stratosphere, with all vectors pointed at a White House run in either '24 or '28 depending on the smoke signals emanating from Mar-a-Lago. The employee had already been through multiple rounds of interviews, and passed background checks. Having been deemed worthy of a meeting with the principal, he was called in for one last evaluation. To his surprise, this final interview was not with Ron DeSantis. It was with his wife, Casey.

When I mentioned that anecdote to a G.O.P. consultant, he remarked that he had heard similar stories about the "DeSantii" interview process—not just for potential employees, but for vendors and contractors, too. Sometimes, both Ron and Casey would run the interview. Sometimes, it was just Ron. If he wasn't available, Casey was "an acceptable substitute," this person told me. Every single time, he added, the couple would request piles of advance documentation that could impress a job candidate or scare them off entirely, but at the very least convey the magnitude of the position in question. Every dollar that the job candidate proposed in their budget needed to be accounted for in that interview, and every motive needed to be uncovered.

This consultant hypothesized that the couple are strongly aware they could be targets for graft, an endemic problem in the post-Trump Republican ecosphere…
ADVERTISEMENT

FOUR STORIES WE'RE TALKING ABOUT
Stanford Takes Toledo
Thiel and Hoffman trade fire in a proxy battle that will shape the next era of big-money politics.
THEODORE SCHLEIFER

The President's Placations
Cohan joins Peter to discuss Biden's dance between allaying fears of a recession and not pissing off Wall Street.
PETER HAMBY

Biden Time
On the West Wing rumblings surrounding Biden's re-election bid.
TARA PALMERI

Times vs. Twitter II
On the complex legal questions undergirding the effort to keep reporters off social media.
ERIQ GARDNER
You received this message because you signed up to receive emails from Puck

Was this email forwarded to you?

Sign up for Puck here

Interested in exploring our newsletter offerings?

Manage your preferences

Puck is published by Heat Media LLC

64 Bank Street

New York, NY 10014

For support, just reply to this e-mail

For brand partnerships, email ads@puck.news