Good morning,
It was another incredible week: Lauren Sherman dug into the Pharrell Williams-LVMH relationship; Teddy Schleifer chronicled S.B.F.'s day in court; Bill Cohan unearthed a Goldman Sachs whisper campaign; Matt Belloni enumerated Pixar's challenges; Eriq Gardner got into the Saudi-PGA legal mess; Julia Alexander explained Zaz's real streaming headache; and Tina Nguyen unveiled DeSantis's pardon pickle.
Check out these stories, and others, via the links below. And stick around for the backstory on how it all came together.
A MESSAGE FROM OUR SPONSOR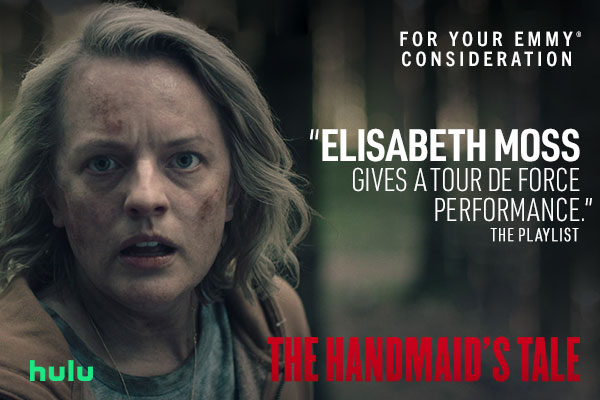 Emmy®-winning actress Elisabeth Moss gives another tour-de-force performance in the latest season of "The Handmaids Tale," Hulu's critically acclaimed and award-winning drama series. Forbes calls the series "one of the most important on television," and the stunning ensemble cast includes Yvonne Strahovski, Bradley Whitford, Ann Dowd and more. The series is for your Emmy consideration for Outstanding Drama Series. Visit fyc.hulu.com for more information.
FASHION:
Lauren Sherman penetrates the Pharrell-Louis Vuitton marriage.

WALL STREET:
Bill Cohan reads out the new grumblings at Goldman.
and…
Eriq Gardner digs into the PGA-LIV M&A mess.

MEDIA:
Dylan Byers reports on the end of the Fred Ryan era at The Washington Post.
and…
Julia Alexander presages David Zaslav's CNN streaming challenge.

SILICON VALLEY:
Teddy Schleifer chronicles S.B.F. in court and explains the latest transactions in donorville.

HOLLYWOOD:
Matt Belloni underscores one of Bob Iger's biggest problems.
and…
Matt also speaks with the cast and crew behind National Geographic's new WWII limited series, A Small Light.

WASHINGTON:
Tina Nguyen deciphers just how much Trump's indictment has complicated DeSantis's reality.

PODCASTS:
Matt explains how Hollywood markets its controversial stars on The Town.
and…
Peter Hamby and Ben Landy reveal a reversal of DeSantis extinction theory on The Powers That Be.

Meanwhile, I also encourage you to take advantage of our article gifting feature. You can share our work with your colleagues, friends, and family. Subscribers are entitled to 5 article gifts per month.
Indictments & Disruptions
Earlier this week, I hopped the Acela down to Washington to co-host a dinner with some friends from bp at Meridian House, one of those old gorgeous Georgian piles with a handsome garden that would make even Daisy Buchanan envious. I was reminded just how much Washington was designed, and remains, as a Southern town. As I milled about during the cocktail hour, one of D.C.'s top messaging gurus recalled for me the possibly apocryphal story of how this land around Kalorama had almost been picked, back in our Founders' day, as the site of the Capitol. Admiring the grounds, I was grateful it had been passed over.

I love Washington in the late spring—after the cherry blossoms, sure, but before the oppressive humidity sets in. The city is at its most romantic and quixotic, looking forward to the quieter summer recess followed by the steady hum of election season. And one of the charms of the joint, and I mean this sincerely, is that it's a small town: everyone knows everyone. On this trip, as ever, my breakfast companion the next morning was chums with my dinner co-host, and everyone seemed to pass on their regards to the people I was seeing for coffee or lunch during the week.

This familiarity defines not only Washington society, but also how news travels and business gets done. I was there to work on a few deals, but the visit just happened to coincide with one of the town's busier weeks in a year. In the space of seven days, after all, Donald Trump was indicted on a laundry list of 37 federal counts, and everyone consumed the news on a newly leaderless CNN. Meanwhile, The Washington Post Company C.E.O. had stepped down after a historic, and front-weighted, run. As you could probably imagine, these data points dotted the landscape of every conversation I entered.
And that's part of the fun of my job—assigning and editing stories on the nation's capital, occasionally from a hotel room within it. As I looked out my window in NoMa, one of those real estate developer-conceived pseudo communities, like Dumbo or Hudson Yards, I was more than inspired by the surroundings, and my proximity to the feedback loop.

My peerless colleagues delivered extraordinary work on the town's convulsions and disruptions, and the insider conversation lurking behind it all. In The DeSantis Pardon Predicament, Tina Nguyen parses the complex rhetorical fellatio that the presidential aspirant needs to perform on the MAGA base that is almost his own: presenting himself as a worthy political heir who won't end up in the clink while doing his own Gerry Ford and ensuring hardcore Trumpists that he'll pardon the former occupant of the Oval if indeed he faces jail time, as seems increasingly possible. Meanwhile, the brilliant Julia Alexander dug into the numbers to convey CNN's most urgent post-Licht challenge. It's not a pivot to the center or some sort of cultural glasnost. Instead, David Zaslav's challenge centers on deciphering its economic logic in the streaming universe. In the town's second-fiddle media greasy pole story, Dylan Byers, Puck's genre-defining media reporter, explicates the best of times and worst of times at the WaPo in The Tale of Two Fred Ryans.

But if you only have time to curl up to one Puck piece this weekend, allow me to direct you toward Bill Cohan's mesmerizing tale of the problems confounding Goldman Sachs, our culture's most prominent bank, if no longer its largest. In The Testament of Solomon, Bill penetrates the corner offices inside 200 West Street to figure out what's really going on. Is C.E.O. David Solomon a victim of his own success, or of the partnership's outsized view of itself, Goldman's place in the world, and the realities of the modern Wall Street business model?

Funnily enough, this piece came up in a few of my meetings in town, too, since Goldman is flacked these days by an old Bush hand and local strategy legend. It was a pleasant reminder, once again, that the higher you scale to the top in Wall Street, Washington, Hollywood, Silicon Valley, fashion and media, it's all one world. And that's Puck's world.

Have a great weekend,
Jon

Need help? Review our FAQs
page or contact
us for assistance. For brand partnerships, email ads@puck.news.
You received this email because you signed up to receive emails from Puck, or as part of your Puck account associated with . To stop receiving this newsletter and/or manage all your email preferences, click here.
Puck is published by Heat Media LLC. 227 W 17th St New York, NY 10011.