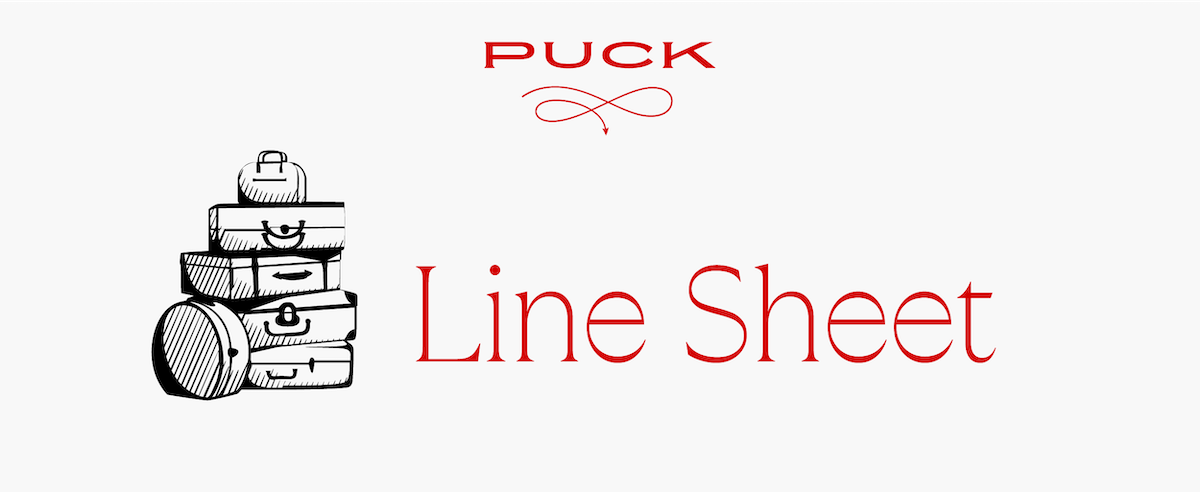 Hi, and welcome back to Line Sheet. I sold my Phoebe Philo bag to a friend. Kept the shirt. How was your weekend?
In today's letter, you'll find reflections on the end of Jezebel, an indie mag drama, and an analysis of the latest designer rumor that many of you are hopin' and wishin' to be true. I'll be out and about in Los Angeles this week, so see you around.
P.S. Thank you to the reader who said Thursday's note had "huge Harold Pinter energy." I'll take it!
Mentioned in this issue: Sarah Burton, Givenchy, Matthew M. Williams, Nick Vogelson, Document magazine, Jim "Spanny" Spanfeller, Jezebel, Anna Holmes, Sarah Richardson, Jason Wagenheim, Riccardo, McQueen, Jane Pratt, Seán McGirr, Davide Renne, that Tom Ford interview, Kim Kardashian, Ivanka Trump and… Travis Kelce.
Document Drama: What's happening at Document, Nick Vogelson's 10-year-old indie magazine? Last week, stylist and Document fashion director Sarah Richardson sued Vogelson and his LLC in a New York court for compensatory damages of "no less than $1.2 million." (In short, Richardson is claiming that Vogelson promised her payment, as well as equity in the company, and never delivered over the course of six years. She also claimed he "used the substantial cash flow to hire as Chief of Staff of Document Journal, a person with whom he has an intimate relationship.")

Today, Richardson, along with at least three other staffers—Diana Choi, Alice Lefons, and Alexandra Bickerdike—sent I'm-no-longer-with-the-company emails to contacts. What the heck is going on?

According to Vogelson, "This lawsuit stems from long and drawn-out negotiations regarding her compensation and equity, which we've been having for some time, and she exited from the conversation a couple of weeks ago. Any claim about a specific amount is not based on any formal agreement with the company." He also added that Document will be announcing a new fashion director and style director, both based in New York, in the coming weeks. Richardson, who did not respond to a request for comment, is based in London.

Jezebel and the myth of women's media: Much of the conversation about Jezebel, the once-influential women's-interest blog that was unceremoniously shuttered last week, has focused on the terrors of G/O Media, and the reluctance of advertisers to associate with a brand that writes openly about abortion rights and other so-called hot-button topics. I know several people forced to join G/O for various reasons—mostly the need for a steady paycheck—and I love and respect a lot of them. The place sounds terrible.

I worked for G/O C.E.O. Jim Spanfeller in the mid-2000s at Forbes.com, the era's number one "page-view sweatshop," according to The Observer. To be fair, I actually had a great time there—I learned how to be a reporter, wrote at a leisurely clip of about two to three bylines per week, met many close friends, and most importantly, my husband. But I can confirm that Spanny, as everyone called him behind his back, had no business being in media. He didn't understand the concept of mission. Ironically, he has since amassed a portfolio of all these once-strong brands with clear consumer value propositions (Deadspin, Quartz, The Onion), and yet he's too basic to be able to know what to do with them.

But let's be honest here: Jezebel, like many of the G/O brands, was doomed from the start. It was a brand, conceived out of passion and with expression in mind, that never really seemed to focus on finding an operative business model. Quality of its work aside, its audience was neither valuable enough to entice a sufficient volume of direct-sold advertising packages, nor did it have the scale to make a CPG or beauty company second-guess their spend on Facebook. Like so many brands of that era, Jezebel just seemed to want to exist because its staff had something to say. But their lack of business acumen and execution would inevitably lead the property into the hands of a guy like Spanny, who just plugged it into his larger ad network.

More broadly, titles across the category of women's interest are diminishing at a rapid pace because they no longer provide a clear service. At their peak, magazines like Glamour, Self, Marie Claire were authorities: They told young women how to live their lives, and sold millions of dollars worth of goods to them each year through advertising. Now, that advice is administered in microdoses via TikTok and Instagram Reels. I'm sorry to tell you, but teenagers don't read magazines! They just don't need to exist anymore, and advertisers know it. Even new, domesticated entrants like Bustle Digital Group are pivoting hard to other revenue streams (like live events) as the advertising market gets tougher and tougher. (Former Glamour publisher Jason Wagenheim just left his job as the C.R.O. of BDG to become North American C.E.O. of Footballco, a soccer fandom site roll-up—not a sign of major confidence in the space.)

But something was coming for women's magazines long before the word "display advertising" was invented. There have always been challengers to the status quo—Gloria Steinem with Ms., leading up to Anna Holmes with Jezebel. But I'd argue that the editorial visionary in between, Jane Pratt, was the one most responsible for dislodging these publications from their comfortable position as early as 1988. What Pratt did with Sassy, and then later with Jane, showed that you could take a more honest, weird approach to these subjects without stripping them of intrigue or excitement or glamour. The blog-speak that Jezebel honed? That descended from Pratt. She even reclaimed it for a bit with xoJane, launched in 2011.

But unlike Jezebel, Pratt's brands had an aesthetic; she cared about status and being in the know, and that is appealing to advertisers. I know this is a fake word, but she was aspirational, especially to the Gen X and Millennial-cusp readers who knew there was more to life than learning how to apply blush, but still wanted to wear blush. Of course, all three of Pratt's publications were also commercial failures: successful at first, but challenged once she got bored, or too stressed out by the commercial pressure. (She once told me that she would get the seven-year itch.)

I asked a friend who used to successfully sell advertising for a defunct women's interest site why he thought Jezebel couldn't make it. He believes there are "really strongly written women's brands" right now, but they're bundled within general interest media—e.g., former Jezebel writer Jessica Grose at The New York Times, a couple writers at The Cut— and newsletters. (No, Anne Helen Petersen's writing is not for me, either, but it is for a lot of people.) My friend reasoned that, if you brought four or five of the popular newsletters together, you'd have a small but reliable audience, which could be monetized through a combination of subscriptions, advertising, and other products. He was making a case, in other words, that women's interest media has been trying to resist for generations: Duh, there's no such thing as a catch-all brand to service the broader female market in the U.S. Like everything else, our most fulfilling media experiences are trending toward niche and affinity. The next generation of Jezebel will be smaller and more grown-up. "You'd have to be lean, and you'd have to provide real value, either in service or voice," he said.

All this is to say: R.I.P. Jezebel, you changed the world with your intrepid reporting and unrelenting snark. (My all-time favorite post was "Photoshop of Horrors," about the November 2009 cover of Vogue.) But really, all I wish is for Jane Pratt to ditch her new content-to-commerce venture and start a Substack.
Fashion is a business built on lies—or dreams, if you want to put it nicely. So it's no wonder the rumor mill never stops: This designer is going to that house, this executive had an affair with that subordinate, this star takes a separate elevator and uses a different door to get into his studio so he doesn't have to interact with the plebes, or the multibillion-dollar brand's other creative directors, etcetera. Most of it isn't true, or has been heavily embellished, and that's often the point.

When it comes to Sarah Burton, the former right hand of the late Lee Alexander McQueen and the longtime creative director of his namesake brand, the only thing we know for sure is that she no longer works for that Kering-owned, London-based fashion house. Why she left when she did, with an announcement just before her last show, is less clear to everyone except Burton and Kering's top executives. More recently, what she'll do next has become the topic du jour in Europe and England, where the increasing scarcity of female creative directors at top houses has suddenly become something people in the industry—and beyond—purportedly care about. Is she really going to Givenchy, the LVMH-owned couture house currently led by Matthew M. Williams, the kid from Evanston and friend of Kanye and Virgil, whose tenure at the brand has been publicly criticized from the start?

Burton could very well do nothing for the rest of her life. She was undoubtedly paid handsomely for her work since McQueen's suicide in 2010. Because she was an extension of him, she was able to, somewhat miraculously, successfully follow up on Plato's Atlantis, his final show—and arguably his most influential. (I've said before that most designers have about 10 years of good ideas in them. McQueen was going on 20. His long-term creative partnership with Burton certainly had something to do with that.)

Regardless of what really happened, the announcement of her departure felt rushed, even if it wasn't. I'm not going to speculate why they did it the way they did it, but it was obviously planned: The announcement of Seán McGirr's appointment happened too quickly for it to be uncoordinated. These companies can take months, sometimes years, to hire someone new in a top slot.

We know what McQueen is without McQueen, and will soon find out what McQueen is without Burton. (McGirr will show his first collection in early March.) But what is Burton without McQueen?
If Burton is off to Givenchy, as so many have speculated, there is a possibility that she is simply being paid a lot of money to work on the couture behind the scenes. (After all, she wasn't searching for the spotlight in 2010 when she was thrust into it.) While Williams may not be the hitmaker that LMVH hoped he would be, the company can afford to let Givenchy ride until a permanent solution presents itself. It's an important brand in the history of fashion, but it's not a major driver of profits for LVMH. And there's no imperative to change things immediately, especially as it's looked better each season.

After all, as both Williams and his predecessor, Clare Waight Keller, have shown, it's not an easy assignment. Hubert de Givenchy, who died in 2018, was best known for dressing Audrey Hepburn in Breakfast at Tiffany's. (Now that LVMH also owns the American jeweler, they have done some interesting marketing tie-ups.) Unlike Dior or Chanel or Saint Laurent, there isn't a laundry list of house signatures from which to cull. Riccardo Tisci, who was appointed in 2005 and left in 2017, made it his own quite successfully, especially in couture and men's, and there is a feeling that his grip on the brand has never fully loosened. (Dior, for instance, can swap out creative directors fairly easily because there are so many ideas, but many consumers only recognize Givenchy as it was designed by Tisci.)

For LVMH, Burton's technical talent would be the key. Luxury merch—i.e., that $450 Givenchy T-shirt your uncle with a timeshare wears out to dinner—is not going away. It's now just another permanent category, next to handbags and perfume, and it's no longer the driver of the conversation; people are craving real design. (The success of Phoebe Philo's launch is just one indication.)

Contracting Burton would be a message to the market, and consumers, that the company still values traditional design skills, not just hype. Also, if one more white, male creative director is appointed at a major house, the internet might explode.

If Burton, who is not yet 50, wants to keep designing clothes, if she doesn't want to go make art or take up gardening, Givenchy feels right. The group would need to pair her with the right accessories designer—it's clear from her time at McQueen that's not where her head is at. But there's an opportunity there to make something that feels new. And that's what fashion needs right now.
For all the people who were friends with Davide Renne, the recently appointed creative director of Moschino, who passed away of a reported heart attack last week: I'm sorry. It's such a sad thing, and there's not anything else to say. [NYT]

Richemont took another €527 million writedown on Yoox Net-a-Porter Group. Sheesh. [Reuters]

Congrats to Chloe Malle for making everyone's Monday morning with this Lauren Sánchez–Jeff Bezos hang sesh. [Vogue]

Hollywood glam squads are back to work, too. [WWD]

Tapestry beat analyst expectations this quarter. [Hypebeast]

I wasn't going to link to Will Welch's excellent Tom Ford interview because I assumed that everyone has read it, but I'm throwing it in here just to make sure. It's a good lesson for designers: Ford isn't afraid of journalists (probably because he was married to one); he's willing to take time with them. If you are self-aware, offering the right journalist (honest) access can really pay off. [GQ]

Super excited for this random brand J. Logan Home, which Travis Kelce wore in Argentina to make out with Taylor Swift. [Harper's Bazaar]

Kim Kardashian has been wearing a lot of Balenciaga. [Footwear News]

Speaking of Kim, this road-to-I.P.O. marketing strategy is nothing short of remarkable. Kudos to everyone involved, it's so good. [Twitter]

Gabriela Hearst opened her first shop in Los Angeles, smartly adjacent to a fancy hotel. [WWD]

Lessons on being a critic from my son's favorite book. [The New Yorker]

Naomi on Ivanka. [The New Yorker]

Crucial weight-loss drug news: Wegovy helps prevent heart attacks, too. What are we gonna do with all these healthy people? [Stat News]

And finally… curious to know how many of Line Sheet's Los Angeles-based readers were at the Baby2Baby gala on Saturday night versus the How Long Gone podcast taping.
Until Thursday,
Lauren
FOUR STORIES WE'RE TALKING ABOUT
SAG's New Deal
A close look at what the actors achieved.
JONATHAN HANDEL

Need help? Review our FAQs
page or contact
us for assistance. For brand partnerships, email ads@puck.news.
You received this email because you signed up to receive emails from Puck, or as part of your Puck account associated with . To stop receiving this newsletter and/or manage all your email preferences, click here.
Puck is published by Heat Media LLC. 227 W 17th St New York, NY 10011.