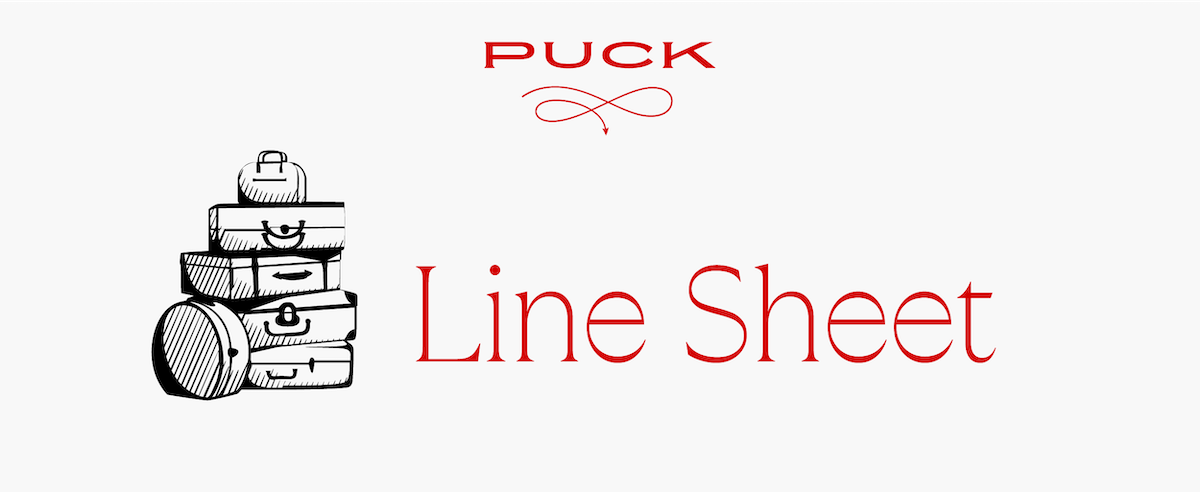 Hello, and welcome back to this oh-so-American edition of Line Sheet. (Save for, oh you know, this huge Kering/Valentino news.) Europeans, don't forget to drop me a note before you head out on holiday next week for the rest of the summer. I welcome all responsible gossip.
I'm writing to you after a trip to Malibu on Wednesday evening. No, not to visit Barbie, silly! I was there for Miu Miu. Mrs. Prada's id hosted a sea-air scented party on Malibu Pier, probably the last big fashion event of the summer. I clocked Kate Berlant, Gigi Hadid, Brie Larson, and Kaitlyn Dever in a going-out top and jeans, plus about 50 other Hollywood talents dressed in the brand's wares. (It's official: fashion gigs are not a strike faux pas.)
But what you really need to know is that half of them were wearing what I can only describe as a thong boot. Nothing better encapsulates young fashion right now.
In today's issue: Gap, a juicy scoop on the next brand coming from the Kardashian Klan, Greta Gerwig, Richard Dickson, Mattel's Ynon Kreiz, the Gredes, Kylie Beauty, The Jones Group, and many more.
But first…
Kering Going for the Valentino Red!!!
Wow, what a way to end the week. For years, it's been thought that Kering, the second-biggest luxury group in the world, managed by billionaire François-Henri Pinault, needed to make a major acquisition to continue competing against its much larger, older, better equipped rival, LVMH. But what would it be? Richemont's Chloé? (Maybe someday.) Ferragamo? (Family is probably not yet ready to let go.) Chanel? (Everyone wishes. Also: probably too expensive.)

Today, we got our short-term answer: Kering is taking a 30 percent stake in Valentino for €1.7 billion in cash, with an option to buy the whole thing by 2028. The deal should close by the end of the year. "Very smart indeed," said the analyst Luca Solca.

There is so much to say, not only about how the deal is structured, but also how Pinault described it in a call with investors. First, the obvious: Valentino is a good brand for the Kering portfolio. It has history, it's feminine, it sells clothes alongside plenty of bags and accessories that are distinguished in the market (e.g. the Rockstud). It certainly competes with Gucci but is more rooted in clothing, not leather goods, so it's more complementary than anything.

Valentino generated more than $1.5 billion in 2022, but is recognizable enough across shoe floors and red carpets to be a $5 billion, $10 billion-in-sales-a-year brand. However, its owner, the Qatari investment vehicle Mayhoola, doesn't have the infrastructure to go up against Kering or LVMH. And if you can't beat them, join them. In the agreement, there was a note articulating that Mayhoola may end up owning shares in Kering. (Does that mean they could partner on buying another brand or something of that sort? For now, the focus is on Valentino and Valentino only.)

I dipped into the earnings call to hear out Pinault, who managed to smash the lackluster, if expected, first-half results into the background with this news. He mentioned that he was excited to bring Line Sheet king Jacopo Venturini—current C.E.O. of Valentino, former chief merchant at Gucci—back into the Kering fold. He also addressed the new management structure announced last week—Saint Laurent C.E.O. Francesca Bellettini was promoted to oversee all brands, Jean-François Palus was named temp Gucci head, and so on—and that the group would be "ironing out some of the details of the setup" in the coming months.

With this news, last week's management shuffle, and the lurking notion that Pinault himself may be buying Hollywood talent agency CAA, "Kering is really giving manic energy these days," as one designer messaged me. My initial reaction: Pinault could feel the market softening, and knew it was time to make some moves. Also, as one industry friend pointed out to me, it was interesting that Pierpaolo Piccioli, the brand's longtime creative director, was not mentioned in the release. I know nothing, it's just an observation. More to come on all of it!
Another day, another C.E.O. appointed to save Gap, the era-defining mall brand that has been on a drawn-out, tortuous, inevitable decline for the past 20 years. Have I written to you about the Gap yet? I've been writing about the Gap for so long, it's like Groundhog Day up here. The current deal:
On Wednesday, Parent company Gap, Inc. announced that it had hired Mattel president and chief operating officer Richard Dickson as the new C.E.O. of the group. Its previous C.E.O., Sonia Syngal, was fired last year. Unfortunately, no C.E.O. since Mickey Drexler has really had any luck with the brand. Yes, yes, I remember the season of colored jeans circa 2012. That was the year I worked at Condé Nast, was super miserable, drank too many margaritas, and got my chart read by a fancy astrologist in preparation for my Saturn Return. I did it all in red jeans from the Gap. Short-term wins aside, the business of mid-priced clothing has been in trouble since the late '90s (fast fashion, shrinking margins, rampant discounting, etcetera). Gap is never going to be the biggest brand in the world again. Ever.
Some of the group's other, younger, brands (including Athleta) have more potential, and Dickson will be in charge of managing those, too. He's been on the Gap board since the end of 2022, and was clearly given an opportunity to do a victory lap at Mattel with the blockbuster Barbie movie, which makes him look great before this announcement was made.
As for what he really did at Mattel, where he has worked on and off (mostly on) since 2000? The number-one point that people made to me: All this movie stuff, this I.P. stuff, is directly connected to the arrival of Mattel C.E.O. Ynon Kreiz, who joined in 2018. Dickson certainly played a significant role in the development of Barbie and fostered the relationship with director Greta Gerwig, as noted in that lengthy New Yorker article. But before Kreiz, Mattel had four C.E.O.s in four years. Dickson would have loved a chance at the job, I'm told, but was never offered it. (Also, regarding the marketing of the movie: All Warner Bros., I was told. Credit to Mattel for giving Warner Bros. the key, though.)
Back to Dickson, who once hired fashion P.R. agency KCD to help his (and Barbie's) personal profile in our industry. Among retail people, he has a good reputation. As one of my trusted sources argued, "Mattel is actually the world's largest fashion company, even if all the dresses are one size. It is closer to apparel than most think. Lead times are driven by fabric and trim, not dolls and resin."
Before Dickson returned to Mattel in 2014, he worked at a company called Jones Group for four years, where he managed brands like Nine West and Brian Atwood. The Jones Group doesn't exist in the form it did when Dickson was there (too boring to explain…), but that experience does align with what Gap, Inc. is becoming: i.e., less of an actual retailer and more of a brand manager. Of course, Gap, Inc., still produces and sells clothes, but the group has also cut deals with Walmart and others to sell and produce Gap products via a global licensing deal with IMG.
Dickson is not the only interesting hire the company has made as of late. Earlier this week, the board announced Chris Blakeslee, the former president of activewear rival Alo Yoga, as the new C.E.O. of Athleta. These are more inspired picks than usual. Typically, the still heavily involved founding family, the Fishers, stick with Gap, Inc. lifers for big roles, even if they aren't always the best fit. (And um, they usually aren't.) The guy who currently runs the Gap brand, Mark Breitbard, has worked there for so long that he was once Drexler's chief of staff.
It will be interesting to see how Dickson performs, but I guess my main question is: Why are people still so obsessed with this company? Shares are down 66 percent in the past five years. It's not a meme stock, but it's a business on the decline, and the family hasn't managed that decline properly. Also, please remember: Barbie sales fell this quarter by 6 percent! And they were down 23 percent in the first half of the year! Barbie is not immune to the realities of changes in consumer behavior, even if Gerwig made a really good move (that I still haven't seen—but I bought tickets).
And now for the latest news regarding developments in the Kardashian Industrial Complex…
What's truly remarkable about the Kardashian family is that they've managed to stay premium-famous for so long. Keeping Up With the Kardashians first aired on October 14, 2007, nearly 16 years ago. You may bristle when they are likened to the Kennedys or the House of Windsor, but it's a valid comparison, at least in terms of their relationship with the press and the public. (And especially when you factor in the behaviors of the lower caste members of those families, most recently R.F.K. Jr.)

I have personally called Peak Kardashian on multiple occasions—I love to be first—but I have always been wrong. They manage, time and again, to engineer situations that demand fresh attention, popping up with news of Balenciaga divorces and Dolce & Gabbana marriages, yes, but also introducing new products on a consistent basis, some uber successful, some not, but always compelling—at least for a minute, until they move onto something else.

Next up from the great Kardashian elf village: a fashion line fronted by Kylie Jenner, developed by none other than Jens and Emma Grede, the founders of Popular Culture, a holdco that includes Khloé Kardashian-fronted Good American, Kris Jenner-endorsed cleaning products line Safely, and yes, Kim Kardashian's Skims, the intimates brand that just raised a new round of funding at a $4 billion dollar valuation.

I hear that Kylie's new brand remains in stealth mode, but that the Gredes' team have begun interviewing candidates for certain positions without telling them anything about the project. The idea, I'm told, is not to be Shein—the controversial, wildly popular Chinese fast-fashion outfit—but to offer something better. (Responsibly sourced, less junky, nicer looking. The Gredes don't do bargain-basement.)

Companies like Shein and Fashion Nova, the Los Angeles-based trash-fashion retailer, have knocked off Kardashian styles for years. Why shouldn't they benefit directly? Anyway, Jenner, whose rumored relationship with Timothée Chalamet gave her a little boost in recent months, proved in the early days of her beauty line that she can move product. So maybe now is her time to become a fashion mogul.
Why were the Gredes willing to take this project on? From talking to them in the past, I know that a big part of their approach is to move with the culture, and that they are incredibly ambitious when it comes to that mission. For instance, the idea behind Good American, the first of their major partnerships with the Kardashian family, was to provide well-fitting denim in a broad range of sizes—virtually unheard of when they launched, in 2016. Emma Grede, a naturally talented merchant, did a ton of work to ensure that the jeans would look good at every size, which means hiring more fit models, and hemming and hawing with factories that are used to phoning it in when it comes to this sort of thing.

Right now, though, they really have their hands full running Skims, where Jens is C.E.O. and Emma is chief product officer. As mentioned, the intimates brand, which, as one person said to me the other day, "has become Victoria's Secret," recently raised $270 million at a $4 billion valuation on the way, hopefully, to an I.P.O. Despite the excitement, this was not a huge increase in valuation, compared to January 2022, when the company raised $240 million on $400 million in sales and doubled its valuation from a year earlier to $3.2 billion. This time, the company's sales nearly doubled (to $750 million) but its valuation rose only incrementally—likely a sign of tightening market conditions. Anyway, the plan is to open multiple Skims stores next year, and the Gredes know they have to keep on that if they want a public market exit. Launching a new brand at the moment is a heavy lift, especially a full-on fashion line, the hardest thing to do. Perhaps the plan is to bring in another executive to run the day-to-day.

Not everything the Gredes touch turns to gold. While Good American, which Emma co-founded and runs, just opened its first standalone store (at the Century City Mall, a favorite haunt of West Side celebrities like Ben Affleck), sales are flat from last year. Safely, the cleaning products line that felt like an attempt to compete against Jessica Alba's The Honest Company, is only doing a couple of million a year in sales at the moment. (To be fair, it just launched at Target and will soon be in 3,000 doors between Target and grocery store chain Kroger.)

I don't think the Gredes ever expected every single one of these brands to take off—they're realistic—but it's important to remember that Skims is still on the ascent part of its journey. Does it make sense to tackle something new, especially a category that is so oversaturated, so devoid of so-called white space?

I'd argue that the Gredes understand the value of a good product more than anyone else doing what they're doing today—they're probably the strongest, most influential retailers of their generation—and they know that marketing only works if the product works. Kylie Beauty is a living example of this: After the initial hype, the company was overvalued by beauty conglomerate Coty when it purchased a 51 percent stake in the business in 2019. Turns out, you need more than a dried-out beige lip paint to achieve that pillowy Jenner look.
Brandon Charnas—husband of Something Navy founder Ariella Charnas (both characters in my ongoing Naadam Group saga)—is being investigated by the S.E.C. for possible insider trading on Office Depot securities. (For all you Naadam heads: I have an update coming soon.) [SEC]

Is New York Fashion Week back? Peter Do will open the shows with his debut collection for Helmut Lang: I can't wait to write about this. Other notables returning to the calendar include Gypsy Sport and Ralph Lauren. [Vogue Runway]

My two friends with the best taste both hate the Phoebe Philo logo. [Phoebe Philo]

I can't tell if Jon Caramanica actually likes Aimé Leon Dore from this lengthy brand profile, but he seems to respect it? [New York Times]

Luxury spending in China is up, but down in the U.S. Even LVMH is feeling the effects. [Bloomberg]

Vanessa Friedman on Sinead O'Connor's baldness. [New York Times]

The reporting in this Allbirds story, which I missed when it was first published, is impeccable. Suzanne Kapner is so good. My one gripe: Allbirds was never cool! [Wall Street Journal]
Until Monday,
Lauren
FOUR STORIES WE'RE TALKING ABOUT

Need help? Review our FAQs
page or contact
us for assistance. For brand partnerships, email ads@puck.news.
You received this email because you signed up to receive emails from Puck, or as part of your Puck account associated with . To stop receiving this newsletter and/or manage all your email preferences, click here.
Puck is published by Heat Media LLC. 227 W 17th St New York, NY 10011.