Happy Sunday, hope you're celebrating MLK somewhere less soggy than L.A. I've got an abbreviated holiday weekend What I'm Hearing tonight with a few smaller items…
But first… I'll be at Sundance from Friday through Tuesday, so hit me up for your secret screening or your late night hot tub party (actually, don't). Second, a correction from Thursday. That was sports manager Ken Katz standing next to Bob Iger at the CFB championship, not poker player Dan Bilzerian, though they look very similar and could actually be the same person. Third, as always, if this email was forwarded to you, join the WIH community by clicking here.
Discussed in this issue: Nelson Peltz, Taylor Sheridan, Jen Salke, Al Michaels, Janet Yang, Noah Oppenheim, Chris Licht, Jimmy Kimmel, Gwyneth Paltrow, Bob Iger, and how to stay awake during Oscar movies.
Who Won the Week: Harry and Meghan
Sorry. Love or hate the Sussexes of Montecito (I'm now leaning toward the latter), the numbers don't lie: Their Netflix docuseries generated 1.69 billion minutes viewed, per Nielsen, behind only Wednesday the first week with all six episodes available. Harry's 60 Minutes sit-down scored a season-best 11.2 million viewers. And Spare set a non-fiction record with 1.4 million copies sold in its first day. The question is what do they do now? It's probably time to go away for a bit.

Runners up: Fran Drescher and Duncan Crabtree-Ireland, the SAG-AFTRA president and national executive director, for convincing Netflix to rescue the SAG Awards after being dumped by Turner. (Though the price is said to be a fraction of what the Golden Globes will be seeking.)
'Where Can I Find Yellowstone on Streaming?'
One of my goals for What I'm Hearing in 2023 is to provide more exclusive data and data-based insights. We're starting this week with the results of our first proprietary study on the brand equity of streaming services. The study, commissioned by Puck in association with research firm The Quorum and independent polling services, surveyed about 2,500 TV watchers on their streaming preferences, and how they think of Netflix, Disney+, Peacock and the rest. It's interesting stuff, and I'll have a full breakdown on Thursday.

As a teaser, we also asked a simple question: Where can I find Yellowstone on streaming? That's TV's most popular show, so it should be easy, right? Nope. Only 9 percent of respondents accurately said Peacock, and more than 28 percent of people think the Paramount Network hit streams on Paramount+, which carries Taylor Sheridan's Yellowstone spin-offs but not the O.G. More people thought Yellowstone was on Netflix (11 percent) than its actual home. (I've chronicled the whole backstory of why it's on Peacock here.)

That's even more interesting because clearly Yellowstone fans are finding the show on streaming. In fact, it's the only Peacock show to make the latest Nielsen streaming chart of top 10 acquired series, generating 611 million viewing hours during the week of Dec. 12-18. Just don't ask those viewers which service they were watching.
"I can't sell a used car." –Al Michaels, the Amazon announcer, ripping the "dreadful" games that the NFL relegates to Thursday nights, in an interview with The Athletic. Side note: Is Al OK? He was pretty lifeless on NBC during last night's stunning 27-point comeback win for the Jaguars.

Runner up: "I know you all passed! You all passed on this show!" –Mike White, drunk (in his own estimation), calling out the actors in the audience while accepting a Golden Globe.
Someone seems to have informed Academy president Janet Yang that she probably shouldn't be posting a lengthy endorsement of Everything Everywhere All at Once star Michelle Yeoh just as Oscar voting was starting this weekend. Influential plugs like that are considered a no-no for Academy leaders, especially its president, and especially during the height of a heated Oscar campaign. Yang lauded her "four decades of love" for Yeoh, adding "it's sobering why it took so long" for the awards recognition; she also posted a video of a Netflix campaign event for Pinocchio filmmaker Guillermo del Toro, but at least that was at an Academy venue.

A couple Academy members reached out to me to voice frustration about Yang's quasi-endorsements (none connected to Cate Blanchett or any Yeoh rival), and by this morning, when I asked the Academy about it, Yang had deleted the posts. The Academy isn't commenting.
A MESSAGE FROM OUR SPONSOR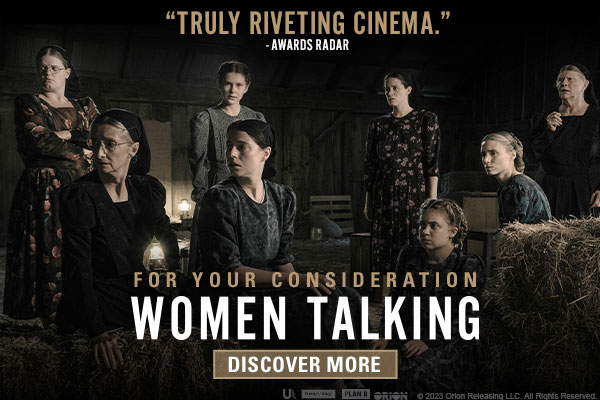 Do nothing. Stay and fight. Or leave. In 2010, the women of an isolated religious community grapple with reconciling a brutal reality with their faith. Starring Rooney Mara, Claire Foy, Jessie Buckley, Ben Whishaw, and Frances McDormand, Sarah Polley's WOMEN TALKING is "An extraordinary film that blends social urgency and Hitchcockian suspense" (Deadline) and is now a SAG Award Nominee for Best Cast.

WOMEN TALKING has also been named one of the 2022 AFI AWARDS Movies of the Year, one of the Top Films of the Year and winner of Best Ensemble by the National Board of Review, is nominated for 6 Critics' Choice Awards including Best Picture and 3 Independent Spirit Awards, Including Best Feature.

For Your Consideration In All Categories Including Best Picture of the Year.

That's hardly the biggest Oscar eyebrow-raiser this season. That honor goes to Joyce Carol Oates, author of the source material for Netflix's Blonde, who is waging a bizarre war on Steven Spielberg's The Fabelmans, calling it a "remarkably mediocre movie" on Twitter, and adding that it "must be discouraging for young filmmakers." Netflix says it has nothing to do with the tweets. (I actually believe it; Oates is a Twitter provocateur, once railing against a "barbaric" photo of Spielberg posing with a dead—and, uh, very fake!—triceratops on the set of Jurassic Park.)

The Yang faux pas isn't even the weirdest endorsement narrative of the season. Are you following this bizarre Andrea Riseborough campaign? The English actress and her performance as a troubled alcoholic in Michael Morris's drama To Leslie—a movie that several awards-season professionals tell me they haven't seen and know nobody who has—have suddenly become the cause célèbre among a ton of other stars. Everyone from Jane Fonda to Kate Winslet to Jennifer Aniston to Sarah Paulson to Susan Sarandon to Rosie O'Donnell and literally dozens more have posted or given interviews about the performance. Charlize Theron, Ed Norton, Courteney Cox and Gwyneth Paltrow have hosted screenings. Amy Adams is doing one on Tuesday. Blanchett even shouted out Riseborough in her Critics Choice acceptance speech tonight. This movie grossed $27,322 worldwide, per Boxofficemojo, but in certain parts of Brentwood and the Palisades, you'd think it was Avatar 2.
Hosted screenings and quasi-endorsements by friends and collaborators are common during awards season, of course, but I've never seen it on this scale for this obscure a movie. "I am almost certain Riseborough has a Hollywood orgy videotaped and she's using it to blackmail everyone," joked someone on Reddit, where the endorsements are being discussed. Rival campaigners believe CAA, which reps a lot of the backers, or Jason Weinberg, Riseborough's well-connected manager, are likely behind the viral effort on behalf of a showy performance in a movie released by a tiny distributor, Momentum, which can't afford a typical campaign. Jason referred me to Shelter PR, which, along with Narrative, has been out there for months talking up Riseborough, and they told me there's nothing other than grass-roots support going on.

Hmmm. Whatever, I guess you do what you gotta do in the awards game, especially when your studio won't do it for you. Will this stuff work? Riseborough already scored a Spirit nom for To Leslie, and Oscar voting closes on Tuesday.
Bill Cohan looks at Disney nemesis Nelson Peltz's history of agitation at GE and other companies, creating "maximum disruption in the boardroom." Translation: Bob Iger really better win this proxy fight. [Puck]

If he wasn't 67, I'd argue that Disney's new board chair Mark Parker could end up Dick Cheney-ing himself to C.E.O.: "Mr. Iger has long admired Mr. Parker as an executive and has felt that Nike and Disney have similar leadership needs… Mr. Iger has told associates that he considers Mr. Parker, who in 1983 designed the Nike Pegasus running shoe, a "creative executive"…The two men have also bonded over being fitness buffs." [WSJ]

Warner Bros. is shopping its music catalog and wants $1 billion to help pare down debt. Serious question: How much could Gunnar get for Jack Warner's desk? [FT]

With NBC News chief Noah Oppenheim leaving to write screenplays and definitely not hang out with Ronan Farrow, it's hard not to feel NBC Universal's Cesar Conde is turning the house of Brinkley, Brokaw and Brian Williams into "a balkanizing portfolio comprised of a couple of hit shows, a lifestyle brand, and a streaming service," writes Dylan Byers. [Puck]

John Landgraf makes a good argument for keeping FX distinct from Hulu: "There's value in having boutiques in department stores or brands inside supermarkets." [Vulture]

I'm starting to think 83-year-old Francis Ford Coppola is firing and driving out his Megalopolis collaborators because he thinks he's actually on the set of Apocalypse Now. [THR]

Max Tani follows up my Thursday report on CNN negotiating to air Bill Maher segments with the reveal of Chris Licht's Gutfeld! envy and larger comedy aspirations, including a possible 3-hour "variety show" format in prime time with "shows within shows." So basically Sabado Gigante with a newsier Don Francisco? [Semafor]

Roswell, New Mexico writer-producer Carina Adly MacKenzie nicely articulates why scrapping already-completed shows is so damaging to creators. [Twitter]

Jerrod Carmichael's joke about Shelly Miscavige at the Globes prompted Scientology chronicler Tony Ortega to release the audio of an interview he did with the late Ron Miscavige before Shelly's father-in-law died. [Substack]

News you can use: How to stop falling asleep on the couch watching Oscar screeners. [Wired]
Amazon's New Front in W.F.H. Wars
Amazon Studios is remodeling its office in Culver City this month into "agile seating," meaning assigned desks and cubes are going bye-bye. Instead, staffers will be assigned "neighborhoods" (like the "legal neighborhood" or the "P.R. neighborhood") and get a desk only when they're in the office. Lots of disgruntled Amazonians over this shift, but it's designed to save space when so many people had desks and never used them. Senior people still have offices, but everyone else will need to store stuff in lockers overnight. Isn't Hollywood glamorous?

Amazon is asking that employees show up only twice a week. That's a big contrast with Bob Iger's latest edict at Disney requiring four days a week by March. Among the studios, Universal requires employees in the office Tuesday through Thursday; Paramount is two days one week, three days the next (with manager discretion); Sony is at least three days a week; the others have some variation. Will be interesting to see if more companies move toward Iger's four-day mandate or hold firm.
My Thursday column about Nelson Peltz and his underwhelming bid for a Disney board seat sparked smart feedback on activist investors. And yes, I did know he's a big Trump backer and
hosted
a $10 million fundraiser in 2020. I did NOT know, however, that he's the father of Nicola Peltz Beckham, so maybe we can also blame him for Transformers 4: Age of Extinction.
"You're missing what Nelson actually wants here. He knows the Disney shareholders won't defy Iger, at least not now. He's looking past this vote, a year or two from now, where, if Disney hasn't recovered, he can say told-you-so and then push for the board seat and a bunch of other stuff." –An investor
"When you're bitching about how bad a company is but not offering any solutions, that's called shorting. Peltz is shorting." –A lawyer
"Thank you for linking to [Peltz's] full "Restore the Magic" presentation. I needed a good laugh." –A Disney executive
"You're gonna look dumb when Nelson pays off Rupert [Murdoch] to vote his Disney shares and he becomes the board member that finally engineers the ouster of Iger." –Another executive
"Which of Peltz's grandkids made $2 million for designing that website??" –A manager
"I don't think I'll ever understand why someone like Peltz, with pretty much unlimited money, would spend his last years on this planet caring about how some entertainment company is run. Does this man not have a family? You're 80, you've already won! Go sit on a beach somewhere or start a charity or something, my guy." –A student
"[You defend Disney by saying] 'as if Netflix didn't have a 10 year head start in streaming.' Netflix's 10 year head start is in fact a reason to criticize, not an excuse for being behind. Which prompts the next question: What's the next Netflix/streaming? Gaming is an easy pick." –An executive
Bob Iger showed up and gave a nice speech at Jimmy Kimmel's 20th anniversary party on Friday in Hollywood. Dana Walden spotted too. … An intriguing sighting from before the break: FX's John Landgraf lunching with ex-Paramount TV head David Nevins at Nerano in Beverly Hills…Every awards season ends up having a breakout "mascot" type—a previously non-famous person who is suddenly everywhere, and that other nominees wants to meet. I'm thinking Troy Kotsur, the charismatic deaf actor from CODA last year, or that kid Jacob Tremblay during the year of Room, or even Uggie the Artist dog. This season's is quite a contest between Everything Everywhere star Ke Huy Quan, who is swamped at every event because we all remember him from The Goonies and Temple of Doom, or RRR filmmaker S.S. Rajamouli, who's very famous in India but charms L.A. people who don't know him by doing things like bowing down to Spielberg at Universal's campaign party on Friday.

Got fun stuff I should include in my every-other-week roundup? Matt@puck.news.

Have a great week,
Matt

Got a question, comment, complaint, or an unaired grievance? Email me at Matt@puck.news or call/text me at 310-804-3198.
FOUR STORIES WE'RE TALKING ABOUT
McCarthy Roulette
News and notes on Ted Cruz's '24 calculation, the Santos sitch, a key DeSantis ally, and more.
TARA PALMERI

Peltz at the Gates
Activist Nelson Peltz seems out for Iger's blood. But does his thesis make any sense at Disney?
MATT BELLONI

Need help? Review our FAQs page or contact us for assistance. For brand partnerships, email ads@puck.news.
Puck is published by Heat Media LLC. 227 W 17th St New York, NY 10011.