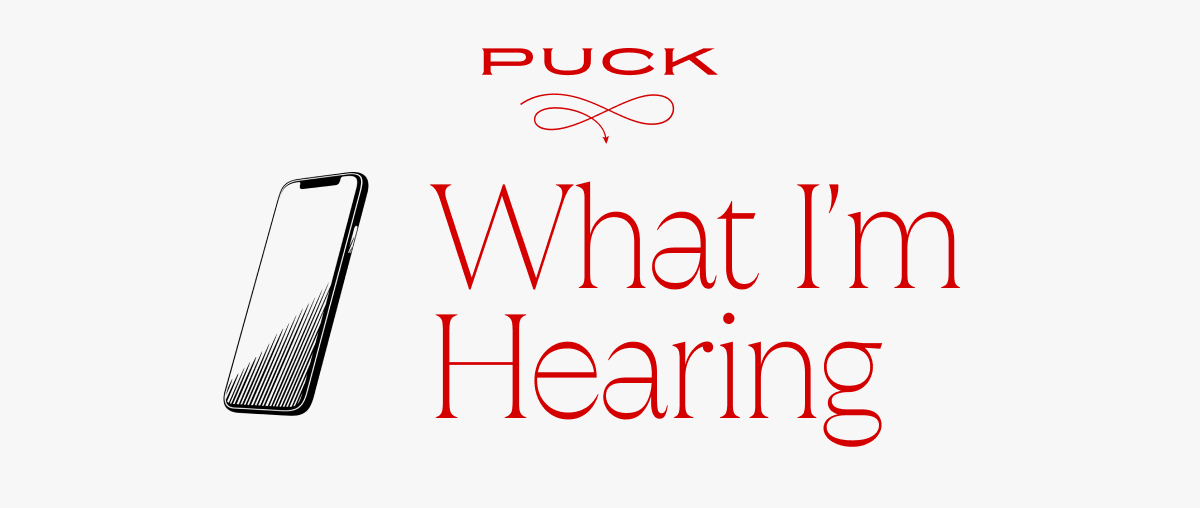 Welcome back to a slightly shorter edition of What I'm Hearing (I hear your feedback!) on this optimistic Sunday night. The SAG-AFTRA talks made progress on Friday and over this weekend, I'm told, with many of the financial issues resolved. A.I. and a few other matters are still outstanding, but—and I really hope I don't regret saying this—I'd be surprised if the strike isn't over by the end of the week. Ugh, I said it…
Programming note: This week on The Town, Lucas Shaw and I asked how long the good times can last at Netflix, MCU author Joanna Robinson predicted Marvel will bring back the original Avengers, and I answered listener questions and continued my one-sided feud with Martin Scorsese. Subscribe here and here.
Was this email forwarded to you? Click here to become a Puck member. Got a news tip or an idea for me? Just reply to this email.
Discussed in this issue: Hasan Minhaj, Ari Emanuel, Jason Blum, Elton John, Taylor Swift, Adam Aron, Toby Emmerich, Emma Tammi, Tree Paine, Chris Columbus, Joe Russo, Bruce Springsteen, and… South Park's Kathy Kennedy takedown.
But first…
Who Won the Week: Scott Cawthon
Easy one. The Five Nights at Freddy's game creator finally got a movie made (which he insisted on co-writing!) and it waaay outperformed expectations (including mine), with a $78 million domestic opening and $131 million worldwide, despite awful reviews. Sequel countdown is officially on….

Runner up: Bill Block
The executive dead cat bounce strikes again! Miramax's recently ousted C.E.O. scored the No. 1 movie on Netflix this week with Bill Burr's Old Dads and a strong limited release launch of Alexander Payne's The Holdovers.

A little more on this weird weekend…
The fact that Freddy's did such insane numbers, despite being available on Peacock, says a lot about...
Can't see the full story?

You're receiving the free version of What I'm Hearing at . For full access to Puck, and to each of my colleagues, you can
subscribe here.
FOUR STORIES WE'RE TALKING ABOUT

Need help? Review our FAQs
page or contact
us for assistance. For brand partnerships, email ads@puck.news.
You received this email because you signed up to receive emails from Puck, or as part of your Puck account associated with . To stop receiving this newsletter and/or manage all your email preferences, click here.
Puck is published by Heat Media LLC. 227 W 17th St New York, NY 10011.