Good morning,
Thanks for reading The Backstory, our weekly digest of the best new work at Puck.
It was another incredible week here at Puck's sun-drenched Chelsea headquarters: Lauren Sherman conveyed all the rumors out of LVMH; Dylan Byers offered a Talmudic reading of the latest Zaz sacred texts; and Matt Belloni deciphered Marvel's age of reduced expectations as Bill Cohan sized up Bob Iger's latest challenge. Meanwhile, Tara Palmeri broke the news on K Street's attempts to infiltrate the Mike Johnson bunker, while Peter Hamby ran the numbers on Biden's own Kennedy curse. And Julia Ioffe sat down with National Security Adviser Jake Sullivan to discuss Israel and Ukraine.
Check out these stories, and others, via the links below. And stick around for the backstory on how it all came together.
A MESSAGE FROM OUR SPONSOR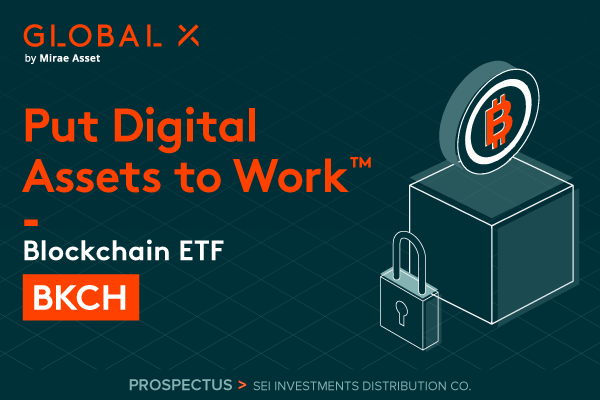 Unlock a New Investment Opportunity

Blockchain technology is the foundation of many cryptocurrencies, but it could also be transformative to other industries. Explore the Global X Blockchain ETF (BKCH) for access to companies at the leading edge of this technology – including digital asset mining, blockchain applications, and more.
FASHION:
Lauren Sherman previews the Gap's most recent reboot and scrutinizes the latest batch of LVMH rumors.

WALL STREET:
Bill Cohan deciphers Bob Iger's latest tea leaves.

MEDIA:
Dylan Byers examines the latest blips in the Zaz narrative and reports on the travails inside Condé Nast.

HOLLYWOOD:
Matt Belloni delves into the post-peak Marvel universe.
and…
Jonathan Handel unearths the last-minute drama from the final days of the actors strike.
and…
Julia Alexander reports from the front lines of the real streaming wars.

SILICON VALLEY:
Teddy Schleifer sits down with the aspiring prince of San Francisco.
and…
Eriq Gardner charts a bizarre twist out of eBay.

WASHINGTON:
Julia Ioffe talks to Jake Sullivan about Israel and Ukraine.
and…
Peter Hamby perceives Biden's real electoral threat.
and…
Abby Livingston and Tina Nguyen capture the mayhem on Capitol Hill, while Tara Palmeri details K Street's feverish attempts to charm Mike Johnson.

PODCASTS:
Justine Bateman, the former actress and SAG-AFTRA consultant on A.I., discusses the new actors' deal on The Town.
and…
Tara Palmeri explores the dynamics on the ground in New Hampshire with strategist Matthew Bartlett on Somebody's Gotta Win.
and…
Peter Hamby and Dylan Byers wonder aloud whether David Zaslav is losing the narrative on The Powers That Be.
On Wednesday evening, I headed up to midtown for a party in celebration of former CNN host Brian Stelter's new book, Network of Lies, a dissertation on the unraveling of Fox News in all its truth-sculpting gore. The party was at Michael's, the old and familiar haunt on West 55th Street, which sort of created the mythology of the see-and-be-seen Manhattan media power lunch—a venue where morning TV stars swilled glasses of oaky chardonnay beside Howard Rubenstein types, while bankers and publishers picked over Cobb salads at adjacent two-tops, yammering to each other while diligently keeping one eye askance to see who might walk in next. I hadn't been there in ages, since before Covid, and it was a delight to see the joint full—a sight that harkened back to a more romantic time.

The talk of the town that day, at least in our business, had been a pair of New York Times pieces about David Zaslav, the C.E.O. of WBD, whom the media had prematurely anointed as the Most Important Person in Hollywood before both actively and surreptitiously retracting the honor as the company diligently cut costs—pissing off innumerable cohorts within the creative community and old guard—to service its enormous, nearly $50 billion debt load. Zaslav can be a polarizing figure, as close readers of Puck know well. On the one hand, he's a ruthlessly efficient executive who had the ambition and fortitude to turn a fledgling low-fi backwater television roll-up into a true media colossus over the course of two decades. On the other hand, that kind of ambition has many scents in the media business, not all of them redolent. Sometimes there is collateral damage en route to the top.

Naturally, the crowd at Stelter's party was a living embodiment of the Times articles. Some of the subjects and authors, and many of their communications impresarios, were scattered about, nibbling on little slices of pizza or balls of crab cake. Conversations quickly turned to peoples' various impressions of the stories—and, frankly, how much about the guy they already knew from being ardent Puck subscribers.

Zaz's debt journey, to say nothing of his empire-building journey, has always been an infatuation of ours at Puck. After all, whatever you think of the guy or his performance, he's got a vision and he isn't afraid to crack a few eggs to get there. In the brilliant piece Zaz-Adjusted EBITDA, my partner Bill Cohan explains that the market pessimism around Zaslav's restructuring may miss the point. Zaslav's WBD has yet to ignite its revenue or EBITDA engine, but the company's debt-servicing discipline has positioned it to be an acquirer in the next chapter of Hollywood's M&A Hunger Games. Meanwhile, Dylan Byers's close reading of the Zaz narrative—including elements from those Times pieces—offers directional clues about his next key decisions. Zaz Lit 101 is for the real insiders.

But if you only have time to read one piece this weekend, I'd turn your attention to a work beyond the solar system of media egos—a topic far more important. Earlier this week, my partner Julia Ioffe had a very candid and frank conversation with National Security Adviser Jake Sullivan about the direction of the Israel-Hamas war, what it means for U.S. engagement, the state of affairs in Ukraine, and so much more. Sullivan was forthright and compelling. And Julia, once again, proved herself to be the leading voice on our culture's newly complex foreign entanglements. And this, more than anything, is the story of our time and precisely what you should expect from Puck.

Have a great Thanksgiving,
Jon

Need help? Review our FAQs
page or contact
us for assistance. For brand partnerships, email ads@puck.news.
You received this email because you signed up to receive emails from Puck, or as part of your Puck account associated with . To stop receiving this newsletter and/or manage all your email preferences, click here.
Puck is published by Heat Media LLC. 227 W 17th St New York, NY 10011.