Good morning,
Thanks for reading The Backstory, our weekly summation of the best new work at Puck.
It was another incredible week: Eriq Gardner revealed the celebrity assistant lawsuit of our time; Bill Cohan and Dylan Byers examined David Zaslav's sell-side logic for CNN; Lauren Sherman delved into the deal murmurs around the Olsen twins' fashion line; Tina Nguyen penetrated a mortal feud on Capitol Hill; Matt Belloni broke the news on Vanna White's pay disparity; and Julia Alexander found the flaw in Netflix's binge economics.
Check out these stories, and others, via the links below. And stick around for the backstory on how it all came together.
A MESSAGE FROM OUR SPONSOR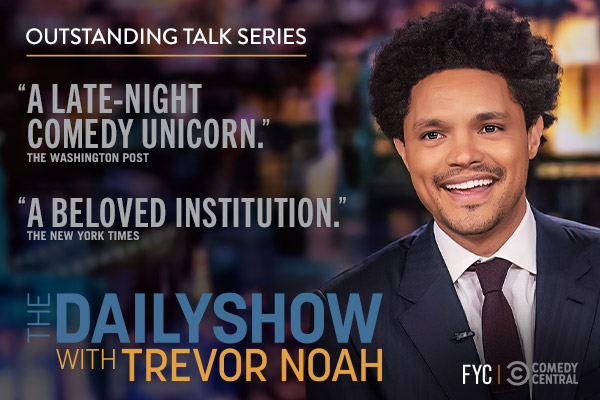 For your Emmy consideration, the show The New York Times called "a beloved institution," is eligible in all categories, including Outstanding Talk Series.

This past year, The Daily Show and its fans bid farewell to Trevor Noah, after his groundbreaking seven-year run as host. During his time at the desk, he helped make sense of a nonsensical world. And he did it each and every night, four nights a week, 52 weeks a year, except when he was on vacation.

The Washington Post called Trevor "a late-night comedy unicorn." And we all know how rare unicorns are. They're pretty much extinct.

He didn't do it for the awards…but come on.

If you're still not convinced, go to www.paramountfyc.com.

FASHION:
Lauren Sherman reveals where the Olsen twins are taking The Row.
WALL STREET:
Bill Cohan reports on the O.C. star who saw through S.B.F. (You can't make this stuff up…)
and…
Bill and Dylan Byers explain the gathering deal heat around CNN.
MEDIA:
Dylan also reveals the true star of post-Tucker Fox News.
HOLLYWOOD:
Matt Belloni breaks the news on Vanna White's pay inequity.
and…
Matt and Bill discuss Bob Iger's sophomore slump.
and…
Julia Alexander analyzes whether Netflix needs to rethink its binge drop model.
SILICON VALLEY:
Teddy Schleifer unearths the fate of tech's most reclusive billionaire.
WASHINGTON:
Tina Nguyen explains McCarthy's freshest headache and drops the intel on Tucker Carlson's new wingwoman.
PODCASTS:
Matt wonders whether entertainment mediacos have gotten too big to fail on The Town.
and…
Peter Hamby and Eriq explain why De Niro's assistant needed five million Sky Miles on The Powers That Be.
One recent morning, I was sitting in my office trying to do about three or four things at once—scan the news, review Puck's latest subscriber numbers, keep up with our email open rates, and compile some data for our executive team—when my eye glanced away from my laptop screen and toward my iPhone. Dylan Byers was texting me that he had a lead on a fresh new reporting angle about CNN, the veritable beat that he manifested into existence some fifteen months ago around the time of Jeff Zucker's ill-advised ouster, an extended employee grievance session, and the appointment of Chris Licht as C.E.O. He'd gotten a tip that bankers were making calls, and ginning up potential interest in a putative sale.

Was CNN actually for sale? No, of course it wasn't: not now, not quite, not officially, especially after all the sturm und drang surrounding the Licht defenestration. But things aren't always so binary in dealmaking. Back in 2001, after all, AT&T wasn't considering selling its vaunted broadband unit until Comcast C.E.O. Brian Roberts put forward a $72 billion offer that was too good to refuse. I think about the merger often since one of JP Morgan Chase's M&A bankers on the deal was a whippersnapper named William D. Cohan, now Puck's peerless founding partner and Wall Street eminence.

Dylan and I went back and forth over text for a beat, and I suggested that he reach out to Bill, the most well-sourced guy on Wall Street, to see if he was hearing anything on his end. As it turned out, Bill was also tracking down the story from a separate vantage point: According to his sourcing, CNN was indeed a subject of conversation at the highest altitudes of Wall Street M&A circles.

Quickly, we hopped on a three-way call and envisioned a collaboration that delineated the various and serendipitous realities of their reporting. Of course, given the complexity of the players and motivations, a fascinating picture emerged. After a frigid year in the M&A trenches, bankers were thirsting for deal flow and motivated to find buyers for premium assets, especially pristine ones like CNN. Meanwhile, Warner Bros. Discovery C.E.O. David Zaslav has found himself in a race to service his company's $45 billion in debt (WBD is an L.B.O. by another name) and might be more susceptible than ever to contemplating a CNN spin.

In fact, as a fiduciary, it's his responsibility to consider such deals. So while a deal wasn't imminent in any sort of way, both Dylan and Bill's reporting suggested that a logic for it was becoming abundantly clear—too clear, in fact, to avoid. I highly recommend setting aside some time to read their story, Is Zaz Ready to Enter CNN Deal Mode?, which lays out the nuances and complexity of managing a scaled entertainment media company in the modern public markets, amid the current interest and regulatory environment, managing the dual pressures of supporting a historic news division while placating uppity shareholders. What does the future hold for CNN? It's the story of our time, and we'll be following Zaz's industrial logic every step of the way.

Meanwhile, if you only have time to read one piece this weekend, I'd like to make an extra suggestion. I entered the professional ranks as an assistant to an assistant, which used to be how many of us older millennials entered the salt mines of creative businesses a couple decades ago. So you'll have to understand that I'm always susceptible to stories about the complex relationships between underlings and their bosses, especially when money and egos and spouses are involved.

Well, my partner Eriq Garder has hit the motherlode in De Niro and the Nastiest Legal Assistant Saga Ever, which charts the gruesome court fight between the legendary actor and his former aide over millions of Delta SkyMiles, accusations of betrayal, eye-opening texts and emails and a $6 million lawsuit. It might not quite be the story of our time, but it will certainly serve as some light beach reading.

Have a great weekend,
Jon

Need help? Review our FAQs
page or contact
us for assistance. For brand partnerships, email ads@puck.news.
You received this email because you signed up to receive emails from Puck, or as part of your Puck account associated with . To stop receiving this newsletter and/or manage all your email preferences, click here.
Puck is published by Heat Media LLC. 227 W 17th St New York, NY 10011.