On the evening of October 24, two young Russian men, eager observers and participants in the social fabric of their capital's fashionable elite, were dining in Regent by Rico, a hip Moscow restaurant specializing in steaks and seafood. As they dined, Arian Romanovsky, who used to edit Russia's edition of Tatler, and Kirill Sukhanov, the financial functionary of a new media company, were arrested. They were taken to jail and questioned—Romanovsky said he was not allowed to have his lawyer present—and a judge ordered them held in prison for two months. Their alleged crime was "information blocking," the practice of charging people money in order to take down derogatory information about them or never posting it to begin with—essentially, gossip racketeering.
Sukhanov and Romanovsky had been running this scheme on their new but already popular Telegram channel "Turn Off the Lights," according to investigators, charging the richest and most famous Russians hundreds of thousands of dollars to take down negative posts. According to two people who know them, the allegations sound pretty close to the truth.
Given everything that's happening in Russia these days, this case would hardly merit a mention were it not for the people actually involved. The victim in this case, according to the case materials seen by reporters for Russian state news agencies, was Sergei Chemezov, the head of the state defense conglomerate, and a former K.G.B. officer who happened to be Vladimir Putin's boss in Dresden during the waning days of the Cold War. It was reported that Chemezov personally pressed charges after Sukhanov and Romanovsky had allegedly demanded 11 million rubles—some $800,000—to take down a negative post. According to reports, Sukhanov was arrested while receiving the first tranche of the payout.
As with many dramas involving Russia, of course, the story behind the story is stranger still. Especially when it comes to the Russian elite, all frantically playing a game of musical chairs for favor, status, wealth, and their very survival in a system where one wrong move can result in a disastrous fall. In the context of an imperial war gone terribly wrong, the stakes have never been higher.
Indeed, the case currently playing out in Moscow over this obscure Telegram gossip channel painfully illustrates how the war in Ukraine is shaking up the constellations of the Russian elite, forcing them to survive by realigning and, in many cases, cannibalizing each other. "This is a sign of a new order and new groupings that have sprung up because of the war," said Mikhail Zygar, author of All the Kremlin's Men. "During war, everything comes into sharper contrast. New careers are made and old careers crumble. No one can be sure of the old ways and the old arrangement of forces."
Consider who Chemezov has targeted. Sukhanov, after all, is the financial right hand man of Ksenia Sobchak, one of Russia's most famous and influential media personalities, who runs a profitable YouTube channel and several social media outlets, a clothing brand, and a restaurant in the Four Seasons, right off of Red Square. Sobchak also just so happens to be the only child of the late Anatoly Sobchak, the first democratically-elected mayor of post-Soviet St. Petersburg. Sobchak was Putin's political mentor and the man who gave the Russian president his start in Russian politics; his daughter Ksenia is rumored to be Putin's goddaughter, which she has always denied. Anatoly Sobchak died in February 2000, a month before Putin became president. And despite the rumors surrounding his strangely timed death, Putin, like a true mafia don, has stayed loyal to the memory of the mayor who made him a made man. No matter how outspoken Sobchak's daughter or his widow, senator Lyudmila Narusova, have gotten, they have remained essentially untouched.
Until now. On October 26, two days after Sukhanov was arrested, investigators showed up with a search warrant at Ksenia Sobchak's dacha in the elite Moscow suburb of Gorki-8. Sobchak, however, was a step ahead of them. Apparently tipped off that she was a suspect in the case and that arrest awaited her at the airport, she bought two airplane tickets—one for Dubai and one for Istanbul—and instead drove west, through Belarus, and crossed the Lithuanian border on foot, using her brand new Israeli passport.
---
The Paris Hilton of Moscow
It's hard to describe Ksenia Sobchak succinctly to an American audience. In the mid-2000s, she ascended to tabloid fame much like her contemporaries in America, Kim Kardashian and Paris Hilton. But Sobchak was different. Whereas Kardashian and Hilton were scandalous heiresses with reality TV shows and sex tapes, Sobchak—who had all that, too—came up in a country that was quickly becoming an authoritarian state under the control of a barely reformatted K.G.B., all run by her late father's former student. Given Putin's fealty to the mafia-style codes of this system, Sobchak was effectively a protected citizen as she rose to fame amid an unprecedented oil and commodities boom. When she got her own show on Kremlin-controlled television, it was fittingly called Blondinka v shokolade, or Chocolate-Covered Blonde, "chocolate-covered" being a synonym for newfound affluence. Her fame also brought riches, especially on the event circuit. Russians love hiring celebrities to M.C. their events, both private and corporate, and Sobchak, who is witty and well-spoken, ably leveraged her television celebrity into a brisk business.
That all came crashing down in the winter of 2011 when Sobchak went over to the side of the opposition as Moscow and many big Russian cities were gripped by pro-democracy protests. Whether because she felt her father's legacy stir inside her or because she couldn't miss out on a good trend, Sobchak even dumped her boyfriend and got a new, more fashionable one: Ilya Yashin, the young deputy of opposition leader Boris Nemtsov. This resulted in her getting banned from state TV—and a significant decline in her events business. It also resulted in her first state search, when investigators showed up at her apartment early one morning, seized all the cash in her safe, and, in their balaclavas and with their machine guns, accompanied her on every trip to the bathroom. Unlike other members of the opposition, however, she avoided arrest and prison. This was the worst that happened to her: she was blacklisted from state TV and Putin refused her an audience.
Still somewhat protected by her father's legacy, Sobchak was able to rebrand herself as a socialite who had gotten serious, a woman who left her gilded Kremlin cage to slum it with the opposition. She began to host a popular interview show on TV Rain, the independent channel, and positioned herself as a tough, independent journalist. She never missed a chance to ask Putin a question at his big, hours-long annual press conference. But on some level, it was all a game. Putin got to pretend he wasn't scared of any question the press might ask him, though of course there were many questions that were off limits. Only Sobchak was allowed to cross those lines, inquiring about matters that got under his skin more than most, including about her new close friend (and Putin's mortal enemy) Alexey Navalny. All this buttressed her reputation as an independent journalist and thinker, and she was able to build a thriving parallel business as an Instagram influencer.
Still, as the Kremlin successfully hemmed in the opposition, she attempted a new opportunistic pivot. Sensing how much her affiliation with political dissidents ultimately limited her audience, she broke up with Yashin and, in 2013, married a fashionable and well-liked actor, in part as an attempt to re-mainstream herself. When TV Rain was forced off the Russian satellite and cable channels in 2014, she clearly hungered for the tens of millions of eyeballs guaranteed by the Kremlin networks.
The Kremlin ably tapped into this dissatisfaction, offering Sobchak the chance to come in from the cold in exchange for running for president against Putin in 2018 as a spoiler candidate. This would, in the view of the Kremlin, give urban liberals an alternative to Navalny, whom the Kremlin was intent on keeping off the ballot. According to what I was told by people close to Sobchak, in exchange, she was offered what she coveted most: a return to Kremlin-controlled TV.
Sobchak accepted, which earned her the undying enmity of Navalny, who was not allowed onto the ballot and against whom the Kremlin unfurled a number of manufactured criminal charges that eventually landed him in jail, where he remains to this day. It also irrevocably stained her in the eyes of many opposition-minded Russian liberals, who understood immediately the game she was playing.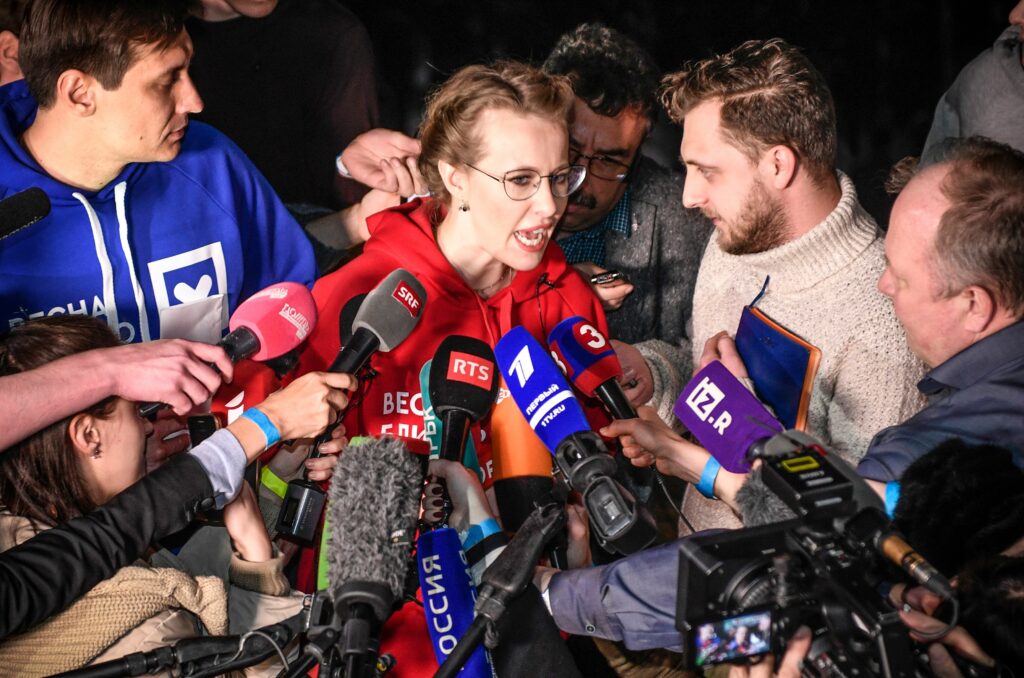 A month before the March 2018 elections, Sobchak and her team came to Washington, D.C. for an inexplicable trip. Her campaign staff, including Sukhanov and campaign chair Anton Krasovsky, who is now one of the most hideous and vicious propagandists for the war in Ukraine, met me at the Four Seasons, where they were staying. Sukhanov and Krasovsky complained about the business class flight they had taken that day from Moscow. As we sat at the bar, I asked Krasovsky why they would make such a trip with just a month left before the election. He looked at me, oozing sarcasm, and rolled his eyes. I'm paraphrasing four years after the fact, but he said something like, Listen, we're just punching the clock and making our money. Sobchak, who was supposed to join us and give me an interview for GQ, backed out at the last minute: she was too busy shopping in Georgetown.
---
Krysha
When news broke that Sobchak had fled the country, the memory of her pseudo-presidential campaign was still fresh for many. Navalny's team, in particular, felt like Sobchak's purported escape might be a Kremlin operation to launder her reputation—or to plant their own agent among the now vast population of Russian political émigrés abroad.
But those who know Sobchak, even those who find her distasteful, tell me the case against her is quite real. (Her lawyer, Sergei Badamshin, whom I've known for years and whom I tried to engage on this story any which way, remained uncharacteristically mum, refusing to comment about any aspect of the case.) For one thing, the case is so murky and so strange that it seems exactly like the kind of thing that actually happens in the towers of the Kremlin, clans fighting rival clans for access and power and another day under the sun. "It's so crooked that it seems real," said one source close to Sobchak. "If they needed to create the aura of a martyr around her so she could be sent into an enemy country as an agent, they could've done it much more simply."
Consider another element in this case: Sobchak's arch-rival, her former friend and another socialite-turned-media-mogul, Tina Kandelaki, whose fingerprints some people see on this case. Kandelaki is married to Vasily Brovko, who works for Chemezov at Rostekh, the state defense concern. He has been her enforcer in the past, using Chemezov and his ties among the siloviki, the "strong men" in the security services, to settle her scores. It seems that's what happened here: the siloviki moved quickly, arrested Sukhanov, Sobchak's right-hand man, and began to tighten the noose around Sobchak herself. ("Taking the person closest to her, it looks pretty real," noted the source close to Sobchak. "That's exactly how the F.S.B. works.") It all happened very fast, in less than two days, which did not seem to give Sobchak's krysha—literally "roof," or political top cover—in the presidential administration time to react. It seems the most they could do was help her get out of the country. In the leaked video of Sobchak crossing the Lithuanian border, she is accompanied by a burly, professional-looking man.
This argument was buttressed further when reports began to surface in the early hours of Monday morning that Sobchak, who had spent the previous week complaining, both in public and in private about her terrible plight, had returned to Russia, less than two weeks after she had fled. And while Sukhanov and Romanovsky remained in jail for the foreseeable future, she was now neither a suspect nor a witness in the case. On Tuesday, two sources close to Sobchak told me they believed the reports were true. "I think she made a deal," one of the sources told me. The presidential administration, it appeared, had come through and rescued their girl.
---
Controlled Opposition
Sobchak, as one friend in the Russian media-in-exile explained to me, is "propaganda for clever people." After she finished running for president—she got less than two percent of the vote—she briefly returned to Kremlin television where she used her platform to build her own media empire. As young Russians migrated toward YouTube, she built a channel there with high production values and more than three million subscribers. Her personal Telegram channel has nearly 1.5 million subscribers, and her news channel, which recently began employing reporters who had been employed at places like TV Rain, has another 1.5 million. On Instagram, she is followed by 9.4 million people.
She has tremendous reach and, most of the time, she preaches what might sound like a reasonable position to an educated Muscovite. But when it matters, she lines right up with the Kremlin. The political capital she's accrued up until that point as an ostensible opposition leader can therefore be used to influence Russian liberals into passively agreeing with Putin's policies, even if they don't like the man himself. And his rumored goddaughter is one of his best weapons.
For instance, Sobchak will speak out against the jailing of political prisoners in Russia but when the racial justice protests descended on America in the summer of 2020, Sobchak neatly picked up the line pushed by Kremlin TV: these were rioters destroying private property and forcing white people to kneel in submission to Black people. When Russia invaded Ukraine, she was for peace but didn't say who had violated it or how it could be restored. She threw herself into covering the conflict, but in a very careful way. She never said the word "war," which is prohibited by Russian law. She didn't cover what the Russian army had done in Bucha. Instead, she focused on the sins of the Ukrainian army. In a recent episode of her show, she went to Tbilisi, where she got into a debate with a Georgian who wouldn't let her into his bar because she didn't fill out its entry form correctly: she had once voted for Vladimir Putin and she wouldn't agree with the point "Glory to Ukraine!" In the debate, she took a clearly pro-Kremlin line: Russians were victims, mistreated by Russophobes everywhere outside of Russia's borders.
Sobchak, according to those who know her, is fully aware of this bargain, and like many people who are the Kremlin's agents, she thinks she can play her minders to her advantage. "She goes to the management, she gets her money, and thinks she can fuck them over, be independent and trick them and do things her way," said one source close to her. "She often makes her own decisions and she doesn't get detailed instructions." I asked how this was possible. "Because they give instructions rarely and the people that give the instructions are idiots," the source replied. "Some people, like [RT television chief Margarita] Simonyan, feel the party line. Simonyan doesn't have to get frequent instructions because she lives it. Others have a great deal of freedom and cunning." Sobchak clearly belongs to the latter category. "She's always criticized the system, but she always respects a certain line, she doesn't cross it," said another source close to Sobchak, whom they called "a careful girl." 
Now that she's come back, though, she'll have to be even more careful. The Kremlin will have to feed Chemezov and the siloviki as part of whatever deal it hammered out, and Sobchak clearly had to sacrifice something. "Her return likely means that she had to become fully loyal," said the second source. "There had to be conditions." But according to this source, who knows Sobchak well, she had no other choice, which is ultimately why the Russian elite choose to stay in the game as long as they do, as dangerous as it is. They keep playing until the stress and humiliation of playing it outweighs that of being an émigré, which to many Russians is a kind of death in itself. "Without the drug of celebrity, she would have a hard time in emigration," the source said of Sobchak. "It's doubtful that anyone would need her in the West."