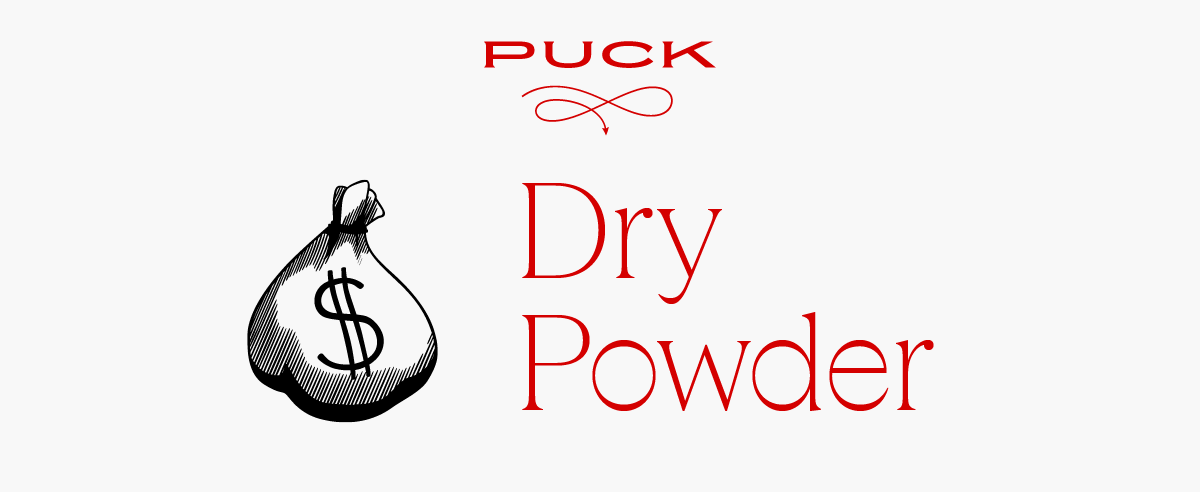 Happy Wednesday, and welcome back to Dry Powder.
It's been a long 12 days since Elon completed his purchase of Twitter, and the collective response has been, to put it mildly, negative. So I was surprised this week, while corresponding with Sir Martin Sorrell, the world-class British ad man, to encounter someone who framed Musk's unenviable position as containing a silver lining. In today's issue, my conversation with Sorrell, plus notes on the latest developments in Letitia James's case against the Trump Organization, and the fall of Sam Bankman-Fried.
Over the weekend, I engaged in an interesting email exchange with Sir Martin Sorrell, the founder of WPP plc, the world's largest advertising and P.R. group. After he resigned in 2018 amid an investigation about personal misconduct, at the height of the #MeToo era, the energetic Sorrell, now 77 years old, started S4 Capital plc., a premier digital advertising and marketing company that now has 9,100 employees in 32 countries. I reached out, as you can imagine, with questions about the operational viability of Twitter.

As we know, Elon Musk fired some 50 percent of the 7,500-strong Twitter workforce, including its C.E.O., C.F.O. and general counsel, days after closing his $44 billion deal. Other important executives have also left or been fired, although there is some reporting now that maybe Elon went too berserk in his reduction-in-force and has asked some of them to return. (Good luck with that, Elon.) He's also bungled his planned changes to the "blue check" system on Twitter, which would eliminate the idea that a checkmark reflects some level of verification in favor of giving the badge to anyone willing to pay $8 a month. (What's the point of it, then?) In any event, Elon has postponed the blue check reckoning until after yesterday's midterm elections, so we'll know soon enough whether this will be a revenue generator for Twitter or not.

But I was most interested in the revenue piece, especially given Elon's bizarre "naming and shaming" exercise with Twitter's advertisers. Among those companies that have paused their Twitter advertising are Audi, General Mills, GM, Mondelez, Pfizer, United Airlines and CBS News. That's not an auspicious sign for an advertising-dependent business with $13 billion in debt that is weighing on its lenders' balance sheets. To top it all off, there was the kerfuffle over the weekend that resulted in the comedienne Kathy Griffin getting suspended for life from Twitter because she had the audacity to impersonate Elon without properly labeling her tweets as parody. That puts Griffin on the same plane as Donald Trump, the insurrectionist and once-and-possibly-future president. So much for Elon's pledge to make Twitter a temple of free speech.

In other words, in addition to its rash of financial problems, in his two weeks of ownership, Elon has also jumped the shark operationally. But Sorrell took a more cautious view. He responded cheerfully that what Elon is "trying to do" by quintupling Twitter's current $5 billion in revenues was actually "not huge" because $25 billion of revenue would still represent only 5 percent of the entire $500 billion pool of global digital advertising. (I've seen one 2022 estimate as high as $600 billion.) At the moment, Sorrell explained, Twitter only has 1 percent of global digital advertising, so going from 1 percent to 5 percent is not unreasonable for a platform of Twitter's scale.

Sir Martin does, however, believe that Elon is facing "two big issues" and they are both fairly practical matters—content moderation and employee morale. "Clients won't advertise on controversial platforms," he wrote to me. "They'll just hold off and wait and see." And the "indiscriminate firing" has, he surmised, hurt the Twitter culture, such as it was, perhaps permanently. Sorrell thinks Elon may have a solution there: "[H]e'll turn increasingly to his loyal following, which seems to be still very considerable."

He recommended that I watch the BBC's The Elon Musk Show before rushing to underestimate his turnaround effort. "He's been here several times before," Sorrell concluded. "So it doesn't pay to bet against him. Twitter is a valuable platform, if managed well, which he is more than capable of doing, whilst at the same time managing SpaceX, Tesla, et al." That's a pretty impressive vote of confidence for Elon, and a decidedly contrarian view, albeit from someone who has made a fortune making contrarian bets. So I asked Sorrell, did he think Elon may actually have a viable strategy for making a go of Twitter, even in its current state of turmoil and overleverage? "It's all about content management and now people management," Sir Martin replied. Of course, Sorrell is right. But there's no evidence—yet—that Elon has a clue how to manage either what's left of Twitter's content or its people.
There was a surprisingly little-noticed ruling last week from New York State Judge Arthur Engoron, in the ongoing legal fight between the resoundingly reelected New York State Attorney General Letitia James and former president Donald Trump and the Trump Organization. Engoron decided to appoint an "independent monitor" for the Trump Organization. The monitor, once he or she is appointed after November 15, will make sure that Trump, his sons, and his businesses comply with the court's preliminary injunction that bars Trump and his businesses from "selling, transferring or otherwise disposing of any non-cash asset" listed on Trump's 2021 Statement of Financial Condition without court approval and after first submitting a written notice to both James and the court 14 days prior to the desired sale.

To me, that's big news. It means Trump can't sell anything in his stable of quirky assets, including Mar-a-Lago, Trump Tower, and 40 Wall Street, without the approval of the court. The "independent monitor" will make sure the crafty Trump complies with the court's injunction. If Trump tries to pull a fast one, then the monitor will report that fact to James, the court, and the Trump Organization "immediately" according to the court order. What's more, Trump was also ordered by the court to let the monitor see everything—financial statements, internal documents, lender and insurance information, anything non-privileged—about the Trump Organization. In other words, pretty much everything. I did not see any of this coming, nor I suspect did Trump and his lawyers. (Trump's team has not yet answered James's complaint but it did "vigorously" oppose, according to the judge, James's motion to appoint the "independent monitor." Trump argued that James had "neither standing nor legal capacity to bring this action." But, the judge wrote, "the defendants are mistaken.")

Judge Engoron was merciless in his opinion that Trump had been up to some rather breathless shenanigans over the years. For instance, the judge cited Trump's nosebleed valuation of his triplex in Trump Tower on his Statement of Financial Condition as being particularly egregious. While the apartment's "undisputed" square footage is just under 11,000 square feet—really big anywhere, let alone Manhattan—between 2012 and 2016 Trump claimed the apartment was 30,000 square feet. "Mr. Trump further used this extreme exaggeration to inflate wildly the value" of the apartment on his financial statement "for years," the judge wrote. 2011: $80 million. 2012: $180 million, cuz ya know. 2013 and 2014: $200 million. 2015 and 2016: $327 million. Even Trump's fellow defendant, Allen Weisselberg, the Trump Organization's former chief financial officer, testified that Trump exaggerated the value of the triplex by "give or take" $200 million.

Meanwhile, over at the Trump Park Avenue, a 32-story condominium at 502 Park Avenue where Trump still owns 12 rent-stabilized apartments, their value has been appraised at a mere $750,000 owing to the fact that the current tenants in the apartments are paying low rents and cannot be kicked out of them, making them essentially unsaleable, at least for the time being. But according to Trump, the 12 apartments are worth $50 million. His own accountant, Donald Bender, testified that he was "shocked by the size of the discrepancy" between the appraised value of $750,000 and the $50 million value that The Donald assigned to the apartments. At 40 Wall Street, where the Trump Organization owns a "ground lease," Cushman & Wakefield appraised the building, in 2010—a while ago for sure—at $200 million. Despite the appraisal, Trump valued 40 Wall Street at around $525 million in 2011-2013, according to Judge Engoron, and also failed to share the C&W appraisal with Mazars, Trump's one time accounting firm. Bender testified it was "misleading" of Trump not to provide Mazars with the C&W appraisal and that the Mazars may not have issued the Trump Statement of Financial Condition had it had the C&W appraisal.

The Judge even dragged Don Jr. into the mix, arguing that although he signed the Trump Organization's financial statements, essentially warranting their accuracy and integrity, he testified in his deposition that "outside of Accounting 101 at Wharton," he had no knowledge or understanding of Generally Accepted Accounting Principles, or GAAP. (No surprise there, I guess.) He also testified that he had "no real involvement in the preparation" of the Trump Statements of Financial Condition, despite attesting to their accuracy year after year and didn't "really remember working on it with anyone."

The judge continued about Don Jr., "[A]t a minimum, Donald Trump Jr. signed off on representations to Mazars without performing the due diligence necessary to ensure their accuracy or compliance with GAAP, raising serious doubt as to the reliability of future [Statements of Financial Condition] for which Donald Trump Jr. may be responsible. Furthermore, the record is replete with evidence that Donald Trump Jr.'s statement that 'we' have not knowingly withheld pertinent information is blatantly false."

Down at Mar-a-Lago, the judge found that Trump also inflated valuations. In 1995, Trump signed a Deed of Conservation and Preservation that gave up his rights to use the property for any purpose other than as a social club. In 2002, Trump also signed a Deed of Development Rights conveying to the National Trust for Historic Preservation "any and all of [his] rights to develop the Property for any usage other than club usage." But, the judge wrote, "[d]espite these prohibitive legal restrictions, Mr. Trump signed SFCs between 2011 and 2021 valuing the property at between $347 million and $739 million, based on the false premise that it was an unrestricted plot of land that could be sold and used as a private home, rather than the heavily encumbered historical landmark that it was." The judge also appeared to frown on Trump's decision to invoke the Fifth Amendment more than 400 times during his deposition in the case.

He wrote that he was "persuaded" to "draw a negative inference" from Trump's repeated refusal to answer questions during the deposition. "For example, when asked if he knew that each SFC from 2011 through 2021 contained false and misleading valuations and statements, Mr. Trump invoked his right against self-incrimination," the judge wrote, adding that he also invoked the Fifth Amendment when asked if he instructed any Trump Organization employees to "inflate the asset valuations" in the Statement of Financial Condition between 2011 and 2021. Concluded the judge, "Although the above examples are by no means exhaustive, they are more than sufficient to demonstrate [James's] likelihood of success on the merits."

Judge Engoron was also unequivocal about issuing the preliminary injunction, as requested by James, to prevent Trump from selling his assets without court approval. "In the absence of an injunction, and given defendants' demonstrated propensity to engage in persistent fraud, failure to grant such an injunction could result in extreme prejudice to the people of New York," he wrote. "Further, the relief sought is appropriately tailored to curbing unlawful conduct and ensuring that funds are available for potential disgorgement at the conclusion of this case."

No wonder Trump is reportedly getting ready to announce a new run for the presidency. There's probably no better way for him to stay the legal forces lining up against him than to claim he can't be prosecuted because he's a 2024 presidential candidate. Will this ever end?
And now comes out of left field the meltdown at Sam Bankman-Fried's FTX. Who saw this hardball play from Binance coming? I am pretty sure S.B.F. didn't, just as Bill Ackman never saw the short squeeze coming at Herbalife, back in 2012, or Gabe Plotkin and Melvin Capital never saw it last year at GameStop, the video gaming retailer. It's still not entirely clear what happened to S.B.F. and FTX, but it is clear that Binance founder Changpeng Zhao squeezed S.B.F. hard by selling FTX tokens that it owned, driving down the value of one of FTX's chief assets. And then seemingly walking away from the dying body.

Binance is a FTX competitor and found the weakness in the FTX balance sheet and went for it. Darwinian capitalism at its best, or meanest, or cruelest, you name it. But if some $6 billion in assets was fleeing FTX per day in the last few days, that's the same kind of recipe for disaster that Bear Stearns and Lehman Brothers faced in their final days before they contemplated filing for bankruptcy.

Meanwhile, what about the bigtime investors in FTX that just got hosed? In October 2021, Sequoia Capital invested in a $420 million round at a $25 billion valuation for FTX. In January, a group including Paradigm invested $400 million at a $32 billion valuation. "And now it's selling in a fire sale?" the tech journalist Eric Newcomer tweeted.

A year ago, S.B.F. was the talk of the town, the richest person under 30, with a net worth of $25 billion and counting. FTX adorned the arena where the Miami Heat play basketball. He was a huge supporter of Democratic Party causes in and around Washington. He was a huge believer and supporter of Effective Altruism. He once speculated that FTX might buy Goldman Sachs. He lives simply—he sleeps on a bean bag chair in his office, according to legend—and is roughly non-materialistic. And he pledged to give most of his money away. He may still do that but my guess is there's going to be a lot less of it than there once was.

I've met Sam and interviewed him for the crypto documentary I've been working on. He's a great person. And he'll bounce back, I'm sure, from this thumping. Call it yet another example of the Curse of Naming a Stadium.
FOUR STORIES WE'RE TALKING ABOUT
Elon's MBA Test
Teddy and Bill evaluate whether Musk can change Twitter's business model mid-flight.
TEDDY SCHLEIFER & BILL COHAN

Russia's Kim K
The curious case of Ksenia Sobchak illustrates a profound truth about modern Russia.
JULIA IOFFE

Hocus Pocus Locus
'Hocus Pocus 2' is the quintessential title for understanding modern Hollywood's identity crisis.
JULIA ALEXANDER

Need help? Review our FAQs page or contact us for assistance. For brand partnerships, email ads@puck.news.
Puck is published by Heat Media LLC. 227 W 17th St New York, NY 10011.