Welcome back to The Washington Mall, this town's favorite newish bi-weekly private email focused on the egos and rainmakers on the Hill, in the White House, on K Street, and banging around its august media companies. Thanks for your support.
Tonight, I'm focusing on the complicated dance between Nikki Haley, the ambitious '24 aspirant, and her even more ambitious protégé, Tim Scott, who appears ready to run her off the road. But this is Washington, so what's friendship anyway!
But first…
Even some of Mitt Romney's most ardent champions are wondering why he won't endorse his Utah Senate colleague Mike Lee for re-election, especially after Lee literally begged for it on Tucker Carlson's show this week, saying "Please get on board. Help me win re-election." Romney has suggested that he wants to be neutral rather than endorse one of his two "friends," a reference to Lee and his opponent, Evan McMullin, who is running as an independent.

Yet many seem to believe that Romney simply doesn't want to lend his credibility and gravitas to Lee, a major Trumper and January 6 supporter, even though Lee endorsed Romney in 2018. Interestingly the G.O.P. endorsement game has been pettier than you might expect in this earnest and generally square state. Lee, who has been tight-fisted with his own endorsements, didn't back the late Orrin Hatch in 2012. Now Lee's people are pissed at Romney. "It's annoying because he endorsed him for the Senate," said a Lee supporter. "It's his Republican colleague, just give him the endorsement."

Romney is a generally principled guy—at least outside of his Trump solicitation after the 2016 election—but many fear this move is short-sighted. Romney wants to run for reelection in 2024 and likely doesn't need any more enemies in his own state. Some think could use a little more political expediency at home, where he may face a tough primary. "He's principled and that's why he's loved, but he's getting too many enemies in state," said a former Romney staffer. "He should endorse all incumbent Republicans."

Others, however, wonder if this goes beyond politics. Lee, after all, was a former lawyer for rival LDS bigwig Jon Huntsman, the Utah Capulets to the Romney's Montague stature. There's also old beef from 2012, when Huntsman's endorsement of Romney came a wee bit later than expected. And maybe Lee is the collateral damage of said beef. ("Mike Lee is on the ballot and owns his record and his campaign," said a person close to Romney. "The notion that Mitt Romney could win or lose the race for him is absurd.")
Former D.N.C. finance vice chair Dale LeFebvre is back on the donor circuit after a hiatus following the 2016 election. But now he's embarking on a different path in the much-ballyhooed mission to protect democracy: instead of focusing just on the D.N.C. and the shiny Senate or House candidates, LeFebvre sees America's statehouses as a first line of defense against a potential 2020 election redux. It's the governors, after all, who typically have control over their secretaries of state and, ultimately, ballot counting.

The wealthy Black M.I.T.-credentialed engineer and Kennedy Center board member hosted Joe Biden at his home in northwest D.C. last month for one of the Democratic Governors Association's highest grossing fundraisers, where the group hauled in $1 million. The event was attended by New Jersey Gov. Phil Murphy, who isn't up for re-election, but LeFebvre highlighted a number of key races, I'm told, including Maura Healey's in Massachusetts.

LeFebvre, a foodie and trained chef who previously hosted Barack Obama at his home for a culinary fundraiser in 2015, served his signature cherry hotdogs at last month's event, while toasting the president with a food analogy. "I love food because food restores the soul. President Joe Biden is restoring the soul of this nation," he told the crowd. The word is that LeFebvre intends to make a splash between now and the presidential election.

And now to Tim and Nikki…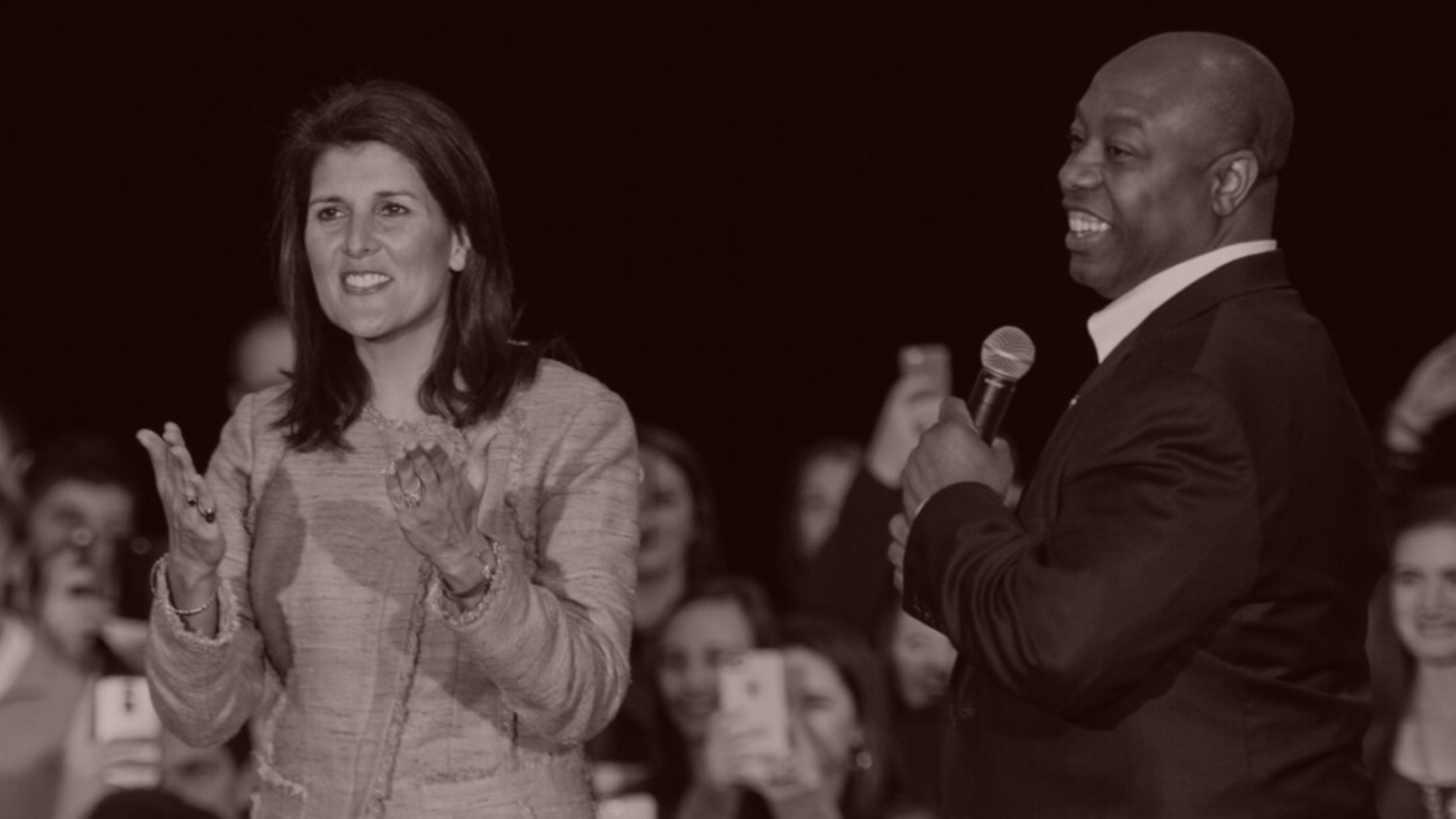 Can Tim Scott & Nikki Haley Roam the Same Earth?
Scott, a Haley disciple, owes his champion bigly for plucking him from obscurity to become a historic U.S. Senator. But in a remade Republican party, he's not going to wait another presidential cycle to steal her lane. And she's not going to back down, either.
Nikki Haley knows all about hard choices, how politics can create strange bedfellows, and how elections teach you all about your real friends. She's lived this life many, many times! In 2016, for instance, her mentor Jeb Bush arrived in South Carolina with an ailing presidential campaign and the hope that Haley, then the state's popular governor, might throw him a bone and offer her endorsement. Instead, Haley went with Marco Rubio, a more promising non-Trump candidate, despite the nurturing she received from Bush throughout her career. In the end, of course, none of it meant anything. Like most others in the party, Haley eventually sidled up to Trump, who made her U.N. ambassador, and whom she harshly criticized after Jan. 6 (before semi-reversing herself, again and again).

Now, as she eyes a putative presidential run of her own in 2024, Haley has another personal political pickle to navigate. A decade ago, after Jim DeMint left his Senate seat for the higher calling of the Heritage Foundation, then-governor Haley waited nine long days to fill the popular vacancy, eventually landing on Tim Scott, an obscure, barely two-term rank-and-file congressman. It was a historic decision. Scott was the first Black Senator from the post-Reconstruction South, and he has since become a darling of the party, a featured speaker at the 2020 Republican convention, and now a favored sleeper entrant in the 2024 election. It's possible that Haley foresaw the future potential collision course back in 2012, as Tim Alberta wrote in his Politico masterpiece. Anyway, here it is.

Now 10 years later, as Haley builds her national political operation, she will not only have to differentiate herself from the other non-Trump candidates but also the man whose career she catapulted, whom she calls a friend, and who is a stylistic and ideological semi-clone with overlapping demographic appeal in a G.O.P. eager to win back minorities. Is there room for both in the Republican primary?

"Senator Scott earned his place in the U.S. Senate through the results he delivered to the people of South Carolina," said Haley spokesperson Chaney Denton. "Governor Haley knew his character and dedication would always make the state proud. He's absolutely done that, and she considers him a dear friend."

Yes, yes, everyone is currently doing the right thing and acting above it all. Haley endorsed Scott for his reelection in South Carolina and even donated a $10,000 check to his campaign. This isn't easy for Scott, either. "My gut about Tim is that he would not be in the Senate, he would be in the minority in Congress, if it were not for Nikki Haley, and he knows that," said a South Carolina consultant who has worked for both politicians. This person was quick to note, however, that loyalty only goes so far. "Knowing Tim, he is led by his faith. He will run if it's something that he believes he is supposed to do, regardless of what she does. But he'll still struggle with the decision [because of his relationship with her]. He's not a risk-taker."
ADVERTISEMENT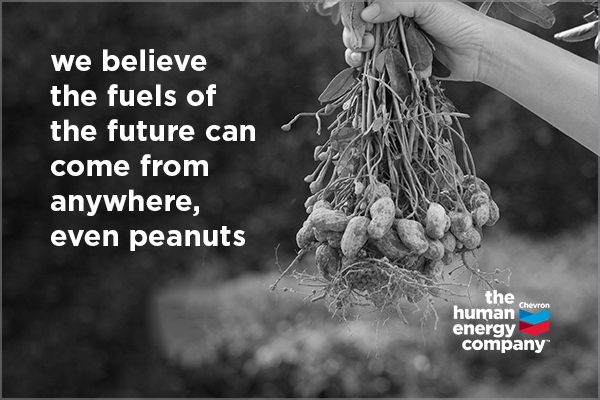 We believe the fuels of the future can come from anywhere. And we're looking into some pretty crazy places to find them. You could even call it nuts. At Chevron, we're exploring peanuts as a source of renewable fuels. We're collaborating with Texas A&M AgriLife to increase our renewable fuels production capacity to 100,000 barrels per day by 2030. The initiative is working towards developing non-food grade peanuts with a greater oil content that can adapt to drier climates, helping us meet growing energy demand, and giving farmers a profitable dryland or limited irrigation crop option. Because we believe the future of energy is lower carbon. And while that might be peanuts to some, it's a pretty big deal to us.
The Scott Shadow Campaign
Whatever spiritual struggles he may face, Scott is clearly making the moves of a potential 2024 candidate. He's apparently eager to share his story of growing up poor with a single mother in the Deep South to a broader, national audience, and he is working with the powerhouse firm Targeted Victory to provide general consultation and digital ads. I've also learned that Scott has been interviewing the types of media consultants that you need to mount a national campaign, and that he's secured Danny Diaz's FP1 firm. Moreover, Scott has said that this will be the last time he runs for the Senate, a move that facilitated the decision by his longtime chief of staff Jennifer DeCasper to leave his office to handle his political operations, as Politico reported—a curiously strong indicator of his intentions.

Then there's all the soft, obvious tells. The copyright page of his book America: A Redemption Story stated, "This book is a political memoir that includes his core messages as he prepares to make a presidential bid in 2022." (The publisher later fessed up to the mistake.) And when Scott's not traveling around the country campaigning and fundraising for candidates (or starring in ads supporting candidates in key states like Wisconsin, Iowa, North Carolina and Nevada), he's mingling with the elite presidential donor set. Earlier this month, he attended Mitt Romney's E2 summit in Utah, where he hobnobbed with the former private equity titan's donor network alongside other rumored presidential hopefuls, like Mike Pompeo and Glenn Youngkin. Even though the event was attended by Joe Manchin, Charlie Baker, Chris Sununu, and Mitch McConnell, the buzz was all about Scott and his intentions.

There's no doubt that Scott could raise the money it takes to run a presidential campaign. He has a gangbusters small dollar digital operation that DeCasper built after 2020. So far, he's raised $48 million this cycle for a re-election race that he will win in his sleep. He has launched a super PAC, which has the backing of billionaire Larry Ellison, who has cut checks to the group totalling some $25 million. He also has something that Haley doesn't: the universal support of official Washington and even MAGA Republicans, including the ones who might look down on him as a 57-year-old bachelor.

It's impossible to hear a bad word about Scott. "Everybody who knows Tim Scott loves him, he's such a decent soul. An accomplished, conservative senator, and he's African-American," said Bush's former White House press secretary Ari Fleischer. "Tim Scott is the wild card—while Trump and DeSantis are duking it out, he's the nice guy."
Now, Haley is another story, perhaps because of her political flip-flopping with Trump, which some saw as political expediency. Her desire to grovel to him afterward also caused a lot of eyerolls. And then there are all the enemies she's made in the South Carolina statehouse. Haley herself admitted to Alberta, "I kick with a smile."

Financially, she's also in the lower bracket. Haley hauled in an impressive $12 million this cycle, but only has $3.2 million in cash on hand after giving to a number of candidates. Alex Isenstadt reported that she also has a dark money group and an affiliated nonprofit policy advocacy group, Stand for America, Inc., which has quietly been hauling cash from big-monied donors like Paul Singer, Stanley Druckenmiller, and Miriam Adelson, who are able to give undisclosed donations to the apparatus. The documents he obtained showed that she raised $9.3 million in 2020, so it's hard to know the true size of her total war chest.

Haley's biggest challenge, though, may be her inability to differentiate from Scott. They both believe in limited government, although Haley has a bit more of a libertarian streak. Scott has focused on working family and pocketbook issues as seen through his bipartisan "Opportunity Zones" legislation. It ended up being his crowning achievement, while he attempted to pass a bipartisan police reform bill in the Senate. Haley earned foreign policy chops as a high-profile U.N. Ambassador, brandishing her hawkish stance on China and the supply chain, and before that earning real executive bonafides as governor of South Carolina, culminating with her decision to take down the statehouse Confederate flag.

They also share staffers. Jon Lerner, who is Haley's chief consultant and considered one of the best in the business, has advised Scott. Haley's latest communications hire, Ken Farnaso, also worked for Scott. And, as they expand their shadow campaigns, they will most definitely be butting up against each other for old reliable hands on the ground in South Carolina.

Lucky for them, their donor networks are so sprawling that they won't be competing over the same pocketbooks in South Carolina. But if, by some chance, they both make it to the South Carolina primary, could they actually beat Trump? Would they split the vote in a state where they are both overwhelmingly popular? "You'll never see those two go after each other, that's not going to happen," said Katon Dawson, former head of the South Carolina G.O.P., who was a contender for the R.N.C. chairmanship. "That's a compliment—that there are two people in South Carolina who can run. They can both raise $40 million pretty quickly. Let's see who blinks. I don't think it will be Nikki Haley."
ADVERTISEMENT

The Trump "800 Pound Gorilla"
When Rubio and Jeb entered the presidential arena in 2016, they had a level playing field, and were ready to go after each other over the generational divide. But Haley and Scott "have a 800 pound gorilla above them," said one senior Republican in South Carolina, referring to Trump. This person suggested that they are unlikely to beat Trump even in the South Carolina primary, where they would likely split the vote.

The difference is that the gorilla could come for Haley. In fact, I've been told by multiple Trump advisors that Trump often speaks about Scott as a running mate, rather than a rival. Sure, a running mate from South Carolina doesn't help with any electoral math, since it's a reliable red state, but Scott could help Trump make up ground with Black voters. Regardless, Scott has somehow deftly managed to not alienate Trump, which is table stakes for becoming his No. 2.

Haley also comes with demographic benefits, as a non-white woman who could, perhaps, help Trump make up losses with suburban woman. But I'm told from one of Trump's close advisors that while Haley and Trump are "fine," he doesn't see her as a V.P., and is even suspicious of her, seeing her as "brazenly ambitious." That's not to say that Haley couldn't get back in his good graces with enough flattery. Shortly after their January 6 falling out, I reported that Haley tried to get a meeting with Trump at Mar-a-Lago to smooth things over and snap a photo, like the one Trump shared with Kevin McCarthy, but she was denied. It wasn't until almost a year later, as I reported, that he finally accepted her at Mar-a-Lago in December 2021. I was told at the time that Trump was still skeptical, but "doesn't see the point in making enemies" and "likes teasing people." They had another meeting in June 2022, as Haley attempts to repair their relationship.

With Trump running, this may all just be an elaborate audition for a seat in his hypothetical next administration, even if the candidates don't see it that way. Regardless, this could simply be a profile-elevating exercise for both of them, too. Haley's not working in government anymore and is trying to stay relevant, and Scott clearly has little interest in running for Senate again. If not V.P., it could set Haley up for running mate or a cabinet position in a DeSantis government, if he's able to slay the Trump dragon. Scott could even end up in the cabinet or governor's mansion, too. It's good to know the American elite operate with such precision. "You run, you don't say any mean things about Trump, you yell about Biden, maybe you get picked to do something else, so what's the downside?" asked a G.O.P. consultant. "It's all other people's money."
FOUR STORIES WE'RE TALKING ABOUT
The Times Chronicles
What to make of the string of high-profile departures from the NYT?
DYLAN BYERS
You received this message because you signed up to receive emails from Puck

Was this email forwarded to you?

Sign up for Puck here

Interested in exploring our newsletter offerings?

Manage your preferences

Puck is published by Heat Media LLC

227 W 17th St

New York, NY 10011

For support, just reply to this e-mail

For brand partnerships, email ads@puck.news