Welcome back to What I'm Hearing, today I've got a few shorter news and notes items for your summer Sunday.
Also, thanks to our Inner Circle members who signed up this week for office hours and the book party event with Matthew Ball. Both are now closed, but we'll have more Inner Circle opportunities soon.
Discussed in this issue: Casey Bloys, Melissa McCarthy, Scott Stuber, Spencer Baumgarten, Spencer Neumann, Peter Rice, Beanie Feldstein, Lin-Manuel Miranda and Barbra Streisand's mud mask.
But first….
Who Won the Week: Casey Bloys
The HBO/HBO Max head is an easy pick, thanks to Tuesday's 140 Emmy nominations—smoking Netflix a year after giving up the crown— and for signing a rich new deal to stay at Warner Bros. Discovery. (See below)

Runner up: Peter Rice—The fired Disney TV boss must have chuckled at Hulu's record 58 Emmy noms, since he was the architect of pushing Disney's prestige projects like The Dropout and Only Murders in the Building to the streamer.

Second runners up: Melissa McCarthy and Ben Falcone—Yes, really. God's Favorite Idiot, their abysmally reviewed Netflix "comedy," popped up in Nielsen's streaming Top 10 for its debut week, with 652 minutes viewed over eight episodes.

Now a bit of executive news…
If you haven't sent Casey Bloys a quick email congratulating him on 140 Emmy nominations, now you've got another reason. The HBO/HBO Max chief content officer just closed a big new deal to stay at the company. It's a five-year contract, I'm told, and it comes with a sigh of relief from Warner Bros. Discovery C.E.O. David Zaslav, who made re-signing Bloys the top personnel priority of his first 100 days. An HBO rep confirmed the deal to me but declined to comment further.

I never thought Bloys was going anywhere, but it's weird that in his Emmy victory lap interviews this week, nobody asked him about his own status. Inside HBO, people knew Bloys's deal was coming up and that he'd have tons of options, given how seamlessly HBO has navigated its ownership chaos of the past few years. Many (including me) thought that adding more populist content to the HBO Max service might dilute the HBO brand, but Bloys and his team have successfully positioned The White Lotus, Hacks and Euphoria alongside The Peacemaker and Fboy Island. Next month's House of the Dragon, the Game of Thrones prequel, likely will check both boxes.

It'll be interesting to see how Bloys and his HBO priorities fit within the new, belt-tightening Warner Bros. Discovery. After all, Zaslav's hatchet man, C.F.O. Gunnar Wiedenfels isn't going anywhere; he just re-upped through July 2026.
ADVERTISEMENT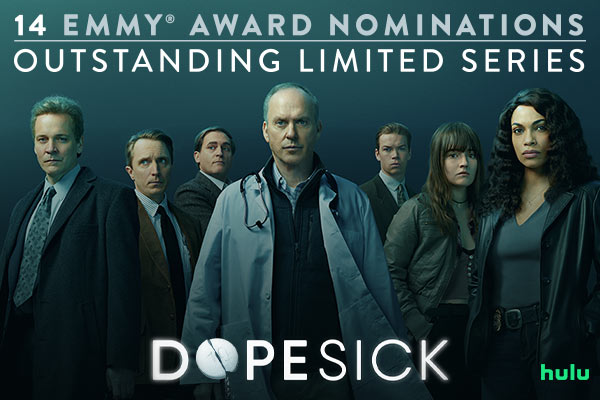 "We were a business that was, for a long time, a volume business. And now we're being very specific about targeting." —Scott Stuber, the Netflix film chief, explaining to the Times the pivot to fewer, more "impactful" movies like the nearly $200 million The Gray Man. Released in 450 theaters this weekend (and generating a splattering 53 percent on Rotten Tomatoes) before streaming in a week, Netflix did not disclose box office numbers.

Runner up: "In the clubhouse, we don't have Peacock." —Dave Roberts, the L.A. Dodgers manager, explaining why he didn't watch the All-Star Futures Game, a young talent showcase that MLB, for some reason, put on the little-watched streamer.

Second runner up: "I told you so." —Margaret Atwood, The Handmaid's Tale author, posing on Instagram with a coffee cup slogan referencing the Roe v. Wade reversal.

A bit more on Netflix….
Nail-biting Time at Netflix (and Everywhere Else)
It's a sign of these fraught times how nervous people in Hollywood are about one company's quarterly earnings. Netflix reports its second quarter numbers on Tuesday, and if the reveal is anything like Q1, which sparked a 25 percent nosedive at not just Netflix but Disney, Warner Bros. Discovery and others in the streaming business, the entire entertainment industry will rise or fall based on the latest data. Frenemies, indeed.

The Netflix insiders I've spoken to expect a subscriber decline, but it's an open question regarding whether the 2 million drop projected in April by C.F.O. Spencer Neumann will end up accurate. A Barclays analyst predicted Wednesday that the loss will be as much as 2.8 million subs worldwide, claiming "Netflix app download and engagement metrics are trending lower." Parrot Analytics also reported that Netflix's share of overall "audience demand" for series has dipped to a new low. Competition sucks.

If those precursors indeed lead to steep sub declines, the pitchforks and torches will be out for co-C.E.O.s Reed Hastings and Ted Sarandos. And not just at Netflix HQ. Disney+, Hulu, HBO Max and even Paramount+ continue to add subs, yet their owners likely will suffer for the Netflix sins. But let's not get too pessimistic. As Lucas Shaw noted today, Stranger Things is performing better than expected, so perhaps a big, fat megahit (plus the final Ozark episodes and more minor lures, like Umbrella Academy) will lessen the churn. Then everyone can officially start stressing about the Netflix projection for next quarter.
Marvel Has a Quality Problem, Exhibit 7: Thor 4 dropped a massive 68 percent in its second weekend, among the worst for any Marvel movie. [Forbes]

Podcast analyst Nicholas Quah has a mid-year report that's insightful (and not just because he calls my pod, The Town, "utter catnip," which I'm totally gonna blurb). [Vulture]

Bonus: Speaking of The Town, analyst Rich Greenfield came on Friday and argued with me about whether Disney should sell Hulu (and maybe FX?!?) to Comcast. [Ringer]

It's not just your kid's carpool: Lin-Manuel Miranda's Encanto soundtrack and We Don't Talk About Bruno lead the mid-year music consumption report. [Billboard]

Ad buyers are struggling to contain their joy about the Netflix partnership with Microsoft. [WSJ]

Alex Weingarten, the sleazebag lawyer for Britney Spears's father, Jamie, continues to embarrass himself. An L.A. judge ruled Friday that Jamie must sit for a deposition and provide documents related to his alleged "electronic surveillance" of his daughter. [NME]

Growth in streaming is increasingly coming from the over-50 crowd. Hence more Bosch and Lincoln Lawyer. [WSJ]

The creators of Check My Ads explain their movement to defund Fox News by going after ad tech platforms (though they seem to side-step the cable carriage revenue). [The Ink]

VFX artists are taking to Reddit to complain about Marvel, which "has probably the worst methodology of production and VFX management out there." [Gamer]

This account of the ridiculous Beanie Feldstein–Lea Michele drama on Broadway's Funny Girl is best experienced as if you are Barbra Streisand having it read to you by an assistant as you try not to spoil your mud mask with all the laughing. [Daily Beast]
ADVERTISEMENT

Earlier this week, an agent leaving ICM Partners after its $750 million acquisition by CAA asked me: What's CAA going to do with Spencer Baumgarten? A good question. Baumgarten, the former co-head of ICM's motion picture department, hasn't worked at CAA in years, and he hasn't really worked anywhere since he was let go from ICM in 2019 and filed one of the more salacious lawsuits in agency history (and that's saying something).

It's become known as the "poop on the floor" case because, in the austere words of the California Court of Appeal, "Baumgarten stopped working at ICM in late summer or fall of 2019, not long after [Cindy] Ballard, the chief of ICM's human resources department, accused Baumgarten of defecating on the floor of a gender-neutral bathroom in ICM's New York office." (The use of "gender-neutral" is a nice judicial touch here; as if crapping on the floor of a men's room would have been totally fine.)

Anyway, the poop thing was always a sideshow. The real issue in the case, which counts as defendants Ballard and ICM's leader (now a CAA guy) Chris Silbermann, is the real motivation behind Baumgarten's exit, and how it was handled. Spencer alleges that ICM spread the rumor all over town, and that Ballard used it to essentially run him out of the building. He's claiming wrongful termination, discrimination, defamation, and intentional infliction of emotional distress, among other causes of action.

You might laugh, but this case has actually been a pretty big headache for ICM. As my Puck partner Eriq Gardner recently reported, the appeals court rejected ICM's attempt to move the spectacle into private arbitration, agreeing with Baumgarten and his deal lawyer, Warren Dern, that he never actually signed an arbitration agreement. And the underlying facts don't look great. Spencer filed his suit in early October 2019, about a week after Ballard, a former Tribune executive, abruptly exited along with C.O.O. Justin Dearborn, another ex-Tribuner. (She's now in an H.R. role at Universal Music.) It wasn't a secret that Baumgarten, who was in line to make $2.5 million in 2019, wasn't bringing in nearly that much revenue. And at the time, ICM was shopping for private equity money, and later in 2019 announced a deal with Crestview Partners, which ultimately put $150 million into ICM for about a 50 percent stake. So it makes sense that ICM might want to find a reason to cut expensive, underperforming agents. Baumgarten also claims that he was fired for threatening to expose "potential illegality" at ICM. ICM, in court papers, denied any wrongdoing.

So how is CAA going to handle this case? First, it's not totally clear if it has assumed the defense. That's typical in acquisitions, and Anthony Nguyen, one of Baumgarten's lawyers, told me he'd be surprised if CAA didn't take over the case, especially since Silbermann is now a defendant. But it's not official yet, and CAA has gone weirdly quiet on this one. Its rep obfuscated when I asked, and the lead ICM litigator didn't return a call or email. (The usual disclosure: CAA and Puck share a mutual investor in TPG.)

CAA also might have a lower risk tolerance for this stuff, even if it means cutting a check to make Baumgarten go away. His total damages haven't been articulated, but at the very least he would want a few million bucks for the rest of his contract and his troubles. If CAA settles, it would be a bit ironic because it was involved in legal wrangling with Baumgarten when he left CAA for ICM back in 2016. An interesting wrinkle, of course, is that Baumgarten now has a bunch of potential allies in his case in the form of all those fired ICM agents who might be willing to testify on his behalf.
My Thursday interview with author Matthew Ball prompted some grim assessments of Hollywood's role in the metaverse. And people really love emailing me about agents!
"Without acquisitions, the major film companies are many years away from Metaverses that will matter. Only the largest game studios have the capabilities to build something like that. The amount of investment and technical base that has to be built is staggering. Even Nintendo isn't capable of this at the moment. You basically should be looking at anyone who has an MMO now, or the companies that have very large live services games. There's a reason why Sony bought Bungie, and Microsoft bought Blizzard / Call of Duty. There's no real Hollywood-style model to contract this type of thing out either. Some forces in Disney did try to make a push to buy development talent a few years ago, but they don't have an appetite to do it. And all the game studios are vacuuming up talent right now too. It's vicious." —An executive
"Dude, why do you hate agents! We're the only people in town with any personality left."—An agent
"CAA, WME and UTA all sold out. The only pure talent agencies now, the only places where an agent will look you in the eye and represent your best interests at all times, are the smaller shops that live or die on the small commissions." —Another agent
"Stereotypes are convenient cliches but often wrong. To brand an entire group of professionals in such a negative light does both them and you a disservice." —A former agent
In our latest Quorum movie tracking chart, does Universal have a late-summer hit on its hands in Beast?
Have a great week,
Matt

Got a question, comment, complaint, or a song of the summer nominee that's better than Beyonce's Break My Soul? Email me at Matt@puck.news or call/text me at 310-804-3198.
FOUR STORIES WE'RE TALKING ABOUT
The Case Against Elon
Twitter's attorneys filed in Delaware this week, initiating a legal war.
WILLIAM D. COHAN

Biden vs. WaPo
Has the president made a nemesis of his local paper?
DYLAN BYERS
You received this message because you signed up to receive emails from Puck

Was this email forwarded to you?

Sign up for Puck here

Interested in exploring our newsletter offerings?

Manage your preferences

Puck is published by Heat Media LLC

64 Bank Street

New York, NY 10014

For support, just reply to this e-mail

For brand partnerships, email ads@puck.news