Welcome back to What I'm Hearing, 100 percent free of White Lotus spoilers.
🚨🚨First, another box office contest: Reply with your best guess of the Avatar: The Way of Water opening weekend (domestic only). Closest without going over will win the usual status-defining Puck hat, just in time to wear to Roman Abramovich's NYE boat party in St. Barts. Deadline is Thursday noon. Good luck!
Second, thanks to Esquire for namingThe Town to its 30 Best Podcasts of 2022 list. This week I broke down the year's most innovative show with Welcome to Wrexham star/producer Rob McElhenney, discussed why Bob Iger couldn't quit Disney with ex-ESPN chief John Skipper, and debated the most-effed companies with Lucas Shaw. Subscribe on Spotify or Apple.
As always, if this was forwarded to you, join the WIH community by clicking here. Still time to give your entire team a holiday gift they will actually use!
Discussed in this issue: Taylor Swift, Meg Smaker, Mark Wahlberg, Tom Cruise, Todd Boehly, Kelly Bush Novak, Lina Khan, Kim Yutani, Ari Emanuel, Jen Salke, Dwayne Johnson, Guillermo del Toro, Bob Iger, and Will Smith's new favorite reality show….
But first…
Who Won the Week: Brad Pitt, Dede Gardner, and Jeremy Kleiner
Who says big content deals are dead? France's Mediawan co-founder
Pierre Antoine-Capton
agreed to pay nine figures to meet Pitt—er, to acquire 60 percent of the trio's Plan B production company.
Runner up: Lindsay Colas, Brittney Greiner's agent at Wasserman, who worked closely with the State Department on the Russia prisoner swap.
First a little movie world oddity…
Mark Wahlberg's Innovative Box Office Bust
Nobody loves a cynical cash grab more than
Mark Wahlberg
, who's been in the paycheck phase of his career since like 2010. But alas, the PG-13, swear-word-free cut of his April religious drama
Father Stu
, which he's been plugging on Fox News, did so poorly in nearly 1,000 theaters this weekend that Sony decided not to release numbers, and the trades dutifully
agreed
to pretend that it never happened.
One thousand theaters is not insignificant! Sony publicist Tahra Grant didn't respond to my query about why that happened, but unlike with the Catholic Church, it's hard to keep abuses of the box office a secret. Two exhibition sources say Father Stu: Reborn grossed about $125,000 total this weekend—not in one theater, or even on Friday night; that's the weekend domestic total—meaning about $127 per theater. With an average movie ticket price of around $9, that translates into—let's do the math—14 people per theater who paid to see a Mark Wahlberg movie this weekend. Yikes. Good thing Wahlberg moved from L.A. to Nevada for tax purposes—sorry, I mean to give his kids a "better life."
Now a little backstory on the deal of the week…
I guess it was inevitable that Taylor Swift, who has been directing or co-directing her music videos since back in 2010, would try her hand at a feature. What might be a bit more surprising is that her untitled debut was announced this week by Searchlight, Disney's arthouse label, and not Netflix, Amazon, Apple or even Searchlight sibling Disney+, which likely would have thrown tens of millions of dollars at a star this gigantic. After all, a Swift-directed movie—even if it's terrible, and even if executives have to wait a year for her shoot after her 2023 tour—will eventually be marketed by T-Swift herself and gobbled up by the Swifties, making it a hot commodity for any well-funded streamer. But behind the scenes, the Searchlight move makes perfect sense.
A MESSAGE FROM OUR SPONSOR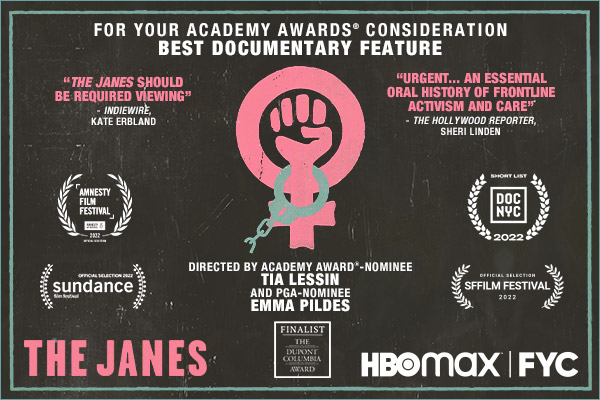 Taylor developed a relationship with Searchlight president
David Greenbaum
while her boyfriend, actor
Joe Alwyn
, was shooting
The Favourite
, the 2018 Oscar winner. She came to the New York Film Festival opening of that film, the two kept in touch, and Greenbaum, knowing Swift's Hollywood ambition and her admiration for auteur filmmakers, introduced her to people like
Guillermo del Toro
, who made
The Shape of Water
and
Nightmare Alley
for Searchlight. I'm told Del Toro invited Swift to tour his creepy memorabilia house in the Valley, and he offered career advice. "I gave her a few books that I thought would be interesting for her—among them, very importantly, a book that was useful for me in creating
Pan's Labyrinth
called
The Science of
Fairy Tales
, which codifies and talks about fairytale lore," del Toro
told
W
this week.
Searchlight knew the streamers would shower Swift with money and let her make whatever she wanted, so the pitch was support and curation, its track record helping first-time filmmakers like Marc Webb ((500) Days of Summer) and Drew Barrymore (Whip It), and its core specialty: marketing tougher, smaller-budget titles, everything from Beasts of the Southern Wild to Nomadland to the current Banshees of Inisherin. While I don't have details on the script, which Swift wrote herself, I know the budget is small and the subject matter intimate; this is not a Nightmare Alley-style production. (Searchlight declined to comment.)
Swift basically said as much during an appearance at the Toronto film festival in September, where she revealed a desire to direct something like Noah Baumbach's Marriage Story or Joanna Hogg's The Souvenir films while kicking off her long-shot Oscar campaign for All Too Well: The Short Film in the documentary short category. Swift attended the New York premiere of Banshees with Ethan Tobman, the production designer who has worked with Swift and Beyoncé, and who did The Menu, the current Searchlight hit. Searchlight also convinced Banshees director Martin McDonagh to do a recent Variety interview with Swift, lending her credibility during the Oscar season.
Taylor is nothing if not the world's greatest brand manager of her own personal brand—the stories about her micromanaging when she was repped at WME, before she brought everything in-house, are legendary—and in this sense, Searchlight is very on-brand for her. It's not a perfect machine (see this weekend's Sam Mendes flop Empire of Light), but for Swift, who wants a personal touch, an imprimatur of quality and specialty, who doesn't need the Apple money, and whose first two toe-dips into acting—Cats and Amsterdam—did not go well, the Searchlight relationship gives her a much better chance to succeed long-term in Hollywood.
"It's probably good for Netflix's stockholders that I don't run Netflix."
–
Rian Johnson
,
telling
the
Times
that he pushed for a longer theatrical window for
Glass Onion
than the one-week stunt he got.
"You want to have your work seen. No one in the entertainment world wants to play to an empty house. But you can't make 50 movies a year and get quality." –Ben Affleck, explaining at the Dealbook summit the pros and cons of working with Netflix.
"We know we are not going to make every single person happy every step of the way…" –James Gunn, the new DC co-head, beginning a tweet in which he promised to manage the franchise "in the service of the STORY & in the service of the DC CHARACTERS."
A little more on the DC ridiculousness this week…
Is anyone actually surprised that new DC heads Peter Safran and James Gunn have moved to remake the film slate? Fans went nuts over the rejection of Patty Jenkins' Wonder Woman 3 treatment, and the suggestion that Henry Cavill might not return as Superman. But this is the whole point of hiring an experienced superhero filmmaker like Gunn—he's supposed to blow up the DC universe and, presumably, bring in fresh ideas and talent.
It's more interesting how much these DC stars think they can manhandle (or Wonder Woman-handle) Warner Bros. in the media. Cavill made that big Instagram announcement proclaiming himself back as Superman despite not having a deal to return beyond that post-credit sequence in Black Adam, a movie that, given its performance, the new DC overlords likely will pretend doesn't exist. And it's curious, right before my pal Borys Kit broke the news that WW3 was on ice, Gal Godot used her own social feed to announce she "can't wait to share her next chapter with you." Message to Warners: I'm Wonder Woman, dammit, you hear me, new guys?
Amid all the reports of Black Adam losing money, Team Dwayne Johnson even took to leaking to Deadline and then tweeting a purported "ultimates" financial sheet—sorry, Johnson didn't actually admit to leaking it, but several Warners executives sure think he did—claiming to show that Black Adam will make it into the black. Fantastic stuff. It was one of the sillier trade stories of all time, filled with false assumptions (only $100 million in worldwide marketing? OK…; no way does this movie get those home entertainment numbers given the audience rejection and short windows; interest rates are not 2 percent in this case; etc.). And long, long term, nearly all movies of this size will ultimately pencil out after every window is exhausted over years and years. That doesn't mean it's considered a worthwhile movie. But at least The Rock got a good tweet out of it.
It's funny, this kind of stuff doesn't happen at Marvel.
Now to an even bigger industry drama…
5 Honest Questions About Tomorrow's Globes Noms
As I previewed on Thursday, the calls between H.F.P.A. leaders
Todd Boehly
and
Helen Hoehn
and the warring publicists this week were mostly positive, according to several people who participated. Even
Kelly Bush Novak
and
Marcel Pariseau
—both leaders of the boycott that led the Globes to be yanked from NBC last year—were supportive on Friday of the diversity and ethics reforms of the past year. People like the host,
Jerrod Carmichael
, who is gay and Black, and the H.F.P.A. left the meeting believing (hoping?) there will be more than the tiny spattering of acknowledgement of last year when nominations are announced tomorrow. Still, some lingering questions:
1. What will Tom Cruise do? Assuming Top Gun: Maverick and perhaps even Cruise himself are nominated, it'll be a litmus test if the town's biggest star—the guy who publicly gave back his awards during the scandal—thanks the H.F.P.A. Cruise is shooting Mission: Impossible overseas and likely won't attend the Jan. 10 show, but the Globes know that a simple thank you tomorrow would go very far. Most PR people I've talked to think we'll likely see blanket statements from individuals or creative teams acknowledging the noms, but declining to thank the H.F.P.A. specifically. And a lot fewer of those gushing "reactions" interviews recounting what bathrobe the star was wearing when his publicist texted the news.
2. Will Brendan Fraser stay quiet? We know The Whale star, who has accused former H.F.P.A. president Phil Berk of molesting him, won't attend the show. But if he's nominated anyway, as expected, will he use the moment to trash the organization? The H.F.P.A. and Globes producer Dick Clark Productions are concerned Fraser could derail the headlines.
3. Will studios use the Globes in marketing? Applauding the nominations is one thing, actually leveraging the Globes to market the movies would be another big step back for the H.F.P.A. It's gotten so bleak out there in theaters for specialty movies, I imagine the studios will market anything they can, and the Globes are still a big brand. Streamers have been plugging Globes too.
4. How will social media handle the noms? The H.F.P.A. pointed to strong social numbers for last year's nominations and awards, despite the NBC boycott, which shows how much this is an industry, and not a real-world, scandal. But it'll be interesting to see how Globes-watchers and the media take to these noms. I'm guessing that Hollywood journalists will likely crap on them, especially members of the Critics Choice Awards, which is actively trying to replace the Globes. But that may not matter in the real world.
5. Will the nominees themselves help or hurt? The truth is that in the years right before the scandal, the Globes had done a better job honoring diverse performers and projects than the Oscars had. But some big whiffs tomorrow, or a non-inclusive slate, could blow up all the reforms of the past year. I'm guessing that won't happen, thanks to the diverse new voting members and, frankly, the fear factor hovering over the H.F.P.A. But we'll see!
More evidence that this may be the last Oscar season where the for-profit studios attempt to platform-release their prestige movies in theaters. It's just not working any more. [
NYT
]
Here's Ari Emanuel's latest missive, noting "what the cartoonish Kanye clown show distracts us from is what's going on under the big top—how the virus of antisemitism and hate and division is spreading and attacking the foundations of our culture. [Chicago Tribune]
Those who think Lina Khan and the U.S. government would bless Apple buying Disney (or any big media tie up, regardless of whether it's vertical or horizontal) should read the complaint in the F.T.C.'s bid to block Microsoft buying Activision. [Bloomberg]
This is interesting: The Wikileaks site that housed all the Sony hack emails has gone dark. I asked ex-Sony chief Michael Lynton, who has been trying for years to get his personal info off the web, and he says he had nothing to do with it. So what happened? [Wikileaks]
Nobody has been able to explain to me why Kevin Morris, the entertainment lawyer, seems to be Hunter Biden's best friend and most arduous protector. [WaPo]
Former WarnerMedia C.E.O. Jason Kilar's op-ed promises only three global streaming services (plus Apple and Amazon) will emerge from the Streaming Wars. Implicit: If HBO Max becomes one of those, I get credit!. [WSJ]
Puck contributor Jonathan Handel emailed me that the Writers Guild is looking for a new General Counsel and that longtime G.C. Tony Segall—a key figure in the recent war on talent agencies and the WGA's 2007-08 strike—will transition to an outside role. That's a bit strange: why change top lawyers in advance of a contentious negotiation and a possible strike? [WGA]
Congrats to the producers of TBS's new competition series Power Slap for avoiding the obvious Will Smith reference in this promo. [Twitter]
Speaking of Smith, reviews for Emancipation are way worse than the movie I saw, so I gotta believe the critics are punishing Smith for coming back too soon after the Slap. Apple likely should have waited. [RottenTomatoes]
Now for a little plea to Oscar voters…
The One Film Academy Voters Should Watch
We talk a lot in this space about the waning influence of the Oscars, but one area where the Academy still really matters is in the documentary space, where the winners, nominations and even the annual 15-film shortlist, for which voting begins tomorrow, can seriously elevate a topic and filmmaker. That's why it's so disheartening to see a non-fiction director essentially blackballed by her own community, and why it matters that the 600 member doc branch actually take a look at her film before picking their favorites.
If you haven't followed the saga surrounding Meg Smaker and her film, Jihad Rehab (now re-titled The UnRedacted), it's pretty alarming. Smaker spent years interviewing four former Guantánamo Bay detainees that were sent to a rehabilitation center in Saudi Arabia. In the film, they explain in stark and candid terms how they became involved in Al Qaeda and the Taliban. I watched the film recently and it's both jarring and totally fascinating, an empathetic look at how these men became entangled in a death-cult and how they justify their actions.
Sundance loved the film and played it in January, where it received raves. The trades were effusive and The Guardian called it "a movie for intelligent people looking to have their preconceived notions challenged." Then, as the Times reported in September, Arab and Muslim filmmakers and several white members of the documentary community accused Smaker being an Islomophobic American propagandist. A group of Muslim-American filmmakers sent letters to Sundance and the media demanding the film be denounced and muzzled, questioning whether it put the prisoners in danger or whether they could grant consent to be interviewed in the first place. (The film had been vetted by the respected law firm Donaldson Callif Perez, which vouched for its production.) Others said Smaker being white was the issue, when she was telling an inherently Arab story, a common critique these days that has divided the doc community. "These demands are intended to be comprehensive and equitable, in order to compel the many gatekeepers who enabled this harm to begin to repair it, as well as to mitigate the possibility of similarly damaging events in the future," the letter concluded.
Rather than stand by its filmmaker and its chief programmer Kim Yutani, Sundance then made a pretty extraordinary move: apologizing for and disavowing the film. One of its backers, the progressive activist Abigail Disney, issued a long letter that reads as if she had actually funded Al Qaeda, taking her name off the project and vowing she'll be "going forward better." Potential distributors fled, no U.S. film festivals would show the movie, and one of the most acclaimed films of Sundance was essentially left for dead.
I'm certainly no expert on the socio-politics of the Arab region, but certain respected figures in the international journalism and documentary world have been flabbergasted by this situation. Writing in The Atlantic in a pieced titled Cowardice at Sundance, Graeme Wood, author of The Way of the Strangers: Encounters with the Islamic State, called it a "sensitive and complex film" and hoped that someday "audiences can decide for themselves whether to condemn them, Smaker, both, or neither." Sebastian Junger wrote a piece for National Review about "how an identity politics-obsessed mob destroyed a young filmmaker's documentary." And people like Lorraine Ali, the culture critic at the LA Times, who is Muslim, and experts like Lawrence Wright and Ali Soufan, who have written about 9/11 and the Guantanamo detainees, have supported the film. The Muslim community isn't a monolith, they note. And most important to all filmmakers, it matters that a place like Sundance, which prides itself on platforming diverse voices and challenging material, refused to stand behind a film that its own programmers decided was worth sharing with the world.
Unless that narrative changes. I talked to Smaker this week, and she's been hustling to show the film to whoever will see it, with the hope that the Oscar shortlist will undo some of the Sundance damage. It's a hail mary; she knows the documentary community has largely turned its back on her. An Academy member who watched the film on the Oscars portal and posted positively on Facebook was immediately attacked by some of his peers, she said. Panel discussions of the film have taken place without Smaker being invited to defend herself. That kind of stuff.
"Sundance apologizing killed it, now the shortlist is the only way," Smaker told me this week. "Sundance pretends to support independent voices but bowed to a handful of filmmakers and a Twitter mob." So here's my message to the doc branch, and their colleagues in the nonfiction community: I'm not telling you to vote for this movie. I'm not even saying it's worthy of a vote. But I am saying you should watch it. Or the next decision that Sundance or a group of activists makes could be the one that cancels your film.
This week's items on the Amazon re-org under Jen Salke and Netflix re-upping the Obamas' Higher Ground brought out close observers of both companies. These were sent before I broke the news on Twitter today that Amazon is losing two more TV-side executives…
"Salke won, as you pointed out. Mike Hopkins should be worried. The fact they couldn't get anyone to run MGM played right into Jen's hand." –An executive
"I do not, for the life of me, understand why MGM+ or Epix isn't being pushed into Prime Video ASAP. Nor do I understand why Amazon doesn't replace "Amazon Studios" with MGM. Just let MGM make the films and shows for Prime and consolidate. So tired of companies running multiple services within their own walls." –A journalist
"Why would any innovative filmmaker want to work with Higher Ground? That exists to serve the president and his image." –a producer
"Remind me to tell you my Higher Ground story. Embarrassing dysfunction there. It didn't end well." –An agent
"I don't know, man, my clients would still LOVE to be in business with them (the Obamas), especially if Netflix is paying." –A different agent
"The balance of taste, brand, and mission is rarely effectively managed when there aren't unlimited funds or a seasoned executive/visionary. Having a deputy chief of staff run your Hollywood business seems particularly naive. The last thing the Obamas were going to have an issue with was access." –An executive
"Going down like medicine is the issue. From an entertainment point of view, he's dull." –A journalist
Awareness of Paramount's Babylon and Sony's I Wanna Dance With Someone, both big Christmas corridor bets, looks dangerously low in the new Quorum film tracking chart….
Have a great week,
Matt
Got a question, comment, complaint, or proof that you saw Father Stu: Reborn in a theater this weekend? Email me at Matt@puck.news or call/text me at 310-804-3198.
FOUR STORIES WE'RE TALKING ABOUT
Breitbart, Ye & Mercer
Rebekah Mercer is looking to offload her stake in the alt-right media site. What happens now?
TINA NGUYEN & TARA PALMERI

Trump's Greased Pig
A conversation encircling The Trump Org's latest legal headaches.
PETER HAMBY & BILL COHAN

The Robot Takeover
The rise of ChatGPT suggests A.I. is coming for the arts.
BARATUNDE THURSTON

Need help? Review our FAQs page or contact us for assistance. For brand partnerships, email ads@puck.news.
Puck is published by Heat Media LLC. 227 W 17th St New York, NY 10011.