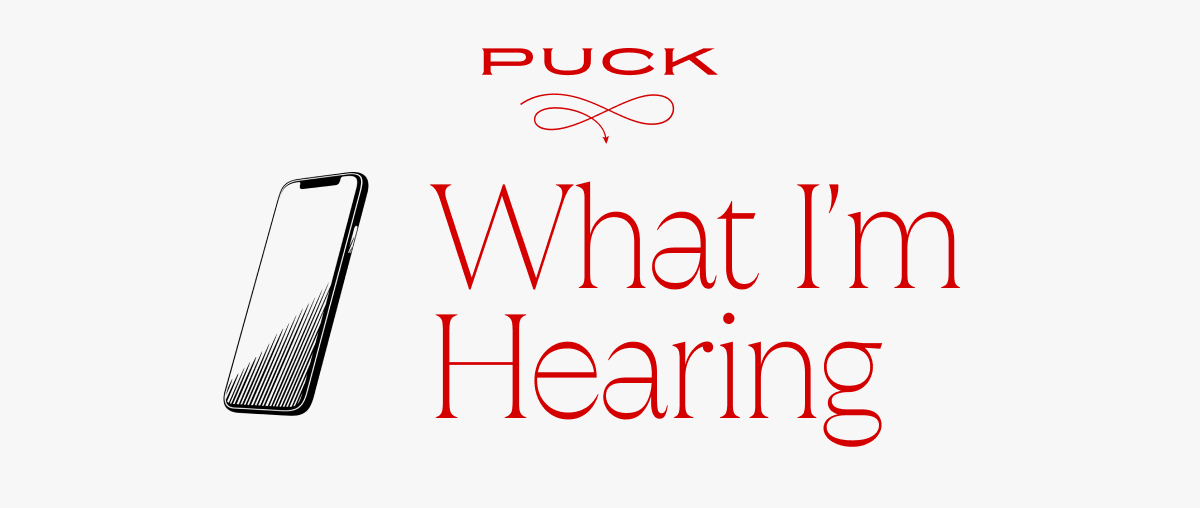 Welcome back to What I'm Hearing, and the end of Strike Week 1. Thanks to all who have submitted pics for our Best Strike Sign contest. You've got until Friday to send me your favorites, then I'll put my top 5 to a reader vote and crown the winner with status-defining Puck merch.
Programming notes: This week on The Town, Lucas Shaw and I dove deep into the writers strike issues, I grilled WGA negotiator Adam Conover, and Scott Mendelson and I showed no mercy in ranking movies on the Summer Blockbuster Confidence Scale. Subscribe here and here.
🚨🚨Inner Circle event: Puck contributor and entertainment labor expert Jonathan Handel and I are doing an off-the-record call with Inner Circle members this Friday at 1 p.m. PT. Join us! And if you're not an I.C. member, you can upgrade here.
Discussed in this issue: Lina Khan, Kevin Costner, Taylor Sheridan, Tyler Perry, Chris McCarthy, Tucker Carlson, David Zaslav, Lisa Takeuchi Cullen, Bob Bakish, the Murdochs… and a Scientology dog murder allegation.
But first…
Who Won the Week: Russell Hollander
With the WGA and studios not even talking, the Directors Guild's lead negotiator is suddenly the most powerful person in Hollywood. If he makes a deal that sets a template for SAG-AFTRA and the WGA—assuming writer-specific demands like mini-rooms and span protection can be worked out, which is still a big if—the strike could end this summer. If not, it may be...

Can't see the full story? You're receiving the free version of What I'm Hearing at . For full access to Puck, and to each of my colleagues, you can subscribe here.
The first week of what will likely be a months-long Hollywood writers' strike has ended with tons of unanswered questions. Should TV showrunners be forced to perform producing duties while on strike as writers? Does Netflix stretch credibility when it says there's no precedent for sharing in the success of its shows? Should WGA members trust what they read in the trades? And how does this all end?

With so much info and misinfo swirling around town, I thought it would be helpful for Puck labor expert Jonathan Handel and I to answer some questions from readers and sources…
Struck companies like Disney and HBO are sending scary lawyer letters telling showrunners that they must continue to perform producing duties while on strike as writers, but the WGA is saying they don't have to—and that they shouldn't. Who's right?
Jonathan: Staff writers dream of adding "producer" to their title, but this week, being a hyphenate became a headache for some. As Matt first revealed on Thursday, Disney has been...
FOUR STORIES WE'RE TALKING ABOUT

Need help? Review our FAQs
page or contact
us for assistance. For brand partnerships, email ads@puck.news.
Puck is published by Heat Media LLC. 227 W 17th St New York, NY 10011.