Greetings from C.E.S. in Las Vegas, where I moderated today's fun SAG-AFTRA panel "A.I. Goes to Hollywood." You can watch the video here, including the part where an A.I. program spat out a movie logline about cats taking over the world.
Today I'm featuring part two of my predictions, predicaments, and preoccupations for 2023, with some news tidbits thrown in… back to regular programming on Sunday…
At this point, as I noted earlier this week, would anyone be surprised to see Elon Musk or Kanye West offer predictions for the year in Hollywood? The Writers Guild will (or won't!) strike. Apple will (or won't!) buy a studio. Yadda yadda… everyone's got a take on this stuff, and most are wrong…

Instead of predicting all that, for the second year in a row, I polled sources for more offbeat observations and areas of preoccupation in 2023 that you might not be thinking about, both big picture and small. Some of these are very specific, and some are just representative of trends that I care about heading into the year. Here's last year's list, so you can check me (I did OK!). And if you disagree, tell me why at matt@puck.news. This is Part II.
12. The Great Walkback separates the streaming players
There's really no other way to put it: Just as the stock market has given back the huge gains of the past five years, the Hollywood economy will spend most of 2023 erasing a decade's worth of largesse. The end of Peak TV, the Great Netflix Correction, the Pivot to Profits—whatever you want to call what's going on now, it's basically a giant walkback of the spending and growth ambition that accompanied the subscription video on demand revolution. Just this morning, Warner Bros. Discovery C.F.O. Gunnar Wiedenfels, Hollywood's Villain of 2022 (as anointed here), wagged his finger again at "an industry that went overboard and went on a spending frenzy. There was a lot of thinking of, 'let's do more, more, more,' not necessarily 'let's do the exact right things, let's do what works.'" Got that? Just make the hits now.
But this won't be a lock-step Hollywood recession, I don't think. WBD is particularly challenged, of course, and Gunnar isn't alone on an island. Disney's new/old C.E.O. Bob Iger is expected to return from break next week wielding a sharp axe. "There is likely to be a significant focus on cost containment," BofA analyst Jessica Reif Ehrlich wrote in a research note today about Disney. NBC Universal, Paramount, and the other ad-impacted entertainment companies are all vulnerable. And even Netflix is pulling back in certain areas, and will be forced to cut more if its much-lauded advertising tier doesn't juice revenue. (I'm skeptical.) Those Ampere numbers from last month were grim: A 24 percent year-over-year decline in adult scripted series ordered in the second half of this year. A 40 percent drop compared to 2019, and 2023 will be worse.
But… all this could be great for the so-called not-for-profit streamers, the ones that exist as ancillary to other businesses—namely, Amazon Prime Video and AppleTV+. They've got challenges too, evidenced by Amazon's massive layoffs this week, but in streaming they may be handed a huge opportunity to pull away from rivals. We're already seeing that, with Amazon and Apple landing big-ticket projects, like that Channing Tatum movie Red Shirt that, for some reason, is paying the stars/producers a combined $50 million. It used to be that Hollywood people joked that Amazon and Apple were in a different business. Now it's literally true, and if they spend that money wisely, they could use the current industry-wide retrenchment to separate themselves for good.
A MESSAGE FROM OUR SPONSOR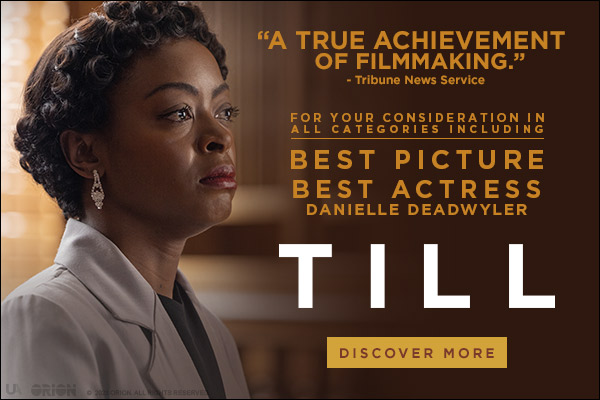 TILL is "A True Achievement of Filmmaking" (Tribune News Service) that has been named one of the 2022 AFI AWARDS Movies of the Year and one of NBR's Best Films of 2022.

Danielle Deadwyler is the Winner of NBR Breakthrough Performance, the Gotham Awards Outstanding Lead Performance Award, and is now a Critics' Choice Awards Nominee for Best Actress in a "Magnificent performance that elevates Deadwyler to the ranks of the great actors of our time" (The Wrap).

For Your Consideration In All Categories Including Best Picture and Best Actress, Deadwyler gives a "Stirring, Oscar-Worthy Performance" (USA Today) in "One of the Most Powerful and Important Films of 2022" (Collider).

13.
Stranger Things and the year in TV renegotiations
It's only the first week of January, but we might have our most interesting TV renegotiation of the year. Multiple sources tell me the sprawling cast of Stranger Things recently closed new deals to return for the show's fifth and final season. And, as might be expected for Netflix's most-watched show, the dealmaking was complicated and the principals got big raises.
As often happens in big TV renegotiations, the cast went in together (or almost together), and with about 20 series regulars (!), Netflix created four separate tiers with which to negotiate:
Tier 1: Winona Ryder and David Harbour, the adult stars who have been with the show since the first season. (Ryder was the biggest name initially, and her value has carried her and Harbour through subsequent renegotiations);
Tier 2: The four original boys—Gaten Matarazzo, Caleb McLaughlin, Noah Schnapp, and Finn Wolfhard—plus later arrival Sadie Sink, who lobbied hard and was added to this tier;
Tier 3: The regular teens, including Natalia Dyer, Maya Hawke, Charlie Heaton, and Joe Keery;
Tier 4: Everybody else.
There's an intriguing backstory here. Netflix business affairs V.P. Rob Natter made an initial tier-by-tier proposal. It was big, but the negotiating teams—tons of talent lawyers were involved here, including Karl Austen, Harris Hartman, Joel McKuin, Greg Slewett, and more, with agencies in the background—argued that Netflix technically didn't have the original stars under contract at all because deals for the show from 2015 violated California's 7-year rule, which prohibits personal services contracts from extending beyond that 7 year benchmark. (Apparently previous renegotiations did not result in new contracts but rather addendums to the existing deals.) Netflix disputed that argument, but perhaps not coincidentally the offers increased significantly. Netflix is declining to comment, but I'm told the salary numbers for Season 5 are as follows:
Tier 1: $9.5 million
Tier 2: Just over $7 million
Tier 3: Just over $6 million
Tier 4: Much less
That's for services in eight episodes. (Technically, Netflix is paying for 10 episodes, but that's so the per-episode fee comes down to allow the company to argue in negotiations for other shows that it didn't go above X amount per episode on Stranger Things, its biggest show. It's also a cushion in case they go long on episodes.) And the above money also includes payments for the supersized shoots on Season 4, which ended up airing several movie-length episodes. Just for comparison, Ryder and Harbour made $350,000 per episode for Season 3, or $2.8 million.
Individually, these numbers aren't actually that huge for stars of such a massive show in its fifth season. But if you do the math all in, with this number of actors, that's a pretty pricey season of TV even before spending a penny on production. And that's not including breakout star Millie Bobby Brown, who has a separate (and ridiculously lucrative) overall deal with Netflix, where she makes the Enola Holmes movies and will star in the Russo brothers' next pricey opus, The Electric State.
Not bad for a show where the kids started at $25,000 an episode. If you're involved in a bigger aggregate cast renegotiation this year, I'd love to hear about it.
14. The studios will redefine the "hit" movie
The movie business desperately needs to shift the narrative, so I'm betting all kinds of middling movies are about to be anointed "hits." Call it a side effect of the new normal, or part of Hollywood's long history of moving the goalposts to declare victories. Universal is considering releasing PVOD revenue to counter the "flop" narrative on movies that perform well at home but not in theaters. And it's already happening with theatrical wins like The Woman King. Sony copped to a $50 million production budget, and it grossed $92 million worldwide last summer. Certainly, that's a decent result for the kind of mid-budget star vehicle that the studios aren't really making, but with the help of the Sony P.R. team, the media gave this thing blockbuster status. Reality check: it'll probably barely break even in theaters after P&A. In a "normal" theatrical ecosystem, it never would have garnered much attention.
15. The Rock goes back to WWE
Whether or not Vince McMahon returns to WWE this year to oversee its eventual sale to Comcast or Endeavor or whoever, the biggest star that pro wrestling has ever produced would be wise to engineer his own homecoming. After the failure of Black Adam and questions about the XFL, Dwayne Johnson would immediately be welcomed back, just as he was during his appearance in 2017, or when he returned in 2013 after a few movie flops. WWE is said to be lobbying hard for a return at WrestleMania in L.A. in April, perhaps opposite his cousin Roman Reigns. No better way to remind people of his star power—and hype his tequila, of course.
16. "Curation" becomes the buzzword in digital
At this point we're all so accustomed to being force-fed algorithmically optimized videos on TikTok and Instagram, we feel like there's no other way to experience social media. One smart exec at C.E.S. told me to expect a change soon. Someone's going to figure out how to better serve video content that we all want to watch, he posited, and it will be curated not just by what our past behavior suggests but by what we actively want now. Hope so.
17. Will young people finally care about Universal's monsters?
I still chuckle everytime I think about that infamous "Dark Universe" photo from 2017, the one with Tom Cruise, Johnny Depp, Russell Crowe, Javier Bardem, and Sofia Boutella, where Universal declared emphatically that it had found in its old monster-movie I.P. the answer to the Marvel Cinematic Universe. It was one of the boldest moments of Hollywood hubris—of declaring a franchise before, you know, the audience had—and it's as good a marker as any of the end of the movie star era as Hollywood had known it. The whole thing was scrapped when Cruise and Boutella's Mummy reboot flopped.
Now, with Renfield (April 14), Universal is trying again, this time turning the Dracula story into a Chris McKay-directed terrible-boss horror comedy with Nicholas Hoult and Nic Cage. Who knows if it will work (the trailer that dropped today looks promising), but if it does, Universal might finally see a path to that Monster M.C.U. that it desperately covets.
18. Netflix realizes that marketing works
On my podcast this week, Kevin Goetz, the film research guru, told me that Get Out didn't test well pre-release. Only after Universal properly sold the concept in marketing did audiences catch on. This shouldn't be a shock: marketing works, and Netflix has seen time after time this past year (Glass Onion, The Gray Man, Hustle, Wednesday, etc) that individualized campaigns can deliver. If this next phase of the streaming wars is about differentiation, marketing will play an outsized role.
19. Oscar ratings rise, but…
With the likelihood of a few blockbuster nominees and Top Gun: Maverick having—I can't believe I'm writing this—a legitimate shot at best picture, viewership of the Oscars will likely rise from last year's 16.6 million, the second-lowest of all time, right after the great train station derailment of 2021. Hopefully the Academy doesn't take this as some kind of endorsement of the show. In fact, new C.E.O. Bill Kramer took a step back when he declared that all 23 categories will be presented live this March.
Last year's pre-show presentation experiment didn't work, but not because it wasn't a good idea. Instead, it didn't actually save any time, which was a producing failure by Will Packer. (Only his second biggest of the night, of course, after letting Will Smith stay in the room after The Slap.) The sentiment was correct: The Oscars need less of what viewers don't care about, and more of what they do.
20. Layoffs hit the agencies
It's only natural that an industry-wide slowdown will result in fewer talent jobs and thus fewer talent agents. Add in new leadership at WME and the fact that many of those ICM Partners people who were assimilated by the CAA Borg are on thin ice anyway, there will likely be cuts before the year is over. I'm still sticking with my prediction that Chris Silbermann, the architect of the ICM sale, will be gone from CAA by the end of 2023.
21. Murdochs must write a fat check
Are Rupert and Lachlan Murdoch really gonna let the $1.6 billion Dominion Voting Systems defamation lawsuit go to trial? I know Dominion has said it won't settle, but everyone has a number (especially if it comes with a major apology), and Fox News' position in this litigation is shaky at best.
22. New CNN finally comes into focus
It's kinda nuts that Chris Licht has been running CNN for about 8 months now and he hasn't really done much to the evening host lineup yet. That's gotta change, and I'm told it's happening very soon. Only then will we really see whether the Warner Bros. Discovery pivot to the middle delivers something more than just investor John Malone feeling good about its direction. Hopefully it will also improve morale at the network.
23. Nobody knows anything.
See you Sunday,
Matt

Clarification: I mentioned on Sunday that Illumination "outsources" its work. It actually owns the studio in France where its movies are made. Apologies.

Got a question, comment, complaint, or a low-key connection for Carrot Top tickets? Email me at Matt@puck.news or call/text me at 310-804-3198.
FOUR STORIES WE'RE TALKING ABOUT
Morse Code
News and notes on the biggest media stories of the year thus far.
DYLAN BYERS

The Big Short
Back when S.B.F. was the toast of the town, Marc Cohodes smelled something funky.
WILLIAM D. COHAN

Boebert's Aggression
Will Boebert and Gaetz's Ukraine grandstanding ironically backfire in ruby red states?
JULIA IOFFE

Need help? Review our FAQs page or contact us for assistance. For brand partnerships, email ads@puck.news.
Puck is published by Heat Media LLC. 227 W 17th St New York, NY 10011.