Welcome back to What I'm Hearing, with the usual reminder: If you were forwarded this email, become a Puck member here.
First, thanks to Vulture for including The Town on its Best Podcasts of 2022 (So Far) list. This week, I picked the best and worst entertainment deals of the past decade with Lucas Shaw, forecasted NBA rights deals with Andrew Wallenstein, and debated Netflix earnings with Rich Greenfield. Listen here!
Second, the world's most embarrassing correction: Yes yes, Lucy Van Pelt is the Peanuts character who pulls the football from Charlie Brown, not Peppermint Patty, as I wrote in a tortured Netflix analogy on Thursday. Amazingly, this made it past me and three separate Puck editors. Apologies to Charles M. Schulz and all his heirs and assigns.
Discussed in this issue: Kathy Kennedy, Ted Sarandos, Damon Lindelof, James Corden, Bob Iger, Scott Stuber, Michelle Yeoh, Danny Masterson, Allen Grubman, and Nikki Finke's cat.
But first…
Who Won the Week: Tom Ryan
I discussed the Netflix guys on Thursday, so it's gotta be the PlutoTV co-founder and Paramount executive, whose free, ad-supported streamer joined The Gauge, Nielsen's monthly report on share of viewership—meaning it captured at least one percent of all connected TV viewership and more than AppleTV+, Peacock and Paramount+.

Two interesting data points from the Gauge, per Lucas Shaw's newsletter:
People spend more time watching Netflix than Hulu, Disney+ and HBO Max combined.
Streaming now accounts for 37 percent of all TV time in the US.
"I wasn't supposed to say the R-word." –Jane Doe No. 1, testifying in the Danny Masterson sexual assault trial about her meeting with a Scientology "ethics officer" after she told them she had been raped.

"Michelle, please don't date him. It's a trap." –Charlize Theron, presenting an award to Michelle Yeoh, who is voice-acting opposite Pete Davidson in a new Transformers movie.

"I feel so Zen about the whole thing." –James Corden, telling the Times he "did nothing wrong" after restaurateur Keith McNally called him "the most abusive customer to my Balthazar servers since the restaurant opened 25 years ago."

A little more on the Corden flap…
I normally wouldn't wade into this situation, but the talent P.R. world seems aghast. Not that Corden was called out by McNally, a gadfly with a large and engaged Instagram following, but that Corden and his publicist Jodi Gottlieb thought it was a good idea to sit down with the New York Times—and especially the reporter Dave Itzkoff—for a story that took a minor social media dustup and made it way worse. Yes, the Times interview was pre-planned, and Corden does have an Amazon series, Mammals, to promote. But of course the Times would focus on the controversy—it's a newspaper! There's little downside to canceling that interview—maybe a mean tweet from Itzkoff, but who cares?—and it would have allowed Corden to address the claims of abusive behavior on Monday in the safe and controlled environment of his own show, just like David Letterman used to do. I asked Gottlieb to explain the strategy, or whether Corden went rogue here, but she didn't get back to me.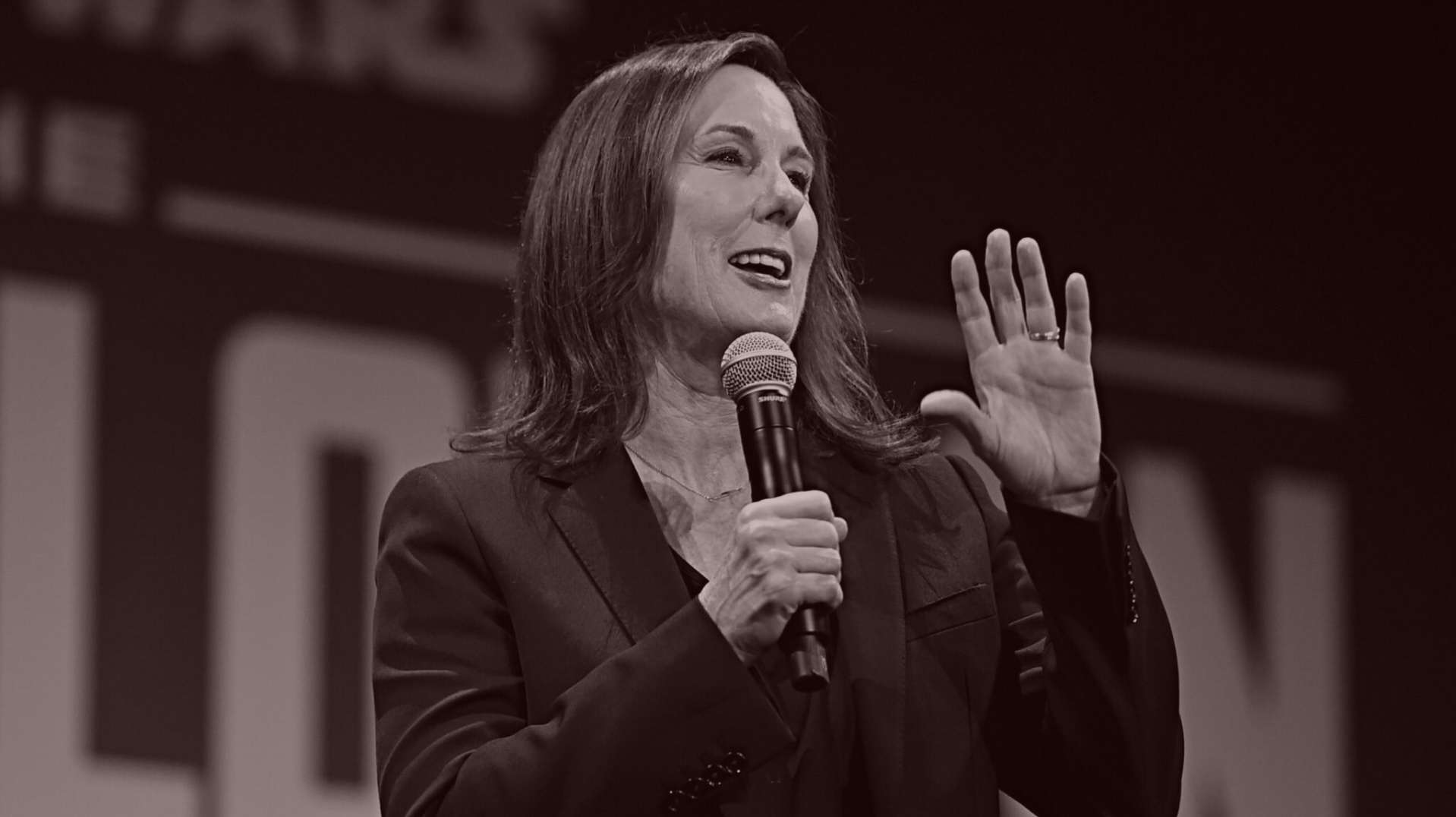 The Next Star Wars Movie Terrifies Lucasfilm
Kathleen Kennedy's stewardship of the movie franchise continues to baffle as a key right-hand exits and a new film, perhaps the one in development with Damon Lindelof, isn't expected until at least 2025, six years after 'Rise of Skywalker.' With Marvel churning out multiple movies every year, such a massive pause is borderline corporate negligence.
Last November, right after Patty Jenkins' much-touted Rogue Squadron was placed on the dreaded back burner, I politely asked Disney C.E.O. Bob Chapek to remove Star Wars movies from the purview of Lucasfilm president Kathleen Kennedy. After five films and about $6 billion in box office under Disney, this A+-level film franchise—a property other studios would kill for—had been essentially left half-digested in a Sarlacc pit.

No continuing storylines, no new characters worth following, several top-tier creators hired and then discarded, and little overarching creative vision. Lucasfilm was continuing to churn out a mixed bag of competently made and highly-watched series for Disney+, but on the film side, the franchise was essentially dormant, and, at least to me, Kennedy's stewardship was a stunning example of I.P. mismanagement.

Maybe I was a bit harsh. But now, nearly a year later, things are… pretty much the same. No new Star Wars film before at least December 2025, which would be a six year gap after the much-maligned The Rise of Skywalker. You can argue that former C.E.O. Bob Iger's initial one-movie-a-year mandate was too much, and that it led to rushed decision-making and hired-and-fired filmmakers like Gareth Edwards (Rogue One), Lord and Miller (Solo) and Colin Trevorrow (Rise of Skywalker), and that a little break for a reset is a good thing.

But with Marvel churning out multiple movies and D+ series every year, such a massive pause at Lucasfilm is borderline corporate negligence. And that's if the 2025 date holds. After all, none of the three projects that are furthest along in development have been officially greenlit. Disney's D23 event came and went last month without Kennedy offering even a status update on the film side. (Next summer's Indiana Jones, also from Lucasfilm, did get a spotlight.)

Yes, the company has been focused on stocking Disney+ with Star Wars shows like The Mandalorian, The Book of Boba Fett, Obi-Wan Kenobi, the currently airing (and very good, though underwatched) Andor, and the in-the-works Ahsoka, The Acolyte, and The Skeleton Crew. If Mandalorian hadn't hit so big right out of the gate in 2019 and established a template for a big I.P.-driven streaming series, would Disney+ be anywhere near 152 million subscribers worldwide? Similarly, Star Wars is still thriving in the theme parks and on store shelves.

All the more reason why the film franchise seems adrift. At this point, part of the hesitation is simply media management. I'm told Kennedy was advised by Disney to stop announcing projects and creative partners, lest the ravenous nerd press pounce when those projects don't actually happen, as is the case frequently at Lucasfilm. Remember that hokey video with Jenkins in a flight suit that played at Disney's investor day in 2020? Ummm… Or the triumphant press releases about new trilogies from The Last Jedi director Rian Johnson and the Game of Thrones guys? Seems like ancient history now.

I can confirm there's a new film project in development for the past few months with writer-producer Damon Lindelof, and Sharmeen Obaid-Chinoy, a TV and documentary short director, is in talks to direct it (which would make her, not Jenkins, the first woman to direct a Star Wars film). That movie could actually shoot before the Taika Waititi project with The Good Nurse writer Krysty Wilson-Cairns, which was announced back in 2020 with a spiffy logo and concept art. Taika's currently in New Zealand making his HBO Max show, Our Flag Means Death, until the end of the year, and in June—two years after the film was officially announced—he said, "I'm still trying to figure out what the story is." Not great. There's another concept that's apparently also far along, and that may be a rumored project from Marvel's Kevin Feige and writer Michael Waldron. Or not. There's other stuff in various stages, but nothing is apparently set.
Stars Wars movies will eventually restart, of course, and probably soon. But the Jabba the Hutt-like pace can be attributed to a culture of fear and indecision around the next installment, according to the people I talked to. The nice way of saying it, and a new mantra at Lucasfilm, is "getting it right." It's accepted internally that the last trilogy, and especially Rise of Skywalker, was rushed to meet aggressive release dates, and Kennedy played it safe in every possible way, choosing fan service and franchise management over creative swings. Look at her decisions: From jettisoning most of original writer Michael Arndt's ideas and essentially remaking A New Hope with The Force Awakens, to freaking out and bringing back director J.J. Abrams and the villainous Emperor for Rise of Skywalker after some fans complained about Johnson's mythology-busting choices in Last Jedi—choices that Kennedy had enthusiastically supported… right up until she didn't.

And while the Disney+ shows have kept the brand ubiquitous, they've also cheapened it by making Star Wars far less special in the lives of its fans, thus raising the stakes even more for what will be "movie-worthy" in this franchise. (They already burned a showdown between Obi-Wan Kenobi and Darth Vader in the Obi-Wan series, which was initially supposed to be a movie.) While I love Andor, it's an adult drama and definitely not for some fans, especially kids. That likely explains the lower ratings.

Kennedy, say those who have spoken with her, seems to realize that the next installment needs to actually be good, and different from the D+ stuff, and also kinda the same, and it needs to steer the franchise away from fan service based on the original trilogy, but also be rooted in what fans love about Star Wars. And did I mention it has to be good? Disney essentially has to re-introduce Star Wars while Star Wars is also constantly on television. This is a very tough task—or a very big hole she has dug for herself, depending on your perspective—far tougher than simply saying yes to these D+ series.
I returned to my Lucasfilm sources this week when the news finally broke that Michelle Rejwan, senior V.P. at the unit and one of Kennedy's key right hands for Star Wars, was leaving her post after three years and transitioning back into producing full time for Lucasfilm. Rejwan, who is currently working on Leslye Headland's The Acolyte, had been telling people about this for weeks; and she may not be the only executive there to either exit or go full producer soon. Lucasfilm declined to comment, as did a rep for Rejwan. (She has her own personal publicist.)

It's not acrimonious, both sides insist. But it's also a common frustration among Lucasfilm executives that the strategy there is often changing, and there have been disagreements on which creatives have the best vision for the franchise. Kennedy, a legendary producer who spent decades with Steven Spielberg, has put a lot of stock in outside creators to figure out the path forward, rather than the Marvel style of developing in-house and engaging filmmakers to execute. And Kathy is said to change her mind often. That's tough, especially since her executives have to play conduit with the creative community and all the representatives.

Still, Kennedy has been executing on Disney+, the platform Chapek cares most about. And in the decade since Disney paid $4 billion for George Lucas's company and installed Kennedy, Lucas's personal choice to run the unit, Disney has recouped its investment several times over. But it's clear Disney needs to refresh and restart Star Wars as a film franchise, which, of course, is how the whole thing began back in 1977.

This isn't quite a do-or-die moment, I don't think. Avatar, as a franchise, has way more riding on whether The Way of Water performs this December. If it grosses less than $1 billion and leaves audiences limp, where does that leave the three planned sequels? But Star Wars does need a big swing, though. Given how badly the franchise was damaged by the last trilogy, the easy choices will no longer cut it. That's what Kennedy, a seasoned moviemaker who has been playing it safe for years, likely knows well—and it probably terrifies her.
Readers always have strong feelings about Netflix, so my Thursday analysis of its aggressive earnings call drew questions about its future. Some examples:
"Why should anyone believe a word of what Netflix says? A year ago, they would 'never' carry ads. So the binge model and anti-theaters strategy will be the Netflix way… until they aren't." –A producer
"We've reached the point where, I believe, we can take everything Netflix says strategically with a grain of salt. The company was a zealot of the anti-ads business… and then built an ad-supported tier in six months! Netflix swore it would always binge release entire seasons… and is now embracing a batched release for its most popular titles. Markets change and that necessitates an operational adjustment. Despite the letter's harsh tone and Sarandos's confusingly antagonistic statements, Netflix continues to tiptoe more and more into theatrical. Given the significant evidence we now have that theatrical releases increase awareness/viewership for a title on streaming at best and, at worst, eliminate 10 percent to 20 percent of SVOD viewership in exchange for box office revenue—plus the new world order of 30-45 day windows—I expect the streamer to continue experimenting." –An analyst
"You allude to it, but don't drill down to the bottom line for Netflix: How long can a pure play streaming business continue on its own? Releasing movies in theaters; games; products; experiential—they're not likely to move the needle under current management, or probably at all. There are three paths forward: continue as-is and out-execute others in a competitive market as we fight a (global) recession; acquire large complementary assets; sell the business. Either way, what they've done is remarkable. And the next 24 months… it's going to be even more exciting than The Gray Man!" –An executive
"Stuber must be ready to shoot Sarandos. Whatever happened to message discipline?! Exhibitors I know are steaming. They all wanted to believe the happy talk (lies) Netflix was spouting. But they fell for it because they wanted to. They're too desperate." –An investor
Every other Sunday I empty my Notes app of short, lighter items, events or sightings that I haven't seen reported elsewhere. Send quick tips/ideas to matt@puck.news
or 310-804-3198.
Producer Marcy Carsey's Brentwood fundraiser with President Biden raised about $5 million for the DCCC from attendees like Rob Reiner, Tom Ford and Bill Nye… CAA's Kevin Huvane spoke at a Morehouse College recruiting event with the agency's Brandon Lawrence… Funny or Die is celebrating its 15th anniversary next week with a screening of its Weird Al movie Weird and an afterparty. Will Pearl make an appearance?… Blumhouse is bringing back its Halloween party for the first time since the pandemic….
Last Sunday, I included an email from a publicist asking whatever happened to Nikki Finke's cat. Those who regularly dealt with Nikki, who passed away two weeks ago, know she was obsessed with Blue, who even made an appearance in her New Yorker profile. So… here's the story.

Toward the end of her run at Deadline, around 2012, Nikki was complaining to the P.R. team at WME that the cat was severely activating her allergies. Marie Sheehy, now the agency's top comms person, offered to send the cat to her parents' house in central California. (They had taken in a WME exec's cats before.) So Nikki had a helper deliver Blue to Santa Maria, where he lived happily for many years. Finke would check in on Blue frequently, I'm told, and she asked for and received photos around the holidays. Sadly, Blue passed away about three years ago. Here's a photo that I'm told really captures his essence…
Have a great week,
Matt

Got a question, comment, complaint, or your own Star Wars pitch? Email me at Matt@puck.news or call/text me at 310-804-3198.
FOUR STORIES WE'RE TALKING ABOUT
Elon Shock Therapy
Massive cost-cutting is only the first palliative planned for Musk's privately-owned Twitter.
WILLIAM D. COHAN

Tapper Troubles
Notes on the Tapper experiment, Murdoch curiosities, and Semafor's launch.
DYLAN BYERS

Licht's Lash
Peter and Dylan dissect Licht's latest programming choices and non-choices.
PETER HAMBY & DYLAN BYERS

Post-Squad Goals
What is The Squad's message in a post-Trump, pre-possible-mini-red-wave world?
TARA PALMERI

Need help? Review our FAQs page or contact us for assistance. For brand partnerships, email ads@puck.news.
Puck is published by Heat Media LLC. 227 W 17th St New York, NY 10011.