Good evening, and welcome back to What I'm Hearing, where I'm wondering how many actual real people watched the entirety of the SAG Awards on the Netflix YouTube page tonight…
Discussed in this issue: Kevin Costner, Aziz Ansari, George Cheeks, Gayle King, David Zaslav, Trey Parker, Nancy Dubuc, John Krasinski, Bob Iger, Charles Barkley, and Ted Sarandos' BAFTA photobomb…
But first…
Who Won the Week: Michael Rapino
Has any C.E.O. ever wanted to report record earnings less than Live Nation's Rapino this week? Under fire for alleged monopolistic practices from everyone from President Biden to Taylor Swift fans, he revealed that the company's 2022 operating income was up 125 percent from 2019 and revenue shot up 44 percent to $16.7 billion.

A little more on this: It's interesting to see Live Nation's pushback against the government hit overdrive this week. I went to the Pollstar conference on Wednesday: Irving Azoff recruited Garth Brooks, MSG owner James Dolan, and former D.O.J. antitrust enforcer Makan Delrahim (now a partner at Latham & Watkins, which represents Live Nation) to stump for Live Nation's set of proposed reforms, sing the praises of Ticketmaster, and call out the real villains of the live music business—scalpers.
"I just want to help the company because obviously it is a shit show right now."
–Charles Barkley, Turner's NBA commentator, explaining why he's considering co-hosting a show with Gayle King for the Warner Bros. Discovery sibling CNN.

Runner up: "The real reason I'm here tonight is my power has been out since last night. So if anyone has any pull with the DWP… Tom Cruise?"
–Liz Meriwether, the Dropout creator, at the PGA Awards during the L.A. hellstorm on Saturday night.

Thanks to everyone who sent great questions, and apologies because I could only get to a few of them. We'll do another mailbag soon…
It's been a wild start to 2023 in Hollywood, and it's been a while since I answered reader questions. So here we go (and apologies to those I couldn't respond to or answer here)…
Your recent Yellowstone column included the detail that Kevin Costner is making $1.2 million an episode this season, plus more money from an overall deal. Is he the highest-paid actor on TV?
No, actually. Most agents and lawyers I talk to believe that title goes to Jack Ryan star John Krasinski, whose acting (and executive producing) fee is believed to reach, or even top, $2 million an episode on the Amazon series' just-concluded 8-episode third season. This is an inexact science, with lots of factors influencing total pay, so apologies if your client is making more. And remember, actors on 22-episode broadcast shows, like Mariska Hargitay on NBC's Law & Order: SVU, or the recently exited Ellen Pompeo on ABC's Grey's Anatomy, can make more money overall. But a bunch of stars have cracked $1 million per episode, especially on limited series (Michael Keaton on Hulu's Dopesick, Elisabeth Moss on Apple's Shining Girls) or even ongoing series (Jason Sudeikis on Ted Lasso, Harrison Ford and Helen Mirren on 1923; Chris Pratt on The Terminal List), and especially when producing fees are factored in. I'm told Zendaya just closed a big re-negotiation on HBO's Euphoria that likely puts her close to that club.
Having said all that, the post-Peak TV salary comedown is real. All the outlets (except maybe Amazon and Apple) are pushing back on even top tier talent. When I asked one big dealmaker which stars are commanding $1 million these days, he texted back: "$850,000 is the new $1 million."
A MESSAGE FROM OUR SPONSOR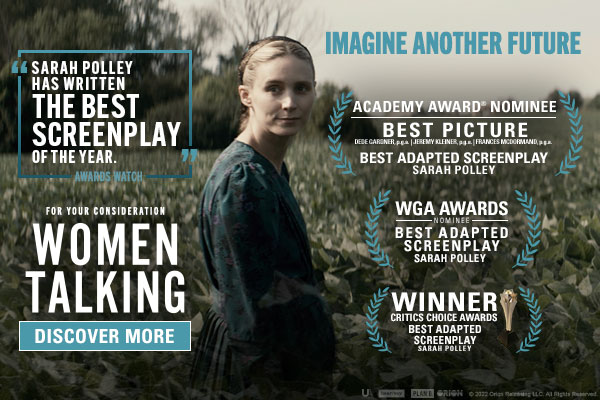 The Los Angeles Times hails Sarah Polley's WOMEN TALKING as "Brilliant" and "The Best Screenplay of the Year" by Awards Watch. Nominated by the Writers Guild of America for Best Adapted Screenplay and now an Academy Award ® nominee for Best Adapted Screenplay and Best Picture.

WOMEN TALKING is the Winner of the Best Adapted Screenplay Award from the San Francisco Film Critics Circle, Chicago Film Critics Association and Critics Choice Awards.

The Associated Press calls it "Extraordinary" and Collider raves "Sarah Polley's screenplay is nothing short of awe-inspiring."

This awards season, imagine another future and consider Women Talking.

Peacock, not Paramount+, has the U.S. streaming rights to Yellowstone. But could Paramount sidestep that Peacock deal by putting the show on CBS and simulcasting the live episodes on Paramount+?
Great idea. Peacock's SVOD rights to Yellowstone kick in at 90 days after each season ends on the linear Paramount Network. But at least according to one source with knowledge of the deal, Paramount could put Yellowstone on CBS, which would mean that someone watching the CBS live feed through Paramount+ would see Yellowstone at the same time as someone watching CBS on linear. Just one issue: CBS is regulated by the F.C.C., which would certainly require edits to Beth Dutton's F-bombs and probably some of the violence and partial nudity. And I wouldn't want to be the person charged with convincing creator Taylor Sheridan to OK that.
Did you see Warner Bros. Discovery sued Paramount over streaming rights to South Park? What do Matt Stone and Trey Parker think about this?
Well, I'm told by a good source close to the situation that Paramount is still paying Matt and Trey their full freight even though WBD has decided to withhold about $250 million of the $500 million owed under the 5-year deal, starting in 2020, to stream South Park on HBO Max. That's despite keeping the show on the platform—so I'm guessing Matt and Trey are Team Paramount. To me, this feels like HBO Max lawyers should have inserted clear language in the deal for South Park "television episodes" that prevented Matt and Trey from doing South Park movies for Paramount+, but Eriq Gardner will have a breakdown of the legal claims in tomorrow's Rainmaker email. (Sign up here.)
Still, there seems to be a pattern here at debt-laden Warner Bros. Discovery. The leadership didn't like cutting longtime partner Village Roadshow in on its franchises, so it decided not to—and that dispute is in litigation. This week WBD informed sports leagues that it's getting out of the regional sports network business because the economics turned negative, and the company "will not fund our shortfalls." Beware anyone who has a deal with WBD that C.E.O. David Zaslav and C.F.O. Gunnar Wiedenfels don't like.
Is there a world where the studios want the writers to go on strike so that they can save money (since they all need to cut back so much) while claiming the strike is the writers' fault?
I hear this theory a lot, especially from studio-side people who want to threaten the writers. And it's true, the studios can use force majeure to wipe out a lot of the pricey overall deals signed during the Peak TV period, just as they did during the last Writers Guild strike in 2007-08.
Studios certainly came to regret some of the higher-priced Peak TV deals that haven't delivered, like the J.J. Abrams/Warner Bros. pact, Kenya Barris/Netflix, Seth MacFarlane/NBC, or Jonah Nolan and Lisa Joy/Amazon. Those probably wouldn't get done at those astronomical prices today. Would they have enjoyed the "out" of a writers strike to scrap them? Probably. When Hulu canceled Reboot last month, I couldn't help but notice that 20th TV had paid tens of millions of dollars to Steve Levitan, the show's creator, under an overall deal signed in 2019, and he had delivered exactly eight episodes of television—eight episodes that weren't deemed worthy of a renewal.
Still, purposely steering the industry off a cliff like Toonces the Driving Cat seems like a big step to take to save temporary money. "Strikes are so disruptive," one top executive told me over lunch recently, comparing the likely summer strike shutdown to those lost (and very damaging) months at the start of the pandemic. "I see slate-clearing mostly as a threat to be used in negotiations." We'll see.
What does this new Warner Bros. deal for more Lord of the Rings and Hobbit movies entail? David Zaslav and the trade coverage were very light on details.
Zaslav was understandably excited to reveal "multiple" films based in the "cinematic universe" of Lord of the Rings and The Hobbit. But this is really just a re-upping of Warner Bros.' previous development deal. Warners, via its New Line division, pacted with Embracer, the Swedish video game and licensing company that last year paid a fortune for the J.R.R. Tolkien film, video game, merch and other rights owned by the late producer Saul Zaentz. Has there ever been a better rights deal than Zaentz picking up the Tolkien books from United Artists in 1976?
Warners film chiefs Mike De Luca and Pam Abdy, like all studio heads these days, will now try to reverse-engineer passable entertainment from I.P. that has already been picked over for six long films (with a seventh on the way), and an ongoing Amazon TV show. To keep the rights, Warners has to meet certain development thresholds after three and 10 years, so there's a long runway.
That was important because Warners was actually in a dispute last year with the rightsholder over this issue (one of the many, many lawsuits over this material; I actually worked on Peter Jackson's profits suit against New Line when I was a lawyer). The issue was whether Warners had put the upcoming anime film, The Lord of the Rings: The War of the Rohirrim, into production in time to continue its rights. That dispute was resolved and the film is scheduled for April 2024.
Interestingly, Warners doesn't have made-for-TV film rights in this or any of its previous deals, only theatrical movies. And Amazon, in its separate deal with the Tolkien estate, only has episodic TV rights, including spinoffs. Presumably, Embracer could license separate feature projects for streaming, though I'm betting there is non-compete language in the new deal to prevent overlapping projects.
Sensitive question: Am I OK now to take money from the Saudis?
I had lunch with a producer a few months ago who was debating a similar question: He'd been offered a very lucrative job to make a movie produced by MBC, the Saudi media company with close ties to Mohammed Bin Salman and the Saudi government. He ultimately passed; "too toxic," he said, but he definitely considered it.
I'd say that's probably a good move, though LIV Golf, the Saudi-backed PGA Tour competitor, was deemed worthy by Nexstar, The CW's new owner, of a broadcast deal. And Bloomberg reported last week that CAA helped connect the producers of a Gerard Butler action pic with MBC, and the film ended up shooting primarily in Saudi Arabia. People seem to be dancing around the Saudis without jumping completely into bed with them.
Consider the Red Sea International Film Festival, another attempt by M.B.S. to cover the Jamal Khashoggi blood on his hands with splashy red carpets. The event failed to lure current stars (trust me, they tried), but aging notables like Oliver Stone, Spike Lee and Antonio Banderas were happy to cash the checks.
Whatever happened to the Aziz Ansari movie Being Mortal that was "paused" after Bill Murray acted inappropriately on set? I heard Searchlight was letting the producers shop it elsewhere.
That's true, Ansari and his partners were trying to find a buyer for Being Mortal that isn't owned by Disney. If you'll recall, production was shut down last April on Ansari's directorial debut after Murray jokingly (in his mind) kissed and straddled a female production staffer. She complained, another witness backed her up, and Murray ultimately paid her $100,000 to settle.
The saga left the movie in limbo, and after months of talks, no buyer emerged and the cast and crew moved on. Yet Ansari's directing career isn't over. It hasn't been reported yet, but he's co-writing a new project with Seth Rogen (who was also in Being Mortal). And yes, Searchlight is developing it and will finance and distribute if it gets the green light. After that project, Ansari hopes to revisit Being Mortal and perhaps bring it back from the dead.
How is AMC Theaters not bankrupt by now?
How dare you! My buddy Adam Aron, AMC's C.E.O., is a financial genius and a true showman, because by most objective metrics, AMC should already be bankrupt. Its biggest competitor, Cineworld, declared Chapter 11 in September. Aron avoided that fate by using the company's size to raise more than $900 million in equity and debt in late 2021, then he rode the meme stock wave to more than $2 billion on the backs of those AMC "ape" retail investors. What a time.
But that's over now. While Aron was buying a gold and silver mine, the stock dropped from $60 a share in mid-2021 to the $6 range lately. And a group of shareholders sued last week claiming that Aron's 2022 scheme to issue preferred "APE" shares "eviscerated" the voting power of common stockholders. I'm surprised it took them this long.
AMC desperately needs the box office to recover, because that 30 percent decline in releases and in gross receipts in 2022 compared to 2019 won't cut it. There are more releases set for 2023, and so far this year the numbers are somewhat promising, thanks to Avatar: The Way of Water and a couple small-scale original hits in M3gan and A Man Called Otto. China, which had basically been written off the past few years, is letting far more U.S. movies play. Problem is, after a jam-packed spring and summer, we're back to a movie desert between August and Halloween. That can't happen if AMC and the other exhibitors hope to survive this shakeout without closing a bunch of theaters.
Plus, I think that huge 70 percent drop for the second weekend of Ant-Man 3 says something about moviegoer habits. Yes, the film had low quality scores, which translates into bad word of mouth. But casual moviegoers also know they can wait only a couple months and see Ant-Man 3 on Disney+. So the Marvel superfans still show up opening weekend, but everyone else (and the people who used to go back to theaters several times) are increasingly waiting to watch at home. Let's see what the second-weekend drops are on the rest of the big movies this year. I'm betting all those collapsing windows are slowly training casual fans to wait for home video.
(Bonus: On The Town, Lucas Shaw and I picked teams of '23 movies and wagered Dodgers tickets on who will generate the highest total gross—minus budgets. On Twitter, the people think I have the better team…)
Guy Ritchie's Operation Fortune: Ruse de Guerre, with Jason Statham, is set for release on Friday but it was supposed to come out over a year ago. Why was it delayed? Was it a mess or something?
Sometimes movies run directly into larger industry issues. Operation Fortune was originally set for release in Jan. '22 by STX Entertainment, the troubled distributor that has gone through a failed merger with an Indian company and a restructuring. I'm told STX couldn't release the film while the restructuring under investor Jahm Najafi was being worked out. Then Miramax got U.S. rights and was exploring a P.V.O.D./streaming play. During that delay, war broke out in Ukraine, and the film included Ukrainian gangsters. Not great. So Ritchie went back and made the gangsters of unknown national origin.
Then, as the theatrical market recovered a bit, Lionsgate, which has a long relationship with Statham (Crank, The Bank Job, Transporter), came in earlier this month to release the film theatrically. It's a quick turnaround, and Miramax is paying for theatrical P&A; Lionsgate gets a distribution fee and a piece of the backend, I'm told. That deal paved the way for Statham to finally kick some non-Ukranian ass on the big screen this weekend.
After all his whining about being cut out of ownership of the Rocky franchise, and the Instagram attacks on producer Irwin Winkler, is Sylvester Stallone in Creed III?
Nope. The movie hits U.S. theaters on Friday, and even though director Michael B. Jordan held out hope that Stallone would at least film a cameo, Sly made good on his threat to boycott over what he said were creative choices he disagreed with. It'll be interesting to see if Stallone keeps quiet this week and lets the movie come out without controversy.
Are you worried that A.I. will replace you?
I should probably mention that all these answers were written by ChatGPT.
Nancy Dubuc finally realized what we all knew when she took the Vice C.E.O. job five years ago: She probably couldn't flip that house of cards to some other sucker, no matter how much she would make if she figured out a way to do it. [NYT]

Apple TV+ use has "flatlined" and only 5 percent of respondents to a UBS survey said the service is the "best value for the money." They're gonna need more Timmy Chalamet. [Yahoo]

Workers in Marvel's VFX salt mines rip the compressed timelines and "human greed" that led to crappy, unfinished sequences in Ant Man 3: "They're squeezing blood out of stones. And we're out of blood." [Vulture]

Kat Abughazaleh's job is to watch Fox News all day for Media Matters, in case you were feeling depressed about your own life choices. [New Yorker]

Congrats to all the BAFTA winners who gathered on stage in London for a group photo last Sunday and—wait, uh, why did Netflix co-C.E.O. Ted Sarandos jump into this shot?? Oh no. [Twitter]
Disney fans and haters came out in response to my Thursday bull case for the Fox acquisition. Some examples:
"Thank you for articulating what many of us have been noticing within the company: The Fox deal is working. The integration was tough (all those people with different salaries caused some tough conversations) but this is definitely a stronger company, and certainly big enough to compete. It would be a shame if Iger throws all that hard work away and starts selling us off for parts." –A Disney executive
"Not only were Fox assets valuable, but it really was a defensive move as well—having someone else own all that I.P. was not appealing." –An executive
"Seriously, is Iger or Zenia [Mucha, his former communications chief] paying you now?" —Another executive
"I kinda wonder though if there wasn't a better way to keep FX at the forefront than the weird 'FX on Hulu' tile. Consumers just think of their shows as Hulu shows. They were never as big as HBO, but throughout the 2010s there were moments when they'd be at or near parity, and that just doesn't happen anymore. It kinda feels like while Disney continues to nurture their shows, they left the brand to die on cable while WBD kept the HBO name front and center. Maybe more people would've watched Fleishman or Under the Banner of Heaven if they knew those were FX shows, not just Hulu." –A student
Cocaine Bear is a hit, but here comes the big box office test, with about 20 wide releases in March and April, up from 13 last year. The latest early tracking numbers from The Quorum:
Have a great week,
Matt

Got a question, comment, complaint, or your own great awards show photobomb? Email me at Matt@puck.news or call/text me at 310-804-3198.
FOUR STORIES WE'RE TALKING ABOUT
Lemon's Lightning
On the Lemon saga, the Barkley-Gayle question, and 'CNN This Morning.'
DYLAN BYERS

Manchin's Senioritis
Unpacking a series of professional machinations in the upper chamber.
TARA PALMERI

D.C. in Munich
On the after-hours chatter at the Munich Security Conference.
JULIA IOFFE

Need help? Review our FAQs
page or contact
us for assistance. For brand partnerships, email ads@puck.news.
Puck is published by Heat Media LLC. 227 W 17th St New York, NY 10011.