Here it is, the document that members of the Motion Picture Academy have been waiting to see, the long-in-development, highly debated, bound-to-be-controversial "Academy Inclusion Standards" form. It hasn't been disseminated to the membership yet, but someone slipped it to me, and I know a lot of Academy members read What I'm Hearing…, so I'm passing along a couple screenshots.
For those not up to speed, the Academy decreed last year that to be eligible for the best picture Oscar, films must soon meet two of four "inclusion standards" aimed at increasing depictions and employment of women, racial and ethnic minorities, LGBTQ+ people, and those with disabilities. Films that don't meet the threshold will be disqualified starting with the 2024 Oscars, but producers must begin submitting the confidential form this year to be considered for the top prize. It quietly went live on the Academy member portal about two weeks ago.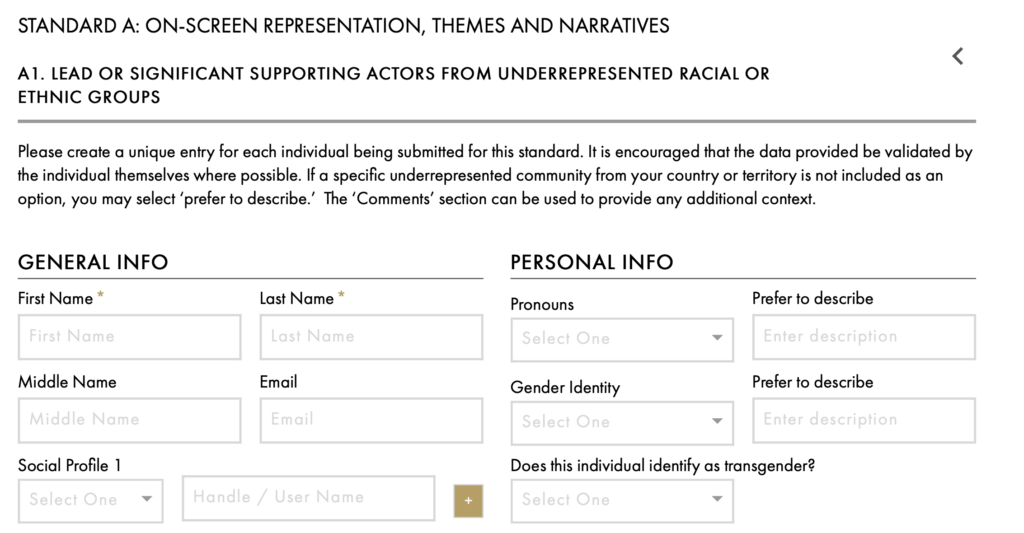 I know this initiative rankles some members, who see it as an intrusion into the artistic process by an organization whose sole function should be to honor and advocate for that art, not police how it's made or by whom. And I'll admit, it's jarring to see a checklist asking a studio to determine whether a supporting actor is "gay" or "queer" (or both?). Some of the questions and drop-down menus also seem susceptible to a legal challenge, though Crash producer Bob Yari sued more than 15 years ago over the criteria for winning best picture, and a court basically ruled that the Academy can set its own rules. Still, the whole process is pretty onerous, with productions asked to "create a unique entry for each individual being submitted for this standard." You know how many people work on movies?
But after undertaking an aggressive, years-long effort to diversify its membership, the Academy's goals at this point are pretty clear: It wants to actively bring about change, rather than simply reflecting—in its membership and its awards—an industry that has largely been unwilling to alter its makeup to better serve its customers. That's a tough task, and with those goals in mind, something like this Inclusion Standards form makes sense.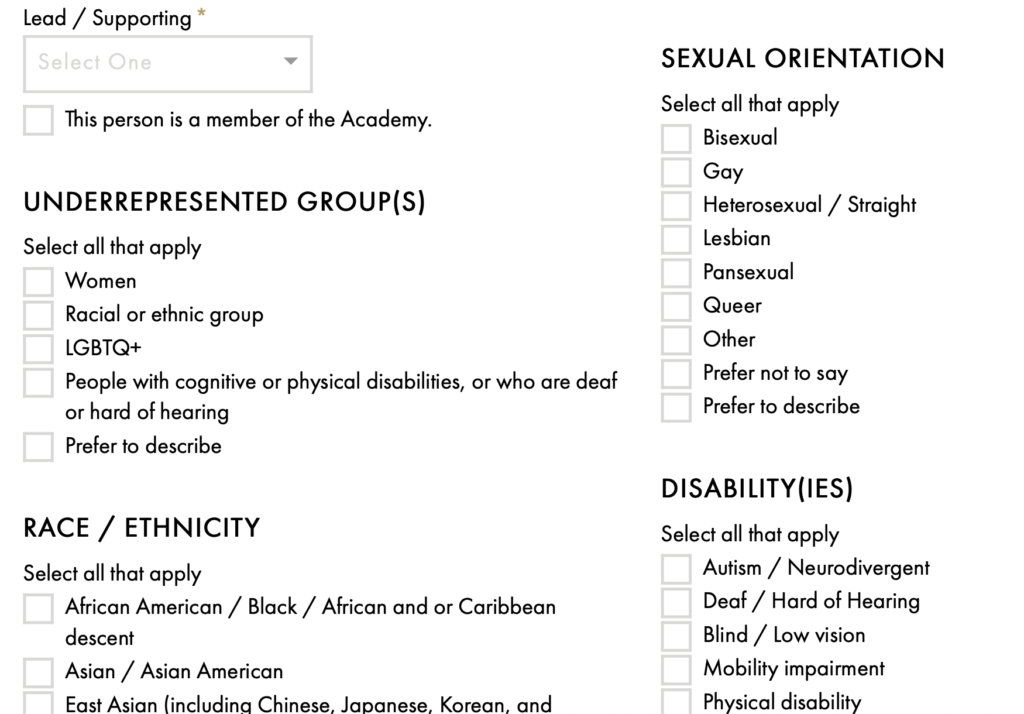 Also, at least for now, all the information is being provided voluntarily, and producers are encouraged to validate the stats with each individual themselves. Most awards operations at studios and streamers now employ dozens of people, and the task of filling out the forms will likely fall to lower-level staffers, using information from the productions themselves. (The heavier burden will likely fall on smaller distributors, which don't carry that awards apparatus.)
The Academy created the form in consultation with its members, the studios and their D.E.I. and legal departments, and they know it's not perfect. The goal, I'm told, is to get people thinking about how they want to collect the data to hopefully have a credible system in place by the 2024 Oscars. Let the debate begin.