Happy Monday, I'm Eriq Gardner.
Welcome back to The Rainmaker, my private newsletter focused on the legal maneuvering inside Hollywood, Silicon Valley, Washington, and Wall Street.
This week, I'm taking a closer look at the James O'Keefe trial playing out in Washington—a legal saga that could set new boundaries between what constitutes journalism and what counts as spying. Plus an update on Disney's anti-vax legal headache, a Fifth Circuit thought bomb, and how a Making a Murderer defamation suit offers a rare look inside Netflix.
But first…
It's easy to forget these days that Hollywood once was the epicenter of vaccine hesitancy. Yes, in the years leading up to the Covid pandemic, stars like Robert De Niro and Jim Carrey complained about government overreach when California lawmakers, alarmed that student vaccination rates had dropped in wealthy Los Angeles enclaves, targeted parents trying to wriggle out of school mandates. Led by the controversial activist Robert F. Kennedy Jr., some like Jessica Biel even began appearing at California's capitol to lobby against a bill meant to crack down on doctors who issued phony exemptions.
This chapter of celebrity medical history has become newly relevant as Disney's ABC unit fights with Ingo Rademacher, the longtime General Hospital actor who was fired last year for...
Can't see the full story?

You're receiving the free version of The Rainmaker at . To get access to Puck, and to take advantage of our limited-time offer of 21% off your first year (new members only), you can
subscribe here.
This year marks the 50th anniversary of the Watergate break-in, so it's only fitting that Washington is once again salivating over a case that explores the boundaries between political subterfuge and investigative journalism. I'm talking, of course, about Democracy Partners v. Project Veritas, the latest in a series of lawsuits targeting Project Veritas and its crusading founder, James O'Keefe, over their infiltration of left-leaning organizations. At the trial, which began Thursday and is now headed for a dramatic finish, a jury will decide if Project Veritas engaged in legitimate journalism, like what Bob Woodward and Carl Bernstein pursued once upon a time, or rather nefarious political spying, similar to those Richard Nixon-connected burglars who once broke into D.N.C. headquarters. It's Watergate, the remix.

Project Veritas was founded by O'Keefe in 2010 to capitalize on his blockbuster undercover video recordings targeting ACORN, a liberal grassroots organization, that were selectively edited to discredit their work helping low-income communities. The videos, which O'Keefe promoted by dressing up as a pimp, transformed the then 25-year-old activist into a star of the Fox News cinematic universe. ACORN filed for bankruptcy soon afterwards...
FOUR STORIES WE'RE TALKING ABOUT
The Oscars Makeover
Can C.E.O. Bill Kramer and president Janet Yang save the Academy from itself?
MATTHEW BELLONI

CNN's New Day
Jon and Peter dissect CNN's programming shuffle and the NFL on streaming.
PETER HAMBY & JON KELLY

Iger's New Act
Observations on the great Wall Street stories of our age, or at least of this week.
WILLIAM D. COHAN

The Pigskin Squeeze
A discussion encircling the consolidating college football television universe.
MATTHEW BELLONI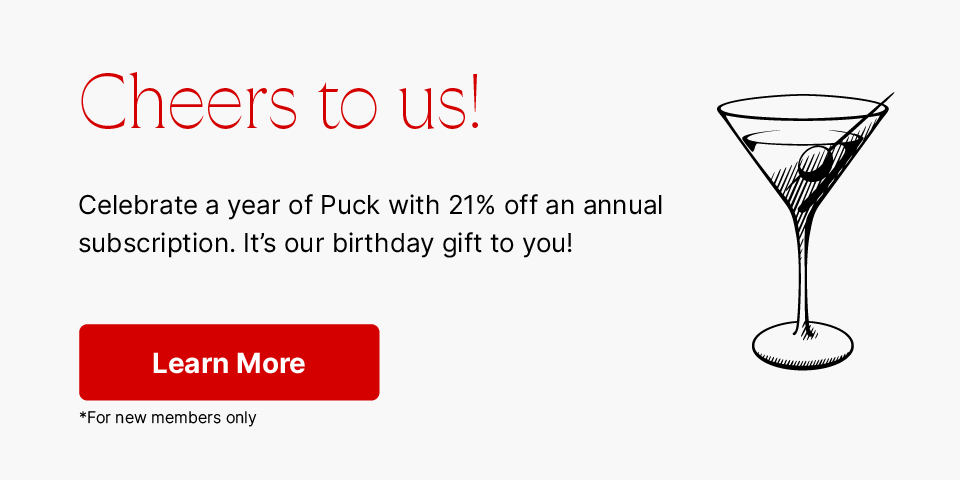 You received this message because you signed up to receive emails from Puck

Was this email forwarded to you?

Sign up for Puck here

Sent to


Unsubscribe

Interested in exploring our newsletter offerings?

Manage your preferences

Puck is published by Heat Media LLC

227 W 17th St

New York, NY 10011

For support, just reply to this e-mail

For brand partnerships, email ads@puck.news