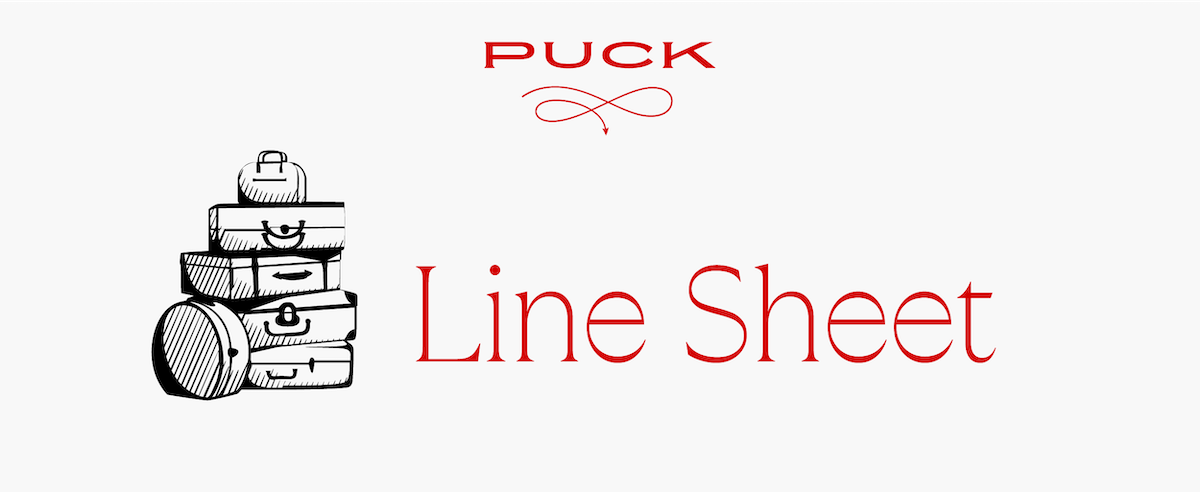 Hi, and welcome back to Line Sheet. I've landed in Paris, the center of the fashion world. Maybe? Milan did put up a good fight over the past few days, with agenda-setting shows from Prada and Bottega Veneta; impactful, if polarizing, debuts from Gucci and Tom Ford; and plenty of other surprises. Not to mention a flood of rumors that, even if only one ends up materializing, could flip the industry's script once again.
We're gonna explore it all, along with what's happening outside the fashion week bubble.
Before we get started, I just wanted to say that it was an absolute pleasure meeting so many of you IRL in Milan. I love that you love Line Sheet, but also that you're becoming obsessed with Puck's entire cast of characters. (Yes, Bill's my favorite, too.) Like I've said previously, it's worth upgrading to the Inner Circle so that you can hang out with us more frequently. Click here for a special discount.
Mentioned in this issue: Kim Jones, Simone Bellotti, Alessandro Michele, Maximilian Davis, Rhuigi Villaseñor, the Loro Pianassance, Renzo Rosso, Luke and Lucy Meier, Matthieu Blazy, Bottega Veneta, Peter Hawkings, Rhonda Garelick, John Fetterman, Estée Lauder, Maria Grazia Chiuri, Sabato De Sarno, Domenico De Sole, a Tom Ford no-show, inescapable Phoebe Philo, and so many more.
But first…
The Toryssance is real: Everyone raves about Tory Burch these days, but how well has the new look really worked at retail? In case you didn't know, Tory Burch is a private company that generates well over a billion dollars a year in sales, although they rarely share financial figures. Is there a way to tell whether the industry's good Tory will is paying off? The brand came up last week at lunch in Milan with Jenny Cossons, chief partnerships officer at Lyst, the fashion search engine and app that releases a closely watched index of the most in-demand brands and products every quarter. (Lyst uses a mix of proprietary data, Google search, and social media stats in its methodology.) Jenny and her team pulled some numbers for me, noting that searches for Tory Burch are up 48 percent over the past six months. Perhaps unsurprisingly, shoes are driving most of the demand, with ballet flats and the "pierced mule" leading the charge.
Everyone in the U.S. Senate is going to look like a bum now?: By now you've heard that the upper chamber is loosening its (maybe already unofficial) dress code, allowing guys to ditch the suit, women to skip suits or dresses, and everyone to wear whatever they please, including, but not limited to, jeans and a t-shirt. Many Republicans are appalled, many Democrats are rejoicing, like that John Fetterman guy, who is more comfortable in a hoodie.

I asked my colleagues with a better understanding of the inner workings of Capitol Hill what they thought, and the general consensus was that everyone should continue to dress up. "I don't know how you could want to walk through there with the history and the architecture and the murals and the responsibilities at hand and not want to be dressed to match it," The Best & The Brightest's Abby Livingston said. My editor Ben thought the proposition tacky. "Politics is already so vulgar," he said. "No need for the clothes to reflect it, too!

I'm divided. On one hand, this idea of holding on to formalities is pointless. Most politicians do not know how to use clothes to communicate. Because fashion, and more pointedly, dressing, is dismissed as a necessity rather than a tool in American culture, there's rarely a thoughtful, considered tactic behind the wardrobes of the majority of elected leaders. I'm not saying they don't think about it, they do, but they tend to follow an unconvincing formula. (Someone like former German Chancellor Angela Merkel, on the other hand, says as much with her repetitive, cared-for wardrobe as Anna Wintour does with hers.)

There's also no going back when it comes to casualization. I've been in Milan for the past week, where people still really dress up, and wear print and color daily. But even in a city where you'll find women in jewel-toned pantsuits bopping around the metro on a Saturday, they're almost always wearing sneakers, too.

All that said, Rhonda Garelick makes a convincing argument in the Times that this change will hurt women in particular. "There is no such thing as 'total freedom' of dress, only different registers of meaning, which are entirely context dependent," she wrote. Later in the piece, she added that "Women's dignity and authority remain, alas, more socially precarious than men's — harder to construct sartorially and far easier to lose. Taking away the dress code might exacerbate this inequity."

In this day and age, though, it's actually less about what you wear, but how you wear it. A friend of mine who worked for Anna Wintour in the late 2000s and early 2010s once told me that, by that point, she was less concerned with the physicality of her employees, or that they followed a particular way of dressing, and more that they appeared put together. (Although I suspect black was still discouraged.)

If you wear a pair of stretchy pants and a button up rather than a skirt suit, you may come off looking more respectable if your clothes are ironed, your shoes are clean, and, if appropriate, your shirt is tucked in. Think about the Apple executive glow up I wrote about a few months ago: they are just as casually dressed as they used to be, maybe even more so, but they no longer look like slobs. There's also a greater emphasis today on actual physical fitness. It communicates discipline, even if we know it's only halfway in our control.

My point being: most of these people are going to look terrible no matter what, because our society at large does not encourage us to take pride in getting dressed. And that's the real issue here.
Now on to what everyone is talking about…
Was the gossip flowing more freely in Milan this season, or am I simply more receptive than I used to be? Probably a bit of both, but whatever the case, the shows provided an opportunity to not only assess the state of fashion, but to also read a little into what its future may look like. Who won the week? Prada. Big ideas, big desire. But also, the striking actors who got paid to attend the shows, and the brands that benefited from them being there. (Feels like fashion is Hollywood's only sure bet at the moment.) Here's what else everyone was talking about…
A few months ago, I reported that Alessandro Michele, the former Gucci designer who left unceremoniously at the end of last year, had been seen with Delphine Arnault in the Dior archives. At the time, I underscored that this could, in theory, mean absolutely nothing, and that the eldest Arnault child's standing in the business meant that she was constantly meeting with designers.

Even if LVMH doesn't currently have a job lined up, it would be prudent to start engaging with him now. He's not a talent you want going to a competitor. But the noise around Michelle's expected move over to the most valuable company in Europe reached a fever pitch in Milan, when there were even rumors from inside LVMH that they would be announcing his appointment just prior to the staging of the Gucci show at 3 p.m. CET on Friday. (Which would have been an absolutely savage move.)

What's tripping me up here are the various proposed scenarios. Some are saying that he is going to Dior Men to replace Kim Jones, some are saying that he is going to Fendi (and that former Gucci C.E.O. Marco Bizzarri is following), others are saying that he is doing both. (More on where that would leave Jones in one second.) Perhaps I'm wrong, but I don't think someone like Michele is suited to splitting his ideas in that way. (Jones is a designer for hire: his strength is connecting product and marketing, and less about one visual signature.)

If Michele is indeed headed to LVMH, don't be surprised if he ends up doing something entirely different than what we've been hearing. Up until the night before Hedi Slimane's Celine appointment was announced, high-level people in the know were convinced that he was taking over Dior. The only people who really know what's happening are Michele, Bernard Arnault, LVMH fashion group C.E.O. Sidney Toledano, Michael Burke, and maybe a couple of his children.
I nearly squealed on Friday night at the Versace show when Kim Jones power-walked in with good friend Demi Moore. Wait, was this the answer? The Versace succession question has been swirling for years: Riccardo Tisci came close to working with Donatella, but it didn't happen. Could it be that Jones is leaving LVMH to join the soon-to-be Tapestry-backed house, perhaps as a co-designer to Versace à la Miuccia Prada and Raf Simons? It's not out of the question, although one in-the-know person suggested that it could also be an attention-grabbing coincidence.

For Versace, the woman, it's her prerogative. The brand needs her more than she needs the brand, and like all the companies under the Tapestry umbrella, the bigger question is whether the group—currently in the midst of acquiring Versace's current owner, Capri—will spend money in order to make money. The show on Friday, inspired by an iconic 1990s collection, but remade (intentionally or not) for the Barbie costume department, didn't click as loudly as the Los Angeles show this past spring. Fundamentally, though, it's the right idea.

In the educated speculation department, there are a lot of big jobs that are not currently available, but that could be available soon: namely Chanel, Louis Vuitton women's, and Dior women's. And there are many designers out there who want them and are basically auditioning through their current jobs, or via insinuations to the powers that be. However, all three of these businesses are booming; there is no real imperative to shake things up imminently. And yet, there will need to be changes sooner than later, if not necessarily because of the brand's needs, but because of the designer's own biological clocks. (Dior superstar Maria Grazia Chiuri joined seven years ago from Valentino, Nicolas Ghesquière is celebrating 10 years at Vuitton, and Virginie Viard has put in decades at Chanel.) There may be plenty of hot talent waiting in the wings, but it's not all going to happen at once. (And remember, whoever gets the McQueen job will likely leave another position empty. So there's that, too.)
Everyone Needs to Calm the Fuck Down About Gucci
I try not to read show reviews before I write, which was particularly hard with Sabato De Sarno's Gucci debut given how strongly people felt about it: some love, and some hate, too. Very dramatic! (Mostly from Brits who abhor Big Luxury, and miss Michele's magpie.) What was nice about taking a beat before writing (I saw it at 3 p.m. on Friday, it's now late on Monday) was that I had a lot of in-person conversations with real people from different parts of the industry about what made it good, and what made it not good. Additionally, I scanned the Twitter/X conversations, where I was surprised to see High Fashion Twitter defending it (for the most part).

I also went to the showroom on Sunday for what the industry calls a "re-see," or an opportunity to examine each item up close and speak with a publicist or the designer. I'm not really a re-see-er—it always felt like something a fashion editor would need to do, not a reporter—but I made time for both Prada and Gucci in Milan, and was glad that I did.

In the end, my feelings about the show didn't change drastically over the weekend, but they were reinforced. The advertising is sharp. The rebranding (that blood-red color) is sharp. The accessories, from the platform loafers to the jumbo-link jewelry to the shiny, pliable Jackie bag, were retail dynamite. The overly referential clothes—which I still think are going to sell very well—need more rigor both in terms of concept and fit. The vision for every other component is so clear, De Sarno will need to better explain who his Gucci woman is other than being young and fun. (Although several stylists did suggest to me that the clothes would have looked better shown outside, in an art student-filled area like Brera, as was the original plan. Maybe Kering needs to poach LVMH's shaman.)

Let's see what happens next season, when De Sarno has had more than a few weeks to get something together, and his executive team is in place. (Just a month and a half after he started, the news of Bizzari's departure was announced.) Remember, for all the calamity at Kering, the company has made impressive hire after impressive hire—they have superstar designers, they have superstar C.E.O.s, and they have a $15 billion plan for Gucci that requires a pragmatist, not a dreamer. Give him a minute.
The Estée-Zegna Tom Ford Bet
I'm sure you've heard by now that Tom Ford was more Gucci than Gucci was Gucci, meaning that Peter Hawkings' first collection as creative director of the now Estée Lauder-owned, Zegna-operated fashion brand looked like a carbon copy of Ford's greatest hits from his history-making 1990s revival of the Italian house. Gucci is what it is today because of Ford and his business partner, Domenico De Sole, who sat front row at the Tom Ford show last Thursday. Ford didn't show. Whatever the reasoning, it was the classy thing to do. It gave Hawkings an opportunity to be at the center of things, even if those things were an homage to Ford's body of work. (Although this time the velvet suit and low-slung gowns were styled by Marie Chaix, not Carine Roitfeld, who sat front row instead.)

Is a redux enough? Good to remember that the majority of the Tom Ford ready-to-wear business is menswear—which Hawkings was already designing—and I'd argue that he zapped the slight strangeness out of the womenswear that pervaded previous collections, which might be good for sales. The bigger challenge for Lauder: Tom Ford, the man, is still around, still pretty young, and undoubtedly going to remain in the public eye. Not only did Lauder look to Ford for creative direction, but he was also the face of the brand. (He even starred in advertising campaigns.) Will whatever he does from now on, whether that's directing more films, or something else, run in parallel to the development of his namesake, or will Hawkings and Lauder divert from the master plan at some point? TBD…
Lastly, Some Odds & Ends Re: Bottega, Bally, Ferragamo, Etcetera
Kering has dominated the headlines these past few weeks with François-Henri Pinault's deal to buy CAA, Sarah Burton's exit from McQueen, and then Gucci and Bottega Veneta in Milan. Pinault attended both, holding court on the Claire Detallante-illustrated tiled floor at Bottega Veneta, which designer Matthieu Blazy commissioned to look as if the models, which he calls his "characters," were walking across the globe.

In Paris, Saint Laurent and Balenciaga will be two of the most talked-about shows, but Blazy certainly has the industry mesmerized. He is calm, he is focused, he is dazzling. (I usually fall asleep at the idea of materials "innovation," but the shredding and weaving and sculpting he's doing is just that.) My favorite (and probably your favorite) gesture was the way looks from Blazy's first collection were featured in this show: an outfit tossed into a woven sac, or a coat thrown over the shoulder. His work is so propulsive, and yet everything is linked to what came before it. I love that, and also think it's a sound commercial strategy.

I had zero expectations going into Bally, now designed by Simone Bellotti, a 15-year veteran of Gucci. Bellotti replaced Los Angeles-based Rhude founder Rhuigi Villaseñor, who exited after just two pretty goofy seasons. (I like Rhuigi, though. Don't count him out.) But, wow, this was so good, all the prim knits and weird little shoes and handbags decorated with cowbells. To be fair, this collection reflects my personal taste, which makes it a tad harder to assess with objectivity. In my defense, several other editors, including The Financial Times' Jo Ellison, and The Gentlewoman's Penny Martin, were similarly charmed. Unbridled giddiness aside, I was just deeply impressed by how sharp it all looked, and glad to see that it is possible to make good things with fewer resources than your competitors. I wonder what his idea for Gucci would have been.

At Ferragamo, Maximilian Davis is also doing a lot with less. Backstage, I asked him how he's managed to accomplish so much in just a year. He looked at me like I was crazy. To him, there's so much more to do. And while he's right, he's also undoubtedly tapping into something with what I'd call lacquered minimalism. (It helps that he has a good C.E.O., former LVMH and Burberry exec Marco Gobbetti.) Let's revisit in a couple of years to see how far he's gotten, like I did this week with Jil Sander, whose designers—the married couple Luke and Lucy Meier—seem to have settled into a groove. This season's skate shorts and cut-out gowns felt far lighter and less overworked than in the past. It's a big win for Renzo Rosso's OTB, one of Italy's own fashion groups.
Okay, okay: A Final Note on the Loro Pianassance & the Phoebe Effect
I talk a lot about the pitfalls of conglomerate ownership—homogenization, the threat of luxury fatigue—but I've gotta say that LVMH is doing a really good job with Loro Piana, from the advertising (splayed all across Milan) to the product itself. It remains "classic" (read: sorta stuffy) for the more conservative customer, but they've layered in progressive elements (like an almond-toe, suede-lined ballet flat) to pique interest outside of the Succession set.

Separately, how long can the Phoebe effect last? So much of what we saw this week still goes back to Phoebe Philo's Céline. The scarf-neck trench coats, the lace-tipped slips, I could go on. Unfortunately, it seems that her namesake collection has once again been delayed. We've still got five days left in September. Also, I'm at a loss for words regarding whatever is happening on the Old Céline Instagram account.
What I'm Reading… And Listening To…
"The best journalistic advice she ever received, from her father, a newspaperman before her, was to cut all her copy by 50 percent." Ugh, now I feel bad about myself. Matt Schneier on Cathy Horyn! [The Gentlewoman]

Amanda Mull rips ballet flats a new one. [The Atlantic]

Speaking of Phoebe Philo, the internet is up in arms about this interview with Iman, who told a potentially damning story about her. [Sway's Universe]

I thought Arianne Phillips' ode to exiting Prada design director Fabio Zambernardi really captured the feeling in the room at the show last week. [Instagram]

My friend Chris says some goofy stuff (like, "I prefer not to watch films," what does that even mean), but I do agree with him that Sofia Coppola is the last cool person on earth. [GQ]

So hilarious that Anna Wintour fucked with the FT by not eating lunch while being interviewed for Lunch with the FT: "I had a big breakfast." [The Financial Times]

A friendly reminder that Pacsun now sells Supreme. [X]

Paris-based writer Lindsey Tramuta is podding about the dark side of the fashion industry. She's really thoughtful, so you should listen! [The New Paris]

If you're a sports fan frustrated by Fanatics and its gobbling up of "swag real estate," you might enjoy this piece on the company its owner, Michael Rubin. I know nothing about anything the writer is talking about and still had a good time. [Defector]

And finally… a note of appreciation to the stylists, whose work was so critical this fashion week (and every fashion week), from the foursome (Carlyne Cerf de Dudzeele, Katie Grand, Gabriella Karefa-Johnson, and Lucia Liu) who gave a creative director-less Moschino life this season, to Brian Molloy teaching us all how to dress, to Emmanuelle Alt making The Attico look real good on the streets of Milan. And for those of you making $10,000 or more a day: you deserve it!

And finally, finally… also thought Dolce & Gabbana looked good, even after listening to Billie Eilish's "What Was I Made For?" play on a loop for nearly an hour while we waited for Kylie Jenner to show up. I don't exactly know how you tailor lingerie, but they somehow managed.
Until Thursday,
Lauren
FOUR STORIES WE'RE TALKING ABOUT
The I.P.O.-looza
Plus, Iger's $60B gamble and Murdoch's legacy.
WILLIAM D. COHAN

Lachlan's Dowry
Lachlan is the last Murdoch standing. What now?
DYLAN BYERS

Need help? Review our FAQs
page or contact
us for assistance. For brand partnerships, email ads@puck.news.
You received this email because you signed up to receive emails from Puck, or as part of your Puck account associated with . To stop receiving this newsletter and/or manage all your email preferences, click here.
Puck is published by Heat Media LLC. 227 W 17th St New York, NY 10011.