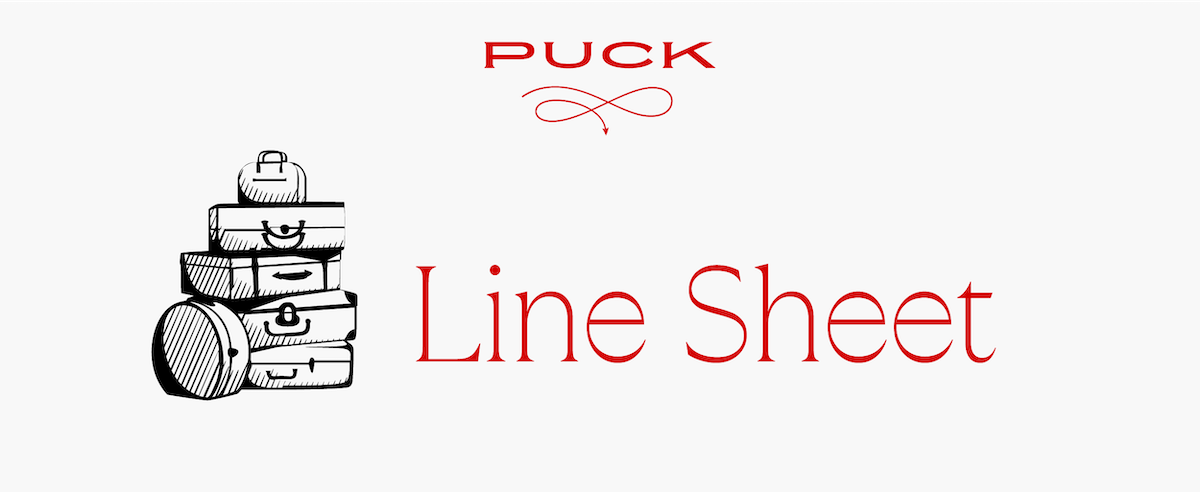 Hi, and welcome back to Line Sheet. I just landed in Paris for a very special private dinner I'm hosting with Lyst C.E.O. Emma McFerran. Can't wait to see you.
Today's grab-bag of intel reflects the transient nature of the week. On that note, I'll be taking Thursday off to celebrate America's only fun holiday in a country where it doesn't exist. (If you, too, booked a 9 p.m. reservation at Ralph's that night, please stop by my table and say hello.) And let me know how Black Friday goes for your biz…
Remember, the best gift you could give this holiday season is a subscription to Puck: use my code LINESHEET to underpay for what is truly a modern media marvel. Just look at what Kyle Chayka said about us!
Mentioned in this issue: Clare Hornby, Lauren Sánchez, Jeff Bezos, Annie Leibovitz, Elin Kling and Karl Lindman, Todd Snyder, Phoebe Philo, Jane Pratt, Toteme, Kerry Diamond, Christopher Niquet, Molly Baz, Adrian Cheng, Thakoon Panichgul and Jen Brill, Me + Em, Matthew M. Williams, and… Sam Altman's wardrobe.
Where have all the Phoebe Philo returns gone? As I told you last week, I decided to sell my Phoebe Philo "Gig" bag to a friend, at cost. It's a nice bag, but it was too small to fit my laptop, and too big for lunch at the Polo Lounge. Also, the strap is long, and right now all I want is a top-handle bag. (As another friend said, it's a "New York" bag. And I don't live in New York anymore.)

Why did I offload it the way I did? Well, I didn't want to deal with shipping it back. The instructions were so long. And I didn't really want to try to sell it for a profit. Felt like too much work. I've been trying to sell a pristine pair of jeans from The Row on Vestiaire for months and no bites, so I finally gave up and shipped them to The RealReal. I probably should have sent them to a consignment shop in the Minneapolis suburbs, Fashion Avenue, where all the fashion magazine editors have been ridding themselves of bad free gifts and sample-sale mistakes dating back to the Taylor Tomasi Hill days at Teen Vogue.

But back to Phoebe: Unfortunately for my petite friend, the Gig bag is way too big for her frame, and she is now probably going to sell it to someone else. Anyway, we obviously weren't the only two people who wanted to return something from the drop. A lot of the clothes ran very long; shorter women are struggling with the shirting in particular. (Trousers can be hemmed.)

So how is the Philo team handling the returned inventory? I know multiple V.I.P.s who have received emails from internal salespeople, offering to walk them through the collection with the inventory they have set aside for private clients. I'm assuming that this newly surfaced product is, at least in part, returns. And yet… everything is still "sold out" on the website. Not a bad strategy, I guess, but the whole thing is just very peculiar. The chaos of this project was charming at first, and has definitely contributed to its allure, but it also all feels a little crazy. Let's see what happens with the next release, which I heard will be in January.
The latest in indie mags: As an antidote to that weird Document Journal news from last week, here's a quick roundup of some notable things happening in the world of independent magazines…
Cherry Bombe, the women-in-food pub run by Kerry Diamond, has aggressive abbreviator-slash-food personality Molly Baz on its cover this month. Baz has a real aesthetic (her husband, an industrial designer, worked for Ye for years), and Diamond tapped industry insider Sarah Cristobal to edit the issue, so it definitely feels even more fashion-y than usual…
Hommegirls, Thakoon Panichgul and Jen Brill's fucking cool publication that's also a fashion line, is back with a cover shot by Martine Syms, featuring Tracee Ellis Ross…
The latest volume of Study, from fashion personality Christopher Niquet, is dedicated to the stylist Camille Bidault–Waddington… I've always loved her, she wore New Balances as fashion first!
Nicolas Ghesquière's longtime collaborator, Marie-Amélie Sauvé, just released a new issue of Mastermind and she launched a website, too…
Cultured, the art-fashion magazine, put Fran Lebowitz on its latest cover. Unfortunately, she was a no-show for the dinner in her honor, but still, the cover is pretty good.
Don't @ me if I didn't include you here, I promise I see you. We can do something soon!
And now on to the main event… a little pre-holiday potpourri…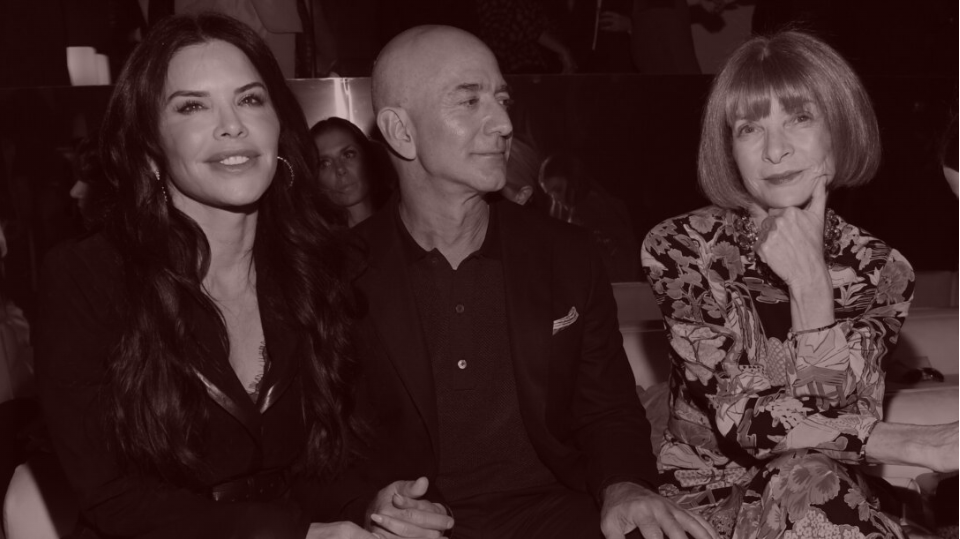 Bezos-Sánchez Aftershocks & The $100M Club
Pre-Thanksgiving chatter from across the fashion industry: The Todd Snyder revenue trap, Matthew M. Williams' new investor, and the real backstory of that Bezos-Sánchez Vogue shoot.
How did Lauren Sánchez and Jeff Bezos end up in Vogue? Everyone is still talking about the recent magazine feature on America's horniest-for-each-other couple with equal parts glee and disgust. As someone smarter than me posited (sorry, I can't remember who, DM me), this is the purest form of camp: a caricature of an Annie Leibovitz shoot, actually shot by Annie Leibovitz; a man dressed up like a cowboy, wearing bro bracelets; an augmented, otherworldly woman in Skims, Staud, and glimmering jewel-toned gala dresses. It's the American dream, right? And yet, many of the conversations I've had this past week have been about Anna Wintour's decision to greenlight the piece in the first place. Why and how, they asked.

It's true that, a year ago, it probably wouldn't have happened. But Sánchez, who by all accounts (including one from my mom friend who used to be her assistant) is a Really Nice Person, has been smart about the press. Her first big feature was written by another Really Nice Person, Derek Blasberg, for WSJ., then edited by his friend, yet another Really Nice Person, Kristina O'Neill. Wintour rarely goes first, she goes the biggest, and by the time Chloe Malle was shipped off to West Texas to profile Sánchez, she was already engaged to Bezos, about to become one of the richest women in the world.

It also helps that through Amazon, Bezos has given Vogue and Condé Nast a significant amount of financial support, mostly via Amazon Fashion. He's sponsored the Met Gala. He's sponsored the CFDA/Vogue Fashion Fund. He sponsored the CFDA Awards just a couple of weeks ago. (No, the CFDAs aren't part of Condé, but like the Met, they are enmeshed because of Wintour's involvement in both.) Anyway, while I don't think this support is the only reason Sánchez ended up in Vogue—I fully believe in the editorial value of covering the romance, out-of-this-world ambitions, and philanthropic endeavors of these two crazy kids—it certainly didn't hurt.
I'm starting to think $100 million-something a year in sales is the perfect size for an independent clothing brand: just big enough to be profitable, still small enough to be cool. This week, I had run-ins with several labels that fall into this category.

On Wednesday, there was dinner at the Chateau Marmont for Swedish label Toteme, which is opening not one but two stores in Los Angeles. Founded a decade ago by former influencer Elin Kling and her partner, Karl Lindman, the duo has pulled off a tricky thing by making clothes for women who like The Row and Phoebe Philo but don't always want to pay those prices and also want something that looks original. Toteme offers a full wardrobe, and perhaps that's why it's so easy to subscribe to the concept.

The next day, I hopped on a Zoom with Clare Hornby, the founder of London-based label Me + Em, also in the $100 million club—quite remarkably, given that it's 100 percent direct-to-consumer and mostly sold in the U.K. (There are nine stores there, with three planned for New York—the Upper East Side, SoHo, and the Hamptons—as Hornby ramps up her presence in the U.S.) Me + Em has that same can't-resist quality as Toteme: good price point, easy-to-wear styles, and most importantly, it's all built on the idea of modular dressing, à la Units or Multiples, those mall stores from the 1980s that sold a range of styles that could easily be mixed and matched and you wouldn't look dumb. (I remember being thrilled by those brands as a little kid.) People don't want to have to style themselves: Me + Em does the work.

A few hours later, I met up with Todd Snyder, in town for the GQ Men of the Year party. His business, which is owned by American Eagle, will crack $100 million this year, too, doing a similar service for guys. When you think about it, Snyder doesn't really have much competition. (Officine Générale would be the most obvious, but that's a different sensibility. Buck Mason counts, too.) It's expensive enough that WME agents can wear it with their Berluti sneakers, but it's affordable enough that your younger cousin's boyfriend living in Decatur and working on the innovation team at Coca-Cola can splurge on a pair of $298 Japanese selvedge chinos. Snyder is big on Armani—the king of real clothes as fashion—and again, it comes back to this idea of wardrobing, and styling, and making uncomplicated things that aren't ugly or intimidating.

It just so happens these brands have very similar profiles, but I could rattle off a handful of others that have grown pretty naturally up to that point, with and without backing. The hard part is what comes next. Once you get to a certain size, if you want to keep growing you typically need additional (and material) capital. You might also want to cash out—à la A.P.C. selling to L Catterton after nearly 40 years—since this business is grueling. Those investors, whether a family office, private equity, or whatever, are hoping to make a return, some more quickly than others. But if you're not in the business of accessories—and really, even if you are—at some point it gets hard to get bigger without diluting what you've built.

The Dries Van Noten clothing business, for instance, will probably never do more than $200 or $300 million in sales, even if its handbags and shoes and fragrance take off. (Luckily, Van Noten sold to Puig, a strategy group that specializes in beauty, so there's less pressure to make the clothing business ginormous.) How big is big enough? I guess it just depends on what you want, and what you're willing to do to get there.
Finally: It's interesting, if not entirely surprising, that Chinese investor Adrian Cheng is now backing 1017 ALYX 9SM, the streetwear-y line designed by Matthew M. Williams, best known these days as the creative director of Givenchy. I honestly figured that Alyx, as it was once known, would have sunsetted by now. There have been reports for years that the brand was in search of a new investor, and it feels very much redolent of a certain pre-pandemic moment when merch was no longer king and Y2K nostalgia had not yet bubbled over.

There is literally nothing in the press release that could help one decode why Cheng, who I heard was sniffing around The Row earlier this year, decided to partner with Williams. But here's what I do know: Cheng, who is in his early 40s, is obsessed with Western brands across categories—fashion, media, hospitality—and also obsessed with importing those brands and ideas to China. Williams, who lives in Paris and has spent a lot of time in Italy, but grew up in California and was born in the Midwest, is the exact kind of cool guy Cheng would want to be around: young, connected, and filled with some interesting ideas that have commercial potential.

Below a certain scale, the fashion business is pretty damn impossible, and it needs benefactors like Cheng—who don't have any illusions about making a ton of money on a little brand but enjoy the association—to keep it interesting.
On whether Matthew M. Williams will stay at Givenchy: "MW will make it because MW is a survivor (and good designer there I said it!!!!!!)" —A fashion journalist with a strong P.O.V.

On the end of Jezebel: "You hit the nail on the head, re: Jez." —A G/O employee

On Jane magazine: "I was so thrilled and excited that the smartest girl in the room—you!—included Jane and Jane Pratt in your Jezebel piece. As a founding editor at Jane who stayed there for four years (a lifetime in editorial in those days, as you know), working there was the best job I ever had. Because we knew we were turning fashion magazines around, and we all actually wanted to. We had a list of words that were banned from copy—'tresses,' 'locks,' 'a crisp white shirt,' 'a pop of color,' and many, many more—expressions no one on earth ever actually said or ever actually used but women's magazines always did (and still, unfortunately, do). Jane wanted us to write how we spoke, even if 'fuck' and 'shit' was peppered into the copy. Anyway, it was a badass magazine, and although Jane herself wasn't a 'fashion person' (although she loved Marc Jacobs, of course), she loved that we, in the fashion department, loved it and yet wore dirty Chuck Taylors around the office and shit like that. Vogue girls, we were not. But fashion girls… yep." —Elizabeth Kiester, former senior fashion market editor

On Richard Dickson's crusade to shake things up at Gap Inc.: "Great read today. You have eyes and ears everywhere! I would not want to mess with you. And yes, it's basically a total shitshow." —A company employee
If you enjoyed my Estee Lauder story from a few weeks back, this goes deeper into the succession issues. [WSJ]

Thanks to best-dressed queen Jo Ellison for quoting me in her feature on The Row. [Financial Times]

An explainer on billionaire cowboy fashion. [Texas Monthly]

Jessica Testa is on the charming-rich-entrepreneurs beat and I love it. This week, Rosetta Getty and her daughter Violet. [NYT]

As the self-professed leading journalistic authority on High Sport, I was happy to contribute to Laura Reilly's piece on the "newsletter pants." [Magasin]

Sheena Butler-Young investigates race relations at Lululemon. [BoF]

Anyone else equally obsessed and repulsed by Sam Altman's wardrobe? There's just something about it—maybe the tendency to favor dusty blues and pinks?—that sends a shiver down my spine. [WSJ]

Disney, Apple, and Lionsgate have all stopped advertising on Elon Musk's X after he backed some antisemitic shit. Your move, Dior! [NYT]

It's very trendy to publish "special reports" and "white papers" these days because you can charge a lot for them. (And if you don't charge, they're an incredible marketing tool.) This one on the state of women's media, orchestrated by stylist and consultant Bonnie Langedijk, is worth a look. [HURS]

Demna on his rejection of luxury. [i-D]

"Nearly half of Bravo viewers live in households that take in more than $100,000 a year, per Nielsen, and consumer profiler MRI-Simmons estimates the total viewership spends an annual $1.3 trillion in the U.S." [The Hollywood Reporter]

LVMH is buying James Bond's favorite eyewear brand, California-based Barton Perreira. [CNBC]

And finally… Can you imagine if Glamour made a man one of the women of the year? Ha!
Back next Monday,
Lauren
FOUR STORIES WE'RE TALKING ABOUT

Need help? Review our FAQs
page or contact
us for assistance. For brand partnerships, email ads@puck.news.
You received this email because you signed up to receive emails from Puck, or as part of your Puck account associated with . To stop receiving this newsletter and/or manage all your email preferences, click here.
Puck is published by Heat Media LLC. 227 W 17th St New York, NY 10011.