MAKE IT A DOUBLE

As Puck turns two, we're doubling down on everything that makes us...us. More dish. More mischief. More access. Take 25% off your subscription.
Good morning,
Thanks for reading The Backstory, our weekly review of the best new work at Puck.
It was another amazing week here at Puck: Matt Belloni revealed the latest act in the Kevin Costner-Yellowstone saga; Lauren Sherman detailed the fear and loathing of fashion week; Dylan Byers explained what the new boss is doing at CNN; Bill Cohan outlined Bob Iger's options; Julia Ioffe spoke to Tony Blinken; Teddy Schleifer reported on the latest guy to flip on S.B.F.; and Eriq Gardner deciphered Hollywood's digital botox dilemma while Julia Alexander detailed the town's recent foreign fetish.
Meanwhile, Peter Hamby observed DeSantis's Hillary complex, Tina Nguyen covered Tucker's world tour, Abby Livingston captured McCarthy's agony, and Tara Palmeri got the readout on the Hunter political manhunt.
Check out these stories, and others, via the links below. And stick around for the backstory on how it all came together.
FASHION:
Lauren Sherman details fashion's September issues.

WALL STREET:
Bill Cohan evaluates Bob Iger's dwindling options at Disney.

MEDIA:
Dylan Byers has more more Iger agony, and news on the quiet start of CNN's new C.E.O.

HOLLYWOOD:
Matt Belloni explains the beef between Kevin Costner and Taylor Sheridan.
and…
Eriq Gardner presages the A.I. cases that could redefine the town.
and…
Julia Alexander evaluates a streamer strike hack.

SILICON VALLEY:
Teddy Schleifer illuminates the fate of one of FTX's top executives.

WASHINGTON:
Julia Ioffe talks to Secretary of State Antony Blinken.
and…
Peter Hamby identifies how DeSantis lost the plot.
and…
Tara Palmeri chats with a Biden insider about the impeachment mess.
and…
Tina Nguyen reveals Tucker Carlson's worldwide authoritarian tour.

PODCASTS:
Tara Palmeri and Michael LaRosa get into the White House's impeachment pickle on Somebody's Gotta Win.
and…
Matt Belloni talks to Alex Sherman about Iger's succession conundrum on The Town.
and…
Peter, Bill, and Dylan assess Iger's options for ESPN on The Powers That Be.
On Wednesday evening, my partners and I welcomed a cavalcade of well-wishers into Puck's airy Chelsea office for a decidedly unstuffy celebration of our second anniversary. I'm not the self-congratulatory type, but it's important to mark occasions in life—especially at a start-up, where everyone selflessly dedicates themselves to the larger vision of building a company that reflects their values and passions. After all, we didn't just create Puck in order to provide the world with a unique cultural product—though that was the primary mission—but also to forever impact how journalists are compensated.

As I've noted ad nauseam in this space, and will continue to hum on about for years into the future, Puck's journalists aren't just my colleagues; they are also my business partners, enshrined on our cap table, and incentivized upon success. Our mission is to create great work, of course, but also to ensure that our industry once again moves creators to the center of the value equation. When I started my career decades ago, writers were P&L costs. Now they're revenue generators.

The evening was a celebration of our business, but also our unique partnership. Indeed, Puck's success during its first two years owes to the power of extraordinary journalists practicing their art while breaking the fourth wall, bringing readers closer to the inside conversation more than ever. Perhaps the most underappreciated leitmotif of the media business, at least during the past half generation, has been the arc towards authenticity. Years ago, cable news businesses sent airplanes and town cars for guests, gussied them up in makeup, and had them speak in talking points; now these conversations take place on live air over Zoom, in full view of a desk orchid and book shelf that will soon be evaluated on Room Rater. I began my career when magazine covers could cost millions between photography budgets and reshoots, and tulips flown in from Holland. Things change.

Nowadays, the transformation towards authenticity explains, well, everything—the rise of podcasting, perhaps the most intimate medium; the ascent of reality TV (sure, I know it's not always authentic, but…); the memoir craze; doc-mania, and so forth. What I'm Hearing, In the Room, The Best & The Brightest, Dry Powder, among all the Puck private emails, aren't simply vessels of great reporting. They're also honest and accurate reflections of the personalities of the journalists behind them.

The Puck salt mines, this week, produced exactly the sort of naturally insidery journalism that we strive to deliver. In Kevin Costner Spent His Strike Summer Fighting Over 'Yellowstone,' the peerless Matt Belloni brings readers into the sumptuous backstage saga surrounding the famously ego-driven star, showrunner Taylor Sheridan, and the powers that be at Paramount. In Year of the Iger, Bill Cohan deftly takes his readers into the corner office in Burbank and the delineates the Herculean challenges at hand. And in Just Spoke to Blinken…, the sui generis Julia Ioffe chats with the Secretary of State about the most personal details regarding the Russian invasion of Ukraine. Meanwhile, Lauren Sherman delivers the ultimate dish compendium in My Fashion Week Postmortem and Teddy Schleifer offers an insider's account of the latest shoe to drop in the FTX scandal via Inside the Fall of S.B.F.'s Big Cool Buddy.

These are the stories of our time, as told by our generation's foremost chroniclers, whom I'm thrilled to call my partners at Puck. Here's to them—and to many more celebrations down the road.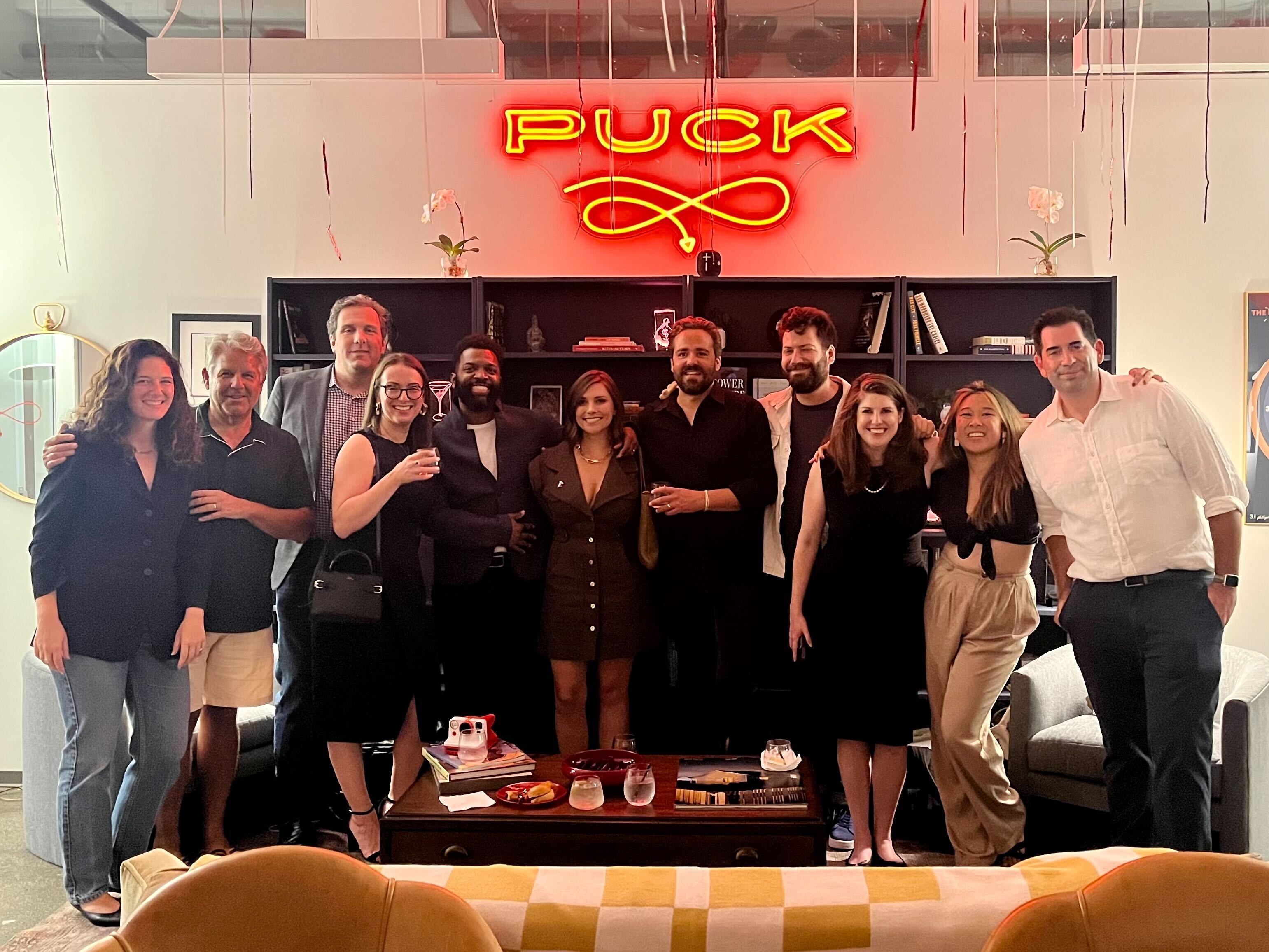 Have a great weekend,
Jon

Need help? Review our FAQs
page or contact
us for assistance. For brand partnerships, email ads@puck.news.
You received this email because you signed up to receive emails from Puck, or as part of your Puck account associated with . To stop receiving this newsletter and/or manage all your email preferences, click here.
Puck is published by Heat Media LLC. 227 W 17th St New York, NY 10011.