Hello, and welcome back to Tomorrow Will Be Worse!
Yesterday, I brought you a conversation with my dear friend Robert Draper, the author of Weapons of Mass Delusion, a book about how the G.O.P. has doubled down on the lies that led to the attempted coup on January 6. Rather than shock the party into humility and self-reflection, the loss of the White House in 2020 became instead the vanishing point around which a political black hole formed, one that has sucked in a near majority of the American political system. Now, just six days from the 2022 midterms, and just as I feared weeks after the insurrection, Republicans will not only not be punished for their role in delivering a body blow to American democracy, they will be rewarded for it.
As my MAGA-fluent colleague Tina Nguyen reports, in a piece that is a perfect follow-up to my conversation with Draper, the new Republican House class of 2020 will make last cycle's class, the Marjorie Taylor Greenes and the Lauren Boeberts "look like soccer moms." (Remember how I told you that Tina is the only Puck colleague who can out TWBW me?) Tina's sources predict that the midterms will create a class of about 40 diehard MAGA members in Congress, people that are to the right of the uber-right wing Freedom Caucus. But if the Freedom Caucus gave then-Speaker Paul Ryan shpilkes in his genechtagazoink—to quote the immortal Linda Richman—then Kevin McCarthy, who has the speakership all but in the bag, knows exactly how to work with these rowdy new freshman, in part by giving them want they want.
In short, I hoped you enjoyed the quiet of the Biden interregnum, because it's just about over.
I'll see you back here next week. Until then, good night. Tomorrow will be worse.
Julia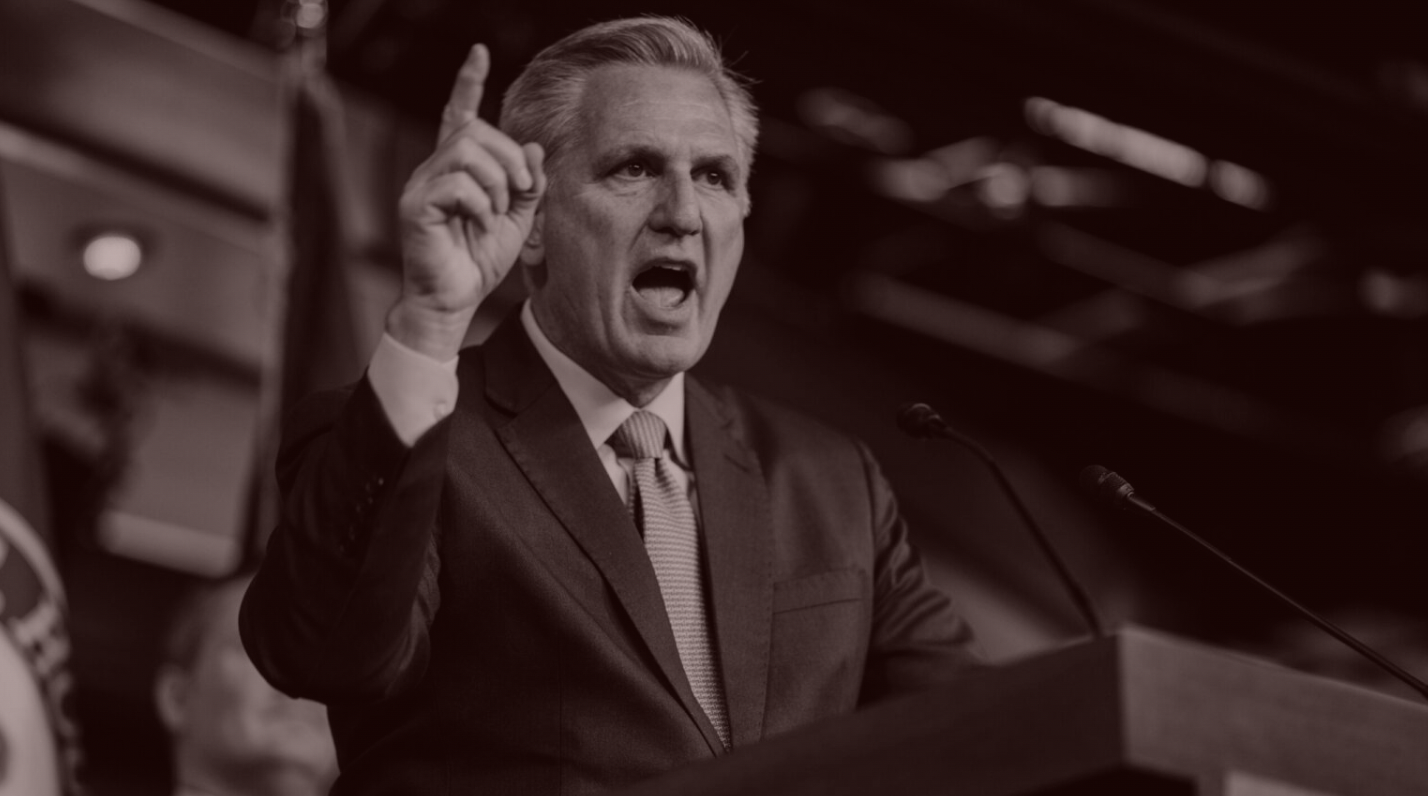 McCarthy's Riot Inside the Capitol
Next week, the Republican conference will likely add new members who make Marjorie Taylor Greene look like a soccer mom. "I'd say we have a good floor of about 40 hardcore MAGA members," predicted one insider. What's Kevin McCarthy to do?
With less than a week until the midterms, Washington's starched collar Republicans are preparing for the likelihood that their next House majority will be another chaotic affair. The ultra-conservative Freedom Caucus is now outflanked by an even more anti-establishment wing of the party, personified by the likes of Marjorie Taylor Greene, Lauren Boebert, Matt Gaetz and Paul Gosar. And this anti-Squad will almost certainly expand next week with the potential addition of new, even Trumpier candidates: Joe Kent, who has campaigned on a "Stop the Steal" platform; J.R. Majewski, who attended the January 6th rally; Cory Mills, a riot control weapons salesman who joked about tear-gassing the media; Anna Paulina Luna, who previously appeared on a QAnon program; and on and on. Quite a crew for the presumptive next Speaker of the House, Kevin McCarthy, to keep in line.

The last red wave election, after all, induced years of headaches for the then-Speaker Paul Ryan. Between Donald Trump in the White House and the Freedom Caucus exerting its power over Congress, Ryan's tenure was marred by constant infighting and the failure of his signature policy goal: repealing Obamacare. And while the exact composition of the 118th Congress won't be clear until the dust settles next week, it's widely expected that the next G.O.P. majority will be even more firmly controlled by the party's far right. "I'd say we have a good floor of about 40 hardcore MAGA members," predicted Alex Bruesewitz, a political consultant who made his name working for Greene's 2020 campaign.

But McCarthy appears determined not to repeat Ryan's mistakes. On the contrary, the current minority leader spent the summer building bridges with the MAGA caucus, going out of his way to stump for Majewski, Kent and John Gibbs on the trail. He has repeatedly promised to reinstate Taylor Greene's committee assignments, which were stripped in early 2021 after her past comments endorsing various conspiracy theories came to light. He's elevated members fluent in MAGA-speak, including Elise Stefanik and Jim Banks, into leadership roles—and, in a nod to the MAGA bloodlust, helped run Liz Cheney out of town. And he's gone out of his way to befriend Jim Jordan, a key member of the Freedom Caucus, removing an obstacle that bedeviled his predecessors. "Jordan is one of the most liked members of the caucus. He just is," a House Republican aide told me.

And the goodwill campaign seems to have worked: Kent, who had earlier blasted McCarthy for backing his challenger and vowed to vote against him for Speaker, is now campaigning with his former nemesis. "Once these guys meet Kevin and talk with him, they realize he's a conservative," Michael Abboud, the national press secretary for Team McCarthy, told me.
Whether McCarthy is actually aligned with the anti-Squad or simply being opportunistic, his Commitment to America agenda seems MAGA-friendly enough. The House G.O.P. policy document, which was published in September, calls for the immediate removal of 87,000 I.R.S. agents; cracking down on critical race theory and trans acceptance in schools; increasing American energy production; rolling back environmental laws; and launching investigations into conservative obsessions like the origin of Covid, the botched withdrawal from Afghanistan, and of course, Hunter Biden. (As the House Republican aide recently told me, it certainly helped the cause that the F.B.I. recently recommended that the D.O.J. prosecute Hunter: "They can't just be like, oh, it's a G.O.P. witch hunt.")

That said, the America First crowd is still leery of anything that reeks of the D.C. establishment. "If the new Congress is true to the patriotic populist electoral revolt, there will be two key tests," Steve Cortes, a former Trump campaign advisor, told me. "First, will the G.O.P. majorities refuse to fund any of Biden's initiatives unless he controls the border?"—a demand that could trigger a potential debt ceiling standoff, and all the economic calamity that might result. And second, Cortes continued, "will the G.O.P. actually take on Big Tech in serious ways, or will the corporatist establishment Republicans prevail?"

McCarthy, as my partner Tara Palmeri has reported, desperately wants to avoid a fiscal showdown that could send markets into a further tailspin and damage the G.O.P. brand ahead of 2024, and has been quietly encouraging Democrats to raise the debt ceiling during their lame duck session. But in most other domains, McCarthy looks ready to play hardball.

In a pre-emptive strike, McCarthy encouraged ranking members to send over 500 document preservation requests to various federal agencies while still in the minority, setting up immediate investigations into everything from the origins of the Covid pandemic (in China) to the actions of the D.O.J. once the Republicans take over. "This is an important step in ensuring the Biden administration is held accountable and so that in 2023 they cannot claim they were blindsided with information requests," a House G.O.P. leadership aide explained to me.
Of course, if Republicans retake the Senate too, well, all bets are off. "If the Republicans are able to take the Senate, that will screw with Biden's agenda in a lot more ways, because it will really slow the scope of how his administration is able to function and require some concessions from the Biden administration to get certain people approved and whatnot," Abboud told me. "If we are able to get the Senate then it changes the perspective of what we're able to put forward and the demands we're able to make."

The precise makeup of the Senate G.O.P. matters, as well. Bruesewitz noted that victories by, say, Blake Masters, Eric Schmidt, and J.D. Vance—when coupled with the role of current senators Josh Hawley and Ted Cruz—could create enough of a MAGA presence in the Senate to pressure Mitch McConnell, Washington's uber-establishmentarian, into a more hardline posture. The progressive Squad, Bruesewitz pointed out, never had any Senate allies.

For now, any inter-party ideological battles appear to be taking a backseat to Republicans opposing the Biden agenda at every chance they can get—and if that means that ideological purity battles are sidelined, no one in the House G.O.P. is complaining. "There's always this intrigue of oh, Kevin might not get [the speakership]. I just don't see how that happens," the G.O.P. aide told me. "Generally, the conference is very unified. And that's the point that's not usually made at all."
FOUR STORIES WE'RE TALKING ABOUT
Schmidt vs. Gates
A first look at Eric Schdmit's new high-dollar charitable network.
TEDDY SCHLEIFER

The Greene Party
A bracing conversation with Robert Draper, author of "Weapons of Mass Delusion."
JULIA IOFFE

The Ye Calamity
A conversation pinpointing the inside story behind the Kanye West crisis.
PETER HAMBY & BARATUNDE THURSTON

Need help? Review our FAQs page or contact us for assistance. For brand partnerships, email ads@puck.news.
Puck is published by Heat Media LLC. 227 W 17th St New York, NY 10011.