Good morning,
Thanks for reading The Backstory, our weekly review of the best new work at Puck.
It was another really stupendous week: Matt Belloni explained the latest saga in Hollywood's summer of hell; Julia Alexander revealed a secret of Netflix's success; Lauren Sherman dug into an Arnault obsession; Bill Cohan examined the Redstone dealbook; Tara Palmeri documented the most recent development in the Jeff Roe Cinematic Universe; Julia Ioffe got to the root of M.B.S.'s diplomacy-washing; and Eriq Gardner examined a Scientology suit for the ages.
Check out these stories, and others, via the links below. And stick around for the backstory on how it all came together.
A MESSAGE FROM OUR SPONSOR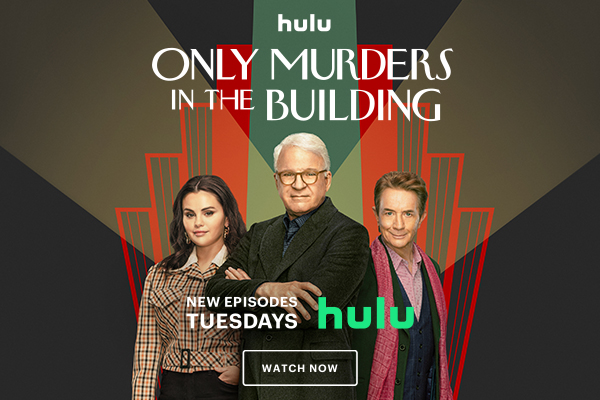 Your favorite hit comedy is back! In a new season of Only Murders in the Building, murder takes center stage when actor Ben Glenroy is killed on the opening night of Oliver's big production. On top of a new case to crack, our sleuthing trio's relationship is put to the test. Will their friendship survive? Starring Selena Gomez, Steve Martin, and Martin Short, and guest-starring Meryl Streep, Paul Rudd, Ashley Park, and Jesse Williams. Check out the new season of Only Murders in the Building, new episodes Tuesdays, streaming only on Hulu.

FASHION:
Lauren Sherman reads the tea leaves of LVMH's American invasion.

WALL STREET:
Bill Cohan has a brilliant assessment of Shari Redstone's deal optionality.

MEDIA:
Dylan Byers explains the evolution of the Iger gambling ideology.

HOLLYWOOD:
Matt Belloni deciphers the latest complexifier in the writers' strike.
and…
Julia Alexander details Netflix's Summer of Suits.
and…
Eriq Gardner breaks down Leah Remini's case against Scientology.

SILICON VALLEY:
Teddy Schleifer scoops the news on Larry Ellison's attempt to remake the Republican primary.
and…
Baratunde Thurston gauges Elon Musk's aptitude at the everything app game.

WASHINGTON:
Tara Palmeri identifies a Jeff Roe Trojan Horse.
and…
Peter Hamby finds Trump's primary weakness.
and…
Tina Nguyen gut-checks the third party reality with Frank Luntz.
and and!
Julia Ioffe charts M.B.S.'s unlikely course as a diplomatic poseur.

PODCASTS:
Matt Belloni investigates Hollywood's worst A.I. fears on The Town.
and…
Peter Hamby and Baratunde Thurston stress-test Elon's super app fantasy on The Powers That Be.
Life moves pretty fast, as the '80s bard Ferris Bueller once said. A more appropriate rendition on the phrase, I'd submit, is that we're living between eras—a coinage adopted by the media savant Brian Morrissey. Indeed, that's the everlasting leitmotif of our culture these days. And, as such, it's the preoccupation of our work here at Puck. I am reminded of it again and again—and, in particular, in the work pouring out of our young company and into your inboxes this week.

Only a couple years ago, Bob Iger stepped down from Disney as the most exalted media executive of his generation. Last November, he returned to course-correct the company, which had lost direction during the brief Bob Chapek era. Clearly, Iger discovered that Disney's business was more imperiled than he'd even previously fathomed—its historic I.P. wasn't enough to support the needs of a modern streamer; its franchise strategy had gone cold; its linear business was quickly becoming an albatross. Immediately and unceremoniously, he's been course-correcting the course correction. In Strike Pressure, Iger's Desperation, & the 'Barbie' Effect, the brilliant Matt Belloni assesses the C.E.O.'s belt-tightening multi-tasking. And in The Iger Mini-Gamble, ace media reporter Dylan Byers provides a deal autopsy on ESPN's foray into sports betting.
Few media companies reflect the confusion of our inter-era age more than Paramount Global, the Redstone heirloom, born from the litigious and acquisitive heart of the late family patriarch, Sumner. Paramount Global, of course, is the result of the poorly-aging decision to merge CBS and Viacom, both of which used to trade well above Paramount's current $10 billion market cap. Shari Redstone presumably pulled off the combination, one supposes, because it would result in a cleaner overall sale. And yet, of course, things haven't quite turned out that way.

In Are You There, Aryeh? It's Me, Shari…, Bill Cohan focuses on Paramount's humbling recent sale of Simon & Schuster, the legendary publishing house, to KKR, and its attempt to unload BET before turning his attention to the larger reality: the Redstones aren't going to achieve their singular, tantalizing sale. Instead, it seems like the deals will be small and piecemeal, at least until the market recovers. If you want to know where media is heading, I'd suggest curling up with your iPad and ingesting this story. I've worked with Bill for the better part of a decade and this was one of my all-time favorites from his oeuvre.

But if you only have time to read one thing, I'd turn your attention to Baratunde Thurston's excellent dissertation on Elon Musk's true folly—his attempt to turn Twitter into an everything app that few want or would trust. Silicon Valley and the Race for the Everything App made me laugh, but it also scared the bejesus out of me. And it's a reminder that people who are brilliant in one field cannot always transfer it to another—a timeless reality, and indeed, just the sort of detail you come across from time to time at Puck.

Have a great weekend,
Jon

Need help? Review our FAQs
page or contact
us for assistance. For brand partnerships, email ads@puck.news.
You received this email because you signed up to receive emails from Puck, or as part of your Puck account associated with . To stop receiving this newsletter and/or manage all your email preferences, click here.
Puck is published by Heat Media LLC. 227 W 17th St New York, NY 10011.