It's hard not to look at Disney C.E.O. Bob Iger's recent moves as knee-jerk plays for quick cash: his reveal of big price hikes for ad-free Hulu ($18 a month) and Disney+ ($14, bundled for $20), both designed to meet Bob Chapek's 2024 profitability goal; the fire sale in TV; and the quixotic quest for a deep-pocketed investor for ESPN. Now, most troubling: the Worldwide Leader's sad $2 billion gambling gambit with Penn Entertainment, an also-ran, downmarket gaming outfit that incinerated $850 million in a terrible deal with the scumbag Barstool Sports impresario Dave Portnoy and is now looking to the Walt Disney Co. for a lifeline. Disney really shouldn't be in business with a company like Penn, especially on this scale, but Iger has few alternatives.

I know, Disney's interim C.F.O. Kevin Lansberry insisted the company's cash reserves and leverage amid the cratering TV business are not problems, but Iger genuinely seems scared—scared of the expenses required in the streaming business; scared of the Wall Street investors who have pushed down the stock and asked growth and profitability questions he can't really answer; and scared of the upcoming Hulu buyout. (Many analysts have pegged the deal as a $10 billion or so expenditure, but the valuation negotiation with Comcast could put a much higher price tag on the asset.) And then there's the upcoming NBA rights negotiation, where Iger will almost certainly face off with Apple and Amazon, and maybe even Google.

Is Iger so scared that he'd panic-sell the whole Mouse to Apple? I still say no, for many reasons, not least of which is the regulatory nightmare and the destruction of his builder legacy at Disney. But Iger's refusal to rule it out yesterday suggests he's at least a little afraid that at some point, there might not be another option. The blunt truth is that this is just the beginning of Iger's moves. Disney stock jumped 5 percent today, so what other short-term revenue plays with long-term consequences will Iger pursue next?
---
Quantifying the Barbie Effect
Here's a crazy stat: More than 1 in 5 Barbie moviegoers are post-Covid newbies, meaning 22 percent either couldn't recall the last film they saw in a theater, or it was the first film they've seen in a theater since the pandemic. That's according to a new survey of 1,800 people over the past three weeks, which the research firm The Quorum shared with me. Check out the breakdown: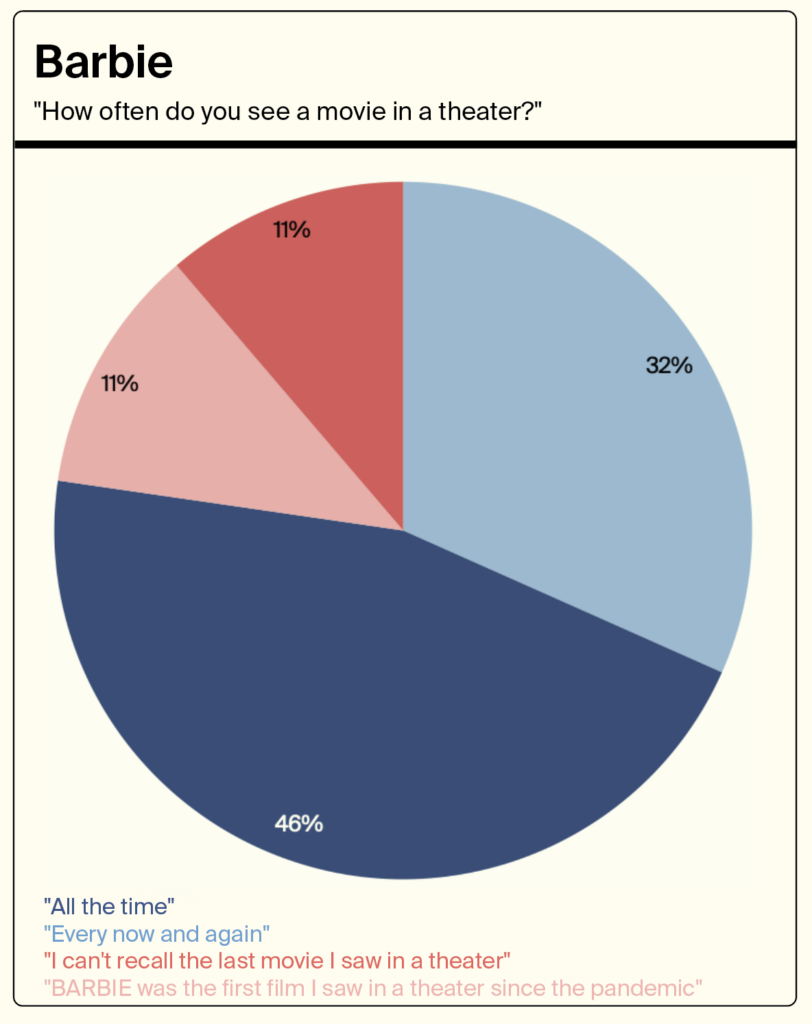 Doing the math, that equates to about 9 million people in the U.S. that came back to theaters for Barbie. (I'm sure there were similar numbers for Top Gun: Maverick.) The survey shows that 40 percent of that subset said the Barbie experience reminded them how much they love going to movies, and that they would go more often. Another 45 percent said they would go more often, but that cost is an issue. Only 15 percent said this was a one-off experience. So if this momentum is real, which will be the first movie to really capture all these Barbie theater converts?