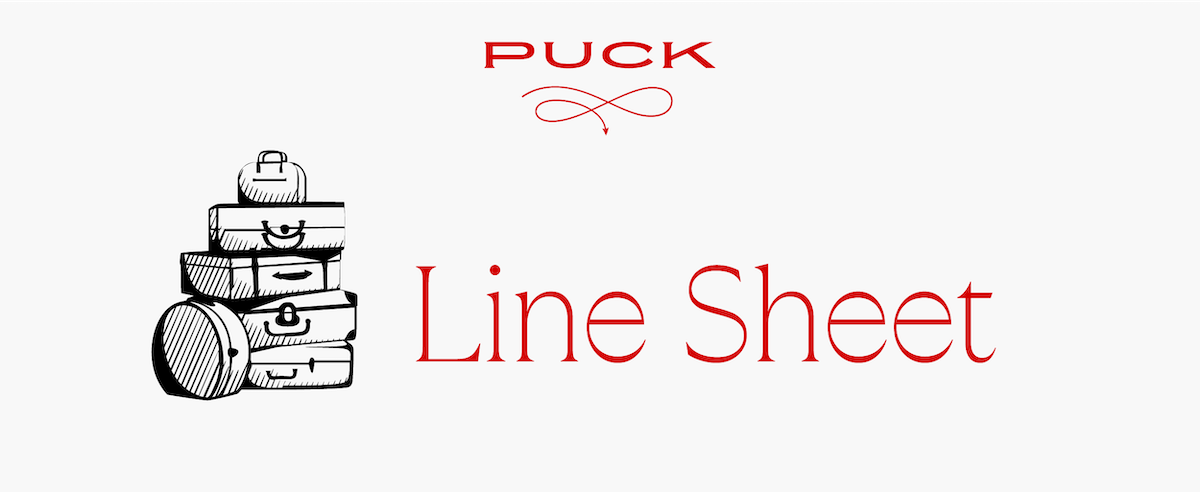 Ciao! Welcome to this Milan Fashion Week edition of Line Sheet. I just left the Tom Ford show, Peter Hawkings' first outing as creative director. I'll have more on that, Gucci (I can't wait), and the best of the rest next week. But until then, enjoy this report on the runway (Prada, Diesel), the parties, and most importantly, what everyone is talking about during aperitivo hour, in the showrooms, and backstage.
Before we get started… If you're a member of our Inner Circle tier, a reminder that I'm talking to Hollywood expert Matt Belloni today at 5pm ET/ 2pm PST (11pm in Milan!) about the Pinault-CAA deal. Inner Circlers should have the link in their inbox.
And if you're not yet in the Inner Circle, what are you even doing with your life? Especially given Puck's second anniversary sale. Click here to upgrade your membership and catch our next off-the-record private call.
Mentioned in this issue: Meghan Markle, Renzo Rosso, Brunello Cucinelli, Hussain Sajwani, Fabio Zambernardi, Prada, Bethann Hardison, Fausto Puglisi, Christy Welder, Sara Bernstein, Diesel, Justin Wilkes, Miuccia Prada and Raf Simons, Daniela Fedi, Tim Blanks, Khaite, Bjorn Gulden, Pieter Mulier, and Naomi–Cindy–Linda-and-Christy and so many more.
Let's get started…
Italy vs. France: Everyone in Milan is still talking about that Wall Street Journal story from a few weeks back, written by a team of Paris-based reporters. It pits the two country's fashion systems against each other, positing that Italy has stalled because it is run by a bunch of old guys managing cumbersome independent businesses, and that France is thriving because at least those old guys are in the business of consolidation, which facilitates faster wealth creation and a competitive edge. (We all know by now that if you are part of a bigger group, it makes certain things easier, from the fabric mill down to the sales floor.)

Honestly, I hadn't read the piece, because it was published on the first day of New York Fashion Week, but it was brought up to me, unprompted, in the first three meetings I took after landing in Milan. Many of the people with whom I spoke were irked by its thesis because they felt it dismissed the success of independent companies like Prada, Armani, and Brunello Cucinelli—and failed to recognize how reliant the conglomerates are on the Italian supply chain. (There is some domestic production in France, but Italy remains the center for shoes, knitwear, and handbags.) Chanel, for instance, recently partnered with Cucinelli to invest in an Italian yarn manufacturer.

There is nothing in the story that is wrong—there are many, many independent fashion companies in Italy that could stand to modernize, or be acquired—but it does miss some nuances and discrepancies that only people like you and me would care about. Cuccinelli, for instance, is able to pay its employees 20 percent higher than the industry average, and its profits outpace the industry overall, thanks to its status as the preferred brand of the Jeff Bezos class.

Prada, which got itself in gear over the past few years, is hotter than pretty much any other label, and now plans to list in Milan after a successful run in Hong Kong. While both of those companies would obviously be additive to a Kering or an LVMH, I'd argue that their success in the face of objectively insurmountable competition suggests that they should remain independent as long as they can. Makes things more interesting. (As for Armani, dude is not selling unless he wants to sell.)

The piece didn't mention OTB, Renzo Rosso's fast-growing Italian fashion group that includes Marni, Jil Sander, Maison Margiela, and the like. Or Moncler, which is building its own group with the acquisition of Stone Island. It also didn't really address the number of independent, midsize Italian fashion brands that are mediocre at present but have the potential to be giants.

This, to me, is the real missed opportunity in Italy. For instance, the private equity-backed Missoni feels like an easy brand to scale up. It's globally recognized, with a difficult-to-replicate signature that appeals across generations, aesthetics, and use cases. But it needs the support of a larger group—especially when it comes to distribution and talent acquisition—in order to meaningfully compete.

I was also thinking of this at Wednesday's Roberto Cavalli show. I had covered the company's pretty major implosion in 2019—including a Chapter 7 bankruptcy liquidation at its U.S. subsidiary—and was curious what its current owner, Hussain Sajwani, had done with the brand. The answer? Nothing. There was zero evidence that designer Fausto Puglisi, whose own line had some heat about 10 years back, had put his stamp on the label—it looked like generic Cavalli. (Former designer Peter Dundas, while polarizing, at least had flair.) Once again, this is a globally recognized name that, with a bit of fluffing, could rise again. Those midsize brands are the companies that are really going to suffer as the industry consolidates further.
Who's styling Meghan Markle? The ex-royal's outfit parade at the Invictus Games begged the question: When it comes to fashion brands, who is doing the Duchess of Sussex's bidding? I asked around, and heard that Markle is no longer working with Maria Means Cote, an ex-Prada P.R. and celebrity relations manager based in the U.K. who was reportedly helping her out circa 2020 and 2021. I've put in some other requests for intel and will report back, but my theory, supported by others, is that she is dressing herself. These looked like off-the-rack items, not samples, and several pieces could have used an alteration (like that Cult Gaia teal lace dress) or an iron (those Gabriela Hearst trousers), which a stylist would at least attempt. I could be wrong, but Markle's sense of style is well-established, and she is perfectly capable of putting together these Montecito Mom looks: cream Celine blazer, Zara mini flight suit, and all.
About that Khaite Valuation: A few of you asked me on Monday how I got to that around-$400 million valuation figure for Khaite, when the Stripes investment was something between $150 and $170 million for an 80 percent stake. The post-money valuation was somewhere in the vicinity of $200 million, yes, but I was told that Stripes and Khaite had also devised a valuation that included the value of future options and warrants that was closer to $400 million. Got too deep in the weeds, should have just included the first, sorry for confusing everyone!
Okay, now onto the action in Milano….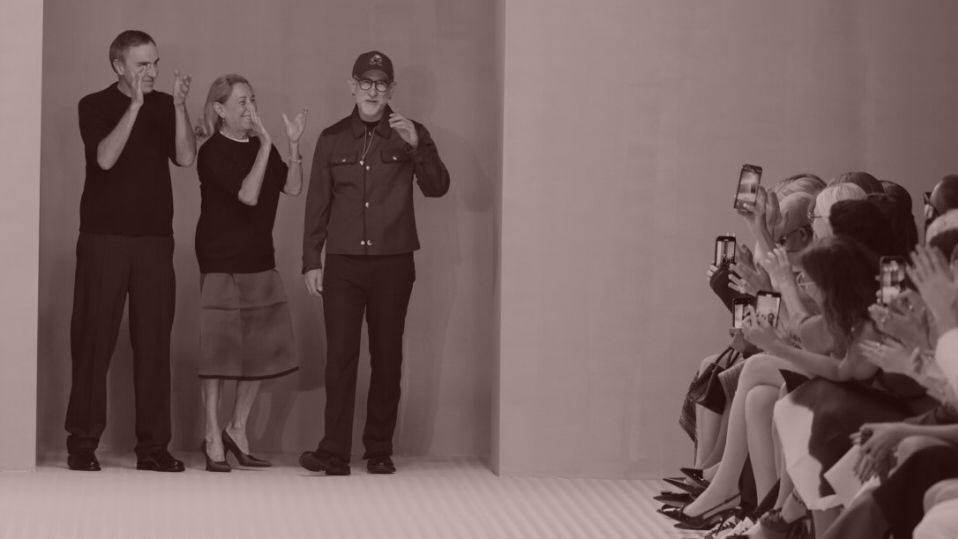 Scenes from Milan & a 'Supermodels' Story
News from Milan Fashion Week: the Diesel renaissance, a Pharrell collab, and the celebrity drama backstage at Prada. Plus notes on the making of the 'Super Models' doc and the complex Naomi-Cindy-Linda-Christy legacy.
After Cavalli and a drive by Mytheresa's Negroni sbagliato-fueled cocktail party at Bar Basso (Diego Della Valle was walking in just as I was leaving), I traveled through the drizzle to the Diesel show, which took place in a graffiti-walled park called the Scalo Farini. While press and other V.I.P. guests were escorted to two closed-off areas flanking the raised stage, the rest of the 7,000 strong crowd—made up of lots of fashion students—hovered around or sat in the rafters, watching the show on a jumbo screen.

Diesel, maker of the artificially worn-in, crack-baring jeans that became an early-2000s status symbol, is having a legitimate renaissance with the youths—I asked buyers! It's all thanks to the designs of the impossibly cool Glenn Martens, who has managed to filch from that tawdry era with a deft sophistication. (I loved the pieces that looked like they were disintegrating right on the body.) Martens, who also designs his own label, Y/Project, is the name already being whispered as a potential successor to Sarah Burton at Alexander McQueen. Who knows if that will end up being true—no doubt McQueen and Kering are going to be super careful about honoring Burton first before any news comes out—but what I do know is that Martens is dynamite, and that Diesel was smart to hire him.

After Diesel, I popped by Moncler's party for its latest Pharrell Williams "co-creation"—the company and the Louis Vuitton men's creative director have been working together since 2009. (As for how this is okay, it's likely a matter of pre-established agreements and also goodwill between Moncler and LVMH.) For Moncler, this was less about the collection, which debuted at London fashion week in February, and more about having a presence at MFW. Nevertheless, I like to watch Moncler closely no matter the occasion. C.E.O. Remo Ruffini, who bought the business in the early 2000s, transforming it into the de facto outerwear brand for global elites, is a keen observer of consumer behavior. He was early to collaborations—perhaps the first to pull people in at the high end—and has iterated on the model every couple of years.

At Max Mara Thursday morning, I watched from the entryway with the woman I think of as the "Cathy Horyn of Italy," Il Giornale fashion critic Daniela Fedi. I have no idea if it's the right comparison, but she has a sort of presence in the backstage scrums that makes me think I'm on point. Happy that I am pretty tall, because she is not, and was complaining about not being able to see the runway. (We were late, so…) From my viewpoint, I was taken with the styling of the belted colored denim and summer knits: polished, modern. Tonne Goodman was responsible.
Meanwhile, I had a ball backstage at Prada, where an octopus of iPhones descended upon co-creative directors Miuccia Prada and Raf Simons in their respective navy blue sweaters. I prayed that my recorder would pick up their explanations, drowning out The Bear actress Ayo Edebiri and her ingénue friends recounting some sort of incident concerning a Mr. Bean-like character on a moped. (She looked great in a geranium purple dress.)

There were so many celebrities, actually: Wes Anderson and Scarlett Johansson, Kylie Jenner (publicist Christy Welder in tow), Vincent Cassel watching as Emma Watson was attacked by flash bulbs. My favorite sighting, though, was Alaïa designer (and longtime Simons collaborator) Pieter Mulier, sitting next to the elegant sculptor Andra Ursuța in a cobalt blue dress. When Fabio Zambernardi, the longtime design director who is leaving the brand after more than 40 years, was pulled out at the end of the show to take a bow, the room flooded with emotion.

Back in fashion land, Mrs. Prada used the word "lightness" to describe the collection. Not sure if there was a wind machine, but the cutaways on the tulle dresses floated on the runway, with clear slime slicing down the center of the catwalk as a wretched backdrop. (There's always a little bit of terror at Prada.) The decoration—a fringe on a silk blouse; randomized, supersized grommets—somehow managed not to weigh anything down. I loved the hefty barn coats with leather collars, too, and the broad shoulders on the suiting.

There's a game that fashion editors like to play with each Prada-Simons collection: Was it more Miuccia, or more Raf? I'd say it's become something entirely new, and always a real thrill. (Not to mention lighting in a bottle at retail.) Backstage, Simons boasted that they refrained from writing any show notes. "For me as an outsider, Prada was never a brand that was communicating with text," he said. Why bother with filler when the clothes say so much?
By now you've likely heard about The Super Models, the new four-part docuseries that debuted yesterday, September 20, on Apple TV+. It tells the story of four of the biggest models of all time: Naomi Campbell, Cindy Crawford, Linda Evangelista, and Christy Turlington, and through their histories offers a greater story of the transformation of the fashion industry in the 1980s and 1990s, when it really became a global business—and a pop culture pillar.

I'm not a "model person." I always saw the clothes first, then the designer. Sure, there are moments when I watch a runway show and think, now that's a star—Paloma Elsesser, Anna Ewers—but I'm not interested in knowing more. However, as a kid growing up in the early 1990s, I learned about fashion through Cindy Crawford's MTV show, House of Style, and Fashion File, the runway report hosted by the consummate journalist (and model whisperer) Tim Blanks. (Actually, when is someone going to do a Jonathan Gold-style doc on Tim? This is a great idea. If you steal it, I will sue you, so please remember to loop me in as a consultant!)

The Super Models is not cinéma vérité; it's slick and highly produced, so if you're looking for Unzipped Part Deux, you'll be disappointed. But by the end of the second episode, I was drawn in, convinced by how influential these four women were in shaping beauty ideals for my generation, and future generations. (The flattening of time through Instagram has made photographs taken 30 or 40 years ago by Steven Meisel, Peter Lindbergh, Herb Ritts, Richard Avedon, Arthur Elgort, and others as relevant now as they were then.)

There's plenty to say about the documentary itself, which takes some time to address the brutal racism experienced by Naomi Campbell, the trials of Linda Evangelista's first marriage, the sexual harassment and financial exploitation that they all endured. It's not gritty, though, and doesn't cut very deep, so you either have to accept that, appreciate it for what you get, or decline to participate.

My big question from the beginning has been: How did this get made? Especially during the pandemic, which made everything, from in-studio interviews to organizing a group shoot with four women, harder. The answer, at least in part, is Imagine Documentaries, the nonfiction arm of Ron Howard and Brian Grazer's production company. (Imagine has produced documentaries now and again, but launched the division in earnest in 2018, when they hired producer Justin Wilkes to run it.) To get a flavor: Previous productions include 2021's Gossip, this year's Judy Blume Forever, and Downfall: The Case Against Boeing. (Pop culture-driven, teetering on scintillating but never tipping over.)

Imagine gained access that "others normally wouldn't get," as producer (and Imagine Documentaries president) Sara Bernstein told me, because Grazer in particular was a friend of both Crawford and Campbell. (Grazer and Campbell also dated years ago, just an FYI.) But Crawford and Campbell, with whom Imagine began discussing the concept in 2019, would only sign on if Evangelista and Turlington said yes, too. "They really saw themselves as a foursome," Bernstein said.

What the models didn't get was final cut approval, which I thought was interesting, given how controlled celebrity images are today, and how so many documentaries of this ilk clearly do give the subject an opportunity to weigh in prior to release. It says something about the nature of modeling work. The reason these women became famous, the ultimate marketers of fashion, was because they trusted the vision of others: photographers, stylists, editors, designers, et al. (And they trusted themselves to know when to say yes, and when to say no.)

But I would be remiss to cover The Super Models and not mention Invisible Beauty, the new documentary about (and co-directed by) Bethann Hardison, a pioneering Black fashion model who came up in the 1970s modeling for Calvin Klein, Oscar de la Renta, and most importantly Willi Smith, an all-but forgotten, if highly influential, Black fashion designer. (If you missed the exhibit on Smith a couple of years ago at the Cooper Hewitt, I am so sorry. Best fashion museum show I've seen in years… maybe ever?)

I haven't had a chance to watch Invisible Beauty, but I've discussed it with two friends: one film critic (white, who enjoyed it), and one fashion designer (Black, who is close with Hardison). The fashion designer, who hasn't seen The Super Models yet, reminded me that Hardison's career, while hardly as lucrative as these women who came after her, had significant societal impact. (Not only was she one of the first Black models to walk, she also managed the career of Tyson Beckford and other stars, not to mention all of her advocacy work and activism.)

Do models matter any more? In the grand fashion ecosystem that now exists, they are a minor component. These ones did, though, and to really understand the industry as it stands today, you need to be as familiar with Hardison as you are with Christy, Cindy, Linda, and Naomi.
Re: Khaite and who buys it: "I'm 28, don't live in New York or L.A., and spend way too much time on Tiktok and Instagram. Khaite is everywhere on these platforms and is the #1 it-brand among a prominent group of creators and influencers my age: @ilanatorbiner, @stillintribeca, @gabrigofis, @tinx, @courtneygrow, have all mentioned the brand recently and often. These creators position Khaite, specifically their jeans, belts, bags, and shoes, as cooler and less basic than established luxury brands. The Scarlet Cardigan is also a TikTok favorite. Younger women are discovering Khaite through these creators, rather than through traditional fashion media. While we have less spending capacity, I would still bet that women my age are a factor in their growth. Thought this perspective was missing and could be interesting to consider." —Ruthie Graff, Line Sheet reader (Note: for what it's worth, I've heard from my sources that a good percentage of Khaite's sales is generated by shoppers under 35.)
Re: Why buyers like Khaite: "Loved your coverage of Khaite, especially in the wake of a collection that incited critical scorn and major buyer/shopper swooning, myself included. There are those who don't 'get' Khaite, but I think it boils down to DIMENSION. It's a vibe, it's a world, etc. You can feel it in the cuts, in the cashmere, in the references, in the language… in lieu of The Row-style silence/anonymity. There's a thoughtfulness and depth there that I don't see in many others, stateside or otherwise. Will be interesting to see how Phoebe's project stacks up." —A veteran retailer
Re: Nylon: A couple people reached out suggesting I didn't give Lauren McCarthy, the new E.I.C. of Nylon, a fair shake. (Lauren's an accomplished editor, etcetera.) To me, the story was less about the change in editors, and more about BDG's push further into parties-as-profit centers. But I hear you—I wish her nothing but the best and hope she does some cool things that I'll want to write about.
Re: Edward Enninful's post about Chioma Nnadi: Again, got quite a few messages about the fact that the outgoing British Vogue E.I.C. posted a kinda weird congrats to Nnadi on his personal Instagram, which then ended up serving as a primary source for her news. The incoming head of editorial content for British Vogue deserved to own that moment, they said. Yes, I get that, but I also think that if he didn't say anything, that would have been weird, too, and maybe he just posted when they told him to post. I don't know, the whole situation is very strange, and I'm very curious to see what Enninful does post-British Vogue, and what Nnadi does with British Vogue. Let's get on with it.
Bjorn Gulden, the C.E.O. of Adidas, went on a podcast and said that he thinks Kanye "Ye" West didn't mean those antisemitic remarks he said last year. The lesson: podcasts are real. People listen to them! Don't say stuff like this if you are the C.E.O. of a public company! [CNBC]

Nicole Phelps introduces us to Gucci's Sabato de Sarno. [Vogue Business]

Matthieu Blazy's magic at Bottega Veneta and beyond. (Also, can someone please report on what really happened in Detroit?) [New York Times]

"What people respond to is a singular object." Tim on Daniel Lee on Burberry. [BoF]

It's designer profile season. Next up, Mark Holgate's Peter Hawkings interview. [Vogue]

This guy in Maine makes shirts. [WSJ]

Charles and Camilla pay a visit to France, hang out with Bernard Arnault and Bruno Pavlovsky from Chanel. [WWD]

Have been waiting for someone to do this "how the tabi went mainstream" story! [Fashionista]

The question of the season. [My favorite TikTok critic Rian Phin's Twitter]

Bidayat launched the Walter Albini website. [Walteralbini.org]

Thanks to Vogue Runway writer José Criales-Unzueta for reminding everyone that those knotted sleeves all over the runway this season originated with Geoffrey Beene. Follow him for more astute fashion observations. [Instagram]

A deep dive on L Catterton, the LVMH-linked private equity firm behind the Birkenstock I.P.O. [BoF]

And finally… Yo, Delta, why do you have a New York to Milan flight that takes off at 4.45pm and lands at 6.45am? Everyone is wondering. That's crazy.
Until next week,
Lauren
FOUR STORIES WE'RE TALKING ABOUT
The Kamala Swap Fantasy
Calls to drop Harris from the 2024 ticket are as predictable as they are pointless.
PETER HAMBY

Trump's Imperfect Call
Dish on Trump's furious fundraising request to Peter Thiel, an FTX legal bombshell, and more.
THEODORE SCHLEIFER

Need help? Review our FAQs
page or contact
us for assistance. For brand partnerships, email ads@puck.news.
You received this email because you signed up to receive emails from Puck, or as part of your Puck account associated with . To stop receiving this newsletter and/or manage all your email preferences, click here.
Puck is published by Heat Media LLC. 227 W 17th St New York, NY 10011.