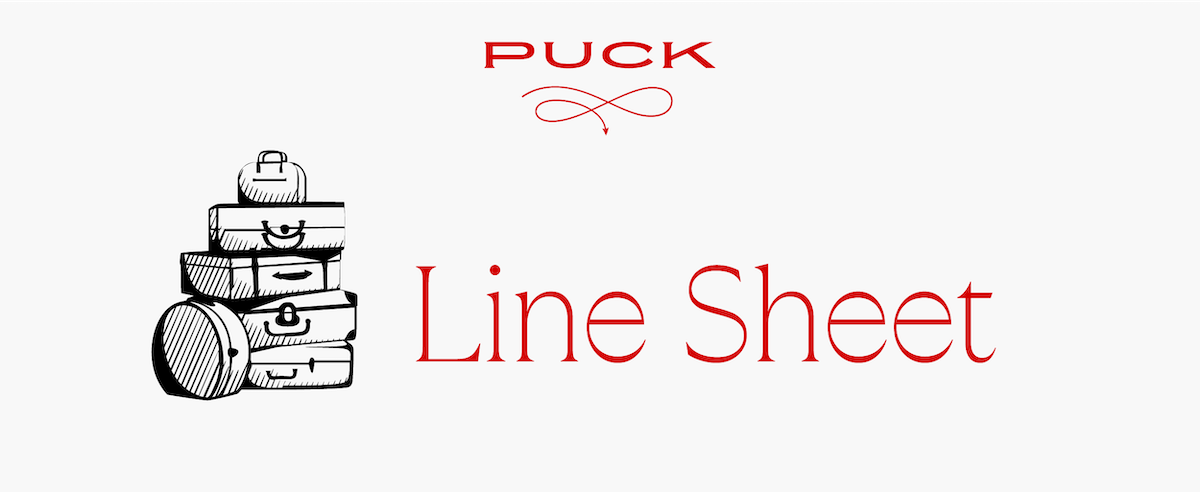 Hello, and welcome to this very special Thursday drop of Line Sheet, brought to you by Jared Leto in a furry costume, Rihanna arriving four hours late, and the giddy online celebration of Anna Wintour and Bill Nighy. That's right, we're here for a post mortem on the 2023 Met Gala, and then hopefully we can never speak of it again… until next year. (If you want to guarantee receiving that dispatch in T-12 months, make sure you're subscribed to Line Sheet and all the other good stuff from Puck now—it's only free for another week and it's better for your health than Ozempic.)
Mentioned in this issue: Karl Lagerfeld, Brittney Griner, Daniel Roseberry, Kim Kardashian, Emily Adams Bode Aujla, Eva Chen, Eva Serrano, Anna Wintour, Tory Burch, Lala Anthony, François-Henri Pinault, Sergio Hudson, Thom Browne, Simon Porte Jacquemus, Raf Simons, and many more…
But first, a highly scientific and algorithmic assessment of the night's biggest winners, losers, and storylines…
Who Won the Gala (Other Than Chanel):
Okay, sure, Chanel was the clear winner on Monday since this was a Lagerfeld-fest and many acknowledged the theme. Everyone who wasn't wearing Chanel was wearing something that looked like Chanel, which has the strongest design codes of any of the big houses. (Tweed, pearls, quilting, gray jersey, black and white, camellias!) One thing I thought was interesting about the Chanel looks was that many of them had been remade instead of pulled straight from the archives. More time and money, but less risk of someone ripping a seam on a historic piece of fashion. Best dressed in actual Chanel? Obviously, ambassadors Kristen Stewart, Sofia Coppola and Charlotte Casiraghi. This is why you hire people who aren't just famous, but make sense for your brand!
Runners-up (There are many…):
Schiaparelli: Funny that the Diego Della Valle-owned fashion house, now designed by the beloved (and CAA-repped) Daniel Roseberry, performed so well, given that Coco Chanel and Elsa Schiaparelli were bitter enemies. But I guess they're both dead now, so whatever? Anyway, Roseberry perhaps smartly shied away from any obvious nod to Lagerfeld for Chanel with his pearl-and-gem encrusted bod-con looks for Kim Kardashian and Michaela Coel, generating the highest engagement rate of any brand—an average 3.5 percent—on Instagram, according to Dash Hudson, a social media management platform that tracks the number of likes and comments in relation to the number of overall followers. (Granted, Schiaparelli has just 2 million followers on the platform, far less than any of the big brands, which means it likely has far less fake followers.) Launchmetrics, which measures the impact of media placements across a bunch of different platforms, showed Schiaparelli trailing just behind Chanel, Fendi and Gucci and beating out Prada, Cartier, Tiffany and Chloé.

The data also reflects Kardashian's continued ability to attract eyeballs online (it's quite remarkable), but Coel's look trended above average as well. Last week, I went to a cocktail party at Bergdorf Goodman to celebrate Roseberry, whose quite literal interpretation of Schiaparelli's surrealist point of view is the toast of fashion right now. He's hitting all the right notes.
Bode: If you want to give an award to "best non-Chanel Chanel," it should certainly go to Emily Adams Bode Aujla, who created several jackets, including her own, as well as those worn by Russell Westbrook and Aurora James, that managed to evoke Lagerfeld and Chanel but also be recognizably her own. Bode Aujla is an extremely thoughtful, careful designer, but I've always seen the operation—very intimate and precious—as more of a project than a brand. However, those red carpet looks were executed deftly enough to wonder: could she actually be the next Ralph Lauren?
Tory Burch: Friend-of-Line Sheet Eliza Brooke recently posted something to the effect of, "How did Tory Burch become cool?" With support from stylist Brian Molloy, stepdaughter Pookie Burch (founder of the deceased-cult favorite label Trademark), and husband/C.E.O. Pierre-Yves Roussel, Burch has spent the past three years transforming her multi-billion dollar business into something with originality in spades, making it a brand that is both cheesy and what cool girls want to wear. Burch always looks great in her own designs (loved her all-black lace), but she scored with guests Phoebe Bridgers and Emily Ratajkowski as well. They were the antithesis of vulgar.
Sergio Hudson: Best known for suiting up Michelle Obama, Hudson excels at formalwear, and his beautifully tailored designs for newly postpartum Keke Palmer and livestream co-host Lala Anthony were spot on.
Balenciaga: The brand, still in rehabilitation mode after last fall's QAnon catastrophe, did a smart thing by outfitting Kering group C.E.O. François-Henri Pinault in a custom tux. They also hosted a group of young designers (including Luar's Raul Lopez) who wouldn't have been able to afford to come to the Met Gala otherwise—a good way to garner attention without dressing a Kardashian.
Thom Browne: Many industry insiders dream of Browne someday designing menswear for Chanel, but he made a convincing case on Monday that his fantastical work is worthy of a complete brand takeover. (Unlikely, but fun to think about.) Since Zegna acquired a majority stake in the brand a few years ago, Browne, who is also the president of the Council of Fashion Designers of America, has significantly upped his red carpet presence, and displayed an ability on Monday to create an otherworldly moment (Janelle Monáe in her transformative hoop dress) but also just make someone look hot in a suit (Alexander Skarsgård is a tall guy and yet the proportions on his cropped suit didn't look strange at all—kudos to the tailor).
Prada. Specifically, Mrs. Prada.
And now for some more contemplative thoughts on the evening…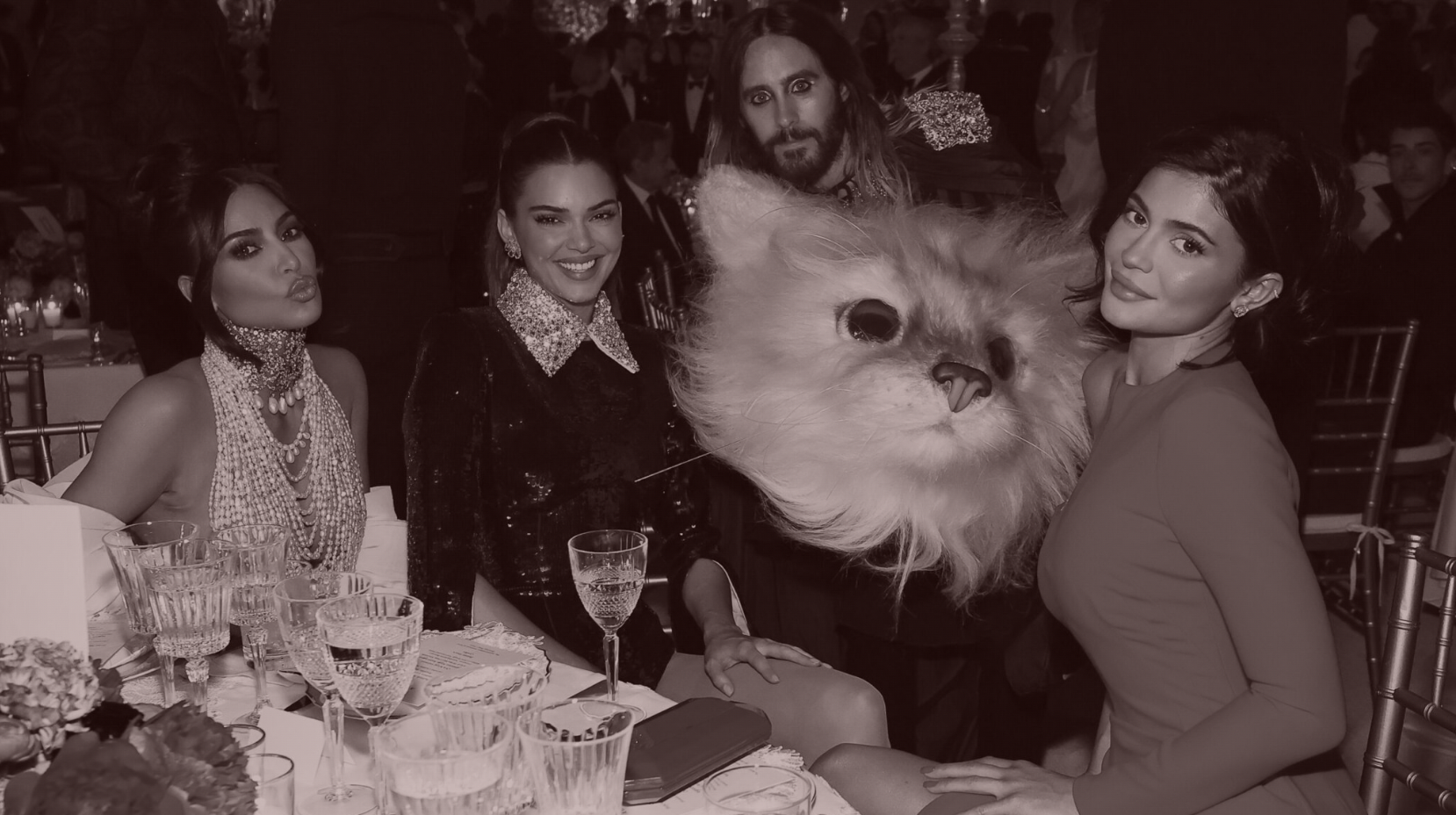 Anna's Banana: A Met Post-Mortem
A frank assessment of fashion's biggest night for the year: what it means for the brands, for the platforms, and for Vogue, itself.
So, what did I think? A little droopy, I'd say. On average, attendees looked better than usual, probably because the theme was Karl Lagerfeld, which means the theme was basically Chanel, and Chanel can be gorgeous. What was lost was color (most people wore black and white) and the delight that comes with seeing someone wear something ludicrous. Jared Leto, who is slated to play Lagerfeld in an upcoming biopic, had to dress up like the late designer's cat, Choupette, in order to freak people out. 'A' for effort on the Vogue livestream, hosted by Derek Blasberg, SNL's Chloe Fineman, and Lala Anthony (a true talent) and mostly sponsored by eBay—with the average time spent amounting to 21 minutes for those watching via YouTube, according to YouTube Analytics. (For me, it was over 2 hours… I'm not sure what Vogue can do to speed up those arrivals…)

Despite my whining, there's no denying that, for the weeks surrounding it, the Gala is at the center of popular culture—a heady feat in our fragmented, disintermediated media. According to Vogue's internal numbers, the 2023 Met Gala-related videos—including livestream, replays and other stuff—have generated 687 million views globally across platforms, up 60 percent from a year earlier. Brand Watch is reporting 12.3 billion social interactions with the #Metgala hashtag across platforms, up 30 percent year over year.

It is the biggest red-carpet moment of the year, surpassing the Oscars by attracting both A-list celebrities (Nicole Kidman, Jennifer Lopez, Serena Williams) and extremely online talent (Emma Chamberlain) alike. Linear television is in retreat, and the Oscars' declining ratings reflect that fact, among other realities (as my Puck partner Matt Belloni has noted before) and there's a different sort of status that comes with attending an event in New York, organized by the still-most-powerful person in American fashion.

In many ways, Vogue is only finally embracing its global potential, as today's presentation on Vogue World—which is heading to London in September—declared at the Newfronts. A decade ago, some inside the corporate suite of Condé Nast contemplated collapsing all of the second- and third-tier brands underneath the biggest titles, like Vogue, VF, GQ, and so forth (The New Yorker is always immune from these conversations). They probably should have done it in order to preserve and amplify the cultural value of their biggest magazines and prevent the small titles from drifting into irrelevance. But, alas, it didn't happen. Anyway, Vogue is making up for lost time and the decision to keep the red carpet on the web rather than a network is both future-facing and commercially intelligent. A friend who covers the film industry pointed out that few global events have this much awareness and provide such ample opportunities for marketers, from the red carpet to the afterparties to the live stream.

I do wonder what Anna Wintour will do to keep the momentum. The Met Gala is discussed and dissected all over the internet, from Twitter to Discord, but it is biggest on Instagram, which has sponsored the event in the past and buys a lot of tickets regardless. (Remember, the Gala is not thrown to celebrate Vogue, but to raise money for a museum.) This year, Instagram's fashion head, Eva Chen, herself a longtime figure within the walls of Condé, and C.E.O. Adam Mosseri hosted Simon Porte Jacquemus and Bad Bunny, as well as Doja Cat, Tems, Ke Huy Quan, Bella Ramsey, Cardi B, Ashley Graham and Jessica Chastain.

However, it's clear from all the unsolicited Reels popping up in my feed that the platform's priorities may be changing—Instagram's future success will depend on whether it can replicate the rapidly spreading trash fire of TikTok, which means moving away from anything too polished. Being so enmeshed with Vogue, the greatest symbol of a form of media it essentially killed, may not be as important to the top brass as it once was, especially if usage declines on grid posts, or even Stories. According to analysis by Dash Hudson, the amount of Met-related content generated on the Reels and posts (excluding Stories) was down 52 percent from last year in the 48 hours from the beginning of the Gala through the day after. However, Instagram's internal numbers tell a very different story, I'm told, with Reels production up 200 percent from last year in just the first day. (The company will release more stats next week.)

Regardless, Instagram remains the most important platform for the gala. But the landscape is changing.

Lastly, some parting thoughts…
Why (and How) Was Brittney Griner Wearing Calvin Klein?
It's no surprise that WNBA star Brittney Griner, who was cruelly imprisoned in Russia for months before being rescued by the Biden administration in a prisoner swap, is making the rounds. The woman is a hero. This past weekend, she attended the White House Correspondents' Dinner, and then on Monday she and wife Cherelle walked the steps of the Met. It's also no surprise she was outfitted by a brand for both events. Anna Wintour and her team famously arrange the looks of virtually every notable name—and some others—invited to attend the gala.

What was surprising was that she was wearing a pewter-satin suit by Calvin Klein, which did away with its "ready-to-wear" (read: "expensive") line with the dramatic dismissal of Chief Creative Officer Raf Simons in 2018. (I cannot believe it was that long ago. What is time?)

The gist: Calvin Klein, the man, made a name for himself as the voice of minimalism on the American sportswear scene in the 1970s. He always had runway shows, but what made money were the items that could be sold en masse: jeans and underwear. When Klein retired in the early 2000s, two designers, Francisco Costa and Italo Zucchelli, took over the women's and men's collections, respectively.

But they never made much money. Runways are often simply marketing moments. The arrival of Simons, a superstar Belgian with his own cult menswear collection who had stints at Jil Sander and Dior under his belt, heralded the decision to blow out the ready-to-wear and make it a real business. The collections (a twisted homage to Americana, with cowboy motifs and stiff denim) were sensational, but the company did not have the infrastructure to support the vision, and several C.E.O.s and operational changes later, the whole project was dropped. (As most of you know, Simons is now the co-creative director of Prada.)

After Simons' departure, it seemed that Calvin Klein might never stage a real runway show again. These days, going viral on Tiktok can be far more lucrative—and take way less effort—than a million-dollar-plus live event. But what few people know is that the company kept its New York-based atelier, along with a group of expert pattern makers, sewers and designers, up and running this whole time. Which means they're able to make custom, designer-quality garments at a moment's notice. The Griners' elegant, no-fuss looks nodded to the effort that global head of design Jess Lomax, who joined from Nike in 2020, has been making, alongside the merchandising team, to elevate the product from the bowels of under-performing, how-are-they-still-open Macy's stores and into more choice selling channels.

The brand, which generated $3.8 billion in 2022, also recently recruited a new president, Eva Serrano, a long-time Zara exec. Anyway, this doesn't mean Calvin is likely to pop up on the New York Fashion Week calendar any time soon, but it does indicate that the brand is open to making clothes that sell a dream, not just a reality. Calvin Klein may not have been desperate to be seen at the Met Gala, but its presence meant something.

P.S. Thanks for all the feedback on my WSJ. succession story—it's a testament to Kristina O'Neill that people care so much! Please send thoughts and theories on what might happen next. I did muck up one thing: I conflated The Times and The Sunday Times, where Emma Tucker was previously editor. Peter Howarth was consulting for a supplement called Luxx published by The Times, not for his wife at The Sunday Times, although the publications are owned by the same company and share a website. Amazing how many papers are still up and running in that country.

Until Monday,
Lauren
FOUR STORIES WE'RE TALKING ABOUT
Droppin' Dimons
How Jamie Dimon and JPM became the saviors of Wall Street.
WILLIAM D. COHAN

Need help? Review our FAQs
page or contact
us for assistance. For brand partnerships, email ads@puck.news.
Puck is published by Heat Media LLC. 227 W 17th St New York, NY 10011.