Welcome back to The Washington Mall, my twice-weekly private email focused on the inside conversation on the Hill, K Street, within Bidenworld, and the D.C. media companies covering it all.
In today's dispatch, my conversation with former House Speaker
Newt Gingrich, who's suddenly back in high demand as a consultant and powerbroker as Republicans anticipate life in the majority.
But first…
Debt ceiling games: I'm hearing from even the most conservative Republicans that it would be a huge relief if the Democrats would just vote on lifting the debt ceiling during the lame duck Congress, taking that fight off McCarthy's plate when he's Speaker, and of course shielding him from blame if it wreaks economic havoc. Either way, Republicans' demands in exchange for inevitably lifting the spending limit are still being sorted out. Spending gaps? Budget reforms? Wall money? It's still unclear, but this is a fight that McCarthy's allies would like him to avoid.
The Masters deficit: By the end of this week, spending from outside groups on the midterm elections will reach $1 billion, with $100 million alone being spent on the Pennsylvania Senate race between Dr. Mehmet Oz and John Fetterman, according to the team at 527Tracker.com, which has been monitoring spending by independent expenditures. And maybe, just maybe, it's working: Fetterman's double digit lead this summer has evaporated and some polls suggest that the candidates are basically tied. Republican independent expenditures have been outspending Democrats since Labor Day, as is the McConnell way, but Democrats seem to be catching up. According to their tabulation, Republicans were actually outspent by Democrats last week—$110.1 million to $105.5 million—for the first time since Labor Day across the House and Senate races. One person who is still being badly outspent, however, is Blake Masters, despite being the protégé of one of the richest men in the world, Peter Thiel.
As House Republicans get closer to reclaiming the House, some D.C. armchair strategists are looking back to the ur-culture warrior of the Clinton era: Newt Gingrich. Yes, Gingrich, the 79-year-old former Speaker of the House and leader of the so-called "Republican Revolution"—not to mention former presidential candidate, and prolific amateur historian—is having a moment. Steve Kornacki's new podcast, The Revolution, essentially posits that Newt was the consequential link in the G.O.P.'s evolution from Reagan's dewy-eyed patriotism to the combative and paranoid style that predominates today. He was, in many ways, the progenitor of Trump, himself.

Gingrich still wields considerable juice in this town. He now has the ear of the likely future House Speaker, Kevin McCarthy, whose "Commitment to America" evokes Gingrich's own, more policy-specific, "Contract with America" from 1994. McCarthy has even invited him to House Conference Meetings to speak to the caucus. But Gingrich is an equal opportunity advisor to multiple wings of the G.O.P.: He's spoken to the ultra conservative Republican Study Committee and is also being courted by potential presidential nominees, like Glenn Youngkin. (He recently attended Youngkin's donor retreat.) Indeed, the next two years could present a second coming for Gingrich, still a big thinker in the party, as he imparts his vision for G.O.P. leadership after the midterms and beyond.

So, of course, I decided to reach out to Gingrich to get an idea of what kind of advice he's giving McCarthy as Congress lurches toward a high-stakes renegotiation of the debt ceiling, plus the looming debates over military support for Ukraine, abortion and government shutdowns. Our conversation about all that, plus the coming presidential primary and his surprising impeachment advice, has been edited and condensed for clarity.
A MESSAGE FROM OUR SPONSOR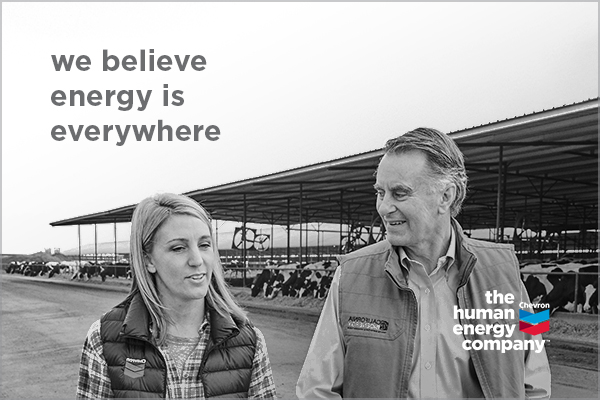 We believe the future of energy is lower carbon, and we're looking into some unexpected places to help get there. At Chevron, we're exploring innovative energy solutions, like creating renewable natural gas (RNG) from dairy cow waste. In collaboration with CalBio Biogas, we're converting the methane from the waste equivalent of nearly 80,000 dairy cows into RNG. This RNG could help reduce yearly emissions from animal manure by 258 million tons. And, we're ahead of our plans to grow RNG production 10x by 2025. Because we believe renewable fuels will help us reach a brighter future. And we're looking far and wide—even to dairy cows—to help get there.
Tara Palmeri: If you could go big in the next Congress, what would you do?
Newt Gingrich: I would focus on what the American people want. That is, efforts to bring inflation under control, efforts to get us out of the recession that Biden is about to put us in, efforts to overhaul the government so it works, efforts to keep the crazy woke values out of schools, efforts to make sure we're locking up criminals and efforts to control the border. I would try to follow Lincoln's injunction of government "of the people, by the people and for the people." The things we did that worked from 1994 to 1999 were basically overwhelmingly supported by the American people and that's why Clinton had to sign them. I would call it over and over again for Biden that he could either be with the American people or he could be against the American people.
How do you balance the thirst for investigations with the need to produce an agenda?
Well, you've got tons of people. They're probably gonna have between 235 and 260 Republican members, so you can have one group of members doing investigations, and I would only do investigations for the purpose of developing legislation to effectively reform things. I wouldn't do them just for publicity. I would look at every element of the government that has to be overhauled. And in some cases I would set up commissions for really complicated projects. I mean, the whole way that the public health services failed on COVID deserves a serious blue ribbon commission to really look at that whole area. The degree to which our defense system is a bureaucratic wasteful mess has to be more thoroughly investigated. There are a number of these kinds of things that I think need to be developed. That fact that $20 billion dollars was stolen from the California unemployment compensation. The estimates of how much money has been stolen out of the Covid relief is just staggering. Well, we need to be investigating what we have to do to change things so that you're not encouraging people to live off the taxpayer.
Do you think that Republicans should investigate Hunter Biden?
You have to ask the question to what degree was the [then-vice president Biden] actively involved with the Russians, Ukrainians, Kazakhstanis, and to what degree did that actually involve him. The letter that Senator Grassley sent last week, if it turns out to be true, it's just staggering. I mean that they had a deal for $6 million from the Chinese that would only get paid after Biden left the vice presidency? I also think you've got to ask the University of Pennsylvania Biden Center: Where did the money come from? Who did the money go to? How many of the White House staff were being paid indirectly by the Chinese Communist Party through the University of Pennsylvania? Which refuses by the way to cooperate with anybody.
Do you think the Republicans should impeach Biden or any of his cabinet officials in the next Congress?
Not if they can avoid it. I think it just gets you into a political mess. Having been through it myself, I think that we had a much better case for it, because Clinton had clearly committed a felony by lying under oath. Literally, he had lost his license to practice law in Arkansas because he so clearly was guilty. [Fact check: His law license was suspended for five years and he had to pay a fine in a related case before the Arkansas State Supreme Court.]
I think it's very hard, and people don't particularly like it—you have other tools to use, like cutting spending, and I think there are a number of places where, rather than go to an impeachment, you can just defund the office.
What kind of advice are you giving Kevin McCarthy about bringing the party together and holding onto the gavel?
He's already done it with the "Commitment to America."
Well, he's said openly that he may not be able to hold on to the speakership for a long time. What kind of advice would you give him in terms of holding onto it?
Depends on what you mean by "a long time"—I was only speaker for four years.
How should McCarthy handle the debt ceiling debate?
I would make up a shopping list and go and sit up with Biden. My advice to McCarthy is that the only two people he should be negotiating with are the chief of staff and the president. He should not engage anybody on the legislative liaison team. He should not negotiate with any of the cabinet officers, they can all negotiate with committee chairs. He is constitutionally the only legislative member mentioned in the Constitution. I met with Clinton for 35 days to hammer out the balanced budget.
What was that like?
Oh, it was fascinating. Clinton is very smart. The only balanced budgets in your lifetime came out of those meetings. I would say it was pretty productive, but if I tried to do that below Clinton's level it would have been a waste of time.
What advice are you giving Kevin McCarthy on government shutdowns, given your own experience with them?
Well, we shut it down twice for a fairly long period of time and it worked. Washington is totally screwed up on that.
There was some backlash to those shutdowns…
We were the first re-elected Republican majority in the House since 1928. It happened after we shut down the government because we proved to the American people that we were serious.
Now, I don't think you go out and cheerfully shut the government down. I think you say, look, the following things have to get done, and you pick three or four things that the American people really want, and you have Biden explain why he's against all of them, and he won't do any of them.
Frankly, because the Democrats are the party of government, shutdowns hurt them much more than Republicans. They just hate to have all of their friends who are currently staying home and not going to work, to actually stay home and not go to work and not get paid.
Do you have any disagreements with McCarthy on his vision for leadership?
No. The Cheneys wrote a great book called "Kings of the Hill," which sort of explains this: every leader has to do what works for their personality. Kevin is a strategic thinker. He's a manager. He's an orchestrator of activities. He's a very long-range player, those are his strengths.
What do you think about the House Freedom Caucus's guidebook on how they should manage Republican leadership?
I think enthusiastic activists often have ideas. Two weeks before an election, I'd be worried about maximizing the victories, I wouldn't be worried about fighting over what we're gonna do after we win. I think they probably were a little premature. Second, I wouldn't decide to start by picking a fight with the leadership. I say this as a guy, who I think it's fair to say, transformed the House Republican party. But I didn't do it by going out of my way to pick fights.
Some of these House Freedom Caucus members are your disciples.
If they're my disciples, they will find really good things to fight over, like reforming welfare, or closing the border. I spent most of my career focused on change outside the House and got to change inside the House as a consequence. I didn't spend my time trying to pick fights with the leadership because it was just useless.
Your political coming of age occurred during the Reagan years, when the U.S. was empowering allies against the Soviet Union. How do you feel about some people in your party, even McCarthy, saying the war in Ukraine is not our problem?
I take both views, I think on the one hand, Ukraine is our problem. On the other hand, that doesn't mean you have to be stupid or you have to get to spend money ineffeciently, that you have to throw away money. So I think we want accountability for what we're doing.
If you really want to hurt the Russians, reopen American natural gas. If we were right now capable of supplying Germany and Great Britain with enough natural gas this winter, that would be a far greater disaster for Putin than anything we're likely to do militarily. The incompetence and the willfull stupidity of this administration is beyond anything, I think, since you had
[James] Buchanan in the 1850s.
Should House Republicans pass legislation related to abortion?
I'd be cautious. I think the whole point of it was to return it to the states, so that the states in each of their own unique way can come to grips with that and try to sort it out. I don't think that I'd be excited about preempting that.
Do you think that Donald Trump is the strongest candidate in 2024?
I think we'll know that in the primaries.
OK. Do the people who have crossed Trump, like Nikki Haley and Mike Pence, even have a shot? Should they rule out running for president?
At this stage in 2014, no one would have mentioned Donald Trump's name, and most people would have assumed Jeb Bush would be the nominee. And at this stage in 2018, very few people would have mentioned Joe Biden's name. It's a little early to worry about it. I think you have a lot of good candidates. I've said publicly, I think [Ron] DeSantis is doing an astonishing job in our third largest state. I think that Youngkin is one of the greatest talents I've ever seen. I think there are at least a half dozen senators who could be a future president.
We will probably have a lively parade. I fully think Pence may run,
[Mike] Pompeo may run, Haley may run. If one of them catches fire, they'll be nominated. But the most formidable person is still Trump, you can just tell that by what's happening around the country. He totally dominated the nominating process. He has been extraordinarily helpful in turning out the vote, was frankly very helpful to Youngkin in carrying rural Virginia, and I suspect he will be very helpful in picking up an amazing number of seats this fall. He is the most active former president, I think, in American history. He is making a gigantic impact.
What lanes do you see forming in a G.O.P. primary?
If Trump decides to run, he is so dominant that you could imagine an anti-Trump wing trying to form. But who are they going to form around?
DeSantis, in many ways, is Trump. If Trump doesn't run, you're gonna have a lot of different players. Remember that in 2016 he was on the same platform with 15 other people and he annihilated them. My advice to all these guys is just to be very careful if Trump decides to run because he is such a formidable campaigner.
And they could be mortally wounded by him?
Go look at the people who ran in 2016 and you decide. The two I think of are John Kasich and Jeb Bush. There's a danger of being a much smaller person at the end than you were at the beginning. Look at Chris Christie.
Looking back on your speakership, could you have predicted what the G.O.P. looks like today?
No. First of all, Trump is a much more disruptive force moving us toward an American-focused future and taking on a corrupt establishment in a way that nobody has really since Andrew Jackson. Second, the Democratic Party has evolved into two wings: one is weird and the other is insane. When I look at the negotiations we had with Bill Clinton and the Democrats, we had half the democrats vote for welfare reform. When you look at the group we have now, you just think these people have lost their minds.
FOUR STORIES WE'RE TALKING ABOUT
Elon Shock Therapy
Massive cost-cutting is only the first palliative planned for Musk's privately-owned Twitter.
WILLIAM D. COHAN

Tapper Troubles
A check-in on the Tapper experiment, Murdoch curiosities, and Semafor's launch.
DYLAN BYERS

Star Wars Woes
Notes on the (mis)management of the ultra-lucrative Star Wars I.P.
MATTHEW BELLONI

Need help? Review our FAQs page or contact us for assistance. For brand partnerships, email ads@puck.news.
Puck is published by Heat Media LLC. 227 W 17th St New York, NY 10011.