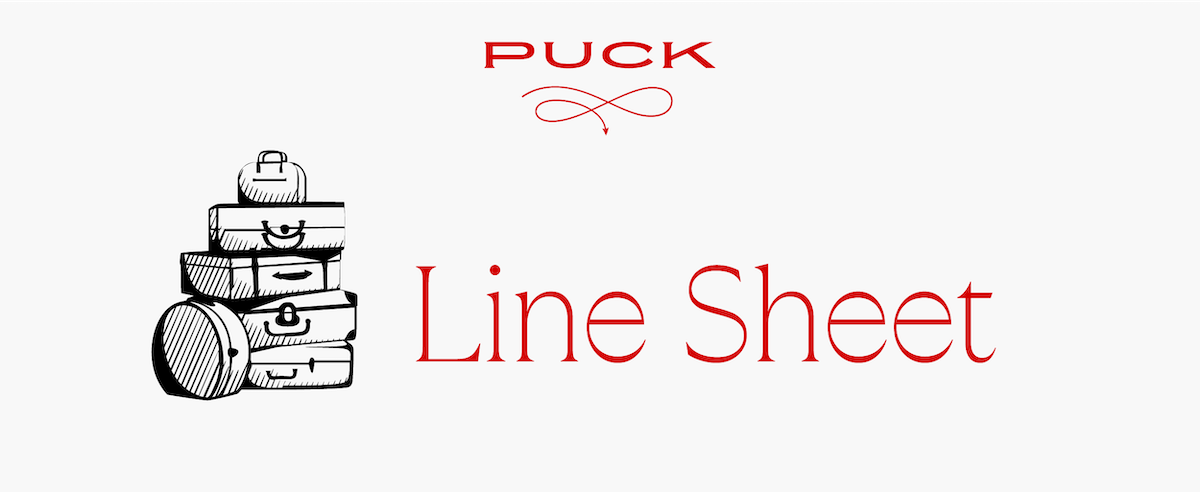 Hi, and welcome back to Line Sheet! I am in the "why did I do this to myself" phase of Fashion Month, counting down the days until I am back in my house on the hill in Los Angeles. (Don't forget about me, friends and family!)

Paris can't be beat, though: not only the shows (Undercover!!! The Row!! Dries!), but the conversations in between. (The weather, too, has been a dream. Should we move here? Just kidding…) There is so much ground to cover, from the rise of luxury fatigue—my new favorite phrase—to another magazine closure, plus some insights into what the heck is actually going on with Phoebe Philo. So let's get on with it.

Mentioned in this issue: Phoebe Philo, CAA, Peter Do, Olivier Rousteing, Marc Jacobs, Stella McCartney, Bret Easton Ellis, the Kardashians, Alaïa, Patrik Silén, Francesca Bellettini, Y2K fashion, Max Lakin, Adrian Joffe, Dior, Maria Grazia Chiuri, Skye Parrott, Dries Van Noten, the Hearst crew, Jun Takahashi, Paul Sinclaire, Delphine Arnault, and many more.
More changes at Hearst: It's been a tumultuous summer at New York's other legacy magazine publisher, what with 40-plus editorial layoffs in July and a reorganization that changed up the reporting lines for several editors in chief. Now, Chief Content Officer Kate Lewis is saying bye-bye to the company after 10 years. Lewis will be replaced by longtime editor Lucy Kaylin, whose title will be editorial director.Lewis, a Troy Young person, never really had the chops to be an actual "content" person. (I hate that word.) Nobody really minded Lewis, per se, but she came up through the management side of editing, eventually moving into human resources, and her gift was spotting talent and managing problems, not necessarily providing editorial inspiration. Kaylin, on the other hand, was widely respected during her time at O, The Oprah Magazine, and is a good magazine story editor, according to people who have worked with her. She's passionate about magazines and editorial, and may be able to make the editors feel like they are being seen in a way that they weren't before—even if they're all about to be layered, as I previously reported. If nothing else, it's a fresh start.

Does this solve all of Hearst's problems? Absolutely not. They need to make their talent feel appreciated in order to attract more of it. Which, of course, is easier said than done. Good luck to everyone involved, I like magazines.
Departures Departing: Speaking of things that are printed that no longer make any common sense to print, I can't say I was surprised to learn that Departures, the Amex-owned, Giant Spoon-operated travel magazine, would be shutting down both its print and digital operations at the end of the year. I reached out to the team to see what was going on, and heard back from an Amex rep who explained that the company had come to the decision that the magazine was no longer as valuable to its cardholders as it once was, so they decided to discontinue it.Departures has always been interesting to me because it's a captive audience: Amex Platinum cardholders with money to spend should be very attractive to advertisers. Sure, it's no longer the glory days of Richard David Story (the magazine's longtime editor, who passed away in 2021), but in a world where niche titles are gaining ground over mass propositions, it seems like this should be the last print magazine standing, right? Maybe someone like Bryan Goldberg will buy it. (That's not a bad idea, actually… better than the leather wall.)

Sales weren't the issue, apparently—advertising was actually up. One of the reasons brands liked it, I was told, is that the reader was super engaged. Newsletter open rates, for instance, were above 50 percent—high for a consumer travel pub in particular. The editorial team, plucked in 2021 from the T Brand Studio (including editor-in-chief Skye Parrott and editor-at-large T. Cole Rachel, two very Departures-esque names), had done an interesting job of pulling in younger ideas without making it feel too edgy. Last December, for instance, I went to a dinner hosted by Bret Easton Ellis at Musso and Frank, where he mingled happily with the young "creatives" of Los Angeles that were featured in the issue where he also published an essay. Pretty much everyone got drunk on martinis and ate mashed potatoes. (This was before the real Ozempic boom.) It was one of the better parties I've been to.

I presume that someone at Amex decided that the medium was the problem. Why not invest whatever they pay Giant Spoon, the advertising agency that operates the business, into nicer airport lounges and other experiential products? Amex doesn't profit off of Departures, by the way: it sold its publishing division to Time, Inc., in 2013, who then sold it to Meredith Corp., which ceased the deal with Amex in 2021. Later that year, Amex announced that it would relaunch through Giant Spoon. (At first, the T Brand Studio was the operating partner with Giant Spoon, but eventually the team from T moved over to the agency.)

Anyway, why Amex doesn't sell the I.P., I'm not sure—it's a great name?—but I know there have been overtures in the past that were rebuffed. I assumed that a boutique advisory like Whisper would have been approached, but I guess not.
It wasn't Kylie's fault, okay?: I received a very polite note from a Dolce & Gabbana rep this week, hoping that I could clarify something. The show did indeed start an hour late, and we did listen to that Billie Eilish song on continuous loop, but it was not because of Kylie Jenner, they told me. (She arrived at about 45 past the hour, but it was unrelated, according to everyone involved.) Sorry to Christy Welder, the Kardashians' very nice publicist!
Before my story on the Mysteries of Phoebe, a rundown of Parisian life…
Gucci, Dior, & Luxury Fatigue
On Tuesday afternoon, I hopped on Zoom with the Bernstein luxury analyst king, Luca Solca, to participate in a call with his clients. There was a mix of industry experts included: Luca, of course, as well as a couple of journalists, some very influential Italian buyers, and a China expert. We were there to discuss the new Gucci: How would it fare at retail?The conversation got philosophical, fast—yes, the buyers would buy. But was the new Gucci emotional enough to keep the dream of $15 billion a year in revenue alive? And more broadly: Do any fashion brands need to be emotional any more?

The answer is that consumer expectations vary. Luxury giants are more like C.P.G. brands now, and many consumers don't shop them in an emotional way. They are picking up a new bag each week as if they were going to Zara for a new top. It's a fling, not a long-term commitment. And the breakup is less messy: You can always resell it next season.

"It's a relief Gucci is boring again," said Max Lakin, a curmudgeonly writer best known in my world for his sort of unnecessary (but amusing) takedown of an artist who sells found objects to pseudo yuppies on the eastside of Los Angeles. "The one upside of society regressing into profit-obsessed conservatism is we're freed from the oppression of ugly-beautiful 1970s romantic fabulist revivalism."

Sometimes, we just need things not to be so heavy. But I think all the hullabaloo around Gucci speaks to the larger issue of growing luxury fatigue among a certain subset of consumers, and what it's doing to the industry.

The divide between Big Luxury and Pure Fashion was clearer than ever at the shows here in Paris earlier this week. You have LVMH-owned Dior, where Maria Grazia Chiuri repeats looks she has done time and again, to the disdain of industry insiders. But her work is objectively beautiful, and makes the wearer feel good, so she stays, sans spark. In the past few years, Kering-owned Saint Laurent also has become a compelling case study. With Hedi Slimane more than a decade ago, C.E.O. Francesca Bellettini established the ultimate ready-to-wear brand as a place to go for essentials, and she has continued that with Anthony Vaccarello, who evolved away from Slimane's aesthetic, and his own early work, to quote more directly from the Saint Laurent archives. (His stylist, Paul Sinclaire, has played an integral role in that transformation.) Saint Laurent often generates goodwill on the runway, this time with its easy safari jackets, clean jumpsuits, and simple-straight cargo pants. That look translates to retail, where it dominates when it comes to go-to, simple pieces. (A little black dress, a black blouse under $1,000.)

That's all fine. Where one gets discouraged by Big Luxury is at a visit to the Dries Van Noten show. (The brand was acquired by Spanish beauty giant Puig a few years back, but other than the launch of a sensational fragrance collection and widened distribution, there's no discernible change from the outside regarding how it operates.) The Belgian baron-designer-gardener reworks ideas time and again, and yet every season it feels renewed. There's no posturing, it's all very human. These were the kinds of clothes that fashion lovers aspire to wear. The Row had a similar appeal—a lot of that has to do with styling, but also in the carefulness, a terry cloth towel tossed over the shoulder like a scarf.

At Undercover, too, where the light-up terrarium dresses made good Instagram fodder, something even more beautiful lay beneath. Designer Jun Takahashi draped a gauze over nearly every look, with various ephemera sewn into the bomber jackets and feathered wings inlaid into the backs of dresses. Strange to use this word to describe such a complex idea, but it was very wearable.

Those collections showed that you can merge reality with something less tangible. Whether or not the big brands need to achieve that in order to keep sales up is another question.
A Few More Quick Notes from the Shows…
Augmentation nation: American brand Vaquera has been able to stay in business thanks to backing from Dover Street Market Paris, C.E.O. Adrian Joffe's accelerator for young brands. I hope it has allowed them to worry less about making money. The most interesting thing about their latest collection was its body-consciousness, with pieces made to augment in the way that plastic surgery would. I noticed a similar treatment at the re-see of the latest Alaïa collection, where Pieter Mulier used stitching to emphasize certain parts. Intentional or not, it's a commentary on how artificially enhanced everything is: you rarely see ideas like that in clothes today, and I liked it.
Peter Do in Paris: How good was Peter Do? After a tough outing at Helmut Lang in New York, Do once again exhibited plenty of promise at his first Paris runway show, where he sent out elegant separates with unfinished edges and exposed zipper pulls. Amazingly, Do said backstage that he only devotes one day a week to his namesake line for now—the success of the collection proves just how clear his vision for it remains. Let's keep it moving.
The end of show notes? Do refrained from sharing show notes, except for a list of the looks that included items from his Banana Republic collaboration. (No, the irony is not lost on me that Do has a deal with Gap, Inc., as well as its biggest disruptor, Fast Retailing, which owns Uniqlo and Helmut Lang.) Whatever the reason for holding back notes, I'm not opposed to this approach, which Prada took as well this season. For years, Marc Jacobs has mocked show notes; last season he used A.I. to generate them. From a reporting perspective, I often find notes helpful because I want to know what material certain items are made of, or to remind me of the name of a particular dress silhouette. But generally they are impenetrable, and I prefer to talk directly with the designer, or, as both Do and Prada said, let the clothes do the talking.
Great news: There were clothes at Mayhoola-backed Balmain, which was recently robbed of samples. You can't help but love Olivier Rousteing's commitment to his craft.
That other Artémis acquisition: At the Courrèges show the other day, as I watched François-Henri Pinault and Charlotte Rampling gaze out at the models walking on a floor that cracked open with ever step they took, it was funny to think that CAA is about to be a part of the same investment firm as this small French fashion house, acquired by Groupe Artémis, the Pinault family office, in 2018. An interesting tidbit for CAA watchers new to the luxury world: Kering's C.E.O. used to invest in small brands with potential, like Christopher Kane and Altuzarra, through the fashion conglomerate, itself. But as the luxury industry changed and grew bigger, it no longer made sense to have small brands in the luxury portfolio.Kering later divested from Altuzarra and Christopher Kane, and started using Artémis to make those sorts of bets: Courrèges is one, Giambattista Valli is another. They operate separately from Kering, but benefit from being overseen by Pinault. I thought the clothes, designed by Nicolas Di Felice, a Louis Vuitton and Balenciaga alum, were nice. The buyers were out in full force.
At last, the main event… What is going on with Phoebe Philo?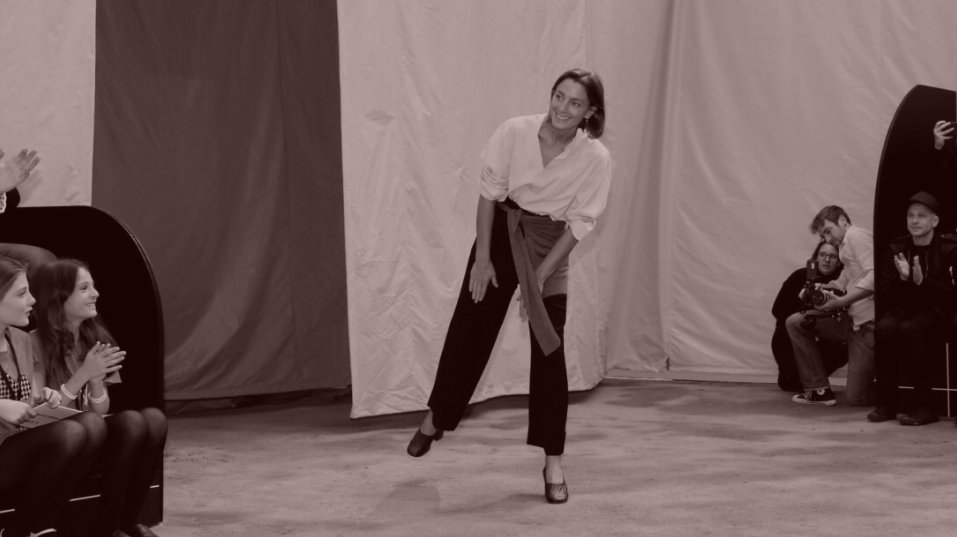 The Phoebe Diaries
Why has it taken more than two years for Phoebe Philo to launch her LVMH-backed line? And will it ever really launch?
A few weeks ago, the office of the Fédération de la Haute Couture et de la Mode, the French government organization that manages Paris Fashion Week, started getting phone calls. Where will the Phoebe Philo show take place? When will the Phoebe Philo show take place?The answer was another question: What show? There would be no show. At least not one that the Fédération was aware of. Who knows if there was something in the works at some point, but by the time mid-September hit, the launch of Phoebe Philo's namesake collection was once again delayed. "She doesn't like it, so she's not showing it," a person connected to the design team said. Another blamed lateness: Italy's factories closed in August, and the London-based studio failed to get things delivered early enough to be ready for a September debut. Yet another scoffed at such an excuse: it had nothing to do with production; she has priority access to the best facilities, and a team that knows how to get things done. The collection wasn't ready because Philo wasn't ready, this person said. (For what it's worth, I did ask an LVMH spokesperson about the speculation. They didn't comment.)

There were whispers that the collection would now be released during Frieze in London, which starts October 11. There's logic in that approach: debuting a week after the shows in Paris have ended, and linked up with an art-world event guaranteed to be attended by Philo enthusiasts. After all, the company had made a stir over the summer by launching a landing page at Phoebephilo.com, where customers could register for "further news and updates." So it must be coming soon, right?

But will it ever happen? Why has it taken two-plus years to get off the ground? What is going on here?
A smart fashion executive once told me that most designers, the talented ones at least, have about a decade of creativity in them. What they do with that creativity—squander it, harness it, something in between—depends on their sensibility, the people around them, and the circumstances in which they find themselves.Phoebe Philo is different. She hit not once, but twice. First at Richemont-owned Chloé in the early 2000s, where she helped define Y2K style. Then, at LVMH-backed Céline—the small, bourgeois French label that Bernard Arnault bought in 1988—where, over the course of 10 years (2008-2018), she changed the way we dress. So much of fashion today is bottom-up, with designers plucking inspiration from the street. Philo was top-down, and you can feel her influence to this day on the runway and at retail, in things as simple as the cut of a turtleneck sweater, the ubiquity of Stan Smiths, the trim on a lace slip.

So when Philo announced that she was leaving Céline almost six years ago, many in the industry believed she may never design again. After all, some of fashion's most revered creatives (Martin Margiela, Helmut Lang, Thierry Mugler) had made hard-right exits, their most significant contributions preserved in time. But Philo's connection to the person wearing her clothes is closer—perhaps because she's a woman designing primarily for women, perhaps because Céline's rise coincided with Instagram. In July 2021, it was announced that she would return, this time on her own terms, with her own namesake line, unsurprisingly backed by LVMH, which remained indebted to her. Céline was by no means a cash cow for the group, but it was a commercial success and, moreover, it brought them gravitas. No fashion week invitation was more coveted, no designer more revered, than Philo. As I've mentioned here before, it's prudent of the world's biggest luxury group to keep a firm hold on talent no matter the circumstances—the worst thing that could happen would be that she goes to a competitor.

Back in 2021, I heard that a big reason for announcing without any real plan for launch was that they were looking for a C.E.O. (you'd imagine that people would be lining up for this job, but perhaps they were eager to cast a wider net in post-Brexit London). The problem with that logic is that it created a fervor online. Great news if you are ready to go, not so great if there is nothing to offer. Every few months over the past two years, there would be an incremental update. Philo was seen meeting with her old Chloé colleague, Stella McCartney, apparently to discuss sustainability practices, WWD reported. Then news of the collection itself started trickling in: I was told by someone who saw an early iteration that it felt like an extension of her work at Céline, a new wardrobe for women who continued reverting back to buying old archival pieces online rather than opting for something new from someone else. But that collection was scrapped: word was that the new proposal was "goth," "punk," "more Rick Owens."

In all, Philo seems to have started over at least three times. And the teams have changed, too. In April, Drew Henry, who began as an intern for Philo in 2011—and has spent nearly his entire career working for her—left his position as her ready-to-wear design director to join Burberry.
Why all the change? Well, for one, she has the ability to take her time, thanks to the support of LVMH, including Dior C.E.O. and Chairman Delphine Arnault, who serves on the Phoebe Philo board of directors. According to documents I pulled from the U.K. company registrar, Phoebe Philo had more than £25 million in cash at hand when it filed its statement at the end of March 2022. (Just a few months later, Patrik Silén, a longtime McKinsey partner and ASOS strategy executive, was named managing director of the venture.)How much of that cash came from LVMH, which is a minority shareholder in the business, I don't know (but probably the majority). For an upstart brand, that's quite a lot of money, which has allowed Philo to execute at her own pace. But for LVMH, it's a minuscule write-off—couch cushion money to nurture a star. If and when the brand does eventually launch, they stand to make their money back almost instantly.

The one consistency over these past two years is that Philo has no desire to adhere to the traditional fashion schedule or distribution model. As I've reported previously, she studied the methods of a small French brand called Cristaseya, which opens its online "store" just once every season, for about a week, and then closes it again. I can imagine her taking a Supreme-like approach, with limited "drops" guaranteed to sell out no matter what they look like.

Again, though, this is all skirting the bigger issue, which is the why of why Philo hasn't moved forward yet. At this point, I think you know I am committed to saying the quiet things out loud, but I am not going to speculate about what's happening with Philo, because I don't know the absolute truth. What I do know is that she is under tremendous pressure to succeed: from herself, from those working for her, but also from her fans. If she walked away from it all now, I wouldn't blame her.
Fun piece on UTA's fashion person, Dan Constable, who has been very busy this season. [WWD]There is a black market for runway show invites. LMAO. [The Cut]

Did you see that Alexandre Arnault once again hired Hector Muelas, his original marketing guy at Rimowa, to be the chief brand officer at Tiffany? Getting the band back together! [Linkedin]

Chantal Fernandez, my co-author of an upcoming book about Victoria's Secret, wrote two illuminating pieces about the brand's current attempt at a revival. [Financial Times and Town & Country]

Faran Krentcil, the original Fashion Gossip Girl, quoted me in another piece about Victoria's Secret. [NYT]

I can't begin to explain the grip that Clare V. has on the women of Los Angeles. But this story about her annual sample sale, written by my friend Molly Creeden, is a good start. [NYT]

I was reading a lot of old stories on Marc Jacobs last night. For no reason, really. [NYT]

Vogue World casting, explained. [NYT]

What is fashion industry math? [X]

Ralph Lauren really needs to do a show at this ranch. I will happily pay my own way. [Financial Times]

Target is closing a bunch of stores in major city centers in the U.S., saying it has to do with theft and organized crime. [CNN]

Great take on the Emily Weiss-Glossier saga from Jessica Grose. [NYT]

And finally… Remember Fashion Rocks?
FOUR STORIES WE'RE TALKING ABOUT
Bragg's Art Bust
On the art restitution case of our generation.
WILLIAM D. COHAN

Need help? Review our FAQs
page or contact
us for assistance. For brand partnerships, email ads@puck.news.
You received this email because you signed up to receive emails from Puck, or as part of your Puck account associated with . To stop receiving this newsletter and/or manage all your email preferences, click here.
Puck is published by Heat Media LLC. 227 W 17th St New York, NY 10011.