Greetings from the nation's capital, where Puck is hosting an event tonight with Washington newsmakers at the French Ambassador's residence honoring the First Amendment. In today's email, news and notes on the media stories that are driving the conversation in D.C., from Fox News and CNN to The Washington Post and Semafor.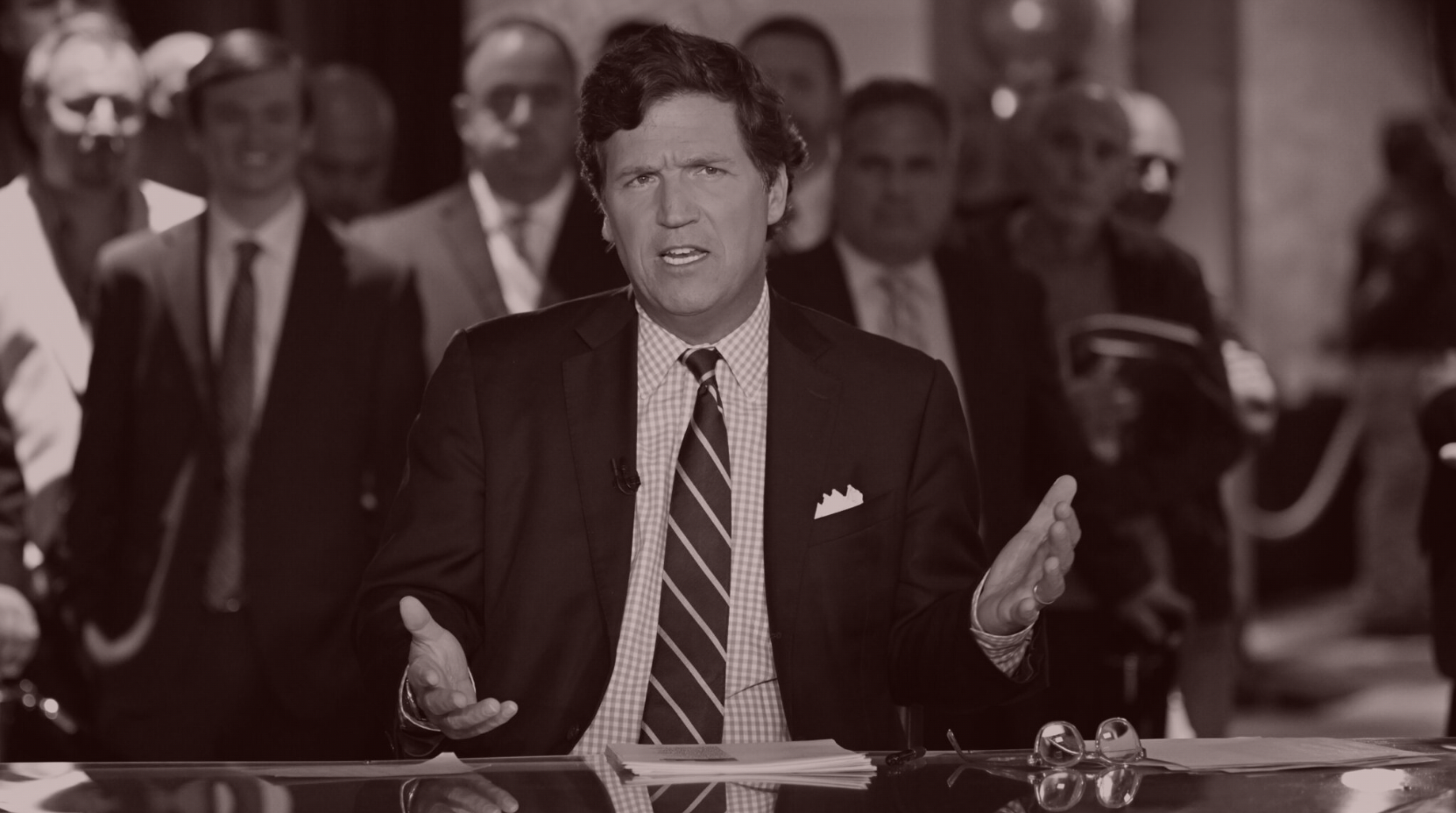 Tucker's Troubles & Licht's Cri de Coeur
Inside Fox News, the network is starting to manifest the same tensions and schisms as the party it covers. Plus, news and notes on Licht's pivot and Semafor's controversial partnership.
"This is horse shit," a Fox News source told me this week. This person was referring to Tucker Carlson's new, two-part special on the events of Jan. 6, 2021, which falsely portrayed the violent attack on the Capitol as a largely peaceful gathering of "sightseers." By this point, of course, Senate Minority Leader Mitch McConnell and a number of his Republican colleagues had already gone on the record to condemn Carlson's broadcast and endorse the findings of the Capitol Police Chief, who called the report "offensive and misleading." Many staffers inside Fox News were similarly critical of the special, which had created what this source described as "an internal battle" at the network. Sure, many staffers had grown inured to Carlson's baseless pot-stirring performance art, but whitewashing an attack on the Capitol—and pissing off prominent Republican leaders in the process—felt beyond the pale.

There was almost no evidence of this internal fissure on Fox News's airwaves. The network's daytime programming didn't touch Carlson's report or the Republican response. Finally, at 6 p.m., Bret Baier ran a report on the Senate backlash and stated at the end that "no one here at Fox News condones any of the violence that happened on January 6"—the closest anyone at the network has come to publicly challenging Carlson.

But inside Fox, the angst over Carlson's report ran all the way to the top, sources there said. And the angst was heightened because all this was playing out amid the ongoing Dominion Voting Systems lawsuit, which has revealed that Fox News hosts, producers, and executives were willing to platform baseless claims about the 2020 election in the interest of ratings and revenue. Indeed, in the hours between parts one and two of Carlson's special, Dominion released a new batch of filings further illuminating the network's cynical motives.

On the one hand, the Dominion filings and the Carlson affair seem to have provided confirmation for some of the long-standing presumptions about Fox News in the Trump era. It may have once been a conservative news network with opinion programming (and plenty of veiled birther-inflected race baiting, plus some 9/11-era dog-whistling, to be sure), the thinking goes, but it has since mutated into an unapologetically anti-liberal opinionation machine that uses the veneer of news to further its political agenda and fuel conspiracy theories. Even Roger Ailes wouldn't have recognized his baby anymore.

That assessment, while overly simplistic, is at least directionally right, and the departure of many journalists in recent years—Chris Stirewalt and Bill Sammon, Greta Van Susteren and Chris Wallace and Shep Smith—only augments the argument. It's hard to look at the totality of Fox News and not come to the conclusion, to paraphrase the elder Mr. Lebowski, that the revolution is over and the journalists lost. (Condolences.)

On the other hand, my reporting suggests that Fox News is not nearly so monolithic off camera. In fact, what I find most notable about the Dominion revelations, as well as the Carlson rift, is just how fractious the network has become, perhaps mirroring the party that it serves. The primetime hosts Carlson, Laura Ingraham, and Sean Hannity may command the most influence over the network, as well as its reputation, but they nevertheless seem to view themselves as an embattled minority. "We are all officially working for an organization that hates us," Ingraham texted the other two in mid-November 2020, according to the Dominion filing, as the network was working to defend its decision to call Arizona for Biden. She then specified that she was referring to "the people of news," as well as Irena Briganti, the fearsome and relentless veteran Fox News communications chief, who Ingraham accused of "coordinating" an effort to defend the Arizona call.

"Without question," Carlson agreed. "She hates us." He went on to write: "Irena hates prime time, trust me. That's not speculation." Less than an hour later, Ingraham would express fear that the network was bleeding viewers in part due to the news channel's defense of its Arizona call. "My anger at the news channel is pronounced," she wrote. "It should be. We devote our lives to building an audience and they let Chris Wallace and Leland fucking Vittert wreck it," Carlson replied, referring to the former Fox News Sunday host and former Fox News correspondent, respectively. Ingraham later wrote: "I think the three of us have enormous power. We have more power than we know or exercise. … We should all think about how we can force a change. The audience that exists comes for us."

The change, forced or not, came to fruition. Wallace exited to CNN and Vittert to Newsmax in the process. But the internal tensions between the primetime hosts and others at the network still exist, as evidenced by the internal hand-wringing over Carlson's Jan. 6 special. Of course, where the network goes from here depends in large part on the prerogatives of Rupert Murdoch and, eventually, his son Lachlan. In the Dominion filings and in his testimony, the elder Murdoch appears somewhat scornful of the whole lot. He says he wished the network had been "stronger in denouncing" the voter fraud claims, and blames certain hosts for endorsing those claims. At the same time, he professes to "hate" the network's decision desk and its pollsters for calling Arizona as early as they did, and appeared grateful that Fox News wasn't first to call the election, thus avoiding Trump's ire.

As the Dominion filings make clear, the Murdochs ultimate loyalty is to the success of their network—its bottom line and enduring influence on American politics. The Murdochs have built a powerful business by pissing off the likes of Biden, Schumer, and Pelosi, and they have even managed to sustain that business while frequently finding themselves at odds with Trump in his post-presidency. But pissing off McConnell is a real complexifier. Fox was always able to lurch rightward because it had the support of the base. Now, it seems to be losing the support of both factions, as the fringe is absorbed by newer entrants and the adults are left shaking their heads. Fox News remains the most powerful cable news asset, but the Carlson imbroglio is a microcosm of the changes it faces as the network tries to navigate its way through this new American conservatism with hosts who feel more emboldened than ever to appease the conspiracy theorists—even if it's all just for show.
Licht's Longform Treatment
Ostensibly, the controversies plaguing Fox News right now should provide an ideal opening for David Zaslav and Chris Licht to make gains for the newly non-polarizing, more G.O.P.-friendly CNN. Absent any obvious successes in ratings or revenue so far, Zaz and Licht have instead touted their ability to "balance" the network by winning back Republican lawmakers who are, indeed, appearing on air with greater frequency. This was a major talking point for Zaslav during his last Warner Bros. Discovery earnings call, and something Licht has alluded to in recent press interviews. Licht, who has already sat for interviews with the New York Times and Los Angeles Times, is also working with The Atlantic's Tim Alberta for a forthcoming profile, for which he has given him a great deal of access, I've learned.

In a companywide town hall in New York this week, Licht said his number-one priority was to "strengthen the CNN brand," which "has taken a hit over the last few years"—another dig at his predecessor Jeff Zucker's willingness to fashion CNN as a leader of the Trump resistance.

If people are skeptical about CNN's ability to profit from Fox's misfortune, it is likely because, as Licht's tenure has shown, there is more than one way to hurt a brand. As I've noted on myriad occasions, CNN is now drawing some of its lowest ratings in a decade—the allegedly brand-damaging Zucker drew the highest in the network's history—and nothing Licht has done in his ten-plus months at the helm has signaled any promise of a reversal of fortunes. In the town hall, Licht told staff that he wanted to "avoid the sugar high of ratings," noting that "no short-term audience gain is worth doing long-term damage to our brand." Instead, he wanted to focus on creating programming that generated buzz and created "impact beyond the demo numbers." Borrowing an early Politico motto, he spoke about the importance of "driving the conversation."

Of course, one could argue that ratings are the very metric by which you measure buzz. Or that, at the very least, "driving the conversation" means driving viewers back to your owned-and-operated platforms, e.g. the television channel and your website. This is a business, after all, as Licht knows all too well, after being forced to cut hundreds of employees last year in order to close budget gaps.

Almost a year in, Licht's plans for making the network more relevant still seem relatively muted: He unveiled a new daytime set and theme song that he described as "fresh, modern and forward-looking," promising that the new look "will stop people in their tracks." He also promised more conversation-driving programming in prime time, built around the town halls and special events that CNN rolled out a few weeks back, which have failed to move the ratings needle. As for the morning show, which has gained attention almost exclusively for its on- and off-air controversies, he said, presumably referring to a switch in executive producers, that he had "put the final touches on the infrastructure that will give it the best chance to succeed."

Since taking the job, Licht has encouraged CNN journalists to abandon the "small ball" outrage over Fox's indiscretions, which had been a feature of the Trump-Zucker era, and appeared to be a separate veiled dig at Zucker and the anchor Brian Stelter. He has now given the journalists the green light to cover the Dominion case, recognizing its inherent news value. In the town hall, Licht praised the network's coverage of "the facts" while criticizing "other networks"—read: MSNBC—that "have sort of made this their 24/7" story. "I purposely don't want to do that," Licht said. "I think this is an example of being able to be what I like to call 'a beacon of light in the B.S.,' and show what is actually happening. … We just have to follow the facts as they are and report them as they are. … This is not small ball, this is a massive media story that is only slightly uncomfortable because we're in the same business. But I think as long as we stay true and cover it like we would anything else, we're going to do great."
The other media story driving the conversation in Washington this week centers on Semafor, Justin Smith and Ben Smith's still-nascent digital news organization, and its new partnership with a Chinese think tank called the Center for China and Globalization that has close ties to the Chinese Communist Party. The revelation started making the rounds in conservative media last week, then became fodder for Murdoch's Fox News and New York Post before finally landing at Axios, where Sara Fischer noted that the think tank "has a track record of misleading Western audiences about its affiliation with the CCP." Within the usually clubby world of D.C. media, Axios's willingness to get in on the story is seen, fairly or not, as something of a shot; less-than-friendly fire, if you will.

The fact that Semafor's Chinese engagement is a micro-scandal is evidence, in part, of a new, pseudo-Cold War consensus that China is an inherently bad actor and that any partnerships with government-affiliated groups are, or should be, strictly off limits. Of course, that is a consensus that is being formed in real time, as political and business leaders try to weigh the value of engaging with the world's second largest superpower even as they grow increasingly suspicious of it.

Bucking this new consensus, Ian Bremmer, the founder of Eurasia Group, the global research and consulting firm, told me he believed every new media organization should be establishing relationships with China. "If you're not talking to the Chinese," he said, "you're not doing good journalism." And indeed this is a point Justin Smith, surely recognizing the impending controversy, tried to make in an open letter explaining the partnership: "What better way to understand this complex, nuanced story than going to China in person and seeing things firsthand?"

Still, Bremmer made an important distinction: If Semafor was taking money from the Chinese group, "that would be problematic." And indeed, here's where things get murky. Semafor is not taking money directly from the Center for China and Globalization. On the other hand, establishing this partnership functions as a sort of pay-to-play deal, allowing the Smiths to put on live events and create content that can be sponsored by various foreign entities, including Chinese companies with ties to the Chinese government—which, whatever you make of that, is just controversial enough to ensure that this never stops being an issue for Semafor in the eyes of its critics.
Finally, The Washington Post is still trying to navigate its way out of its post-Trump malaise and chart a path back to profitability, all while facing sustained pressure from a union that now represents more than two-thirds of staff. As a part of that effort, I've learned, the Post hosted its annual agency/client retreat at the Ritz Carlton in Key Biscayne, Florida, over the weekend. The three-day event, dubbed WP Next, gave clients and their plus-ones an opportunity to mingle with Post sales and editorial leadership while attending panels on the Post's business, media trends, and the 2024 political landscape. One source with knowledge of the matter said it was a roughly $800,000 investment for the company. Lavish sales retreats aren't new, of course, but this one nevertheless seems likely to invite blowback from the union. A Post spokesperson did not respond to a request for comment. Meanwhile, I've also learned that the Post is losing one of its top finance chiefs, Jennifer Hurley, to Politico.

A few weeks back, I noted that staffers are still waiting for greater clarity over Jeff Bezos's plans for the paper following his surprise visit earlier this year to Post headquarters, where he did a lot of listening and reassuring, but offered little insight into his plans. And, of course, many staffers are still wondering whether or not Bezos intends to depose Fred Ryan, the publisher and C.E.O. who has borne the brunt of the blame for the current malaise. They still appear to be waiting for clarity, it seems, as anxiously as ever.
FOUR STORIES WE'RE TALKING ABOUT
S.B.F.'s Legal Fate
Unpacking the latest developments and looming mysteries in the Bankman-Fried case.
TEDDY SCHLEIFER & ERIQ GARDNER

Surviving Putin
Discussing Alexey Navalny with Bellingcat's lead Russia investigator.
JULIA IOFFE

Jeff Roe's Declaration
Discussing the G.O.P.'s early '24 arms race, dark horse candidates, and more.
TARA PALMERI & PETER HAMBY

Need help? Review our FAQs
page or contact
us for assistance. For brand partnerships, email ads@puck.news.
Puck is published by Heat Media LLC. 227 W 17th St New York, NY 10011.