Welcome back! As of tonight, Hollywood is officially closed for a week, after which there's the usual 14-day burst of "wind-down" activities, followed by three weeks of OOO bounce-backs. I don't make the rules.
First, tonight, congrats to the winners of our Wakanda Forever box office contest. Daniel in Chicago and Parker in L.A. both guessed $181 million for the weekend, and the exact number is $181.3 million. They both get status-defining Puck hats in the color of their choice (restrictions apply). We'll do another contest for Avatar: The Way of Water.
As always, if this email was forwarded to you, just click here to become a Puck member or start a 7-day trial…
Ted makes nice with Jeffrey: Netflix co-C.E.O. Ted Sarandos sent an email to Jeffrey Katzenberg this week, congratulating him on Karen Bass's win over Sarandos's candidate, Rick Caruso, in the L.A. mayor race. Remember, it was Katzenberg who urged the former congresswoman to run and personally dropped $2 million on her campaign. The split between two of Hollywood's most active political backers turned a bit ugly when Katzenberg personally challenged Sarandos and his wife, former U.S. Ambassador Nicole Avant, for not supporting the more progressive Bass. But mogul ties run deeper than politics, and Jeffrey responded to Ted's email with his own nice note, so it looks like everyone's friends again. Phew!
Warners' next big hire: With the DC post filled by James Gunn and Peter Safran, Warner Bros. is now looking for someone to run Warner Animation Group, the feature division, after Allison Abate left in August. It's a smaller job, reporting to film chiefs Mike De Luca and Pam Abdy, but a big perch in the animation world, and a signal of WB's strategy in the wake of the recent gutting of Cartoon Network. Bill Damaschke, late of Skydance Media, and Genndy Tartakovsky, known for Sony's Hotel Transylvania franchise, are two names on the list, I'm told.
Fun for the ABC censors: Cardi B is the surprise performer for Sunday's American Music Awards.
Box office over/under: Nobody seems to care about Universal's $32 million Harvey Weinstein movie, She Said, which is tracking around $5 million. I'll take the under. As someone who covered the Weinstein saga, I think it's actually a pretty good journalism film, and I'm sure NBC News president Noah Oppenheim and the rest of NBCUniversal feel like it atones in part for the Ronan Farrow debacle, so… a small price to pay?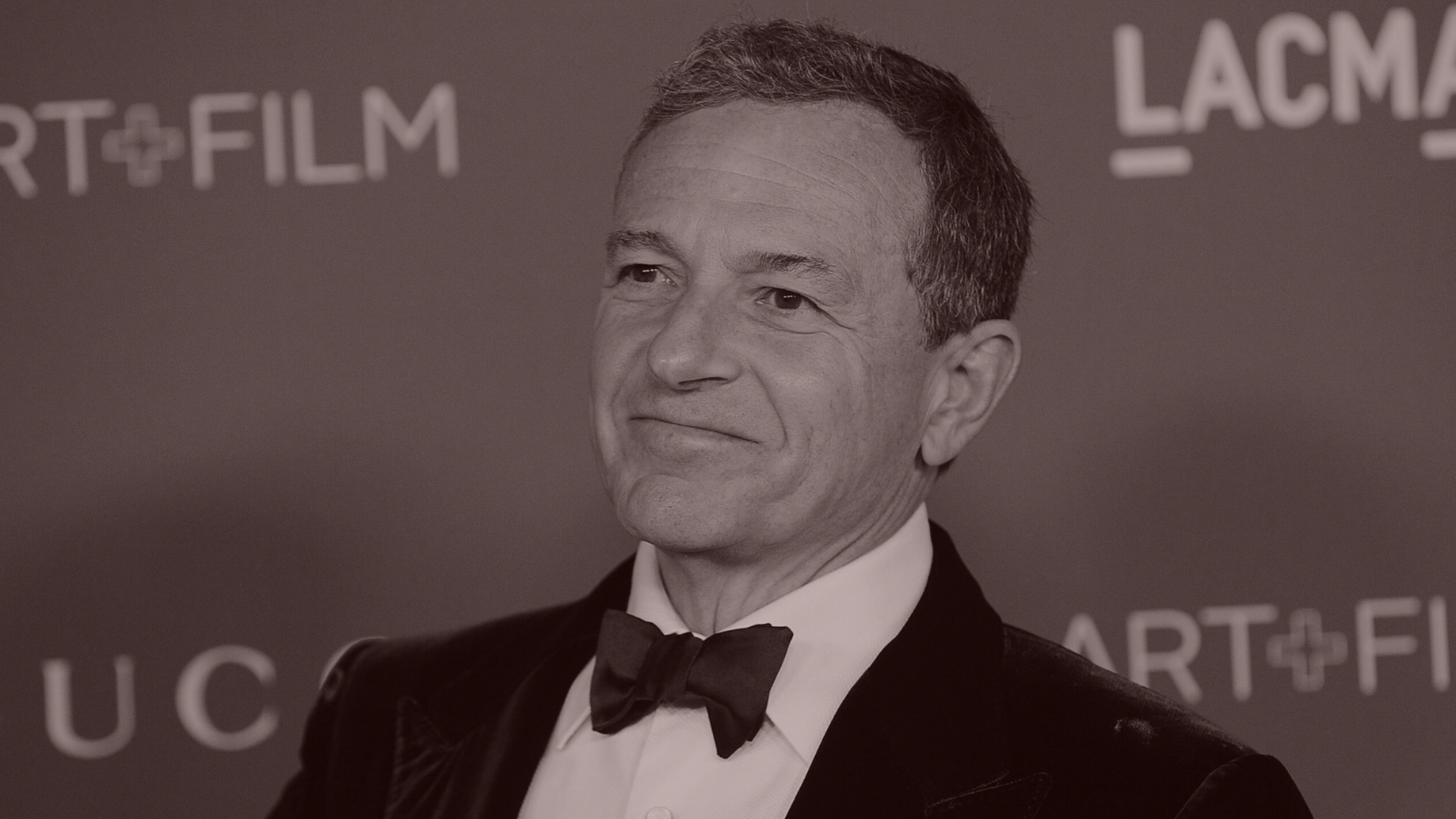 Disney's Bob vs. Bob Blame Game
The Chapek vs. Iger narrative was mostly just gossip, a product of one of the most celebrated media C.E.O.s of all time being replaced by a decidedly less dynamic manager. Their differences are much more relevant now that the company's financial situation has become more perilous.
The analyst Michael Nathanson brought some big media investors to L.A. this week for various off-the-record chats with Hollywood leaders. Trends, priorities, red flags, updated investment theses—that kind of stuff. Analyst "bus tours" are common (the creative executives hate them), and the crew on this one was joined for separate sit-downs not just by execs from Disney, Endeavor, Warner Bros. Discovery and others, but by Bob Iger, the former Disney C.E.O. Iger is not currently running an entertainment company, but he is, like many Disney shareholders, watching every move his former employer makes as its stock has tanked about 40 percent this year.

Iger, as might be expected, has some opinions. He was diplomatic about Disney and its current leader, Bob Chapek, in his Q&A session, according to one person familiar with the meeting. But when pressed by Nathanson, he did share concerns about the company's recent performance and strategy. That adheres with what I've been hearing lately from people in Iger's circle; the polished executive is still careful not to criticize Disney or Chapek in public, but privately, lots of folks ask what he thinks, and when he answers, it's not favorable. The recent stock dive has only exacerbated those feelings, say people who have met with him. (Disney, Iger and Nathanson all declined to comment; and Nathanson was annoyed that I was writing about his private meetings.)
It's no secret, of course, that Iger's Disney separation was tough, and that the Bobs don't get along. I won't rehash the full saga: the frostiness when Iger stepped back on Feb. 25, 2020, right before Covid forced Chapek to shut down the parks and lay off thousands; Chapek's rage when Iger told the Times that the pandemic "would necessarily result in my actively helping Bob and the company contend with it;" Iger praising creativity over data in his last speech at the company's Hawaii retreat, itself a perceived knock on career bean-counter Chapek; Chapek re-orging the company and brawling publicly with Scarlett Johansson without Iger's input; Iger throwing a goodbye party and seating himself by Steven Spielberg and Chapek with the suits.

The Chapek vs. Iger narrative was mostly just gossip, a product of one of the most celebrated media C.E.O.s of all time being replaced by a decidedly less dynamic manager with no creative experience. Iger selected Chapek, yet to the elder Bob, his successor was disrespectful and in over his head. To Chapek, Iger's behavior was yet another example of the thin-skinned guy who postponed his retirement three times and jerked around heir apparents being unable to step out of the spotlight.

But their differences are much more relevant now that the company's financial situation has become more perilous. That was punctuated last week by a disastrous earnings call during which Chapek and C.F.O. Christine McCarthy—both with bizarrely cheery demeanors, given the results—revealed a massive $1.5 billion quarterly loss on streaming and much softer linear TV revenue than expected, something many analysts believe Chapek should have foreseen and been more forthcoming about in advance.

Nathanson himself expressed shock at the worsening economics, telling clients in a research note that "rarely have we ever been so incorrect in our forecasting of Disney profits." The stock cratered 13 percent the day after the reveal, and Nathanson's firm then increased its projected decline at Disney's cable networks, which include ESPN, from 4 percent to 17 percent next year. Yikes. Cord-cutting has finally come for Disney, and the Disney+ streaming service—which Chapek still insists will be profitable by 2024—is, at least for now, a giant money-suck. That's a grim combination, and on Friday, in a decidedly less cheery tone, Chapek announced cost-cuts and layoffs to come.
So, how much of this is Chapek's fault? Disney's certainly not alone in suffering from the macroeconomic slowdown, and I suspect the investor community will attempt to answer that question when Disney's full-year 10-K drops next week. But Iger and others wouldn't be wrong to question all that spending when Disney is only just now increasing the price of ad-free Disney+ in the U.S. from $8 to $11. Yes, it was Iger who initially priced the service so low in 2019 in order to build subscribers fast and set the market rate for in-the-works streamers from Comcast and Paramount; it was also Iger who, like all traditional studios, drank the cherry-flavored Netflix Kool-Aid of spending huge to grow users, bottom line be damned.

But Chapek has been C.E.O. for nearly three years now, the entire content industry has been suffering for awhile from the Great Netflix Correction, and the Disney strategy—especially its pricing and its average revenue per user—hasn't changed much despite the market having changed a lot. I keep flashing back to that Disney investor event in late 2020, when Chapek shoveled basically anything he could find into the streaming cauldron, hoping it would power the company's share price for years to come. He set in motion dozens of Star Wars, Marvel, and Disney-branded streaming projects, all teased as the answer for Netflix. By this year, the company is predicted to spend about $33 billion on content (including sports). Two years ago, nobody was talking about price hikes, or even revenue, and few were discussing cable declines as a short-term problem. Maybe Chapek should have been.

Same with that infamous restructuring, which took the P&Ls away from the various content silos and put everything except Donald Duck's bow tie under Kareem Daniel, the longtime Chapek protégé who, without much content experience, all of a sudden had, as CNBC put it, "one of the most important jobs in the history of media." Internally, Iger was very against the re-org and consolidation of power under Daniel, believing that creative executives should control the destiny of a creative company. But Chapek was adamant: the point was that Disney would appear and operate more like a centralized tech powerhouse, not an unwieldy creative octopus, because that's what the Street valued. But now? That re-org only makes that $1.5 billion direct-to-consumer loss more glaring.

That's one school of thought, at least. The other is that Iger and Chapek actually aren't that different in their goals for Disney. Both men envisioned evolving Walt's flywheel for the digital age, and leveraging its existing I.P. and brands to do so. And Iger set in motion much of the Disney strategy that Chapek supercharged, and that is struggling to pay dividends today. "Did Iger overuse Marvel and Lucasfilm?" Rich Greenfield, the Lightshed analyst who was once banned from Disney events by Team Iger for his coverage of the company, asked me today. "Did Iger keep ESPN too long vs exiting at the top? I think Iger made some mistakes that Chapek now is dealing with."

Maybe; it's hard to argue with Iger's vision, and the return for investors during his tenure. But it sort of doesn't matter now, except for the impact on Iger's legacy, which I know he cares deeply about. It's Chapek's company now, and his early stumbles in P.R. and politics with the Florida "Don't Say Gay" debacle seem to be behind him, as long as the new Republican House or presidential wannabe Ron DeSantis don't use Disney to engage their base. We know Chapek is leaning into the theme parks, where U.S. revenue is booming. While Iger was always adamant that the parks remain accessible for middle class families, Chapek is raising prices again on Dec. 8 and hoping to squeeze his customers even more. You ready for $10 Dole whips and $20 upcharges on most of the E-ticket rides? Chapek certainly is.

But we don't yet know how he will fix profitability on the content side of the company, which is what investors seem to care about. He can fire a bunch of people via this "task force" he created to identify cuts, and he can hope consumers accept the new higher prices for streaming, and that Disney can monetize everyone else via ads. But it's not clear what the answer is for the cable cliff, even if D+ does indeed become profitable by 2024—a big if.

Meanwhile, Iger continues to lurk on the sidelines—he's the guy who transformed Disney with Pixar, Marvel, Fox, and Disney+, who is now wondering, along with many outside observers, what strategic vision Chapek has for the company. Sure, Iger probably shouldn't be trashing his replacement, even privately; the unwritten rule of C-suites is if you pick your successor, you lay off. Many can't adhere to that rule, but it's beneath Iger, and only validates those who think he's been unable to segue cleanly into a post-Disney life. Besides, he's plenty busy. He joined Josh Kushner's Thrive Capital as a venture partner in September, and he's continuing to work on his family office investments, as well as another book. Iger pops up at various conferences and universities, and is looking to do more speaking engagements. He's talked about joining bids to own the NBA's Phoenix Suns or a soccer club. He went to a Formula One event in Austin a couple weeks ago.

I believe Iger when he's said he wouldn't want to return to the Disney job. But these are tough times in all of Hollywood, and the question is whether he's OK with anyone else having it.
See you Sunday,
Matt

Correction: Fantastic Beasts: The Secrets of Dumbledore came out in April, not July as I said on Sunday.

Got a question, comment, complaint, or a rant against Ticketmaster? Email me at Matt@puck.news or call/text me at 310-804-3198.
FOUR STORIES WE'RE TALKING ABOUT
Putin's Retreat
The realpolitik behind the Ukrainian recapture of Kherson.
JULIA IOFFE

Streaming vs. TV
A close look at the streamers starting to experiment with live programming.
JULIA ALEXANDER

The Licht Show
The latest news on Licht's attempts at CNN transformation.
DYLAN BYERS

Need help? Review our FAQs page or contact us for assistance. For brand partnerships, email ads@puck.news.
Puck is published by Heat Media LLC. 227 W 17th St New York, NY 10011.