Welcome back to What I'm Hearing, a little later than usual thanks to a friend's wedding in Palm Springs. As always, if this email was forwarded to you, join the stylish WIH community by clicking here.

Contest update: Disney's preliminary estimate of the Black Panther: Wakanda Forever domestic opening is $180 million, but as I said last Sunday, we're waiting for "actuals" tomorrow to determine our winner and will make the official announcement on Thursday.

Discussed in this issue: David Zaslav, J.K. Rowling, Bob Chapek, Taylor Sheridan, Ann Sarnoff, Peter Trinh, and "Capt. Hollywood."

But first…
Who Won the Week: Michael Lewis
Sure, Marvel is Marvel (again) with Wakanda Forever, but Lewis, the author/movie machine, just happened to be following around Sam Bankman-Fried for the past six months, working on his next book, when FTX, Bankman-Fried's $32 billion crypto exchange, completely imploded. Lewis's CAA team can basically name their price for a film or TV adaptation.

Speaking of CAA…
CAA Cuts One of Silbermann's Guys
Normally I wouldn't care about a CAA agent being asked to leave. But Peter Trinh, who I'm told is out as of Friday, is interesting because he's one of the ICM Partners veterans that was invited to join CAA not five months ago when the acquisition closed. Trinh, who was managing director, international and independent film at ICM, is also tight with Chris Silbermann, the ICM managing partner who sold the company to CAA. If Silbermann could no longer save Trinh, it could mean others in the Silbermann inner circle are vulnerable. Or not. CAA declined to comment.
Quote of the Week (Disney Edition)
"As we work through this evaluation process, we will look at every avenue of operations and labor to find savings, and we do anticipate some staff reductions as part of this review." –C.E.O. Bob Chapek, in a note to executives, foreshadowing Disney cost-cuts and layoffs.

Runner up: "If we were on ESPN, we would say he's got to be fired. That's pretty cut and dried." –Jim Cramer, the CNBC gadfly, excoriating Chapek in response to Disney's $1.5 billion loss on streaming this quarter.

One thought on the grim Disney news: How much is Chapek's controversial reorganization of the company and the silo-ing of the direct-to-consumer unit responsible for all those awful headlines? Separating the D-to-C business and the eye-popping losses in one column, distinct from other content units, makes the $1.5 billion number pretty glaring.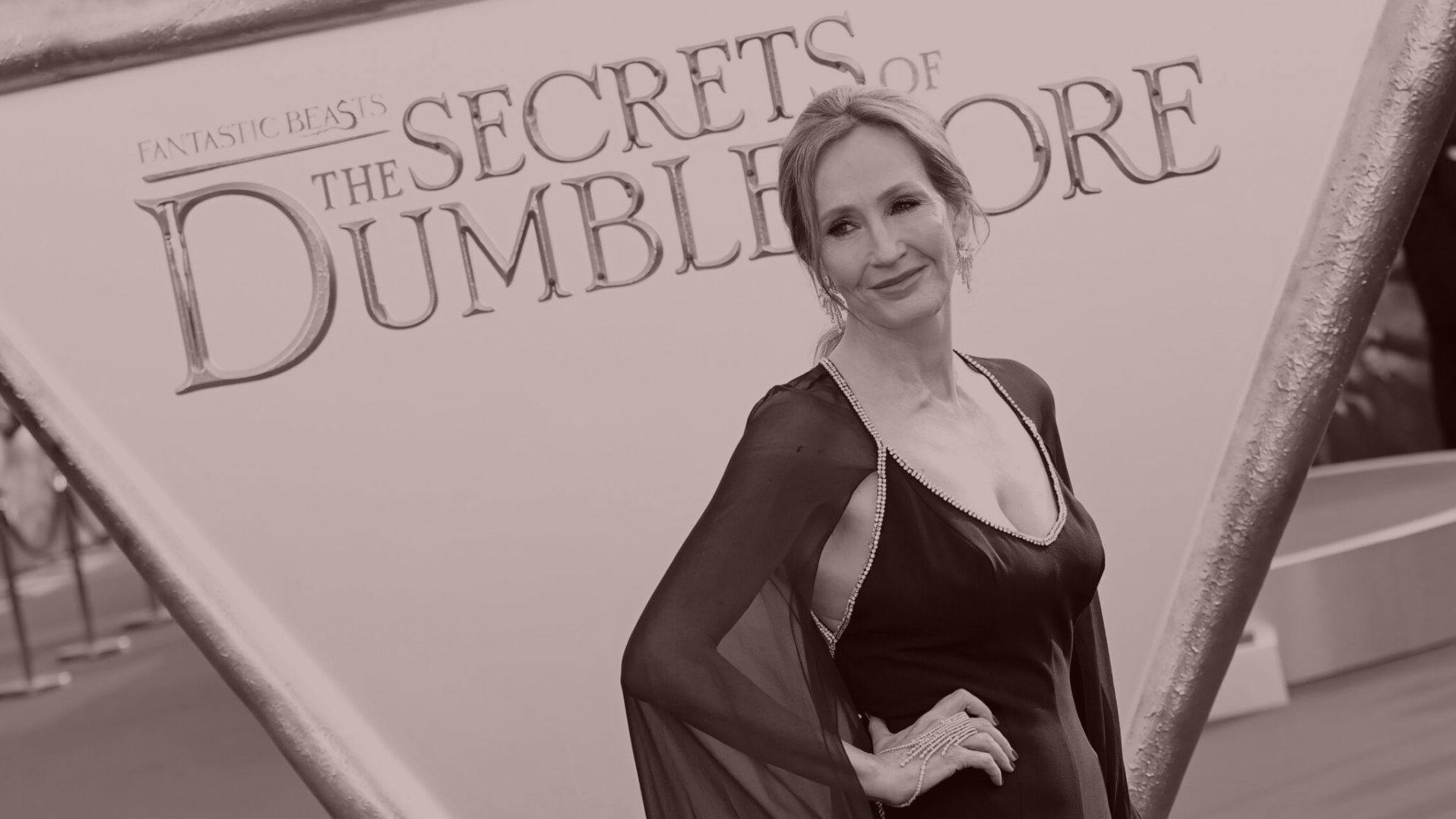 Harry Potter and the Desperate Movie Studio
David Zaslav may want more Potter hits, but he has more than a few obstacles—franchise challenges, sequel blues, a complicated and semi-cancelled talent—in front of him. And Zaz needs Rowling more than she needs him.
I know I wasn't alone in chuckling when the new Warner Bros. Discovery C.E.O. David Zaslav announced on an earnings call last week that he'd really like to do "something with J.K. on Harry Potter going forward," noting that his film executives "haven't done a Harry Potter movie in 15 years." You don't say! one rival exec texted, echoing a few calls I got from others on the Warners lot. People are terrible.

I know, earnings proclamations are general statements for investors, and Zaslav often talks in platitudes that can be easily understood by CNBC. So who cares if the last Potter movie was actually 11 years ago, or that Warners has since released three Fantastic Beasts movies based on J.K. Rowling's Wizarding World, the first two of which she wrote the screenplays for herself? (Similarly, Zaz's peer, Endeavor C.E.O. Ari Emanuel, boasted on his earnings call this week about client Keanu Reeves' first TV show, Hulu's Devil in the White City—a project Reeves fell out of last month.) But more importantly, to some at Warners, it was as if Zaslav's focus on franchises in general, and Harry Potter in particular, hadn't been the singular goal of just about every top executive at the company since the original Potter films ended in 2011. To them, it was déjà vu all over again.

In fact, other than managing DC, the primary job of running Warners ever since the studio and producer David Heyman secured the rights when the first Harry Potter book was published in 1997, has been about managing J.K. Rowling and her universe. Like many artists, she's said to be mercurial and perpetually aggrieved; her behind-the-scenes battles with Barry Meyer and Alan Horn over creative and financial issues on the Potter movies were legendary; she's renegotiated her deals many, many times; etc. And rightly so; Rowling alone created one of the singular pieces of intellectual property of all time, so no matter how much value Warner Bros. brought to the asset via films that have grossed more than $9 billion worldwide, she gets to control and leverage the I.P. as she chooses. Just as Warners does with the DC characters it owns.

It's this kind of control that can make powerful media executives feel small and weak. Kevin Tsujihara, who took over Warner Bros. in 2013, made groveling to Rowling at her home in Scotland his priority. Those efforts worked, leading to the Fantastic Beasts franchise extension, for which Tsujihara had to make key concessions, renegotiating her deal yet again and letting her write those screenplays—something she'd never done before. Tsujihara then took several victory laps, both internally and externally, until his exit in a 2019 sex scandal.

In that aftermath, John Stankey, the AT&T executive, made a point of having at least a basic relationship with Rowling, despite the unwritten rule to not let the ultra-stiff Stankey anywhere near creative people. Warner Media C.E.O. Jason Kilar communicated with her. And Ann Sarnoff, the Warner Bros. C.E.O. under AT&T's ownership, also traveled for an audience with Rowling; sources say Sarnoff's focus was a potential Potter TV show on HBO Max or another outlet. That wasn't of interest, and HBO executives never went beyond suggesting possible writers. It was kinda pointless without Rowling's endorsement.

This week I learned of another effort: Right before the pandemic in early 2020, Toby Emmerich, then running the Warners film studio, made a quiet trip to London to meet with Neil Blair, Rowling's business partner and chief gatekeeper. Emmerich could see where things were going. The Fantastic Beasts movies, which were supposed to be the answer for the end of the wildly successful Potter adaptations, were… not exactly the answer. The first movie grossed $814 million worldwide in 2016—big, but down more than $500 million from Deathly Hallows: Part 2 in 2011, and neither fans nor critics embraced it. Then Fantastic Beasts: The Crimes of Grindelwald, with Johnny Depp co-starring, dropped to $654 million, with even worse reactions. A third film was in the works, but the question was who really wanted it.

So Emmerich brought up an idea that had been pitched before: A potential two-film adaptation of Harry Potter and the Cursed Child, the originally five-hour stage play that had become a smash success in London and on Broadway. With a story by Rowling and a hit pedigree, it would be a logical successor to the Potter movies in a way that Fantastic Beasts, with Eddie Redmayne as a new lead, never managed to become. And perhaps most important, Cursed Child is set 19 years after the events of the Potter books and includes as supporting characters the grown Harry, Hermione, and others, giving it a literal connection to what people loved about Rowling's world. The Potter fan community would go nuts.

Alas, Rowling and Co. weren't interested in Cursed Child movies, at least not then, which isn't too surprising. Lead stage producers Sonia Friedman and Colin Callender knew the life-cycle of a hit Broadway play, which is typically to milk the theater and touring and cruise ship grosses before greenlighting a film, a la Wicked. Plus, moving on to Cursed Child would have been an admission that Fantastic Beasts wasn't working, a tough pill for Rowling to swallow because she was so creatively involved. Then a few months after that meeting, Rowling was quasi-canceled after she doubled-down on anti-transgender comments, the Potter leads Daniel Radcliffe and Emma Watson began distancing themselves from her, and later in 2020, Emmerich fired Depp from the third Fantastic Beasts after a U.K. court ruled that The Sun's description of him as a "wife beater" of Amber Heard was substantially true. Secrets of Dumbledore came out this April, overshadowed in part by Depp's U.S. defamation battle with Heard. It grossed just $405 million on a $200 million production budget, the first of the 11 Rowling films to lose money.
A MESSAGE FROM OUR SPONSOR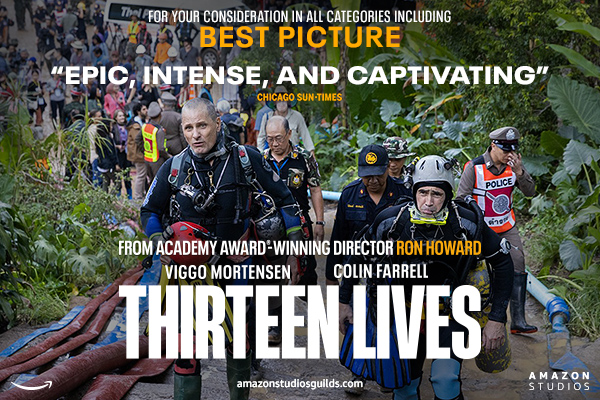 "An extraordinary story…a testament to the guardian spirit possible in any of us." — LOS ANGELES TIMES

Amazon Studios presents THIRTEEN LIVES from director/producer Ron Howard, and starring Viggo Mortensen, Colin Farrell, and Joel Edgerton. Based on a true story, THIRTEEN LIVES recounts the effort to rescue a Thai soccer team trapped in the Tham Luang cave during an unexpected rainstorm. A team of expert divers navigates the flooded tunnels, joining Thai forces and countless volunteers to rescue the 12 boys and their coach.

THIRTEEN LIVES is streaming now on Prime Video.
So that's what Zaslav and his new film chiefs Mike De Luca and Pam Abdy are walking into here. Not great. Fantastic Beasts, which Tsujihara said would be a five-film franchise, is almost certainly dead after three. There are zero Harry Potter films or TV projects in development, meaning that even if Zaz charmed Rowling and closed a deal tomorrow, nothing would hit until probably 2025 or later. And Rowling herself is semi-radioactive: I don't think the average Potter fan would avoid her work because she's made hurtful comments about trans people and biological sex, but key talent might decline to work with her, and the media mostly treats her as toxic. (In 2020, New York magazine's The Cut called her "the most beloved, most reviled children's book author in history.") Even the framing on the trade stories last week around Zaslav's desire to do more with Potter was that he is pushing forward despite her diminished place in the culture.

But at the same time, the Potter property is alive and thriving everywhere except on screen. The books are still huge, as are games and consumer products and live experiences, like the wildly popular Leavesden attraction outside London. Warners profits from all that, as well as the Potter areas in the Universal theme parks, though it doesn't collect a piece of the gate at those parks, as some at Warners believe the studio should. And if your neighborhood was anything like mine on Halloween, it was filled with kids dressed as Rowling's characters. The demand for more Potter content is certainly there. Zaz knows that.

So how does he make it happen? According to two sources with knowledge of the deals, Warners has full adaptation rights for the seven Potter books, meaning Zaslav could simply order remakes of those movies. Who knows, maybe a new Sorcerer's Stone from a revisionist filmmaker would resonate nearly 25 years after the bland Chris Columbus original? (Fun fact: It's known that Steven Spielberg was interested in directing that first movie, and he developed it for awhile before stepping down; what's not known is that Warners eventually saved hundreds of millions of dollars when Spielberg walked, because he would have required the studio share the franchise with him, as Universal does with Jurassic.)

But as desperate as Zaz is for more Potter, remakes seem extra desperate. And doing so without Rowling's buy-in would nuke that relationship. They need her, and, as rich as she is, she needs them less. Never a good dynamic in which to take a risk on a partnership. The reality is that, no matter what Zaz wants or needs for WBD, the future of the franchise is almost entirely up to a creator with a complicated public persona and an iron grip on her property. Complicating matters is Neil Blair, Rowling's business partner, who keeps everything super controlled; it's often unclear to Warners people whether Rowling even gets the messages meant for her, or how they are relayed. And it's considered "suicide" to attempt to go around Blair, according to one studio source.

That's why the best move here for Zaz (and De Luca and Abdy) is to go hard after Cursed Child again, which I'm told by one source is part of the current plan. It's just sitting there, it's got all the characters and the generational torch-passing, and Rowling, after the failure of Fantastic Beasts, is at least incentivized to keep the property going as a film franchise.

Radcliffe, at 33, is still pretty young to play the adult Potter, and he's kinda sworn off revisiting his career-making role, regardless of the politics of Rowling. But maybe he has a price, and getting him on board would grease the wheels and help fans get over any qualms they have with Rowling. Even if they need to recast, it's worth it just to have Harry Potter on the marquee. Kiss Friedman and Callender in as producers if necessary. For Zaslav, and for the future of one of the great franchises, that seems like the best of a bad situation.
The sad story of the Greidinger family, which assembled the second-biggest movie theater chain, Cineworld, only to file for Chapter 11 in the U.S. in September with $3 million in cash and $9 billion in debt. [Bloomberg]

Sridhar Pappu's very good feature on Yellowstone creator Taylor Sheridan prompted a Hollywood rarity: Someone distancing himself from prior anti-Trump comments. [Atlantic]

Filmmaker Nate Parker apologizes again for how he handled the discussion of his college rape trial in this long look at the next phase of #MeToo questions: "Among those questions is whether there can ever be a path back and whether there should be a path back. If so, who decides what it should look like and when it's complete? [WaPo]

The Post's Steve Zeitchik has a good thread on the moments of anti-Semitism in last night's Chappelle SNL monologue. [Twitter]

More on "Capt. Hollywood," aka retired L.A.P.D. Det. Cory Palka, who helped cover up the Les Moonves police report, among other allegedly shady behavior. [LAT]

Related: Leah Remini posted a tweetstorm suggesting Palka helped Scientology hide the whereabouts and condition of Shelly Miscavige. [Twitter]
Writing about Hollywood writers usually prompts those writers to… write. Many had opinions on my gloomy take on the upcoming guild negotiations, and I appreciate them all (even the guy who called me a "studio wanker"). Some examples:
"Stop with the bothsides-ism on studio poverty. This isn't about what the stock market is doing today, it's about setting a fair compensation framework for years to come." –A writer
"Standing up for (what you even agree) is fair, isn't exactly sowing chaos. It's business. Couple of points:
—I'm incredibly grateful for those writers who struck last time. I wasn't in the union yet, but that strike literally got us coverage of the internet. Without that, many writers my age would not be in the union right now.
—Just want to point out the fun contradiction of 'our business isn't making enough money to pay struggling middle class writers' and 'I booked the Maui Four Seasons six months in advance, because I'm confident my economic situation won't change by then.'
Patric Verrone
has been serving on the board this entire time. No mothballs involved.
—No one in the union wants a strike. I think many are anticipating one because of the poverty posturing we are seeing from execs. But absolutely no one wants one."
–Another writer
"One sentence showing why writers are pissed: 'One top TV executive told me yesterday that he's already booked the Four Seasons Maui for the second week of May, typically the pre-upfronts frenzy.' That'll show 'em!" –An executive
"It's unfortunate that Chapek & Iger don't get along because the retired C.E.O. seems like the ideal guy to help broker a deal, unless you want to volunteer your services. [Editor's note: I don't.] What a thankless job that likely is for someone." –Anonymous
"Hidden piece of the writers strike you wrote about—if Twitter falls apart, it becomes way harder for WGA to mobilize and attack." –Another executive
Horror around the holidays? Both Violent Night (Dec. 2) and Me3an (Jan. 6) are demonstrating an elevated level of interest, according to the latest Quorum film tracking chart…
Have a great week,
Matt

Got a question, comment, complaint, or ? Email me at Matt@puck.news or call/text me at 310-804-3198.
FOUR STORIES WE'RE TALKING ABOUT
The FTX Meltdown
Wall Street comes to terms with a generational financial tragedy.
WILLIAM D. COHAN

Russia's It Girl
The curious case of Ksenia Sobchak illustrates a profound truth about modern Russia.
JULIA IOFFE

Need help? Review our FAQs page or contact us for assistance. For brand partnerships, email ads@puck.news.
Puck is published by Heat Media LLC. 227 W 17th St New York, NY 10011.