Happy New Year, and welcome back to What I'm Hearing+, my weekly dispatch on the streaming industry and the analytics behind it all. If this email was forwarded to you, click here to subscribe.
Last week I shared my four lessons that the streaming industry should take from 2022, as well as five predictions for the year ahead. Tonight, I'm diving into Netflix's ingenious partnership with Nike and the company's ambitions as a lifestyle brand.
But first…
Why Netflix Canceled '1899'
Netflix kicked off the new year by killing 1899, the atmospheric sci-fi drama from the team behind the immensely popular German series, Dark. Like any Netflix cancellation, the news sparked debate about how Netflix gauges success these days. After all, 1899 appeared on the platform's Top 10 list five weeks in a row. According to all publicly available data, the show was a hit.

But here's the issue with Netflix's numbers: The data point the public doesn't see, which is as important as total views, if not more so, is the completion rate. Here we can make some educated assumptions based on the Top 10 performance: the drop between 1899's second and third week was about 50 percent, according to Netflix's own numbers. Murmurs within the tracking community placed completion rates for the show below 40 percent. So, yes, 1899 certainly found an audience—and a hyper-vocal one —but Netflix in 2023 isn't the Netflix of 2016. Bankrolling a show through its first season with high attrition, hoping that it works in the second season, may be something that Netflix can afford, but the company is less inclined to do it now.

Speaking of which…
The Real 'Knives Out' Mystery
Netflix's Glass Onion: A Knives Out Mystery is officially a Top 10 title, with 209.4 million hours streamed since its Dec. 23 debut, beating out The Kissing Booth 2. As it stands, it needs an additional 10 million or so completed views (24 million hours) to beat The Adam Project and become a Top 5 title of all time. So while its somewhat muted debut of 82.1 million hours paled in comparison to other major titles—including Don't Look Up, Red Notice, and The Gray Man—its second week proves why it's often unfair to judge a Netflix film based on its opening weekend, like we do with traditional box office movies.

Naturally the big question some may still have is whether the one-week theatrical release hindered the Glass Onion performance on Netflix. It grossed about $13.3 million in its limited, 650-screen domestic run—about 1.3 million seats, using the national average of $10 a ticket. Taking into account that you can't do apples-to-apples math here—there are about 3.5 viewers per Netflix "household stream," co-C.E.O. Ted Sarandos has said—the answer is that theaters probably didn't hurt streaming.

Glass Onion's debut of 82.1 million hours represents the third strongest Friday film debut for Netflix in 2022. Domestic demand for the film's premiere on Netflix was also higher than its demand at the time of its theatrical release, according to Parrot Analytics, where I work. With a 93 percent audience score, it's also one of the highest-rated films on Rotten Tomatoes. Google Trends data suggests it's on par with other major Netflix franchise entries, including The Witcher: Blood Origins.

The domestic theatrical release didn't make a real dent largely because Netflix is such an international business, and Knives Out has international appeal. Two thirds of Netflix's subscriber base is international, including 33 percent in Europe, the Middle East and Africa; 18 percent in Latin America; and 16 percent in the Asia-Pacific region. Glass Onion was the top title in the U.S. this week, but it was also the top title in 84 other countries, including nearly every single territory in Europe and Asia. Demand for Glass Onion was also slightly higher worldwide than in the U.S., according to Parrot.

If the debut week numbers came in weaker than desired, there are some likely extenuating circumstances. The original Knives Out isn't available on Netflix in the vast majority of countries, including the U.S. Viewers also traditionally like a tune-up on the source material before watching a sequel. (There's a reason the original Game of Thrones spiked on HBO Max ahead of, and alongside, the debut of House of the Dragon. Both series topped Nielsen's weekly streaming chart.) A number of breakout queries on Google Search over the past week have been variations of "Where to watch Knives Out?" or "How to watch Knives Out?" according to Google. The answer was a more traditional offering: renting the movie from Amazon, Apple, or Google for $4.

Plus, many of Netflix's most-viewed films have experienced strong growth before eventually tapering off between the third and fourth weeks. Purple Hearts, for example, jumped from just over 48 million hours viewed in its debut to more than 102 million hours viewed by week two. Don't Look Up jumped from 111 million hours viewed to more than 152 million hours viewed. With limited competition in theaters (it's really just Avatar), and not many hot films on Netflix and SVOD rivals, Glass Onion has a clear runway to grow further.

The larger question is whether Glass Onion's performance will justify the high cost. The reported $13 million box office revenue is less than the estimated $50 million to $60 million that analysts have suggested the film could have made if it was in theaters longer. Heavily saturated markets like the U.S. are unlikely to see massive bumps in subscribers (either new or returning), and top searches for the film are in well-developed Netflix markets, including Ireland, the U.K., and Australia, according to Google.

What Glass Onion does have going for it, and what may matter just as much to Netflix executives, is quality on top of an engaged audience—something that Netflix films have lacked. Netflix hasn't found its big film franchise as it has in TV with Stranger Things or La Casa de Papel, but film chief Scott Stuber told Bloomberg that Netflix wants to be in the business of quality originals, "like Elvis… or A24." Knives Out certainly fits that bill. Now the math just needs to line up with those ambitions.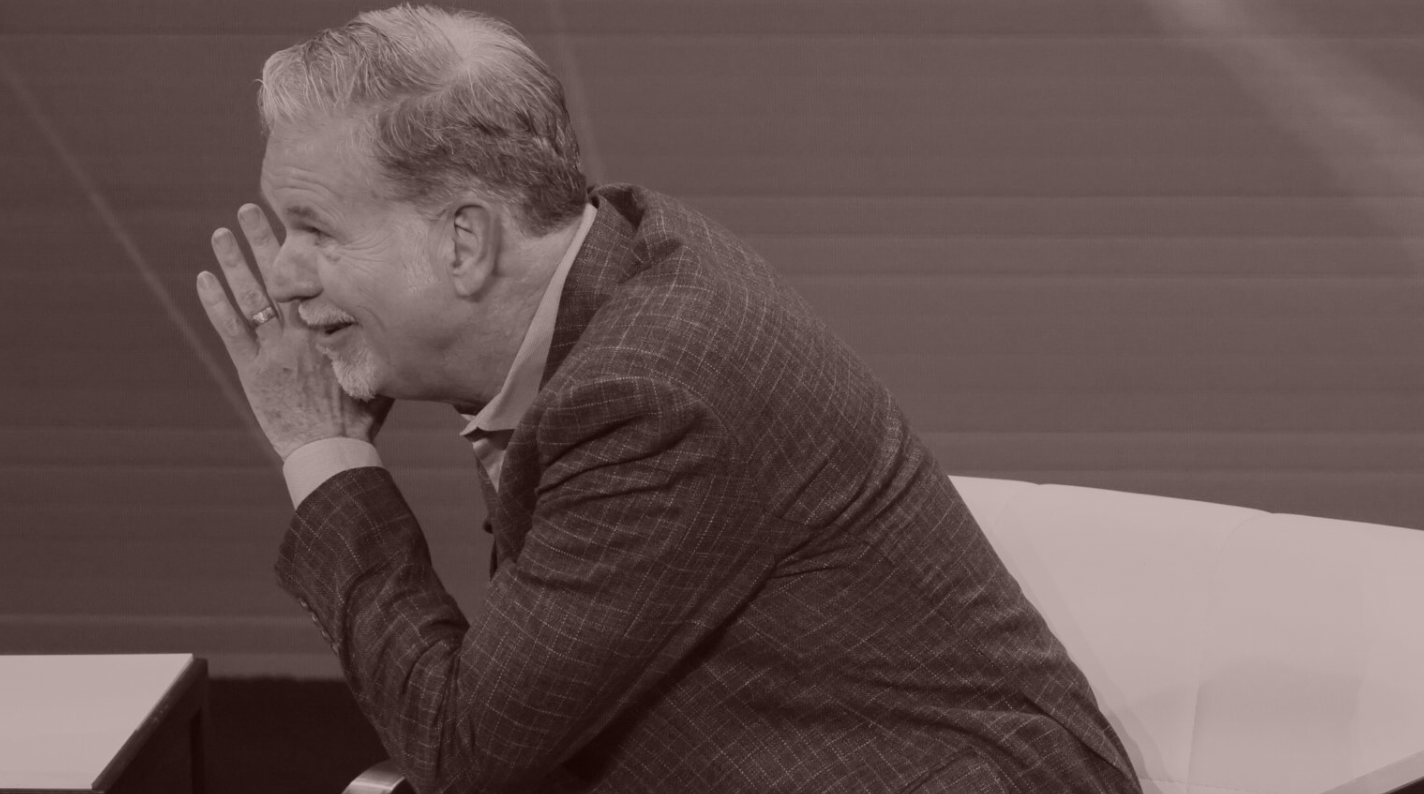 Netflix's Peloton Pivot
The company's Nike partnership suggests a path whereby a streaming pure-play can become a lifestyle brand.
Arguably the most eyebrow-raising new title to drop on Netflix at the end of 2022 wasn't Noah Baumbach's $100 million adaptation of the notoriously "unfilmable" White Noise, or the unwatchable Kevin Hart–Mark Wahlberg comedy Me Time. It was Nike fitness videos, sandwiched between a new Witcher spinoff and the latest season of The Circle. And while the platform's Jane Fonda-ification may seem strange, the partnership makes sense for Netflix, which is trying to boost engagement, establish new channels for affinity marketing, and distinguish itself from HBO Max.

It wasn't long ago that Netflix seemingly had streaming all to itself. But the proliferation of competitors, and the increased expense of content production, has prompted the company to pull other business levers. Much of the industry has fixated on its advertising tier, in part because co-C.E.O. Reed Hastings had pooh-poohed it for years. Yet just as significant is the attempt to leverage its pure scale and saturation—Netflix is still by far the largest and most international player—to pivot beyond entertainment. Fitness and connected engagement can help keep Netflix the first screen of the connected home, and do so without adding lofty production costs.

As I predicted last week, we're about to see much more bundling and cross-promotion of platforms and services in 2023. The streaming market, after all, is now so competitive that it's basically unprofitable, forcing companies to find new ways to acquire and retain customers while increasing perceived value and decreasing costs. It's a tall order, and immensely difficult to achieve with programming alone.

Bundling streaming subscriptions with retailers (e.g. Paramount+ and Walmart) is one way to entice customers. Building a broader product ecosystem around daily consumer behaviors (like Amazon Prime Video or Apple TV+) is another. The Netflix+Nike partnership suggests a third path, whereby a streaming pure-play could become a lifestyle brand, itself.
Netflix isn't the first media company to attempt this subtle pivot. The New York Times, as my partner Dylan Byers recently noted, has essentially transformed itself from a newsgathering operation into a lifestyle company built atop a tech platform. Cooking, Games, and The Athletic all create daily entry points, alongside traditional news. This has helped generate stronger subscriber numbers and more revenue per user, at a time when the rest of the journalism industry is struggling. During the past couple years, as The Washington Post has lost subscribers, the Times has gained 4 million.

By comparison, Netflix's entertainment content is still the core product, of course. But its offering is basically saturated to the point where there is decreasing marginal value—or to put it simply, Netflix's content isn't as special as it once was because every streamer has some level of entertaining content similar to others, especially in the U.S. and Canada. And history has proven that it's incredibly tough to scale simply by hoping to replicate Stranger Things. Netflix can (and has) bundled with telecoms, but it also needs to differentiate from competitors—something that gets people to open the app daily, and that creates a sense of additive value. Fitness is a natural frontier, and a relatively inexpensive place to experiment.

Unlike Peloton, a hardware business that tried to become a tech media company, or Apple Fitness+, an ancillary subscription that piggybacks on Apple Watches and iPhones, Netflix's partnership with Nike doesn't require any physical device. There are licensing costs, sure, but putting Nike Fitness videos on the platform doesn't create new price hurdles for people using the platform, nor does it ask subscribers to buy anything new. Partnering with a brand like Nike also feels elevated, instead of trying to create popular trainers that might get lost in the mix.

Of course, the better comparison for Netflix isn't Apple or Peloton, but YouTube. Fitness content there increased dramatically between 2013 and 2022, according to public data, constituting nearly a third of all platform views in 2019. TikTok, the Gen Z social app of the moment, also became a hotbed of fitness during the pandemic. In every case, fitness brings people into the app and introduces them to related content.

If Netflix can be top of mind when people want a new show, or an old movie, and when they work out, plus provide multiplayer and social gaming (which is in the development pipeline), the service becomes more than just a habit—it becomes the hub for entertainment and lifestyle that spans the entire day. It's also an answer, of sorts, to Hastings' famous declaration, in 2017, that Netflix's only true competitor is sleep. The real question for Netflix, with its Nike partnership, is what took so long to get it going?
FOUR STORIES WE'RE TALKING ABOUT
Elon's Tesla Damage
A two-part conversation about streaming fates and Tesla meme stock carnage.
PETER HAMBY & JULIA ALEXANDER

Need help? Review our FAQs page or contact us for assistance. For brand partnerships, email ads@puck.news.
Puck is published by Heat Media LLC. 227 W 17th St New York, NY 10011.