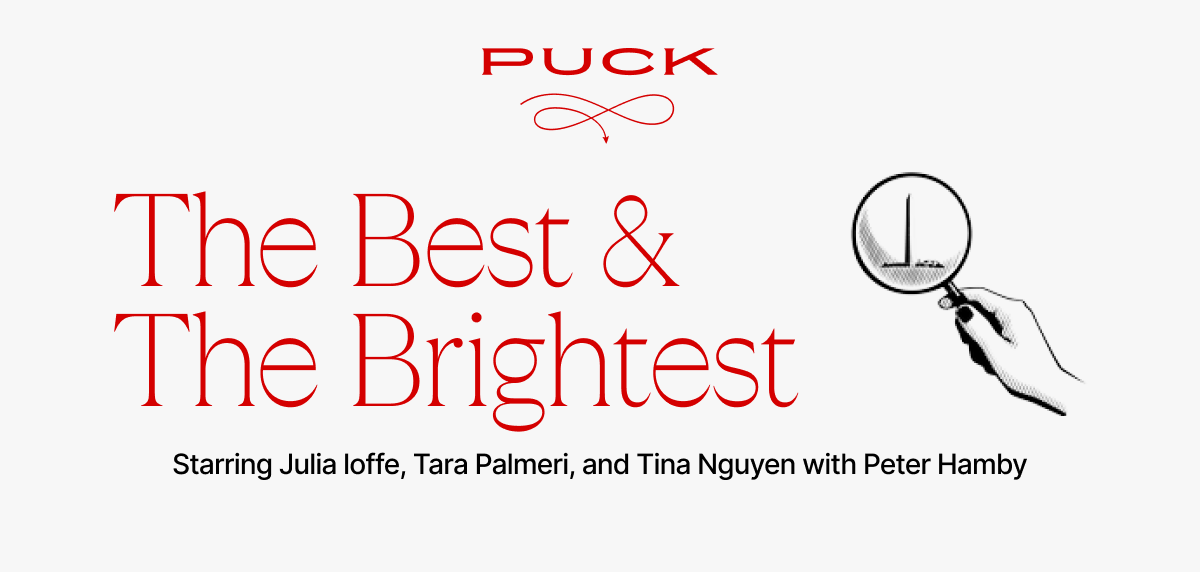 Welcome back to The Best & The Brightest, our new daily political newsletter featuring myself, Julia Ioffe, Tina Nguyen and Peter Hamby. And thanks again to everyone who turned up for Puck's soiree last night at the French ambassador's residence to celebrate the First Amendment. It was a delight to see so many newsmakers, readers, and subjects of this very email in person.
Tonight, news and notes on Mitch McConnell's pre-'24 campaign cycle hatchet-burying and the latest D.C. media chatter surrounding Fox. But first…
Run, Youngkin, Run?: Despite the lack of any real lane or momentum, or plausibility to break up the Trump–DesSantis logjam, Glenn Youngkin appears to be nevertheless pushing forward with a 2024 presidential run. He's appearing on a CNN town hall tonight and he's hosting a $5,000-to-$10,000 per head fundraiser for Spirit of Virginia, his PAC, in Georgetown on May 24. At that evening, according to the invite that I was forwarded, the former Carlyle co-C.E.O. will be teasing "his vision for moving forward, both politically and personally"—precisely the sort of poignantly enigmatic word soup that consultants get paid to craft for stimulating donor erogenous zones.

Sure, the term-limited governor with a 57 percent approval rating could be raising money to support his fellow Republicans in the Virginia state legislative elections this fall. But he has, of course, mainly been assuming the posture of a national candidate, even if presidential polls show him in the single digits. Perhaps everyone's favorite billionaire-adjacent soccer dad can have his breakout moment tonight with Jake Tapper as he talks about education, a.k.a. the dark arts of parental rights and anti-wokeism. We'll see…

The Vampire Squid Strategy: Matt Taibbi, a self-professed former "ACLU liberal" testified today at Jim Jordan's "Hearing on the Weaponization of the Federal Government on the Twitter Files," before the House Judiciary Committee, regarding how Twitter allegedly shadow-banned conservatives by labeling their tweets disinformation, pre-Musk. He was one of the five journalists to whom Musk had handed the so-called "Twitter Files" as he was trying to make his point about prior censorship of right-wing voices at the company. Interestingly, Taibbi engaged Mike Benz, the former Trump official and Gorka re-tweeter and Steve Bannon War Room regular, who now helms the Foundation for Freedom Online, as a sort of coach, to prep him for the hearing.

While Taibbi is not a Trump supporter, he has become a critic of "cancel culture" and "wokeism" and a card-carrying citizen of the contrarian Substack class. Still, it's surprising to see him bear-hugging MAGA attachés. Benz's organization appears to be pretty barebones—no history, no executive team, just launched in September, etcetera. Yet, Benz advised his followers to tune into the hearing, saying "This will be big." Puck's resident MAGA expert TinaNguyen observed that "if the Heterodox World is starting to bleed into formal MAGA world, that's an interesting development." Benz declined to comment.
Last night, before the unexpected fall that landed him in the hospital with a concussion, Mitch McConnell walked into Washington's Waldorf Astoria with the hope of some G.O.P. restitution. For two tumultuous years under the leadership of his nemesis, Rick Scott, the National Republican Senatorial Committee had been at odds with McConnell's Senate Leadership Fund. Over time, the two men grew to despise one another in the way that powerful wealthy men often do: each wouldn't give the other what they wanted, which pissed off their counterpart.

McConnell's team grew miffed that Scott refused to recruit and support the most winnable candidates, at least according to their calculations, in certain elections. Meanwhile, Scott, who is rich and single-minded and unafraid to sneeze on the brass ring (and rode to power via the Tea Party), had long felt slighted by the establishment crowd like some country club arriviste.

Anyway, that's old news as Scott has been replaced by Steve Daines, the new N.R.S.C. chairman, who has been trying to straddle the often un-straddleable, performing modern G.O.P. triangulation by appeasing Trump and the establishment-types, alike, in order to recruit electable candidates who can tap into both constituencies. In reality, it's the very sort of McConnell-esque realpolitik that may be required for these times on the right. According to an attendee, McConnell reflected on "Playing the hand they were dealt last cycle, but creating their own hand this cycle," a thinly veiled dig at Scott and Trump.

Daines also seems like a team player, which was evidenced by the fact that he actually attended the event, as did Senators John Thune, John Barrasso, Todd Young, Susan Collins, John Cornyn and Roger Marshall. A fair representation of the Daines model candidate also happened to be in attendance: Rep. Jim Banks. The only member of Congress at the dinner, the N.R.S.C. has quickly rallied to support Banks' run for Indiana's open 2024 Senate seat, soon to be vacated by Mike Braun, even convincing former star governor Mitch Daniels to stand down to avoid a primary.

Another source at the dinner explained that McConnell and Daines have been rushing to consolidate support around strong MAGA-enough candidates whom they can put forward before Trump offers his own batshit crazy alternative. Their plan operates on the assumption that Trump will back down from supporting risky candidates so close to his own general election, given his weak batting average in the midterms.

This approach is manifested in Daines' aggressive courtship of Dave McCormick to run again for Senate against Bob Casey in Pennsylvania, and his willingness to slag off losing gubernatorial candidate Doug Mastriano. He's also pushing to get current governor Jim Justice to run against Joe Manchin in West Virginia. Unfortunately for Daines, they may have been slowed down in the hasty recruiting process by McConnell's fall.
The Dominion Blues Comes to D.C.
The Dominion voting lawsuit isn't merely causing anguish in the executive suites at 1211 Sixth Avenue and in the Delaware courts. The drama is starting to bleed out into the equally aggrieved precincts of television news bureaus, where at least two networks, ABC and CBS, are having internal conversations about whether they should still be pooling their footage with Fox News in light of the network's Dominion defamation lawsuit.

The pool, of course, is one of the D.C. traditions that exists, in part, because of our pledge to democratic freedoms and holding our leaders accountable. But there are "mandated pools" around White House coverage, where the content must be shared, but also TV "pools of convenience," that result from an arrangement between the five networks—ABC, NBC, CNN, Fox News and CBS—that make it more financially convenient to cover big events, hearings and stakeouts. Pools of convenience allow networks to save costs by rotating coverage for each event, rather than having five separate cameras and crews fighting for the same footage. This extends to major state funerals, inaugurations, State Department events, and really anything three of the five networks vote on covering. (Other smaller networks, like NewsNation or C-SPAN, can subscribe to these convenience pools for a fee.)

It's a rare, behind-the-scenes, collaborative process in which the five networks in Washington share resources, access, and take turns leading coverage and then distributing footage. But with clear indications that Fox knowingly promoted election conspiracies, executives at other networks are starting to question whether they should be sharing and providing resources with a "propaganda organization," as one rival executive put it.

Much of it comes down to issues of reputation and credibility, naturally. Fox's D.C. Bureau Chief Bryan Boughton, who turned up in discovery in the Dominion lawsuit for telling his correspondent Kristen Fisher to respect their audience after she reported that Rudy Giuliani's news conference was "light on facts," is on many of the coverage calls with the other networks. Networks also worry about their own potential hypocrisy: on the one hand, they are reporting critically on Fox News; on the other, they are airing that network's footage to their viewers.

"When Rupert Murdoch says it's not red or blue, it's green, it's the same for the other networks on the pool—it's financially beneficial for us to split the pool five ways with Fox," said a top network executive. (Technically speaking, Murdoch did not offer that comment, but rather offered an affirmative answer to an attorney who phrased his question in those terms. But you get the point…) "Management at [Fox News] is pursuing something, but it's not journalism. They are putting stuff on the air that they know is not true. We've crossed a Rubicon," the executive said.

The networks just had a meeting last week to talk about saving money while pooling as they are under pressure from their finance departments to scale back, so losing 20 percent of the resources could be a material issue. At this point, though, it's mainly venting-type conversations at ABC and CBS, with no clarity on what they can do, if anything. There really isn't a precedent. Any attempts by the White House to oust Fox from the mandated White House pool have only prompted other networks to rally around them, such as when Obama questioned the network's legitimacy and wanted to hold a pooled interview without Fox. But those issues with Fox were over differences of opinion. The current situation is of a whole other magnitude.

What's more, it's unclear if there's any established mechanism to actually remove a member of the pool. There's also the concern that if you start questioning Fox's integrity, then it can be applied to editorial decisions by ideologically driven decisions on MSNBC, or even possibly CNN. (Though, to his credit, Chris Licht has moved CNN back from its Zuckeresque #resistance heyday.)

And it's not like Fox can be swapped out with another network. To get into the pool, you have to show some level of technical proficiency, including camera people, technical people, lighting, sound, and the ability to manage the complex logistics. It's part of the reason, besides its lack of journalistic standards, that a network like RT could never be a part of the pool.

At the same time, it's sticky for news organizations to wade into these partisan waters. The Progressive Change Campaign Committee currently has a petition out with 16,000 signatures calling on the White House Correspondents' Association to remove Fox from the White House press pool. Last night, Stephen Colbert seemed to be saying the same on CBS: "Fox News doesn't believe a word they say, and neither should you—and neither should the White House Correspondents' Association," he said.

But the network "pools of convenience" are not mandated pools like the White House press pool, and even if Fox tried to sue the other networks for kicking them out, it might be futile. The association was formed as a sort of a gentleman's agreement, but there's been an effort in the past 10 years to solidify the rules. It takes three out of five votes from the five assignment desks at the networks to decide what gets staked out or covered. But there are ways to change Fox News' status as a fifth equal member.

"Fox News joined the television pool in 1997 after proving we had the superb resources, skilled production personnel, and the staying power to be an equal partner in covering the daily schedule and events emanating from Washington," said Fox News spokesperson. "Fox has covered some of the most important events in our 27-year history in a clear non-partisan way much to the praise of our pool colleagues and our journalism is exemplary—we have never had a complaint about our work or the editorial notes we have shared with our partners in performing our duties, nor will we tolerate hearing from anyone now."

Meanwhile, Fox seems to be afraid to clean house in the wake of the scandal, perhaps afraid of alienating their audience. In the Roger Ailes days, he may have fired Tucker Carlson like he did Glenn Beck. But back then, the competition was CNN and MSNBC—now it's Newsmax and OANN, and all the new platforms where Carlson could likely recreate his empire, in one way or another.
FOUR STORIES WE'RE TALKING ABOUT
Tucker's Troubles
Tensions inside Fox News are starting to reflect the same schisms in the party it covers.
DYLAN BYERS

CPACalypse Now
Notes on the MAGAficiation of the preeminent conservative political summit.
TINA NGUYEN

Surviving Putin
Discussing Alexey Navalny with Bellingcat's lead Russia investigator.
JULIA IOFFE

Need help? Review our FAQs
page or contact
us for assistance. For brand partnerships, email ads@puck.news.
Puck is published by Heat Media LLC. 227 W 17th St New York, NY 10011.