For more than two decades, Marc Benioff has towered over Silicon Valley politics as an iconic statesman-C.E.O., personifying a new model for compassionate-and-issues-based mega-capitalists who viewed their corporation as not merely commercial organisms but vessels for political combat. Over the years, Benioff has been eager to wade into policy battles in places like Indiana (LGBT discrimination) and Texas (abortion restrictions) that have nothing to do with Salesforce's cloud-computing business but are part of his personal moral crusade.
Back in San Francisco, Benioff bent the ear of the city's leaders and became an unofficial spokesman for its business elite, all the while dousing local institutions with a fusion of personal and corporate philanthropy. (The lines could be blurry.) Meanwhile, far from home, he relished his role as a familiar denizen of CNBC sets and Davos chalets, becoming one of the most outspoken voices for a rejiggered capitalism and, without a doubt, basking in the public mahalo that came with it. Benioff was the architect of the corporate zeitgeist's modern form of social activism.
Then, in late 2019, Benioff quietly seemed to take a step backwards. Having bought Time with his wife Lynne, Benioff told me that he was swearing off political donations, and some parts of his hyper-charged brand of political activism, out of a desire to remain non-partisan. (That explanation, I should note, has never really made any sense to many insiders in politics, media or tech, who frequently have told me they don't buy it. Someone introduce him to Laurene Powell Jobs or Mike Bloomberg!) Nevertheless, Benioff abdicated the throne, creating something of a leadership vacuum in the post-Trump Silicon Valley political milieu.
One of the mega-donors hoping to fill that void is Twilio's Jeff Lawson, a Benioff disciple and another C.E.O of a cloud company that does something in enterprise software that you can't really explain. In recent months, Lawson and his wife, Erica, have quietly begun taking a series of significant steps into the rarified air of big donor Democratic politics, making them a conspicuous counterpoint to the legions of liberal mega-donors who have considered retrenching in the post-Trump era. Behind the scenes, the Lawsons are now hiring high-powered aides and starting new political organizations, bankrolled by a low 10-digit fortune. Meanwhile, I've obtained a copy of their political adviser's broader plan for a $62.5 million "pro-democracy" behemoth. Trump or no Trump, the big-money world is humming along just fine.
---
Calling Lawson a "mini-Benioff" is a premature compliment. They exist in different stratospheres, with wildly different personalities. "Benioff is the showman and larger than life," said one Silicon Valley leader who knows them both well. "Jeff is very understated. Salt of the earth." Yet the Twilio co-founder has clearly studied Benioff closely, calling the Salesforce chief one of his heroes, and has been taking steps to claim his mantle, most prominently as an evangelist of San Francisco: When a phalanx of Silicon Valley personalities began loudly exiting the Bay Area during the pandemic, the Detroit-reared Lawson went public with a caustic critique of their get-rich-and-quit relationship with California. It struck me at the time as very Benioff-esque.
Lawson has an equally ambitious partner in his wife, Erica, a practicing pediatric rheumatologist at the U.C.S.F. Hospital—named after, you guessed it, Benioff—who is CC'd on all the same emails, takes many of the meetings, and co-leads their political advocacy (which, trust me, is not always the case among alleged Silicon Valley "power couples"). "They're a real team, and I think they're just getting started," investor Ron Conway, who has played a big role in onboarding the Lawsons into politics, told me. "They're setting a standard for the next generation of successful founders and families in Silicon Valley on what it means to give back and get involved in your community and your country."
The Lawsons have long been on my and Democrats' radar—the couple had a private sit-down with Barack Obama a few years back when they started getting involved with his foundation, I'm told—but they only started to make their first concrete "moves" this year, none of which have previously been reported. First, they set out to interview for a team of donor-advisers, eventually tapping former Rock the Vote executive director Heather Smith, a prominent but intentionally low-profile political operative, and her business collaborator Nick Salter, to draw up a few plays. Hiring donor-advisers, in my experience, is usually an underappreciated signal that a contributor is about to level up in sophistication and scale. After all, why pay big salaries for hired help if you have small ambitions?
To wit, the couple are now launching and providing the initial funding for a new outside group, Democracy First, according to paperwork filed last week. The group's mandate is to elect what the Lawsons view as pro-democracy candidates, including high-profile Democrats like Stacey Abrams, who is running for governor in Georgia, but also less sexy roles like election clerks who certify results in battleground states. The group, which has a super PAC and a traditional PAC (it is a so-called Carey Committee, in campaign-finance parlance), is currently raising money for a slate of 19 candidates across eight states and plans to add state legislators, election clerks, and boards of election officials to its fundraising list soon. "Today, the losers of the 2020 election are systematically plotting to seize control over elections," reads the marketing materials for the group. "What do you call a failed coup? Practice."
I am told the Lawsons have committed between $2 million to $2.5 million to help stand up the group, which is being run by their team, though they have been passing the hat in donor circles to raise more dough—seeking some smaller checks, but also up to $1 million contributions from aligned big givers. The Lawsons, after all, are not strangers to this work, having spent more than $10 million combined in disclosed federal giving through 2021—money that was donated in part with the advice of popular donor-collaboratives like Mind the Gap.
But they lacked full-time representation from a dedicated advisor during the 2020 cycle, and they have found the fragmented world of political fundraising to be somewhat frustrating, I'm told. It was the failed voting-rights push of late last year and early this year, led in Silicon Valley by donors like Conway, that got the Lawsons to really engage. "When it became clear that the federal voting rights legislation was not going to pass, we started thinking about how we could do the work of protecting our democratic institutions at a more grassroots level," Erica told me. "Can we support wise leaders who will ensure the integrity of elections, and the rights of all citizens to vote? The goal of Democracy First is to accomplish just that, by supporting the leaders and organizations that will safeguard our democracy."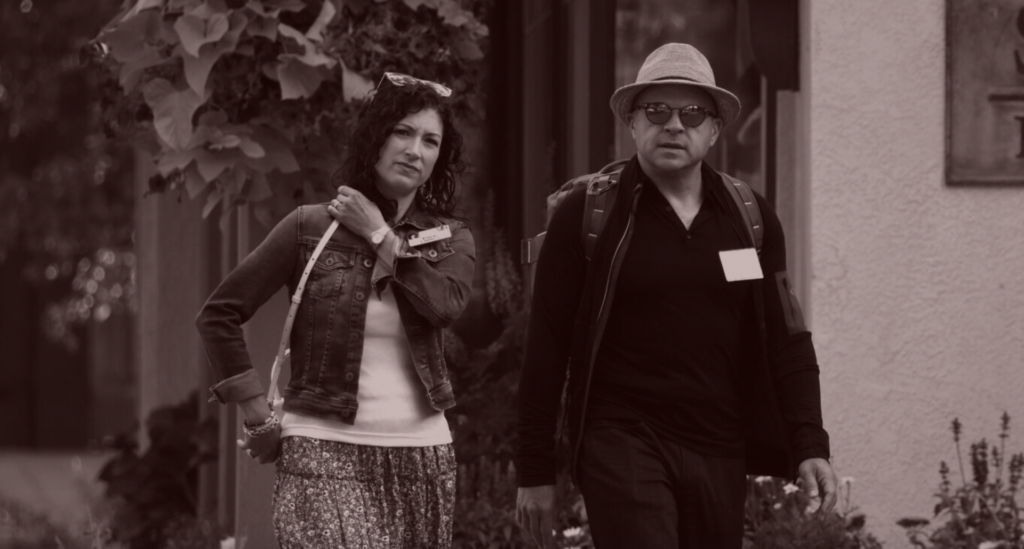 ---
The new effort from the Lawsons has been in stealth until I discovered it recently—I'm told that one idea was to announce it just after the Senate killed the filibuster reform that doomed the voting-rights bill, when donors and activists were angry, but that they didn't want to rush out an idea that wasn't fully baked. There is also the lingering concern that the save-democracy space has become awfully crowded in the year after January 6th. Democracy First struck some progressives I spoke to as another dime-a-dozen effort, given how trendy it is to fund election-administration work right now. Every Democratic fundraiser or operative, it seems, is pitching adjacent projects of different flavors, many with practically identical, platitudinous names. Some people I reached out to for this story thought they had already heard of Democracy First before it became clear, upon a few more texts or a few more minutes of stilted dialogue, they were thinking of another, slightly-different group or three.
The funding frenzy surrounding this work frequently leads back to Smith, who has been raising money for the last year for a broader effort meant to coordinate and funnel money to these efforts, according to confidential fundraising documents I obtained. The fundraising initiative is called "The Pro-Democracy Campaign" and is centered on raising a pooled fund of $62.5 million from mid-2021 to mid-2023 for a smorgasbord of 501c3s and 501c4s that would support "pro-democracy" groups and officeholders in eleven core battleground states, according to the documents, which were distributed to donors last summer. Smith's team of consultants interviewed 100 state leaders to come up with a portrait of gaps in these states' democratic infrastructure and came up with this plan. "This could be the most significant campaign in scale, scope and level of coordination around voting rights and democracy issues ever been attempted by our side in the states," according to the 20-page fundraising pitch. The campaign, guided by former Every Voice C.E.O. David Donnelly, has already distributed $8 million to about 26 different organizations, according to a separate grants update passed my way.
Smith has many fans in the voting-rights world, and she is very popular in New York fundraising circles. Not everyone in the space loves the idea, though, with some advisers and fundraisers telling me they see it as duplicative and siphoning donors away from existing groups. But then again, there are budding rivalries at play—many Democrats are trying to be the power center of this buzzy funding sphere. "You already have all these nodes," said one somewhat-competitive operative familiar with her pitch. "You're creating another node."
Big donors, though, tend to move in herds. And so how big of a budget the Lawsons are prepared to spend will influence the space. I know that other Democratic operatives have rapidly taken notice of the Lawsons' ascendance and are striving to get time with Jeff and Erica—one told me that our call was his fifth private conversation about them in the last two weeks. Others Democrats are now seeking to broker intros to the billionaire couple, if not outright expecting to reap the windfall when the Smith money starts raining down.
"The reality is that Jeff and I are far more interested in strengthening our democracy than engaging in politics. Our time and giving to date has been mostly focused on the integrity of our institutions and fair access to them," Erica wrote to me, explaining that both she and Jeff are the descendants of refugees. "We believe a fair, representative democracy is the necessary backbone for strong public education and an economy that works for everyone."
To be sure, the Lawsons can be more politically ambitious now than they could be in the pre-Trump era because they're much wealthier—Twilio's stock is up 6x since it went public in 2016. But how long will this last? That's the question already asked of me by several Democratic fundraisers and operatives over the last week. "They're so bright-eyed and hopeful," one wondered to me. "I don't know what their longevity is."
Then again, that is the question being asked of all Democratic donors these days: After years of tending to the daily emergency that was the Trump administration, some tech elites are exhausted and want to return to the good ol' days of betting on startups, hiring and firing executives, and testifying before Congress. There is apathy in Democratic high-dollar fundraising in the Bay Area—bundlers who say events don't get quite the same turnout that they used to; donors who say they want to tweet less. So against that backdrop, the Lawsons offer, in donorworld, something rare and cherished amid the doom and gloom that is Democratic politics right now—a feel-good story.