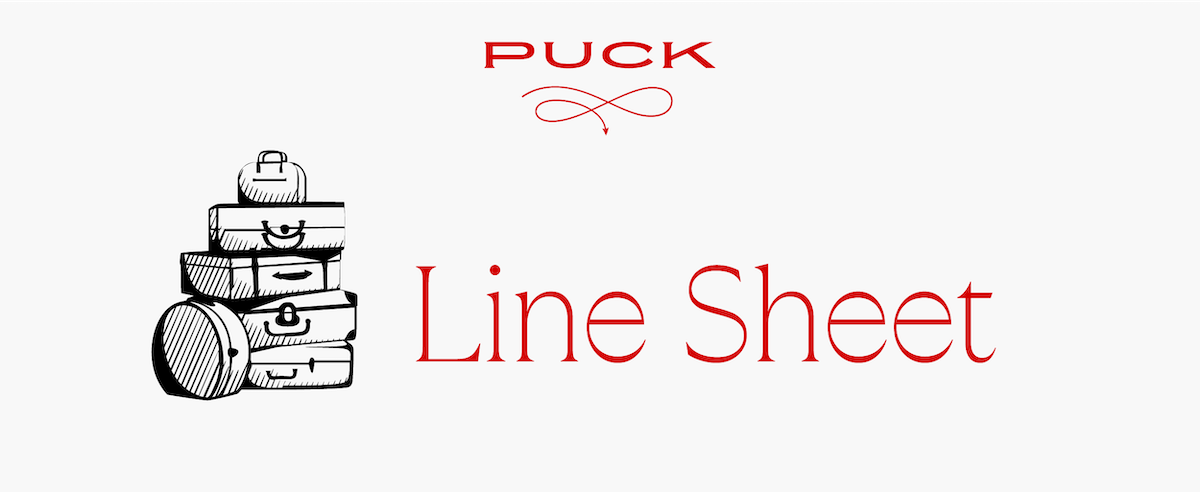 Hello, and welcome back to Line Sheet, my new private email at Puck—I'm so happy that you're here! Last week's inaugural issue was chock full, and I appreciate all the feedback. There's so much in the fashion industry that's left unsaid, and I'm here to say it. I'll be returning to those topics—from what's happening at Tom Ford to the ins and outs of celebrity styling—in the coming weeks and months, and want to keep hearing from you. Don't be shy!

Remember, this email is free for a few more weeks and then you'll need to subscribe to Puck in order to continue reading. Don't procrastinate and sign up now—Puck is the sort of brand our industry has been waiting for. It's smart, informative, inside the game, and dishy. You'll learn a lot about your world and other interlocking ones, like media and Hollywood.

And if you want to hear me talk more about myself (sheesh) and more importantly, the fashion industry, take a listen to last week's episode of BLAMO!, where host Jeremy Kirkland and I talk Ralph Lauren and Giorgio Armani succession scenarios, among other things. It was very fun—thanks to Jeremy for the invite.

In this week's issue, I'm offering my consulting services to Penske Media regarding who should be the next editor in chief of WWD; reporting on the inside conversation about designer musical chairs; juxtaposing a $20 million brand and a $20 billion brand; and picking apart the peculiarities of the current fashion M&A market.

Mentioned in this email: Jay Penske, James Fallon, Miles Socha, Nicole Phelps, Erik Maza, Samantha Conti, Booth Moore, Alessandro Michele, Reed Krakoff, Marc Jacobs, Martin Margiela, Miuccia Prada, Pharrell, Emily Oberg, Andrea Lieberman, Gary Wassner, Mads Hegelund, Kirsty Godso, James Goldstein, Matt Powell, Siddhartha Shukla, Bruno Sialelli, Leandra Medine Cohen, Bryanboy, Dana Thomas, and many more…
Who Wants to be Editor in Chief of WWD?
This past week, I heard from multiple people that Women's Wear Daily is in search of an editor in chief and on Monday morning, a spokesperson for Penske Media, the trade's owner, confirmed as much. What else I heard: Penske Media owner and architect Jay Penske is pressuring WWD's editorial director, James Fallon, to bring in someone who could serve not only as a public face for the 113-year-old fashion trade, but also his potential successor, these sources told me. (Fallon, who's been with the company for more than 40 years, oversees all of Fairchild Media, or all of Penske's fashion-related publications including WWD, Footwear News, Sourcing Journal and its live, lucrative events business.) The role will report directly to Fallon.

So who is right for the E.I.C. job, and who among that teeny-tiny talent pool would even want it? I should stop here to disclose that my previous employer is The Business of Fashion, WWD's main competitor, and that I have shares in BoF, so its success is important to me. But my honest opinion of the two businesses is that, at this point, they serve different purposes—one is a font of essential news, and the other analysis. The other players—Vogue Business, and to a lesser extent Glossy—remain minor threats amid the landscape.

However, WWD has lost market share to all of these organizations. Fashion brands still like the trade because it's a good venue to pump out news without risking a reporter flicking at some of the murkier subterranean details. But it's also no longer essential to their own work. In Europe, that's a little different because of star reporters like Miles Socha (Paris) and Samantha Conti (London), who still excel at breaking news. And on the West Coast, veteran journalist Booth Moore has great relationships with designers after her years at the LA Times.

Overall, it needs a jolt, with a new editorial leader who has the relationships and a gut for what people want to read, and how they want to read it in 2023. Alas, there aren't that many super-talented people with the right mix of skills who would actually want to work at WWD—now an old brand where they aren't incentivized in the upside and won't make the sort of money their predecessors enjoyed.

The last editor in chief that WWD employed was Socha, who moved from Paris to New York for a couple of years to run the whole thing, only to move back and oversee international markets, where he excels. Moore has the contacts and the industry respect, but she's based in Los Angeles and is more of a reporter than an editor. My personal pick would be Nicole Phelps, who was the executive editor of Style.com (where I contributed) and now oversees both Vogue Runway and Vogue Business, which has improved under her watch. She's tough, her employees like her, and she is very well respected within the industry. Erik Maza, a former WWD staffer and current executive style director at Town & Country, is ambitious and might also have the right profile.

These picks are mine and mine alone, and I have no insight into whether or not they've been approached. If you want the job, I suggest emailing Jay!
Designer Dominoes: Is Alessandro Michele Going to Bulgari?
Could Alessandro Michele, the former creative director of Gucci and current free agent, be headed to Bulgari, the LVMH-owned Italian jeweler? This speculation has been circling for a while, and has come up a lot in the past week. As expected, representatives for Bulgari and LVMH had nothing to say on the matter. At this point, it's nothing more than industry chatter, but I do think it's a super-compelling potential match.

Hard luxury (watches, jewelry, etcetera) is an extremely reliable, profitable business. Sure, watches have been challenged by the rise of smartphones and the Apple Watch, but the sector is incredibly resilient at the high end. And yet, the leading fine jewelry brands—Cartier, Tiffany, Bulgari, Van Cleef & Arpels, and so on—have done little to expand outside of their core competency beyond some accessories, home goods, fragrance and hospitality. And none of them have had a big, starry fashion designer leading the creative direction. Tiffany got close with Reed Krakoff, who was appropriately credited with catapulting Coach into the accessible-luxury stratosphere of the late 1990s and 2000s. But none of these brands have catalyzed their reliable formula with a talent on the level of Michele.

Bulgari, which LVMH acquired in 2011 for $5.2 billion, is already more ambitious than its peer set. The brand has done a lot more than its competitors at scale: there are Bulgari hotels, Bulgari fragrances, Bulgari beauty and Bulgari handbags (that already possess a decent amount of fashion credibility). But unlike luggage and leather goods brands—including Prada, Louis Vuitton, Gucci and Hermès, which each became known for their star designers in the 1990s—runway shows are not currently part of the fine-jewelry formula.

It's a big leap to make, but someone with the talent of Michele, combined with the operational expertise of LVMH, could totally change the landscape for this cluster. (Think of what Marc Jacobs did at Vuitton, Martin Margiela at Hermès, Miuccia Prada at her family business, and of course our buddy Tom Ford at Gucci.) Most of the fine jewelry made and sold around the world remains unbranded, so the major names are even more powerful than in other categories.
Louis Vuitton vs. Sporty & Rich: A Case Study in Scale
Fashion is a smoke-and-mirrors business, to be sure. There are so many popular brands that do less than $10 million a year in sales, and then a few that make unfathomable money—$5 billion, $10 billion, $15 billion per year. And, of course, higher revenue does not necessarily equal fatter margins or more EBITDA. You can be small and efficient, or big and a mess, or vice versa. That's part of the fun.

I was thinking about this because two brands on the opposite ends of the spectrum, the nine-year-old Sporty & Rich and 169-year-old Louis Vuitton, are in the midst of staging events in Los Angeles that offer a peek at both sides of the coin.

Let's start with Louis Vuitton. LVMH, the world's biggest luxury conglomerate, wisely does not break out revenue for individual brands, but it was happy to share with investors that the Louis Vuitton brand made $20 billion in 2022, earning it the title of the largest luxury brand in the world.

Because its numbers aren't regularly published, the popularity of Louis Vuitton can ebb and flow—to an extent. However, there is tremendous pressure to make the brand feel as big and important as it is, both to the masses who buy trinkets and to its top-end customers who buy trunks. One way to do that is to stage an experience, as LV did last Tuesday, when press and influencers were shuttled from its chrome-sided Rodeo Drive store to a modernist Bel Air mansion that boasted clear-line views of the homes of The Weeknd and Jennifer Aniston. Inside, every marble-floored level was filled with Louis Vuitton products, from custom gowns worn on the red carpet by Jennifer Connelly and Cynthia Erivo to a Murakami doll's house constructed inside an LV trunk.

The point of the day was to drum up excitement, to create such enchantment that influencers would eagerly post images of themselves amongst the tower of product, or against the jumbo-sized monogram symbol plopped on the corner of the roof, or on the perfectly-manicured, perfectly-green grass, where whimsical, LV-branded wooden lawn games were strewn about.

And this was just for one day. For the rest of the month, LV is hosting top-spending clients (Very Important Customers, or V.I.C.s, as they're called) at private events and one-on-one appointments, where they can do things like custom-design trunks. A brand like LV caters to top spenders who can invest six, or sometimes seven, figures every year into a brand, and so it makes sense that they would want to give them a rarified shopping opportunity. But that first day of appointments was equally important because it disseminated the idea, via the glories of influencer Insta, to the millions of people who buy a tiny little piece of Louis Vuitton every day.

Of course, this got me thinking about the appointment of Pharrell as the brand's new creative director of menswear, which was met with a lot of hemming and hawing in the fashion industry. But a business this big needs more than a talented designer to carry it: it needs a cultural force. I don't know if we'll ever really know whether the Pharrell appointment is working. LV is greater than the sum of its parts. But the decision is sensible, and could end up being a smash hit. We'll find out in June what else he's bringing to the table.

Juxtapose this sort of decadence with the more life-sized success of Sporty & Rich, founded by Emily Oberg, a talented art director type who first made her name at Complex and was embedded in the New York streetwear world both as a designer and influencer. Sporty & Rich started as highly stylized merch, inspired by the late '80s, early '90s country club look (think Princess Diana in a sweatshirt and bike shorts) and has since evolved into a fully-fledged clothing line in the spirit of Polo Ralph Lauren. It's copied incessantly, with retailers from Target to Forever21 caught knocking it off. Sort of funny, given that Oberg's whole thing is tweaking old, already-established logos.

Oberg, who now splits her time between Los Angeles and Paris, where most of her team is based, has ramped up her retail presence in the past few years (she sells to Ssense and Net-a-Porter) while dropping new mini collections through her own site every couple of months. Last year, the company generated in the vicinity of $20 million and expects to hit close to $30 million in 2023, a feat for a self-funded brand, with lots of growth potential.

Not only is the product, from cable-knit cashmere sweaters to pique polos, super-appealing, but she manages to get the experiential thing right as well. This coming Saturday, I plan on abandoning my small child and team-player husband to visit the Mulholland Tennis Club, one of these mid-century piles that has never really been renovated and has a faded glory that appeals to a new generation, to hit some balls courtesy of Sporty & Rich.

Oberg has invited influencers, along with a few writers and editors, to take tennis lessons with an Instagram-popular instructor (the shaggy haired Mads Hegelund, aka @jaxmads), work out with fitness influencer Kirsty Godso (famous for her Nike videos), and partake in a treatment that had something to do with ears and acupuncture. (Unapologetically into wellness culture, Oberg recently documented her visit to Lanserhof, a chain of resort spas that Town & Country described in 2017 as "where billionaires go to detox," on social media.)

The scale of the Sporty & Rich event will of course be smaller than what I saw firsthand at Louis Vuitton last week, but the approach is effective in getting the word out and making the brand look damn good. At least it was last year, when Oberg hosted something similar at the estate of James Goldstein, the super-tan, 83-year-old cowboy you see front row at Lakers games and at Moschino runway shows, alike.

The point is that you don't have to be a huge brand to effectively market. What's important is that you are setting the right scene. By taking over the Mulholland Tennis Club, Oberg is showing that she knows her audience as well as Louis Vuitton does up on that hill in Bel Air.

And now for the main event…
When the broader M&A market cools, consumer goods (especially non-essential consumer goods, like fashion) are the first to feel the effects. After the initial torture of the first round of lockdowns, many brands got a big boost from consumers sitting at home with nothing to do but renovate their bathrooms and buy sweatpants. The stimulus checks helped further, and many started spending their extra money on sequined Zoom tops and satin platforms for weddings that were delayed at least three times. This boosted sales at fashion brands across the board, and in 2021 many were up 30, 40 percent from the Before Times—an incredible boon for the industry.

There were a ton of brands on the market by 2022 (like Ganni and Khaite), and a ton of others that were of interest to acquirers (like Jacquemus and Ulla Johnson) even if they weren't interested in selling. But then the deal heat ended. Private equity firms and V.C.s, which operate off of debt and leverage, wisely predicted that the Federal Reserve would raise interest rates, making borrowing more expensive, forcing them to pull back. When regulators in Washington followed through on their predictions, the broader capital markets quieted. This impacted every sector, but certainly fashion, too.
The ramifications are evident across the industry. Last week, I talked to a couple of trusted M&A sources, and one was quick to point to a cluster of labels that went on the market and have yet to close a deal: Ganni, Proenza Schouler, A.L.C. and Isabel Marant, the latter of which actually withdrew from the market after not getting what it wanted.

Isabel Marant is (almost) inarguably the strongest of the bunch, with around $300 million a year in sales, decades of success under its belt, and a global footprint in a fashion category that's really hot right now: clothes that still feels like designer—original, with a point of view, etcetera—but less expensive than what the luxury brands charge. (Other brands that fall into this category include Lemaire, Jacquemus, and Tory Burch.)

Stakeholders in Marant want to sell to a strategic group that can help it reach $1 billion in sales, and those groups are few and far between. So they're waiting it out. Some insiders think that Proenza Schouler, which is currently backed by alternative asset investor Mudrick Capital, and was in the middle of a turnaround when it went out to market, should have waited a year or two before hitting the block. A.L.C., founded by the former celebrity stylist Andrea Lieberman, is a reliable business with a solid following, but it seems to have not yet found the right investment partner for its next phase (crossing the $100 million in sales threshold). The lack of a market for Ganni, which has hit it big with its Scandinavian take on modern trends, is a little more surprising—a deal was expected at the end of last year. Its current partner, the LVMH-linked private equity juggernaut L Catterton, was looking to sell it at a valuation of $700 million. (I reached out to the Ganni team regarding their current status, but have yet to hear back.)

Even more interesting, though, is what has managed to attract funding over the past year. There's Khaite, the American luxury label that sold a minority stake to investment firm Stripes Group. Then there's A.P.C., the French essentials brand that sold a controlling interest to L Catterton in March after nearly 40 years of independence. On the face of it, these two brands have very little in common. One is a traditional American "designer" brand for the rich in-crowd. Another is elevated European basics that prides itself on being anti-establishment within the establishment. But what they all do is sell clothes that people want to buy again and again, season after season. It's no coincidence that jeans are at the core of both Khaite and A.P.C.'s business.

I called up Gary Wassner, who runs Hildun, a firm that finances the production of clothing for small and mid-sized brands, to ask him about what's going on. I like talking to him because he knows what's happening with both the brands and the retailers. (He's also an investor, including in A.L.C., although he wouldn't discuss that with me.) Wassner argued that fashion is actually a pretty stable business—at least when you're not in the business of trends, and he offered that most investors were just too worried about the ups and downs of it. Maybe that is key to why these labels, based on something more practical and straightforward, not a whim, won this round.
Finally: What I'm Reading (and Listening To)…
This was an astute take on the polarization of cool, surfaced by the New Yorker writer Kyle Chayka. A good read for brand marketers and those who have dreamt of living in the Barbican, alike. [New Statesman]

Saint Laurent is launching a film production company. I think? Makes sense, given how much time creative director Anthony Vaccarello spends in L.A. [Style Not Com]

Content meets commerce, again! My friend, the journalist Molly Creeden, tipped me off to the crazy amount of retail crossover happening with Daisy Jones and the Six, her new favorite show, on Amazon.com. (Including collabs with Levi's and Free People.) I'll try to figure out if it's working for a future issue, but until then, check this out and let me know what you think. [Amazon]

Matt Powell is the foremost analyst covering the sneaker market, and his remarks on the launch of WNBA star Sabrina Ionescu's own Nike shoe, which will technically be unisex, are thought-provoking. Unisex products are supposed to be so-called inclusive, but what if they don't work well? [Linkedin]

The last word on quiet luxury? Probably not. But Leandra Medine Cohen has some worthy thoughts—with an assist from Bryan Boy. [The Cereal Aisle]

Speaking of O.G. fashion "influencers"—I am done with that word, just as "blogger" started to feel irrelevant at one point. I guess some parts of the market have moved onto the term "creator," although I'm not sure that's correct, either. Regardless, if you didn't read Mattie Kahn's profile of the wellness influencer who is now shilling the art of leaving influencing, you must. [NY Times]

Dana Thomas is the author of many important books, including Deluxe: How Luxury Lost Its Luster. She currently hosts a podcast covering social responsibility and the environment. I recommend this recent episode, where she spoke with two Ukrainian fashion designers—one a refugee, one living in Kyiv—a year into the war. [The Green Dream]

Denim sellers like Levi's and Gap are allegedly squeezing their suppliers to the point of "negative margins," according to this report from Jasmin Malik Chua. Bad times for just about everyone stuck on the traditional supply chain! [Sourcing Journal]

Bruno Sialelli is out at Lanvin, and for now the company plans to change up its design model, working with a revolving roster of collaborators rather than attempting to hire one designer. It's one way to mitigate the risk of hiring an expensive star who may or may not succeed. My assumption is that the strategy is laid out like this: the guest designers will add flair, while the brand shepherds, led by deputy general manager Siddhartha Shukla, will maintain and build on the underlying strategy, moving beyond designer sneakers and fancy dresses into elegant essentials, which, as writer Miles Socha mentioned, are a key part of the brand's history. A stylist friend recently declared Lanvin her "favorite brand," so let's see if they can accelerate the momentum. [WWD]

Air, which I went to see at a Caruso property on Saturday night, is about marketing—but it also is marketing. If you can get past the fact that it's basically a business school case study come to life, you're going to love it—no M.B.A. required, I swear. I also recommend this episode of The Big Picture, where hosts Amanda Dobbins and Sean Fennessey interrogate their feelings about film as capitalist propaganda. [The Big Picture]

I'd argue that Gwyneth's legendary trial performance sort of takes the wind out of this Goop cruise takedown, only saved by Lauren Oyler's cutting, cruel style. [Harper's]

Mall brand Express has purchased Bonobos from Walmart for a song, with an assist from licensing partner WHP Global. Unfortunately for every 40-year-old straight guy I know, I doubt this means the resurrection of the once-beloved Structure, which at some point in the 2000s was tragically rebranded as Express for Men while the company was still owned by The Limited. (Sears bought the Structure I.P. in 2003.) [Reuters]

LVMH has the largest market cap of any company in France, so it's no surprise that railway workers stormed the offices to protest prime minister Emmanuel Macron's plans to raise the retirement age to 64 from 62. "You're looking for money to finance pensions? Take it from the pockets of billionaires," one guy said. [The Guardian]
Talk to you next week,
Lauren
FOUR STORIES WE'RE TALKING ABOUT
Plepler's Prophecy
News and notes from private equity, Zazworld, and media.
WILLIAM D. COHAN

Need help? Review our FAQs page or contact us for assistance. For brand partnerships, email ads@puck.news.
Puck is published by Heat Media LLC. 227 W 17th St New York, NY 10011.