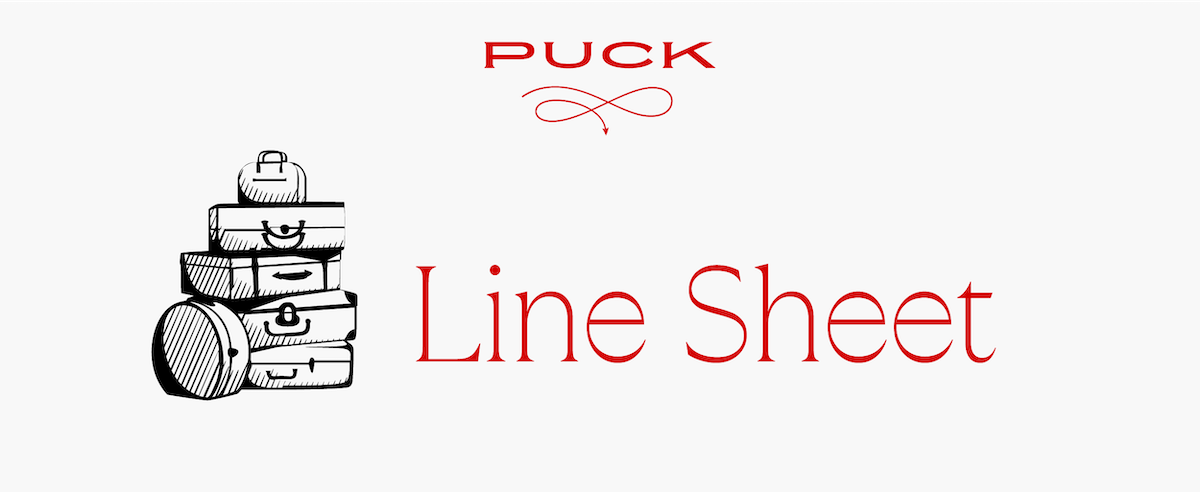 Hello, and welcome back to Line Sheet, the best thing to happen to fashion since Style.com. I kid, I kid—I'm not that deranged. Seriously, though, I'm having so much fun writing this, and if you're having fun reading, please make sure to sign up this week, because starting May 15, you will need to subscribe to Puck in order to read my work.
A big reason I wanted to join Puck, other than the fact that it's the most satisfying thing to read out there—and I read a lot—was that the goal of the business is to make money off of good journalism, not empty clicks or dead-end content-to-commerce plays. I know a lot of you also believe that—thank you for signing up already!—and for those who need just a little bit more convincing, use my code LINESHEET for a still-generous discount.
I've returned to Los Angeles after a whirlwind two weeks in New York, where I had numerous illuminating conversations and got to say hello to many of you. Thanks to everyone who stopped by the Puck offices for drinks last week—as one friend said, "It was like 2010 Fashion Twitter came to life." I felt very appreciated.
I personally think that the work my colleagues are generating here is worth five times what we're charging, so opt in now while it's still a steal. Some of my recent favorites include Dylan Byers' clear-eyed view of the Buzzfeed News blow up, Matt Belloni's essential reporting on the WGA writers' strike and Bill Cohan's singular take on the future of Lazard. (A bank of particular interest to me, given its deep-seated connections to fashion and luxury.) Now back to my particular flavor of bullshit…
Mentioned in this email: Olivia Rodrigo, Emily Weiss, Stefano Tonchi, the Qataris, Tommy Hilfiger, Nelson Peltz, new Alessandro Michele rumors, the Twitter "Menswear Guy," and many more…
I know you're all dying to read about the latest Alessandro rumors, but here are a few other thought starters in the meantime…
Olivia Rodrigo's Glossier-YSL Beauté Swap
It always feels a bit scandalous when a celebrity conspicuously switches brand sponsorships—if it's to a fancier label, the feeling is mostly, "Good on them!" If it's to a junkier label, the judgment leans more towards, "Get that money!" Olivia Rodrigo's recent leap to YSL Beauté, owned by L'Oreal, conjures more complicated, Reddit-thread-worthy feelings. When Rodrigo signed on last year as Glossier's first-ever celebrity spokesperson, the move was heralded as the digital-first beauty label's foray into the mainstream, after nearly a decade of eschewing traditional beauty marketing and distribution.

By the time Glossier announced its partnership with Rodrigo, it was in a precarious position: The company had refused to sell a few years previously, when it probably should have (the story of our lives!); it had waited too long to jump into multi-brand retail (still very important to scaling beauty brands); and, most importantly, the company failed to connect with Gen Z after Millennials moved on. (My friend and former colleague Rachel Strugatz is the first word on Glossier, and you should get the full backstory from her.)

In short, Glossier is going to be fine, but it was a bumpy ride. It's in a much, much better position now—sales are up, the brand feels refreshed and is now sold in Sephora, which nearly guarantees success. So why would Rodrigo jump ship now? Well, a few things. Sometimes celebrities, especially if they have savvy representation, are able to negotiate working for multiple brands in the same category at once—think about Selena Gomez's Louis Vuitton-Coach overlap. In this case, Rodrigo's contract with Glossier was ultra-short—just one year, I hear. Plus, while YSL is an endorsement, Glossier was a collaboration, which often requires different levels of commitment.

My sense is that YSL Beauté needs Rodrigo more than Glossier does. While Glossier and founder/former-C.E.O. Emily Weiss made a lot of mistakes over the past few years, it's also the most-talked about beauty brand of the decade. Glossier doesn't need to be fronted by a celebrity. The brand, itself, is the star.
Everyone in fashion circles is talking about the implications of Ozempic: What are the long-term side effects, especially for those taking it who don't need it? What's going to happen to the already-not-great economics of restaurants if people are only eating one meal a day? (And worse, drinking less alcohol, the primary margin-driver of that industry.) And will Ozempic render the industry's ugly obsession with thinness—its dirty non-secret, even in a supposed era of body positivity—obsolete as a status symbol?

Yet on a purely capitalist note, it seems like this class of weight-loss drugs may turn out to be a financial boon not only for the pharmaceutical companies selling them, but to apparel brands—at least for a minute. "Can I tell you what Ozempic has done for my business?" one of my favorite fashion C.E.O.s enthusiastically shared at lunch last week. He said he could name at least five top clients who were buying entirely new wardrobes after dropping four dress sizes. For designer brands, that could be $2,000-$10,000 a look. Five looks, add some accessories—sometimes you go down a shoe size when you lose weight!—and that's an extra $50,000 in sales for the season, per person. And I'm being conservative with these estimates.

I can see this being beneficial for small to mid-sized brands with extremely loyal clients—and that mostly deal in clothes, not handbags. Right now, consumers are backing away from logos and other strong signifiers of luxury, and buying things they need. Do you need a $4,500 handbag? Probably not. Do you need a new wardrobe if you lose 40 pounds? Probably yes—and many of the retailers are already running spring promotions (not a great sign), so you can even get it at a 20 percent discount.

At this point, it feels impossible to predict the size of an Ozempic bump. Will this be the only season? Will it be even bigger next season? What happens when these clients go into the "maintenance" phase? The possibilities are endless.

P.S., you all look GREAT.

And now… Alessandro…
For months, fashion insiders have been endlessly entertained by speculation surrounding where Alessandro Michele, the wildly successful Gucci designer who recently split over creative differences, will go next. Some of the more educated guesses are unlikely yet compelling (Bulgari), while others are flat-out silly (Chanel). But there's one with sticking power.

A few weeks back, I referenced an Italian report that Mayhoola for Investments—the Qatari royal family's answer to LVMH, which owns Valentino and Balmain—was rumored to be buying the long-dormant brand Walter Albini expressly for Michele to relaunch the business. Unexpectedly, when I was in New York, someone who frequently deals with the Qataris confirmed the purchase—although I'm told the actual buyer is Bidayat, Mayhoola C.E.O. Rachid Mohamed Rachid's early-stage investment fund, owned by his Swiss-based family office, Alsara Investment Group. (The two organizations work hand-in-hand—one is focused on developing brands with $1 billion a year in sales or more, the other is looking at tiny businesses with potential.)

As for whether Michele will actually join in on the fun, that's less certain. In some ways, the marriage couldn't make more sense. Albini may not be very well known in America, but the designer himself was hugely influential on fashion in the 1960s and '70s, not only through his work—which inspired Michele's fantastical voyage at Gucci decades later—but also through the way he conducted business.
Yves Saint Laurent gets all the credit for creating the concept of ready-to-wear—off-the-rack designs inspired by long-established couture—with his Rive Gauche line, but there were others doing similar things in the U.S. and across Europe. Albini believed that a pronto moda designer could be as famous as a couturier, and he marketed himself as such: He was supposedly the first designer to play music during a fashion show rather than having an emcee narrate each look, and one of the first to show in commercial Milan instead of Florence, once the center of Italian fashion.

"He believed in an industrial product; he was not the kind of artisan that you had before," longtime magazine editor Stefano Tonchi, who published a book about Albini with Marsilio in 2010, told me, explaining that he was "a step before" Giorgio Armani, Gianni Versace and Gianfranco Ferré, the triumvirate of Italian fashion that came to prominence in the 1980s.

Albini is also often credited with the concept of a total head-to-toe look, from shoes to handbags and accessories, and often dressed men and women in similar clothing. He also frequently mined the past for inspiration: shopping for (and wearing) vintage clothing first became a real thing in the early 1970s, and he was greatly inspired by the 1920s and 1930s—and, in particular, Chanel.

The idea that each individual part of an ensemble must be exceptional in order for it to pop off is basically what made Michele so successful at Gucci. Michele sensationalized every little piece, down to the teeny embroidered bumblebee on a white sneaker, taking the brand from €4.4 billion a year in sales in 2016 to €10.5 billion in 2022.

Seeing those numbers, I know it's hard to understand why Kering, the LVMH rival that owns Gucci, would let go of Michele. But it did make practical sense on both sides. I have a pretty good Tweet thread about this if you want more, but the main thing is that while Michele is a fabulous designer who knows how to spark desire, his appeal is limited. Gucci wants to compete against Chanel, Louis Vuitton, and Hermès—and, to a lesser extent, Dior—not only in terms of annual revenue but also mass appeal. Those four brands each sell something that appeals to most people; Gucci is more polarizing. In order to reach that echelon, Gucci must be seen as a mainstay, a go-to, a standard. Michele is not the right designer for that phase.

Anyway, it was pretty clear that Michele was super burnt out and done with Gucci. At a press conference after his Spring/Summer 2023 show in September 2022, he said that "clothes are not enough," and "what I did the past few years is open the door," and "working is become more and more intense for me… it's much more complex now doing this job," and "this is very intense, you're not just working on shoes and bags and outfits." He was incredibly reflective, and I left thinking that there was no way he'd be around for another collection.
With Bidayat, and especially a brand like Albini, Michele would have freedom to create and develop. Mayhoola's management of both Balmain and Valentino has shown that they're willing to take their time with things, despite how much more difficult it is to build brands—from contracting the right factories to landing the right retail leases—as LVMH and, to a lesser extent, Kering, have taken over the industry through vertical integration. There's certainly pressure to grow, but not for the sake of growth. Instead, the focus at Valentino, for instance, is on increasing full-price sales as well as direct retail sales.

Mayhoola and Bidayat, and the Qataris more broadly, are important to watch because they have invested so much in fashion. (I heard recently that someone in the family even has a small stake in Alo, the Los Angeles-based activewear label that's blown up in recent years.) Of course, there are potential ethical issues with brands taking money from a government that has a long history of human rights violations, but fashion is so corrupt that the only way to stay pure is not to partake in it.

The one sticking point for me on this potential partnership is that Michele taking over Albini is just too on-the-nose, given how often he has cited the late designer, who died in the early 1980s, reportedly of AIDS, as inspiration. (I still think a Bulgari appointment would be the most exciting outcome.) That, and Bidayat's budgets are certainly nothing like Gucci's, where Michele worked for 20 years. But perhaps some guardrails would actually force him to dream bigger.
My former colleague Malique Morris, who covers D.T.C. and e-commerce, recently published a solid piece about how venture-backed startups are trying to actually be profitable rather than scaling at any cost. I'm skeptical: I've heard this song and dance before when money was tight. But the ones who manage to pull it off will undoubtedly be better positioned in the long run. [BoF]

The only commentary on the coronation I'll ever need. [Style Not Com]

Actually, I did enjoy the Menswear Guy's analysis of the differences between William's bespoke (made-to-measure) pieces and Harry's off-the-rack, if tailored, wares. Glad I didn't mute him. [Twitter]

Apparently billionaire activist investor Nelson Peltz's next target may be the struggling, family-controlled Estée Lauder Cos., according to this Josh Kosman report. There's also some interesting stuff in here about LVMH wanting to buy ELC (currently valued at more than $70 billion) because Bernard Arnault "hates L'Oreal." Sure? A better reason would be to increase its share of the prestige beauty and fragrance category and to further penetrate the U.S. market, an area of focus for the group. [NY Post]

I'm utterly sick of dissecting how so-called rich people dress (just give me a couple of days to clear my head and I'll get back to it). However, I will read anything that manages to work Arts & Science and Tiina Laakkonen into the narrative, especially if it's written by fellow Casey Casey-devotee Rachel Tashjian. [The Washington Post]

Pretty sure that the only way I'd ever feel bad about selling out would be if I knowingly bought a fake handbag. (My last fake was a Kate Spade in 11th grade, bought on eBay...) This Amy X. Wang piece on the state of counterfeits is an essential update to the work done more than a decade ago by authors Dana Thomas and Hitha Prabhakar, as well as Sangeeta Singh-Kurtz last year in the The Cut and Cathaleen Chen in BoF. I am slightly ashamed to say I scored 3 out of 5 on the "can you spot the fake" quiz. [NYT Mag]

Speaking of quizzes, this "How Well Do You Know Karl Lagerfeld" one is hard. Enjoy! [NYT]

Watching LVMH's Pucci experiment closely. [Vogue]

When it comes to the High Sport stretchy-pants phenomenon, who was "Patient Zero," i.e., the first influential person to wear them? I have it on good authority that it was Leandra Medine (in the violet color) via Max Stein, Medine's manager and her and designer Alissa Zachary's mutual best friend. (Max has also done some work for Puck, it's a really small world.) But consultant-for-the-brand Nicole Cari and stylist-editor Becky Malinsky also influenced my decision to buy them. Anyway, I love that Rory Satran posed that question in her piece about why they are so good. [WSJ]

There was so much fashion news last week that I forgot to link to a story on the squeeze bottle drama, which you must know about immediately if you don't already. Don't want to be too nepo-y and link to my husband again (although he makes some good points and also has an interesting feature about a credit card for the wellness industry), so read Liz Segran's breakdown of what happened when one startup olive oil brand accused another of "stealing" their idea to use restaurant-style squeeze bottles. The lesson: Don't be petty. [Fast Company]

The fashion-fication of Art Basel/Frieze, Salone del Mobile, and now Formula 1—how luxury brands are taking over these enthusiast events with "activations" at record speed—is a new fascination of mine. Of course a culture-vulture like Tommy Hilfiger has been interested in F1 forever. This is really the only good piece on the topic that I could find, pegged to the 2023 Miami Grand Prix. [GQ]
Until next week,
Lauren
FOUR STORIES WE'RE TALKING ABOUT

Need help? Review our FAQs
page or contact
us for assistance. For brand partnerships, email ads@puck.news.
Puck is published by Heat Media LLC. 227 W 17th St New York, NY 10011.