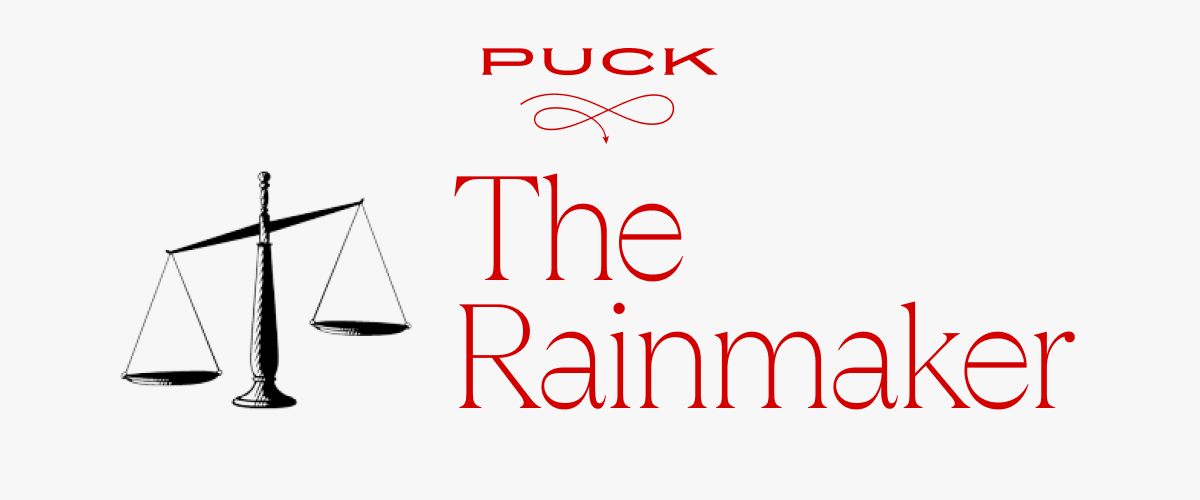 Happy Monday, I'm Eriq Gardner.
Welcome to a special anniversary edition of The Rainmaker! Thanks to all of the subscribers who have joined this community over the past year. As part of a journalist-owned startup, I depend on readers like you to help get the word out. (Here's a link to subscribe if this email was forwarded to you.) We also offer group rates for law firms and other organizations—just email fritz@puck.news to inquire.
This week, I spoke to David Boies about his crusade to hold celebrities like Tom Brady legally accountable for luring consumers to FTX and other bankrupt crypto platforms. His next target is Mark Cuban, who Boies will depose on Thursday. Also in this week's email: James Dolan, Yashar Ali, Vince McMahon, Everyone vs. Google, and a wild end to that OMG dolls trial featuring rapper Clifford "T.I." Harris.
But first…
Remember when Alan Dershowitz came to a surprise settlement with Virginia Giuffre, the alleged Epstein victim who said she may have made a mistake when she accused Dershowitz of sexual abuse? Well, the drama isn't quite over for the former Harvard Law professor. Two of the law firms that represented Dershowitz—Todd & Weld and Aidala, Bertuna & Kamins—say they're owed nearly $1.6 million. Just before the new year, Dershowitz assigned rights to his insurance policies to the firms, which are now suing his insurers in Massachusetts state court for the money. Incredibly, Dersh's legal tab doesn't include money due to Harvard, which apparently wants at least $50,000 for its work combing through old Epstein-related emails on school servers.
Media influencer Yashar Ali appears to be headed for a loss in his lawsuit against Los Angeles magazine over its buzzy profile of him. A L.A. Superior Court judge, via a tentative order, is leaning towards throwing out Ali's defamation claim because he doesn't see anything that's false (or at least knowingly false) in the story. Ali could move forward with a contract claim over an allegedly broken promise to keep his comments about Kathy Griffin off the record, although only nominal damages would be available there. The judge has yet to finalize the order following a hearing last Tuesday.
While a new artist-driven class action against Stability AI, Midjourney, and DeviantArt got headlines this month, the first lawsuits over "generative artificial intelligence" were filed in November by attorney Joseph Saveri, targeting CoPilot, an A.I.-based product that assists software coders. Saveri's anonymous clients say they contributed work to GitHub under an open source license that required attribution, which CoPilot hasn't given them. It's a complex case, but I just wanted to note that on Thursday, GitHub and Microsoft filed a motion to dismiss—a significant milestone in the ongoing copyright controversy over A.I. and a tease of what's to come. Enjoy!
"If you made this into a movie, people wouldn't believe it," David Boies told me last week, marveling at the collapse of FTX and Sam Bankman-Fried before stepping onto his 184-foot sailboat en route to St. Barths. "It'd be interesting even if you took three zeroes off of what happened." Boies, the ubiquitous lawyer who has represented Elizabeth Holmes, Al Gore, Harvey Weinstein, and the victims of Jeffrey Epstein, should know. He has, after all, executive produced 15 movies. (He was also engaged by the current WaPo C.E.O. Fred Ryan in a messy bygone D.C. media exit that ended up going nowhere, as my partner Dylan Byers recently reported.) The S.B.F. saga, he told me, is one of the most fascinating cases of his career.

Boies, now 81, was in need of a brief vacation. His caseload includes hounding Google on privacy and antitrust fronts, representing an Italian luxury heiress in a deliciously juicy fight that's causing a mess in the financial community (more on that later), and, perhaps most surprising, leading a set of extraordinary lawsuits targeting the cryptocurrency industry.

It's no simple task to recover money from a company or executive in the full throes of bankruptcy. Wall Street traders are increasingly optimistic that some money can be salvaged from FTX after C.E.O. John J. Ray III, the attorney overseeing the bankruptcy, floated the possibility of restarting the crypto exchange. But these salvage efforts can take years—just ask Irving Picard, who continues to hunt for Bernie Madoff's stolen money. And litigants like Boies typically have to wait at the back of the line, behind investors, creditors, and the feds, in a sprawling criminal case such as this.

Of course, Boies isn't one for waiting. Instead, he's been pursuing an aggressive legal strategy that takes a wildly different route towards the money. In a nutshell, he's suing Tom Brady, Larry David, Gisele Bundchen, Stephen Curry and other celebrities for using their fame to entice consumers into opening FTX accounts. As I've previously written, I'm skeptical that even the best lawyer can convince a jury that these stars should have known what Bankman-Fried was up to. But Boies is undeterred. As he told me on the phone, he recently sent Brady a subpoena to sit for a deposition—presumably the first of many.

Boies acknowledged that he's "walking a fine line to avoid bankruptcy and criminal stays," referring to the stuff happening to FTX and S.B.F. in other courtrooms that could put his own case on ice. But he insists that crypto fraud makes a very good vehicle for a group lawsuit. "This is what class actions were meant to address," he said. "Life savings were lost. Individually, it wouldn't support a lawsuit, but together…"

I hear Boies, but I suspect he's headed for choppy waters. That's partly because I've also been paying close attention to his parallel case against Mark Cuban, which has already hit a major snag.
David Boies v. Mark Cuban
Among the first crypto industry dominoes to fall was Voyager, a brokerage company that attracted millions of customers by teasing absurd double-digit returns. Of course, it was all too good to be true: FTX attempted to swoop in to buy Voyager for pennies on the dollar before filing for bankruptcy, itself. Now some $5 billion of customer deposits is endangered, and Boies is on the attack, likening what happened to a Ponzi scheme.

One of his targets is Cuban, who announced a sponsorship deal in October 2021 that made Voyager the official crypto partner of the Dallas Mavericks. A complaint, filed in Florida federal court, claims that by helping hawk unregistered securities, Cuban broke various state laws and aided and abetted a fraud. Boies is scheduled to depose Cuban on Thursday.

Interestingly, the lawsuit originally targeted Cuban and Voyager C.E.O. Stephen Ehrlich, but Ehrlich was dropped from the case once it became clear that pursuing him would result in a delay thanks to Voyager's automatic bankruptcy stay, which paused litigation. Nevertheless, as part of the lingering case against Cuban, Boies is still attempting to depose Ehrlich, which caused the latter to file a new case a few days ago in Connecticut in a bid to quash a subpoena. (Don't be surprised if Boies pursues a similar strategy to depose S.B.F. in the Tom Brady case.)

As for Cuban, his lawyers have attacked the Boies-led case as a "strike suit, plain and simple," which is legalese for, This is meritless garbage designed to force a nuisance-saving settlement. And they're challenging the jurisdictional basis for dragging a billionaire who famously lives in Texas into Florida court.

Here's where the case gets interesting and, perhaps, strategically revealing. On one hand, Cuban insists he doesn't have much contact with Florida—that is, except for owning two pricey vacation condos in Miami and attending Mavericks away games. But he might have overstated things. After declaring under oath that he hadn't done anything involving Voyager in the state, Boies' team quickly dug up the fact that Cuban was the keynote speaker at a crypto conference last year in Miami, along with Ehrlich. Now they're suggesting that Cuban committed perjury, and a magistrate judge has agreed to force Cuban to testify at a deposition about his ties to Florida, as well as his basis for saying at the press conference announcing the sponsorship that, "I've been a [Voyager] customer for several months now. I like to use it."

Meanwhile, who are the actual plaintiffs in this suit? Originally, Boies named a dozen Voyager account holders, but only three of them were Florida residents, and it turned out that only one opened an account after Cuban touted Voyager during the sponsorship announcement. What's more, that guy is a three-time felon with a history of financial fraud, according to court docs, and he's now looking to bow out of the case after a cancer diagnosis.

Boies' team has found a pair of replacements and want to amend the suit to include a new federal claim that might alleviate some of the jurisdictional challenges, but that raises another obscure problem—the Private Securities Litigation Reform Act, which contains a provision that pauses discovery until a defendant's motion to dismiss is decided. So with mere days to go until Cuban's deposition, his lawyers at Brown Rudnick and Fowler White are attempting to squeeze Boies by having him pick between a good client and immediate discovery.

Maybe Boies will figure this stuff out before dealing with celebrities like Brady and Shaquille O'Neal in the FTX endorsement case. Clearly, he's throwing into very tight windows, and it's only the first quarter. The hard stuff—convincing a judge and jury that the pitchmen were knowingly engaged in a conspiracy—still awaits.

And speaking of cases involving Boies…
Bulgari's Billion-Dollar Family Feud
Have you heard about the family drama dividing the Bulgari fashion empire? It's an insane legal fight between two sisters, which has engulfed at least a half dozen top law firms and huge Wall Street players. Naturally, the feared litigator David Boies is involved. And now, of course, there's a secret marriage twist.

Back in 2020, Ilaria Bulgari learned that she was the beneficiary of two trusts that had been established during her parents' long-ago divorce. The trusts contained substantial assets, which shouldn't be surprising given the incredible success of the nearly 150-year-old luxury brand. (In 2011, the Bulgari family sold a controlling stake of its company to LVMH in an all-stock deal worth more than $5 billion.) But Ilaria, despite receiving $40 million after her mother died, began to suspect her older sister, Veronica Bulgari, of cheating her.

In legal documents, Ilaria outlines her various grievances with Veronica, the trustee of the family estate: that she allegedly withheld distributions from the trust to compel her to surrender rights; that she refused to give her full access to financial records said to contain "irregularities" like missing tax payments; and finally, that Veronica was behind the transfer of money and real estate holdings. Ilaria eventually hired Boies, who blanketed Wall Street with subpoenas to find out more about the administration of the Bulgari fortune.

Veronica's attorneys, reacting to this escalation, suspiciously eyed the younger sister's boyfriend—Jan Edwin Boyer, an investment banker who had worked for decades at firms like Lehman, Lazard, and Softbank. Was he the instigator pulling her strings? They demanded to see his communications, presumably to get some insight into Ilaria's thoughts and strategy.

In response, Boies asserted a wild reason why Boyer needn't hand over documents or testify: Ilaria and Jan had shacked up with each other in Switzerland during the early days of the Covid pandemic, and their "cohabitation was the equivalent of a common law marriage." In other words, Boyer had spousal privilege. An expert in Swiss law even submitted an opinion to support this audacious attempt to shield evidence.

On Jan. 9, a New York federal judge rejected the secret marriage theory, but nevertheless ruled that Ilaria could assert attorney-client privilege over Boyer's communications about the trusts because his financial prowess "facilitated" the advice of her real lawyers.

Veronica's team at Gibson Dunn, aghast, then tried unsuccessfully to probe Boyer on everything else. Meanwhile, they're also after a computer technician who, given unfettered access to Ilaria's residence, found large sheets of poster paper on the walls that had things written on them like, "Sister's lying" and "positives and ammo," plus elaborate notes. The technician took pictures, and Gibson Dunn moved to depose the technician to authenticate the pictures, but according to new court papers, Ilaria's lawyer scared him off by warning in a letter that he had violated the law, which the technician (now represented by Baker & McKenzie) took to be a threat.

Now Veronica's lawyers want a conference so they may tell the judge about how the Boies firm's letter caused the technician to become anxious and not show up for a scheduled deposition. "Threatening a witness to turn him in for criminal conduct is witness tampering," they wrote to the judge while suggesting that Boies should be sanctioned. When I mentioned all this drama to Boies, he just chuckled and declined to comment.
Google is being hit everywhere these days. Of course, the Justice Department just filed a huge new lawsuit against the company for allegedly monopolizing digital advertising tech. More on that in a future email. Perhaps less frightening to Alphabet is the lawsuit alleging that Google discriminated against the R.N.C. by sending its fundraising emails to spam. In a dismissal motion, Google tells a California court that its spam filters are politically neutral and that the R.N.C. could have easily avoided the folder by doing just one thing—participating in a pilot program blessed by the F.E.C.
The Supreme Court is being asked to determine whether requiring filmmakers to pay for permits to shoot on public lands violates the First Amendment. Here's the cert petition.
In case you missed the abrupt end to the trial over whether MGA Entertainment's L.O.L. Surprise! O.M.G. dolls infringed on a former girls group, "OMG Girlz," the judge declared a mistrial after a prejudicial comment from a witness about how "people often steal from the black community and make money off of it." A California federal judge is now considering a request for sanctions against rapper Clifford "T.I." Harris and singer-songwriter Tameka "Tiny" Harris.
James Dolan's use of facial recognition software has become a hot topic since I reported in early December on his efforts to exclude lawyers suing his company from attending events at MSG properties. New York lawmakers and the attorney general are now complaining, and the state liquor authority is making its own threats. Dolan is doubling down. Check out his bonkers interview with a local Fox affiliate where he denigrated lawyers, teased cutting off booze at Rangers games, and more.
Meanwhile, a pathbreaking trademark trial begins this week in New York as Hermes takes on a digital artist who created an NFT inspired by the luxury brand's Birkin handbags. Judge Jed Rakoff denied summary judgment on Dec. 30 and hasn't yet issued an opinion explaining his reasoning (despite promising to do so by Jan. 20). Here's a memorandum from the artist, which should nevertheless detail the issues at play in this fashion vs. art controversy.
Finally, a quick follow-up to my story about Vince McMahon's WWE boardroom comeback: McMahon recently rescinded his changes to the company's bylaws. That has mooted some, if not all, of the litigation in the Delaware Court of Chancery.
FOUR STORIES WE'RE TALKING ABOUT
Inside Riseboroughgate
Should the 'To Leslie' star be disqualified from the best actress Oscar race?
MATTHEW BELLONI

Trump's Media Gauntlet
The media is boarding Trump's plane again, but is that a good thing for the country?
PETER HAMBY & JON KELLY

Ryan & Allbritton
On the litigious history inside one of the most complicated political relationship in D.C. media.
DYLAN BYERS

Need help? Review our FAQs
page or contact
us for assistance. For brand partnerships, email ads@puck.news.
Puck is published by Heat Media LLC. 227 W 17th St New York, NY 10011.