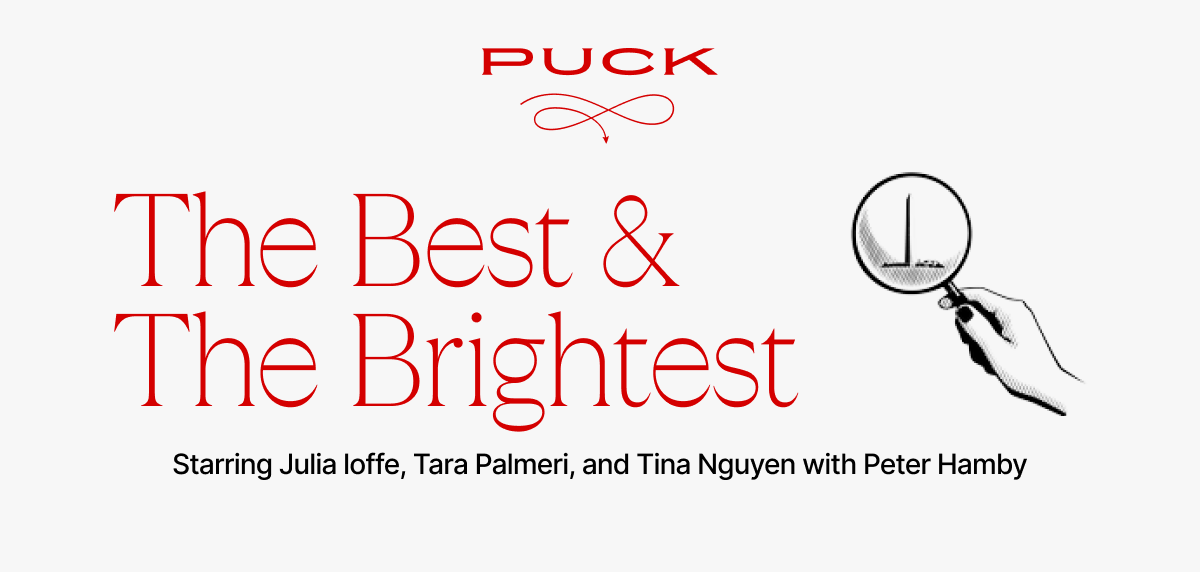 Welcome back to The Best & The Brightest, our new daily email focused on the real inside conversations taking place between the White House and Pentagon, on K Street and under the Dome. In tonight's edition, my conversation with Peter Hamby about Biden's SOTU strategy, the Kamala endgame, and Trump's narrative-defying struggle to reboot his campaign. Also, please take a moment to fill out our audience survey if you haven't yet!
But first, a quick scoop from Peter…
DeSantis Allies Are Launching a '24 Super PAC
There are a handful of unofficial, and unsanctioned, "Draft DeSantis" groups raising money to encourage the Florida governor to run for president. These sort of fundraising groups pop up online every few years as a nice little grift for out-of-the-game consultants looking to profit off the popularity of a buzzy political figure they've probably never met. The most notable pro-DeSantis group at the moment might be "Ready For Ron," an entity run by 79-year-old G.O.P. strategist and green room veteran Ed Rollins, who has used this playbook before. (Back in 2016 and 2020, Rollins ran the pro-Trump "Great America PAC," a fundraising group that the Trump campaign publicly disavowed twice.)

Now, I'm told, a new outside group is taking shape. And given the consultants involved in the planning, it's all but certain to be the official super PAC of the DeSantis campaign, if (and when) he decides to run. Multiple G.O.P. sources tell me that a pair of respected Republican consultants—Phil Cox, a veteran adviser to Republican governors with close connections with major donors, and Liesl Hickey, the former executive director of the National Republican Congressional Committee—have been recruiting staffers for a super PAC that would support a DeSantis bid.

The governor has not made a decision on a campaign, but both Cox and Hickey are experienced, high-level strategists who helped steer DeSantis's 2020 re-election bid and his attention-grabbing fights on education and Covid. They aren't the kind of people who waste their days fighting with randos on Twitter—both were working in the trenches of Republican politics long before Trump came along—and their involvement in the possible super PAC is one of the strongest signals yet that DeSantis is moving toward a national campaign. I'm also told that Generra Peck, a Darden MBA with Virginia roots who now works for DeSantis in Tallahassee, has been making similar recruiting calls to Republican operatives about possibly working on an official campaign if DeSantis decides to take the plunge.

Meanwhile, a few bits of news and notes from around town:
Clark Stays On: Suzanne Clark, the embattled C.E.O. of the U.S. Chamber of Commerce, has had her contract renewed for five years, according to an email that chairman Mark Ordan sent to the group's board this morning. Clark's contract has been a parlor game in Washington since she lost favor with House Republicans for tangling with Trump and supporting Democrats. Naturally, there's been grumbling among members about the exorbitant fees associated with a group that seems to be losing influence as Clark feuds with Kevin McCarthy, who reportedly floated the idea of replacing her. But it turns out the board is sticking by her, even if it will be an uphill battle to regain prominence.

The decision to re-up Clark ends, for now, the speculation that Arizona Governor Doug Ducey could possibly make a play for that job. As I noted last week, many had hoped that Ducey would run for Senate in Arizona, but he is likely to consider more lucrative opportunities rather than engage in a gnarly political cage match against the likes of Blake Masters, Kari Lake, and Kyrsten Sinema.
Hakeem's Namedrop Challenge: Following the three-decade reign of the old money, uber-connected Nancy Pelosi, who seemed to have whittled her three-tiered donor system down to a science, there have been persistent questions about whether Minority Leader Hakeem Jeffries can step up and make it rain for the party, as I wrote last month. No one expects him to have the same network, at least not initially, but Pelosi and Steny Hoyer are making the intros and he's surely doing his part to shake the money tree. But Jeffries' challenge isn't just bonding with the .001 percent; he doesn't yet have the sort of national profile that engenders grassroots support. His team seems to know this, too. One recent text message to supporters included a headshot of the leader followed by an epic-name drop: "It's Hakeem Jeffries. I asked. Nancy Pelosi asked. Ted Lieu asked. Cory Booker asked. Raphael Warnock asked. Now I'm asking one last time…"
A Tell-All to End All: Legal crisis manager and Clinton loyalist Lanny Davis, who has been at the heart of scandals from Monica Lewinsky to Martha Stewart and Michael Cohen, is now telling his own story, I'm told. People I've Met, Lessons I've Learned, which he says he's writing for his four children and six grandchildren, will be his third book and will probably have the sort of index that will make people salivate at the checkout at Politics & Prose. After all, Davis is a Zelig-like D.C. creature: he went to Yale with Hillary, worked for Bill, crossed DKE paddles at Yale with Dubya, and remains close to Biden world.
Davis tells me that he's already sketching out the table of contents for this passion project. To wit: some readers in this town with long memories and sharp pickaxes might be interested in Chapter 25, "Almost Avoiding Clinton's Impeachment—Lindsey Graham, Joe Scarborough and Me," wherein Davis tells his personal narrative about what it was like to defend Clinton on TV during that tumultuous period. Naturally, given his media-stoking prowess, Davis is playing it a bit coy. "In truth I haven't decided whether I will publish the whole book," Davis told me. "I wrote it at the behest of my son, Seth"—the acclaimed college basketball broadcaster—"for my children and grandchildren." He said he'd probably at least try to publish the chapters on the nineties and the aughts. He said he will write first, and then find a publisher later.
The Wilbur Ross Wars: The big talk of Palm Beach has been that Trump—former president and known recluse—was actually willing to leave Mar-a-Lago to visit someone else's home. That person, notably, was Wilbur Ross, his former Commerce Secretary and the veritable Mayor of Palm Beach, who recently threw himself an 85th birthday. The timing is fascinating: Ross has been making recent appearances at top-dollar fundraisers as a loyal supporter of DeSantis. Sure, Ross can just say he's supporting his governor, but that act will only work for so long: Trump is a candidate for president again, and DeSantis will be, too. And Trump, who is tapping out his high-dollar donors, needs his old deputy's support more than ever. Perhaps that's why he's so eager to turn out for the ambassador to America's gold coast.
Tara: This State of the Union is a big moment for Biden: He's now really making the pitch for re-election, and yet the premise of that pitch—the notion that he's amassed a number of significant legislative accomplishments—isn't actually translating into daily touchpoints for many Americans. How does Biden get ahead of the G.O.P. with a counter-narrative?

Peter Hamby: Biden's main advantage is that there isn't really a G.O.P. narrative at all, or at least one that has some kind of appeal to the voting public. That was the verdict of the midterms after all, wasn't it? That Democrats aren't great, but geez, do Republicans have anything better to offer? Since taking over the lower chamber, Kevin McCarthy's barely-there House majority has passed only a handful of messaging bills—on issues like abortion, Covid, and "denouncing the horrors of socialism"—which are really only designed to get members on the record and generate content for future campaign ads back in their districts. McCarthy barely scraped together the votes to kick Ilhan Omar off the House Foreign Affairs Committee. Republicans have no coherent policy agenda and they have no interest in working with Biden or Democrats in the Senate. This isn't totally a knock against them, by the way. When Democrats captured the House, in 2018, their only goal was to stiff-arm Trump and Republicans in the upper chamber.

Tara: So you don't think Biden needs to be on defense?

Peter: Biden's biggest challenge in the speech is simply the zeitgeist. He's passed historic legislation on infrastructure, climate change, gun reform, manufacturing, and drug prices. But most of those accomplishments have a long tail. The effects won't be felt for years to come, and even when they are, what average person is gonna cruise across the fancy new Brent Spence bridge from Kentucky to Cincinnati and remember that Joe Biden helped fix it? The day-to-day economy—whatever that term means at any given moment—is the most proximate experience with politics for the vast majority of Americans. And despite recent gains in jobs, a positive pulse in the markets, and signs of declining inflation, polls show that Americans aren't feeling great about the state of the country or the economy.

There are real reasons for this. It doesn't help Biden's case that consumer prices still feel out of whack and people keep sharing memes about how expensive eggs are. But there's also a gap between messaging and reality. A Washington Post/ABC poll out over the weekend found that 62 percent of Americans think Biden has accomplished "not very much" or "little or nothing" during his presidency. What's jumped out at me from that poll is that huge majorities of Americans say Biden hasn't made progress on any of the things he's actually done! For instance, Biden made the biggest infrastructure investment in American history, and yet 60 percent of Americans say Biden has not made progress on "improving roads and bridges in your community." In that sense, there's a wild disconnect going on.

Tara: Is this a political problem or a political messaging problem?

Peter: Part of the problem is what Biden promised in the first place. He told the country in 2020: If you elect me, you can stop thinking about politics all the time. Two years on, post-Trump, survey after survey shows that Americans are indeed tuning out political news. In that environment, combined with the collapse of traditional TV viewership, it's so much harder for a president to get his message out. I think the State of the Union is generally overrated and almost never has an impact on public opinion, but it's still one of the few events that gives the president a direct opportunity to speak to millions of Americans. We'll see how he sells his accomplishments and whether any of it lasts beyond a news cycle.

One dynamic worth watching: Now that Biden doesn't have a Democratic Congress, he's entering the executive order phase of his term. Does he announce anything big and unilateral on climate, guns, TikTok regulation, abortion, fixing the border? Those are the forward-looking items that will drive the news coverage. Unless Marjorie Taylor Greene or Lauren Boebert do something insane on the House floor.

Another dynamic to watch is Biden's relationship with Kamala Harris, now that his re-election campaign looks more inevitable. How important do you think it is for the White House, and for Biden personally, to elevate her role?

Tara: To state the obvious, Biden's age is a huge liability for him, and that's one reason why Harris is the subject of such excessive criticism. Of course, some of the antagonism is sexist and racist, the unfortunately predictable response in some corners to her historic role. But it also stems from the fact that Mike Pence and Al Gore (and even a spry Biden from a decade ago) never entered an administration as the wingperson to an 82-year-old. That biological reality undergirds why Biden and Harris are more of a packaged deal than any ticket in recent history, which is why Team Biden really needs to work on strengthening her brand and favorability.

There have been times when she's stepped up to the plate and whiffed, like that Lester Holt interview where she struggled to explain why she hadn't been to the border. I personally find it annoying that her team insists that she's not handling the migration crisis but rather the "root causes." It's an acknowledgement that she's been served a shit sandwich, like many vice presidents before her, and doesn't want to eat it. Being assigned to tackle the seemingly unpassable issues, like voting rights, was not easy either.

But maybe this is the moment for the Biden administration to hand her some easier assignments. She's taken a lower profile role recently, but her allies believe that the Biden administration should be elevating her—that she should be in photos with him in the Oval Office more frequently, like last week, to soft-sell the message of their partnership. As he's heading back into campaign mode, the administration is going to have to think hard about how they can start presenting her as an asset, sharing their successes with her and setting her up for adulation rather than the perception of dead weight. The older he gets, his re-election depends on her success just as much as his. And taking her off the ticket is not an option.

Peter: I wrote about this last year in a piece about Harris, but I also think that the vice presidency long ago ceased being a ticket to higher office. You get all the downside of a presidency, and you only get press coverage when you mess up. Gore was the last vice president to seek the White House—that was more than two decades ago—and it didn't scare off a primary challenger from the left. I agree that Biden needs her to succeed politically now. That helps him. But I don't think the Biden administration, or Biden personally, really cares about grooming Harris for higher office. Like most running mates, she was picked to help the ticket win an election in 2020. That's the bargain.

And I know we've both had conversations with Democrats who have made clear that they aren't afraid to run for the nomination even if Harris is in the race, in 2024, 2028, or beyond. Like any candidate, she isn't owed the nomination. She has to go out and take it. The last time the Democratic Party basically anointed a successor was with Hillary Clinton in 2016. Bernie Sanders smartly sensed her weaknesses, but he lost, and Democrats ended up with their most unpopular nominee in modern history. Primaries are good!

Tara: Speaking of the '24 election, is it just me or is Trump, the ultimate outsider, playing the inside game with his low-key launch—and it's just plain boring?

Peter: It isn't just you! We were in big agreement about this last week on The Powers That Be podcast. (Which everyone should subscribe to, by the way.) Right now, one year before the first primary, Trump's campaign is just completely irrelevant to anyone outside the world of the press and hardcore politics addicts. This has been the case since he announced in November, but I just cannot stress enough how little people care beyond the Beltway and certain corners of the state of Florida. I remember reading some tweets from journalists and Republicans during the week of the 2020 election saying that, hey, even if Trump loses, the G.O.P. nomination in 2024 is his for the taking. Well, time happens to be a powerful force in politics, and since 2020 it's become clear that the nomination is not his for the taking at all.

The very fact that Trump had to go to New Hampshire and South Carolina for his first campaign swing says everything you need to know about his diminished stature within the party. Remember in 2020, South Carolina Republicans actually canceled their primary in deference to Trump. Just took it off the books. That's not happening this cycle, in any state. Trump still has his hardcore 30 percent of the Republican base, which might be enough to win the nomination in a divided field, but the overwhelming sentiment from Republican voters in polls and focus groups right now is that they at least want to have a choice. Maybe that person is DeSantis, who leads Trump in a bunch of national and early state polls.

DeSantis, of course, has to prove that he can withstand the heat of a national campaign. He might flame out. But Trump simply isn't as intimidating to other Republicans as he was even six months ago, a dynamic worsened by the dud performances of MAGA candidates in the midterms. Now it looks like Nikki Haley and Mike Pompeo are both likely to run against him, and they were literally in his cabinet. They might be longshot candidates, but it seems like they're also fine with giving their old boss the middle finger.

Again, this would have been unimaginable just a few months ago. Back in 2016, Trump derived so much power during the debates as an anarchist on the stage, making his opponents look timid, cosseted, boring. This primary, I think the reverse will be true. The very fact that he'll have to appear on a stage with others will make him look small. The Republican Party might not be fully rejecting him, but they aren't clearing a path for him either.

Tara: My concern is that the media underestimates Trump's standing in the party. WaPo's latest poll shows Trump beating Biden in a matchup, 48 percent to 45 percent. But there's no doubt that he's losing altitude.

Peter: When Nate Cohn at The New York Times analyzed the Republican 2024 polls so far, he found that while Trump is stronger in some polls compared to others, high-quality polling consistently shows a weakened Trump. In state after state, the former president is currently polling behind his primary vote share in 2016, when he was arguably at the peak of his powers. Cohn wrote that "state polling is almost entirely consistent with a weak or relatively weak Trump." I'll add on to that analysis. There aren't many "rules" left in politics that haven't been broken in recent years, but one seems pretty durable: It's very, very difficult to reverse a downward trendline in a campaign. Trump is finding himself on the wrong side of that hill.

Again, look at Trump's visits to New Hampshire and South Carolina. The reason they felt so lifeless is because they lacked any whiff of the rebelliousness that used to be his calling card. It's early in the cycle, yes; there were no roaring rallies, no long lines of red-capped loyalists, no hordes of TV cameras. Trump just gave a low-key speech to the New Hampshire State Republican Committee—a bunch of state insiders. He did the same in South Carolina, literally inside the state house. What's more establishment than that? Oh wait, I know. He was flanked by a pair of country clubbers: Governor Henry McMaster, who has been in politics since the Reagan era, and Lindsey Graham, who first ran for office when George H.W. Bush was president.

Watching those three together in South Carolina was just a stark reminder that when Trump swallowed the establishment, he became the establishment. Again, he can obviously become the Republican nominee. But watching that first campaign tour, I had the same cringey reaction as when I saw Mick Jagger launch a TikTok account a few weeks back: Are we really doing this? I'm getting the sense many Republican voters are starting to feel the same.
FOUR STORIES WE'RE TALKING ABOUT
Late Night Endgame
A candid conversation with Grammys executive producer Ben Winston.
MATTHEW BELLONI

Storms Over Memphis
Reflections on the killing of Tyre Nichols and America's culture of fear.
BARATUNDE THURSTON

Need help? Review our FAQs
page or contact
us for assistance. For brand partnerships, email ads@puck.news.
Puck is published by Heat Media LLC. 227 W 17th St New York, NY 10011.