Greetings from Los Angeles for the week.
And welcome back to The Stratosphere. In tonight's email, I've got three inside stories. First, internal emails that pull back the curtain on an internecine fight in Silicon Valley over a new climate measure supported by Gavin Newsom. Second, the latest dish on the contretemps over Blake Masters in Arizona, including a pair of intriguing fundraisers happening this month. And lastly, has Yvon Chouinard's $3 billion donation really ushered in a new era of capitalism? (In short, no, but read on…)
Also mentioned: California politicos David Crane and Kristin Hueter; donors Michael Moritz and Bill Fisher; Peter Thiel and Mitch McConnell, plus Steven Law, Tucker Carlson, and many more…
P.S. This Thursday at 4 pm ET, I'll be chatting with a handful of Puck's founding journalists in a special Inner Circle call honoring our one year anniversary. If you haven't yet signed up for the Inner Circle, click here to upgrade your subscription.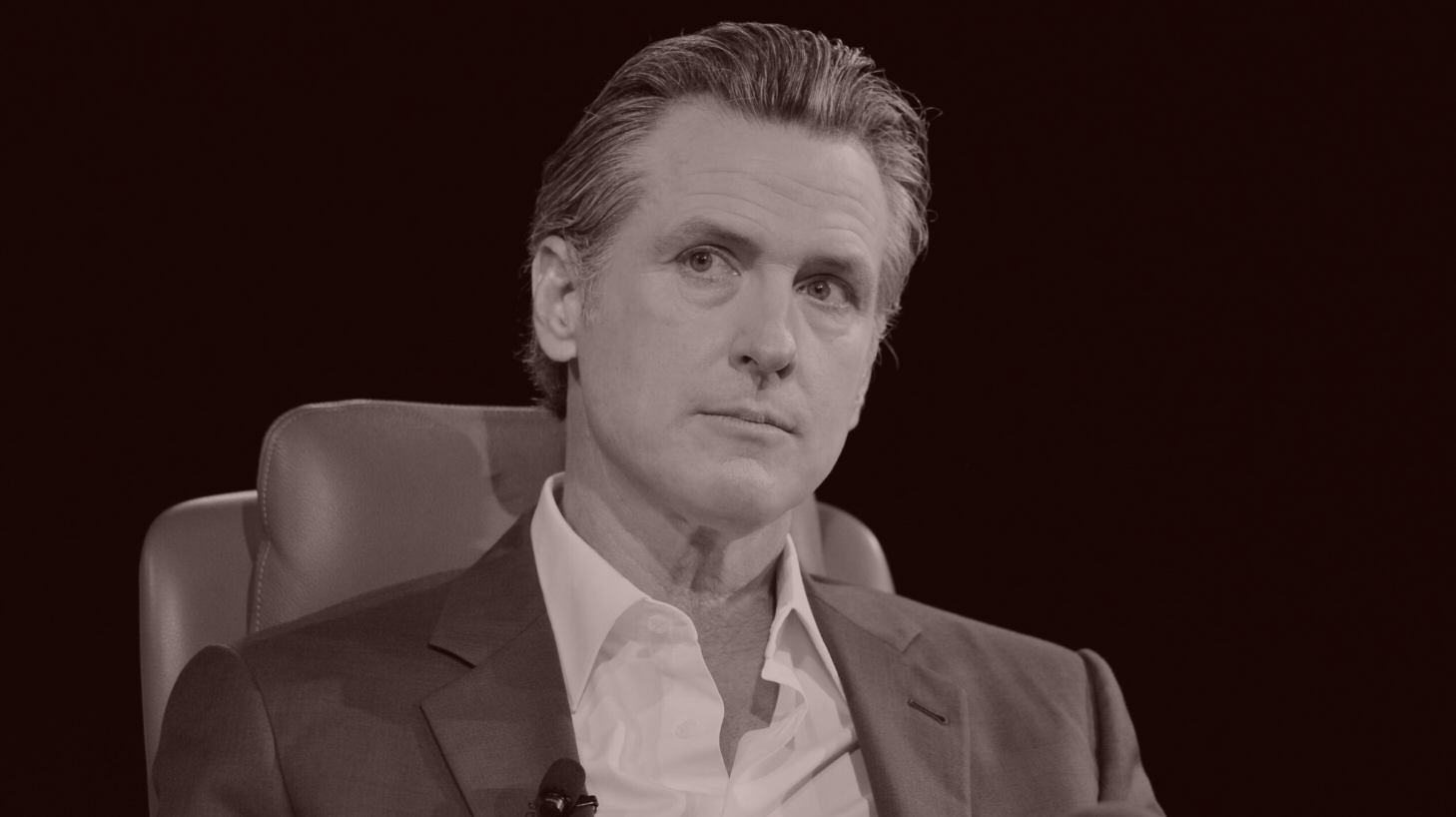 Gavin Newsom's Trojan Horse
The slick-haired, Peloton-sculpted governator has aligned himself against progressives in a bizarre, only-in-California spat that has divided Silicon Valley's big-money factions. Plus new reporting on the Thiel-McConnell showdown in Murdoch-world and what the Times doesn't say about the Patagonia founder's historic donation.
Gavin Newsom, the California governor who is ostensibly focused on his reelection this fall, is also the Democrat most obviously positioning himself to run for president in 2024 or 2028, whenever Joe Biden steps aside. Indeed, Newsom's ambitions have become practically impossible to ignore over the last several months, telegraphed via a barrage of shit-kicking policy moves and unnecessary political stunts that have enlarged his national profile—from running ads in Texas and Florida attacking G.O.P. governors to erecting billboards in red states promoting California's abortion services to narcing on Ron DeSantis for shipping migrants to Martha's Vineyard. "All I can say is, I think his hair gel is interfering with his brain function," DeSantis shot back. Newsom, who insists he has "sub-zero" interest in running for president, responded by challenging him to a primetime, televised debate.

But the Newsom maneuvering that has Silicon Valley insiders buzzing these days is the position he has taken to align himself with some of the state's biggest tech donors against a nominally pro-climate, anti-billionaire tax being promoted by one of the state's biggest tech companies. Not only is the Democratic governor attaching his brand to the state's moderate business community, but Newsom has also made himself the star of the deepening internecine spat, in which Silicon Valley has gone to war with itself over a ballot measure that would jack up taxes on wealthy Californians to further subsidize the electric vehicle industry.

On one side of the divide is the ride-sharing company Lyft, which has invested a substantial $25 million into supporting the November ballot initiative. Proposition 30, which would hit anyone making more than $2 million a year, has some token support from liberal machers like Ron Conway and Tom Steyer, but Lyft effectively sponsored the measure, and it is Logan Green, the company's affable, very un-Travis Kalanick-like founder-C.E.O., who has been wrangling support for the measure behind the scenes, I'm told—petitioning other tech companies and high-net-worth types to join in, making fundraising calls, bugging other tech leaders to sign on, and hosting policy briefings. Still, 97 percent of the money raised by the "Yes" team so far comes from Lyft, which says it's backing the measure primarily to incentivize E.V. usage. Newsom contends that Green's real goal is to trick taxpayers into covering Lyft's costs to meet the state's new E.V. mandate.

Whatever the case, the climate initiative has become divisive in Silicon Valley, fueling a furious advocacy campaign to kill the bill. Behind the last-minute offensive is a group of centrist, anti-tax donors organized by a powerful group called Govern for California. Started a decade ago by David Crane, a former operative for Arnold Schwarzenegger who lives in San Francisco and is well-liked by center-right tech leaders, GFC essentially bundles contributions from these business types to counter labor unions (although interestingly, the teachers union has sided with GFC and Newsom). Crane has turned what was once a low-profile donor network into a ubiquitous, fearsome California political machine, sending a lifetime total of about $12 million to legislative candidates, mostly moderate Democrats, in the state.

Now the group is engaged in its biggest, most expensive fight to date. The "No" campaign is trying to raise $50 million to beat back Prop 30, according to an email sent by Kristin Hueter, a fundraiser for the campaign and perhaps the Bay Area's top G.O.P. finance hand. "We are just getting started—need to raise $50 million to kill this," she wrote to a donor in an email, which made its way to the "Yes" campaign, which was then passed along to me. "I'm working on the Republican side—hoping to put together $20 million towards the goal. The varied teams will raise the other $30 million."

Among the donors to the "No" cause is the Fisher family of San Francisco, who are close to Crane, founded the Gap, and are as old-money as they come in this town. Hueter wrote in her email that the Fishers are "jumping in first—big," although, I'm told, the family has only donated about $1 million, and a lot of time on Zoom, thus far. (Bill Fisher didn't respond to a request for comment.) Overall, the "No" side has raised about $10 million to date, or one-fifth of its goal, with the "lion's share" coming through GFC, according to "No" leader Matt Rodriguez, a Democratic strategist. "$50 million is the magic number. If the 'No' campaign hits that mark, then the prospect of Prop 30 passing is pretty minimal," one person close to the "No" campaign told me.

Crane is working hard to get there, whipping his network over the last few weeks to put together the budget. In recent weeks, the "No" side has collected $1 million checks from Sir Michael Moritz, the legendary Sequoia Capital investor, and Mark Heising, the private equity founder married to billionaire Jim Simons's daughter, Liz. But the effort to kill the bill has been a slog. At first, according to the emails that were shared with me, Crane tried to use his network's influence in Silicon Valley to get Lyft to pull the measure entirely. "If you have relationships with Lyft board members or influential shareholders, please weigh in with them to encourage the company to back off. If it does not, millions will have to be raised from you and others to defeat the measure on the ballot," he wrote to some GFC members in May. A few weeks later, he followed up: "FYI a well-placed GFCer spoke recently to a Lyft insider who says the company remains committed to its ballot measure," Crane wrote. "Prepare to dig deep and be thinking of others you can encourage to do the same."

It comes as little surprise that the "Yes" campaign is pillorying its critics like Crane's group as a bunch of self-interested billionaires who are just trying to avoid paying a dollar more from their fortunes. Attacking top donors, whose names are required to be disclosed in California television ads, is a time-tested move with a long history in state campaigns.

The most recent poll shows that California voters support Prop 30 by 55 to 40 percent. But that was before Newsom himself started to appear on television, personally stepping into the breach last week and urging Californians to vote "No" in a blunt, direct-to-camera advertisement airing statewide. "Prop 30 is being advertised as a climate initiative. But in reality, it was devised by a single corporation to funnel state income taxes to benefit their company," he says in the 30-second spot. "Put simply, Prop 30 is a Trojan horse that puts corporate welfare above the fiscal welfare of our entire state." The "No" campaign has put $8.5 million behind the ad starring Newsom, in the hope that Gavin is uniquely capable of convincing wary Democrats to vote against a bill that is being sold as pro-climate and anti-billionaire.

Lyft has escalated all of this by countering that "not a single dollar of Proposition 30 is earmarked for the rideshare industry" and that "Governor Newsom stands with his billionaire donors looking to protect their bank accounts." In a state with an unfathomable number of ballot propositions, Newsom, who isn't afraid of tax hikes, probably would like to accomplish the state's climate goals through a budget process that he controls, not through some fickle popular vote. But there is, of course, a political upside for him, too. Calling this a "Sister Souljah" moment for Newsom makes the E.V. measure far sexier than it is. But starring in television ads fighting a perceived liberal special interest is precisely the sort of strategic move that an ambitious blue state governor might make if he's trying to play against type.
The fight between Mitch McConnell and Peter Thiel over who will fund Blake Masters, which I have been covering in depth the past few weeks, is now dividing Murdoch world just as it is the broader G.O.P. It didn't go unnoticed among insiders, for instance, when the Wall Street Journal columnist Kim Strassel, who is close with the G.O.P. establishment, wrote a column on Thursday effectively begging Thiel to cut a check to Masters. "Where's the would-be kingmaker now? Sitting in his counting house, the doors firmly locked," she wrote, in a call-out that could have been written by McConnell himself. (The headline, not subtly, was "Peter Thiel, Losing Arizona.")

Meanwhile, an hour or two later on Fox News, Tucker Carlson basically handed Thiel the mic when he taped a whole segment about how Masters had been "defunded" and "shafted" by McConnell. Carlson, who is working on a documentary about the Masters bid, ended the segment with a monologue in which he might as well have been speaking to an audience of one: "I hope patriotic Americans can make up that deficit and get Blake Masters to the United States Senate." Everyone, it seems, is now trying to use the press to negotiate.

McConnell's team, in its first on-record comments about the tiff with Thiel, framed this contretemps as about hard choices. "Arizona's tough," Steven Law, the head of McConnell's super PAC, told Major Garrett on the CBS correspondent's podcast last week, waving away Garrett's suggestion that the Leadership Fund believes Thiel should foot the bill for dragging his candidate across the finish line. "You measure every race against every other race," Law continued diplomatically (and not wrongly). "You've got to take a look at where your opportunities are. We don't have unlimited money—some days people think that, but we don't. And so we've got to make a decision, at the end of the day, where does this race versus another race stand?"

Superficially at least, McConnell is doing what he can—he is hosting another fundraiser for Masters in Washington on Wednesday, according to an invite that made its way to me yesterday. In the meantime, outside money is filling the void left when McConnell's team withdrew $8 million in ads that had been planned to run in Arizona this month, including $5 million from a super PAC allied with the Heritage Foundation, and then more from what I count to be at least four other outside groups. And Masters continues to be competitive in horse race polling, despite whispers from McConnell's allies to me that they don't think Masters has much of a shot.

The McConnell-Thiel-Masters standoff isn't over—far from it. For the past several weeks, insiders have been watching to see whether McConnell's super PAC would withdraw its planned ad spending for Masters in October, too. Then, on Tuesday, the news bomb dropped: Senate Leadership Fund is officially cancelling nearly $10 million in ad reservations. Paging Thiel Capital…

Chuck Schumer reportedly predicted last week that the Arizona race would only be competitive if Thiel himself ponied up. And Thiel is, sorta—he's continuing to host many, many hard-dollar fundraisers in the final 50-day sprint. Among them is a fundraiser that Theil is hosting for Masters at his home in Bel Air on September 30, according to a new invitation I saw Monday. Tickets run from $1,500 to $5,800 per person. Other hosts include investors Michael Wang of Prometheus and Keri Findley of Tacora Capital; and conservative activists Tom and Natalie Sauer. In a sign of Thiel's own exalted status as a veritable celebrity with few rivals among the donor class, the subject line of the invitation email reads: "Come meet Peter Thiel & Blake Masters." So over the next ten days, Masters is going to fundraise with both of the two people who may decide his fate. But of course, it is much less of an ask for McConnell and Thiel to throw Masters a hard-dollar party than it is for either of their teams to write a serious soft-dollar check.
Lastly, given my work over the years, I've gotten a lot of inbound requests over the last week for my read on Patagonia founder Yvon Chouinard's decision to donate nearly all of his $3 billion equity in the company to a new nonprofit that would generate about $100 million a year for climate work and environmental protection. The donation was celebrated by many as an epoch-defining moment that might transform capitalism as we know it. A splashy, if self-indulgent, New York Times feature offered a rare, feel-good story about a plain-spoken, rock-climbing billionaire who forgoes the trappings of money and power to combat one of the great issues of the day—climate change. "Earth is now our only shareholder," Chouinard proclaimed.

I don't mean to rain on the parade, or come across as overly contrarian—on the whole, this is significant, admirable news for society. But I do want to sound a few notes of caution. The Times, in discussing this gift, contrasts Chouinard favorably with Barre Seid, the secretive manufacturing mogul who recently gifted $1.6 billion to a new 501(c)4 nonprofit focused on pushing socially conservative causes. In fact, there are more similarities than differences between the two.

First of all, as more people are now grasping, the notion that "there is no tax benefit here whatsoever," as a Chouinard adviser told the Times, is ludicrous. The Times kindly noted that Chouinard—because he is donating the company to a new 501(c)4, which is not tax-deductible because it is a political nonprofit—is foregoing the tax deduction that he would be able to claim had he donated his company to a traditional, nonpolitical nonprofit, a 501(c)3. That is true—but I was surprised the Times didn't also note that Chouinard is avoiding capital-gains or gift taxes that he would surely endure if he pursued any of the other exits that he told the Times he had considered.

Selling Patagonia shares in an I.P.O., or after? Selling Patagonia itself? Passing the company to heirs? Any of those moves would have probably triggered a massive taxable event that would have provided federal coffers with money for public projects like roads and schools. Instead, according to the number crunchers at Bloomberg, Chouinard is avoiding an estimated $700 million tax bill. Now, this is precisely how U.S. tax law is designed, theoretically in order to incentivize philanthropy. It isn't tax evasion, unless all philanthropy is tax evasion. Yes, Seid actively reaped a tax windfall by donating his shares just ahead of his company's pre-planned sale. But both gifts amount to some taxpayer-subsidized generosity in the end.

The most potent difference is that Seid gift is advancing causes that are anathema to the left. I know many liberals who are enraged by the Seid gift but smitten by Chouinard's. That strikes me as a totally reasonable, and not hypocritical, position. But there is a certain type of liberal critique over the last few years that has become trendy, one that attacks billionaires' political influence in general. I haven't yet seen those pitchforks come for Yvon Chouinard. Because let's be blunt: the $3 billion donation to "fight climate change" will likely advantage Democratic political groups or super PACs, equipping Yvon Chouinard with much more sway in the policy arena than, say, a middle-class Ohioan who wants to drill baby, drill.

Put another way, billionaire political influence and leadership can be a good thing, but the creation of the Holdfast Collective is no different, structurally, than the creation of any new political nonprofit, from Seid's Marble Freedom Trust to the Kochs' Americans for Prosperity. I've gotten into some debate with people over whether this qualifies as "dark money"—I'd argue yes, but that term of art has quickly lost some meaning. Regardless, you'd think that the eat-the-rich left would be more apoplectic about a billionaire putting his fingerprints all over public policy. Instead, it is only the right that is fretting, seeing the donation as the latest line-blurring between taxpayer-subsidized political spending and philanthropy. Then again, if the Chouinard donation—not tax-deductible, remarkably transparent, channeled toward a seemingly worthy mission—isn't celebrated, then what donation will be?
FOUR STORIES WE'RE TALKING ABOUT
Recession Bull Market
Bill and Peter discuss inflation, deflation, headwinds, and fears coursing through Wall Street.
PETER HAMBY & WILLIAM D. COHAN

The Oscars Makeover
Can C.E.O. Bill Kramer and president Janet Yang save the Academy from itself?
MATTHEW BELLONI

The Veritas Equation
A new lawsuit seeks to establish the journalistic legitimacy of the controversial media outfit.
ERIQ GARDNER
You received this message because you signed up to receive emails from Puck

Was this email forwarded to you?

Sign up for Puck here

Interested in exploring our newsletter offerings?

Manage your preferences

Puck is published by Heat Media LLC

227 W 17th St

New York, NY 10011

For support, just reply to this e-mail

For brand partnerships, email ads@puck.news