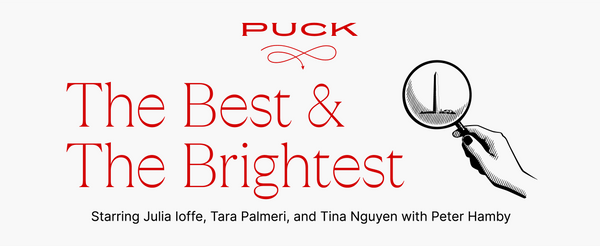 Good evening,
Welcome back to The Best & The Brightest, our new weekly composite of what's really going on in this town. On behalf of my partners Julia Ioffe, Tina Nguyen, and Peter Hamby, we appreciate your support and feedback. Keep it coming.
Today, I'm focusing on the Hakeem Jeffries money game: Yes, he's talented, and perhaps underestimated in his ability to whip votes, like his predecessor, Nancy Pelosi. Does he have the skill set to make it rain? Pelosi is slowly exposing him to her Rolodex… but is that enough?
But first, here's what else D.C. is whispering about this week…
The Revenge of the Moderates: Yes, the most uppity MAGA element of the Republican party has had Kevin McCarthy over a barrel the past week, demanding enormous concessions (committee assignments, the Rules capitulation, the vote to defenestrate) as the cameras rolled and Matt Gaetz reigned. Soon enough, we'll see what deals were really cooked up behind the scenes. But tonight, McCarthy will have to flop in the other direction to assuage moderates who are rightfully anxious about the sorts of uncomfortable votes they will face now that members of the "Taliban Twenty" occupy the sort of positions that help dictate which legislation makes it to the floor.

Will moderate Republicans have to vote on batshit legislation, like defunding the I.R.S., which is dead on arrival in the Senate, uncomfortable for all the obvious reasons, including the fact that it is electoral kryptonite, and seems only to play on cable or fringe podcasts? Already, you're hearing rumblings of discontent from McCarthy's base of loyal moderates, who still don't know what else he agreed to. Rep. Tony Gonzalez said he wouldn't vote for the Rules package tonight, fearing future implications for defense spending. McCarthy can only lose four votes. How many other moderates will also refuse? Likely not enough to tank the package, which is required to pass in order to allow Congress to start legislating. Welcome to your new job, Kevin.

Newsom's Big Speech: Remember six weeks ago, when Gavin Newsom said unequivocally ("the answer is no") that he would not run for president in 2024 even if Biden doesn't run? Well, that sounds off-key with the national messaging during Newsom's choreographed inaugural, which featured a hand-in-hand walk over the Tower Bridge, in Sacramento, en route to the state's capitol building, that he turned into a metaphor for his soaring oration. (My colleague Teddy Schleifer reported that he's long been dreaming up a big swing speech.) "More than any people, in any place," Newsom noted, "California has bridged the historical expanse between freedom for some, and freedom for all." He landed some punches at leaders from red states who might be his opponents in a 2024 matchup, including Ron DeSantis, whom he said "silence speech, fire teachers, kidnap migrants… and even demonize Mickey Mouse," and at "little men in big offices," referring to Donald Trump. It also didn't go unnoticed that he delivered his speech and pro-democracy march on January 6. Alas, the speech, which would have normally led a news cycle, at least on MSNBC, was drowned out by the McCarthy reality show.

Arnolds' Play: Hedge fund billionaire John Arnold and his wife Laura are once again partnering with long-time Republican strategist Holly Harris, after seeding her Justice Action Network that advocated for the First Step Act. While the couple is better known for supporting left-leaning causes like open primaries and ranked choice voting, they're also frequent antagonists of public-sector unions and tax loop-holes for donor-advised funds, which they've fought with the help of Republican strategist Kevin Madden. In their latest turn towards bipartisan advocacy, they're partnering with Harris again to launch "The Network"—a multi-million dollar initiative aimed at supporting lawmakers who are willing to work across the aisle on issues like healthcare, public safety, criminal justice and higher education reform. Harris told me it's not about arm-twisting moderates, but building consensus across even the extremes of the parties. "There's a void of support for these lawmakers," Harris said as she hopped from Republican Governor Mike DeWine's inauguration in Ohio to Democrat Josh Shapiro's in Pennsylvania. "Most of the money in politics is special interest money that pushes lawmakers into their corners. If you're willing to work together on evidence-based legislation, we will support you politically."

And now for the main event…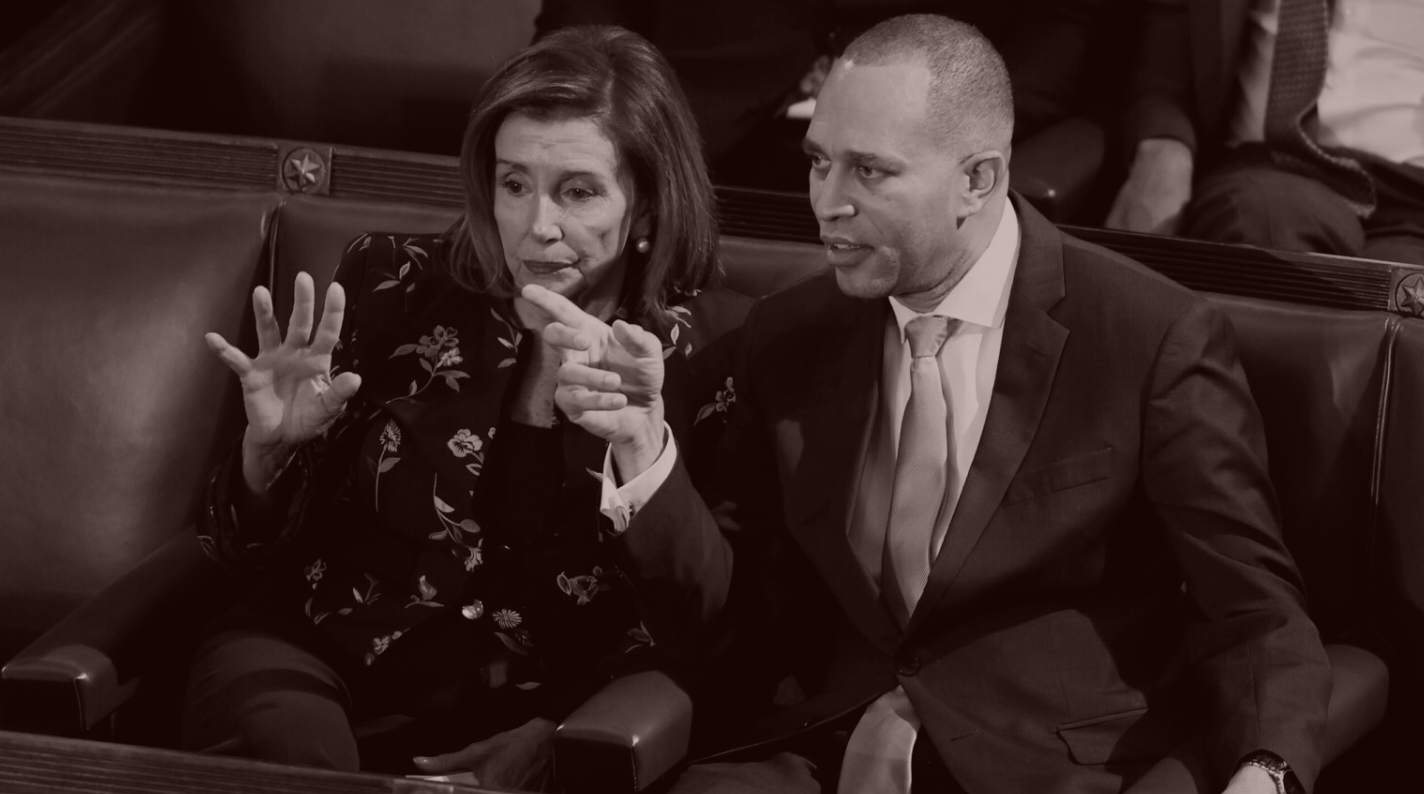 Can Hakeem Make It Rain?
Nancy Pelosi has spent half a decade grooming her historic successor, a leader who has unified his party as his old boss sits in the back bench. Everyone likes him and admires him. But can he shake the money tree?
Hakeem Jeffries, the historic first Black leader of the House Democrats, has been quietly building toward this moment for some time. Admired for his competent leadership style and subtle ability to manufacture consensus, he's also benefited from the tutelage of his predecessor, Nancy Pelosi, who for years has publicly showered him with praise, calling him a future star of the party, and providing key introductions to her donor network around the country. Some, like Adam Schiff, may have been more prodigious fundraisers, but Jeffries was the most popular, and won the prize. Now that he's running the show, of course, there are already quiet murmurs about his ability to bring in the sort of haul that the House Democrats have become accustomed to, year after year, to take back the majority in '24.

Naturally, the private questioning comes down to the role that Pelosi will play in all of it. At the annual Democracy Alliance confab last month that Jeffries also attended, she told a smaller group of donors that she wouldn't be acting as some sort of "mother-in-law in the kitchen," according to my Puck partner Teddy Schleifer. Pelosi doesn't need to stand over Jeffries' shoulder from the backbenches, nor does she want to appear to infantilize him; Jeffries, after all, represents much of the same tri-state turf that Chuck Schumer has mined so voraciously and effectively for ages. But he's also not like Schumer, who has been a fundraising machine since his time in the New York State assembly. The question really comes down to whether Pelosi is going to act as a security blanket, a facilitator, or an aggressor in ensuring that her network transcends her leadership and career.

"Nancy Pelosi was the most effective fundraiser I've ever seen in politics but it didn't happen overnight, it took a while," former Democratic Congressional Committee chair Steve Israel explained. "It's not going to happen overnight for Hakeem Jeffries either." Like Jeffries, Pelosi introduced Israel to her inner circle at donor events in California when he raised money for the party. "Speaker Pelosi's donor network is wide, deep and intensely loyal to her," he said. "I'm sure that she will be encouraging them to be just as generous toward winning a Democratic majority in 2024 for Hakeem's leadership."
Theoretically, this all makes sense. Obviously Pelosi wants to ensure that the Democrats remain successful. God knows she's had innumerable opportunities to retire, or become Ambassador to Italy, and yet she has decided to grind on through a final term. Scrutiny about her ability to bequeath her Rolodex is not about her intentions, but rather how long she holds on to those relationships as a sort of power-sharing tactic.

According to a source with knowledge of the situation, her donor network is organized in three concentric circles. At the nucleus are about 10 of the most generous donors in the country, whom Pelosi's team feel they could reliably tap into during acute moments of need. One ring outward are about twenty extremely generous families, but families less accustomed to multimillion-dollar election cycle donations. Beyond that is a circle of about 30 donors, all at variable spend levels. Part of Pelosi's unique genius has been the innate ability to tap into each group at the right moment to enable her desired outcome.

Members of the orrery are spread throughout the country. (To wit, the billionaire Bernard Schwartz is a lifelong New Yorker.) But Pelosi's real sweet spot is old, blue blood San Francisco money: people like Ann Getty, Hillary friend Susie Tompkins Buell and Mark Buell, George and Judy Marcus and Mary and Steve Swig, plus their extended networks. When the Buells open their 2500 Steiner Street home for a fundraiser in San Francisco, it's a harbinger of whom to support.

It's a challenging barrier for Jeffries to breach without the most careful handling. These are people who have been giving Pelosi money since the 1980s, when she was the head of the California Democratic Party. "It's hard to raise money, to govern; he could be handicapped by her just by being in [Congress]," said another former Democratic lawmaker. "She needs to give up the access and not pull the strings, and I don't think she will be able to do that."

It's true that Jeffries may struggle to build his own autonomy and relationships while remaining deferential to Pelosi, but her guidance and network is invaluable—and she knows it. "She will help him with a spoon, not a shovel," said a source close to Pelosi. "I think she's genuinely committed to seeing it through that he's successful. They talk, he leans on her, but he also doesn't want to completely overshadow her in the outset. You've seen him genuflect in a lot of ways. It's noted by her and smart by him."
"Nancy, Where Do I Put the Money"
When she first announced that she would be stepping into the backbenches, few could imagine precisely how Pelosi would operate in her new role. And while she certainly hasn't adopted the orientation of a mother-in-law, she's nevertheless operated in these first few days with a light, yet effective touch. At the onset of his leadership victory when Jeffries was criticized for staffing challenges, Pelosi handed over a top and trusted aide, George Kundanis, who will serve as a senior advisor to the new leader.

Moves like these evince a genuine concern for Jeffries. During the mentorship years, when he'd come meet her donors in California, she would wax eloquently about him. Now she'll continue to do these fundraisers around the country for the new crop of leaders: Jeffries, Katherine Clark, and Pete Aguilar. Many expect that she'll hold her annual fundraiser in the spring in Baltimore for the whole Democratic delegation, followed by her more exclusive annual fundraiser in Napa.

While many of these donors will go wherever the party leads them, there are some die-hard Pelosi donors that will always be a challenge for Jeffries, in the same way that some donors just won't let go of the Hillary and Bill Clinton dream. "There are going to be people who say 'Nancy, where do I put the money?' And that's when she has got to say, Here's Hakeem, here's the D.C.C.C., here's the House Majority PAC," said a Democratic strategist. "Some will fall off, because of the commitment to Nancy, but new ones will arise. They see the promise of a young Hakeem Jeffries."
FOUR STORIES WE'RE TALKING ABOUT
Zaz vs. Goliath
On the new M&A environment, Twitter, David Zaslav's debt journey, the bulls, the bears, and more.
WILLIAM D. COHAN

The Globes Woes
Is this the swan song for NBC's Globes, or the start of a new chapter?
MATTHEW BELLONI

Need help? Review our FAQs page or contact us for assistance. For brand partnerships, email ads@puck.news.
Puck is published by Heat Media LLC. 227 W 17th St New York, NY 10011.