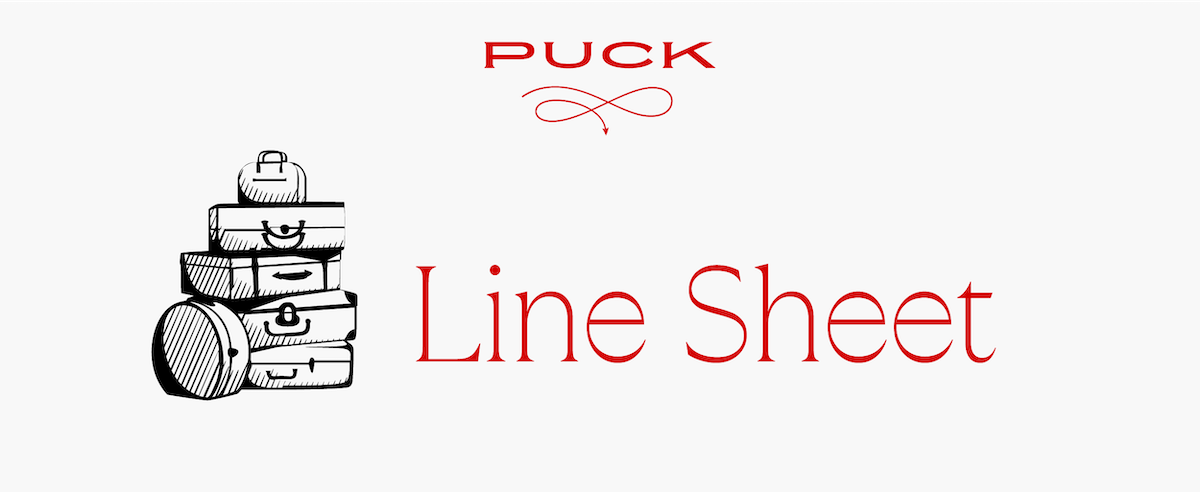 Welcome back to Line Sheet, and happy First Monday in May! Maybe you're reading this while getting your makeup done, maybe you're sidling up to your computer to watch Lala and Derek on the livestream—insert teeth-clenched emoji here—or maybe you do not care about the Met and are already in bed! No matter, there's something for everyone in this edition.
I'll be out and about tonight, so please say hello, and be on the lookout for a very special Line Sheet drop this Thursday, where I'll be detailing who won the biggest night in fashion. (Meanwhile, a quick reminder that Line Sheet will be subscribers-only starting in two weeks, so make sure to sign up here.) Let's hope something absolutely absurd happens.
Before we get started, I wanted to extend a massive thank-you to Saks C.E.O. Marc Metrick, who co-hosted our first Line Sheet private dinner at L'Avenue in New York last Wednesday. I always love working on stories with Marc, and his support and encouragement (and love of Puck!) in these early days has meant a lot to me.
These events are off-the-record—and no photos! ideal, i.m.o.—but what I can say is that we had a great time talking shop and beyond with leaders from across the industry, from Kering and Prada to Parade and J.Crew. (And IMG, Khaite, Ulla Johnson, Alex Mill, Urban Zen, Tomorrow, Cartier, Leitz & Co, etc.) It was such a wonderful evening and it reminded me why I have loved writing about this industry for so many years. Huge thanks to the Puck team, especially our co-founder and C.O.O. Liz Gough and our V.P. of brand and partnerships, Alex Bigler, and brand manager Isabella Lichauco, for making the evening so perfect despite such a quick turnaround. (Remember, I only started working here three weeks ago!) And to Max Stein of Brigade Talent, my friend and temporary manager (lol), who was absolutely integral to putting this all together.
I'd love to do one of these events once a quarter if possible, if not more —Paris, Los Angeles, San Francisco, London, wherever!—so if you're interested in co-hosting, hit up Liz@puck.news.
Mentioned in this issue: Karl Lagerfeld, Roger Lynch, Anna Wintour, Kristina O'Neill, Emma Tucker, Virginie Viard, Gabriela Hearst, Kim Jones, Bernard Arnault, Alessandro Michele, Sabato De Sarno, François-Henri Pinault, Chris Rock, Leonardo DiCaprio, Emily Ratajkowski, Almar Latour, Jacob Gallagher, Rory Satran, Dale Hrabi, Elisa Lipsky-Karasz, Matthew Schneier, and many more.
But first, some news and notes on the Met Gala…
As guests ascend the steps of the museum this evening, it's notable to recall what a big business this whole thing has become. I've been in town all week, and here's a quick digest of what people have been talking about…
There's no doubt that Chanel is going to win this season. Not only did the independent firm sponsor the Gala—where Karl Lagerfeld is being honored posthumously, and where dozens of people will be wearing the brand, or gowns inspired by it—but it's hosting an afterparty and another event on Tuesday. (Then, just a week later in L.A., there's a big store reopening and the Resort runway show on May 9.)

The brand's current creative director, Virginie Viard, is a longtime deputy of Lagerfeld's whose biggest contribution to the house so far is to make it feel more contemporary (she makes culottes), so I don't expect anything surprising on that front. However, I will be watching closely to see how Chloé's Gabriela Hearst and Fendi's Kim Jones approach the evening. Hearst in particular has a big challenge because Chloé is where Lagerfeld first became a star, and his work there is fairly recognizable.

As for unrelated-to-Karl brands, I hear that Balenciaga, owned by Kering, snagged the young designers table this year. (While most are pressured to buy at least a couple of tickets, which cost at least five figures, Anna Wintour always invites a handful of young independents.)
But while some big-name rivals dialed back on their participation in the actual gala because of the Chanel-heavy content, they haven't shied away from hosting attention-seeking events. LVMH's Tiffany multi-event extravaganza—a ribbon cutting ceremony with Bernard Arnault and his four sons, a dinner at the newish Caviar Kaspia, a splashy party that welcomed everyone from Pharrell to Leon Black—won't be quickly forgotten, especially given how many people are likely to be wearing Tiffany jewelry with their Chanel gowns tonight. And it certainly elevated the name recognition of the Arnaults here in the U.S.
Kering-owned Gucci also made a case for how to throw a party in between designers. (Alessandro Michele's replacement, Sabato De Sarno, shows his first collection in September.) Given that the early-to-mid-aughts, from indie sleaze to going out tops to Lizzie Grubman, is trending so hard right now, it (sort of) made sense to enlist Amy Sacco to "reopen" Bungalow 8 for one evening. Granted, the location was a loft space in Meatpacking, not 515 W. 27th St. But no matter, the real draw here was the stream of curiously relaxed celebrities mingling with Kering C.E.O. François-Henri Pinault and his wife, Salma Hayek. I guess it's pretty typical to see Sienna Miller milling about with the normies at a fashion thing, but she was joined not only by the likes of Chris Rock and Jerrod Carmichael, but also Leonardo DiCaprio. An impressive feat of earned-media value generation during a very busy week when it's hard to break through the noise.
There's only one thing that could upstage the pre-parties, and it's the afterparties. I don't know what's going on—actually, I do, it's called making up for lost time—but I'm told there will be at least eleven parties post-show, including the aforementioned Chanel fête, plus Cartier at the Carlyle, Karl Lagerfeld at the Mark, The Standard's standard Boom (hosted by Janelle Monáe), an Emrata special in FiDi, and something from Dua Lipa at Virgo, organized by Corey Tuttle. Things are feeling a bit end times but I guess all these celebrities need a place to go.

After all, the gala, which raised a record $17.4 million for the Costume Institute last year, is more about the celebrities than ever. I'll be watching the crowd closely, which I'm told will be smaller than it has been in recent seasons, but also filled with more stars. While the Met Ball used to be a fun night out for wealthy New York socials, it's now a global marketing platform. Probably more fun for the people (and brands) that need press.

And now for some slightly more ponderous thoughts on the actual work on display…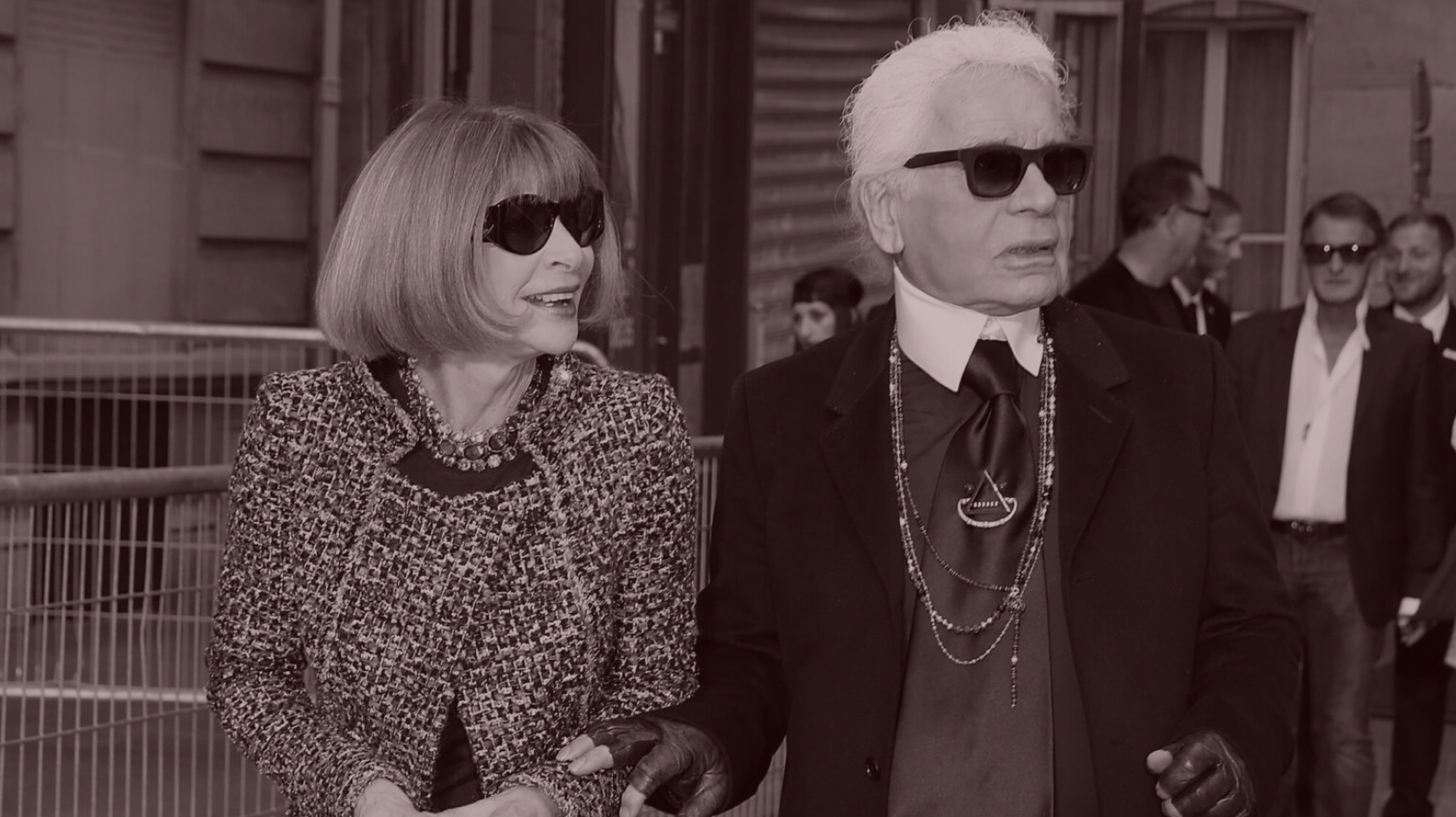 Lagerfeld & The Met Ball-ification of Fashion
It's only fitting that this year's costume exhibit would honor the designer who ushered in an era of transformative commercialism in fashion—precisely the sort of business intelligence that will be highlighted this evening.
The clouds disappeared on Monday morning in Manhattan, just in time for an early preview of the Costume Institute's annual exhibit, this year featuring more than 200 garments designed by Karl Lagerfeld, best known as the creative director of Chanel for nearly 40 years. Lagerfeld also made significant contributions to Richemont-owned Chloé, LVMH-owned Fendi, his own namesake label and fashion-as-a-medium in general. But those years at Chanel, still owned by the Wertheimer family—who hired Lagerfeld in the early '80s to dust off a neglected couture house—made his career. Unsurprisingly, Chanel sponsored this exhibition and tonight's Gala.

In opening remarks, Roger Lynch, the C.E.O. of Condé Nast, called Vogue's Anna Wintour, the Met Ball's chief engineer, "the hardest-working, most dedicated person I've ever known," which just as easily could have described Lagerfeld, who died in 2019. As two of the most recognizable names in fashion, their professional lives neatly intertwined, and this staging seemed inevitable.

As for the execution, branded shows can be glorious—as demonstrated by Dior a few years ago—and the sheer expanse of Lagerfeld's body of work is awe-inspiring. But unlike Dior or Saint Laurent, Lagerfeld's greatest contribution to fashion wasn't a silhouette—it was an attitude. The Lagerfeld-was-a-terrible-person discourse is not unfounded, but it's also a misuse of a genuine opportunity to interrogate what fashion has become, and how his role as an instigator propelled the business forward. He created the fashion business inverted pyramid: couture is the dream, ready-to-wear is the nice-to-have, handbags and shoes are the margin drivers, and beauty is the more accessible entrypoint (and additional margin driver). The industry as we know it now wouldn't exist without him.

When it comes to his cutting remarks and offensive gestures, that was pure performance. He may have believed those things, but he said them to provoke. (He got skinny on Diet Coke in the 1990s, after all—he knew what the people wanted.) So, if you're looking for concerned "Karl Lagerfeld: bad guy" content, I advise you to go elsewhere. (Do a light Google search—there's plenty.) Applying presentist theories to the past feels unproductive.

There is so much to say about his legacy: not only about his influence on culture but also his role in the commercialization of the business and the manifestation of the designer-as-marketer trend. These themes, which are not fully explored properly in the exhibit, could have given it the tension that all good art possesses. Lagerfeld likely would have wanted his retrospective to be as messy as the table of his art books splayed about in one of the rooms.

And, finally, what better way to honor the First Monday in May than the inside story of a media scandal that everyone (everyone!) is talking about…
Inside the WSJ. Succession Scandal
If there's a plan to replace WSJ. magazine editor-in-chief Kristina O'Neill, who was sacked, to use a very British term, by new Wall Street Journal editor Emma Tucker last week, it's not being shared with staffers, according to a number of people. Instead, Tucker's missive is to "carry on" as usual.

In some ways, O'Neill's Thursday morning meeting with Tucker—the first time they had met in person since the Murdoch-appointed editor arrived at the paper on Feb 1—didn't come as a complete surprise. It was probably time for a change. Her 10-year run at WSJ., which she spun into a tasteful ode to Peter Lindbergh and chunky cashmere, made her a star in the declining world of fashion and magazines, with her name surfacing as a potential successor for Glenda Bailey at her alma mater Harper's Bazaar and as an outside contender for Graydon Carter's throne at Vanity Fair back in 2017.

But the world moves faster than it used to, and the 40-something generation of editors cycle in and out more quickly as tastes morph at warp speed. Tucker, who is British and was most recently stationed at The Times of London, certainly has her own idea of what a luxury supplement should look like. In the U.K., style supplements not only run on a skeleton staff of typically underpaid writers and editors (we're talking £45k-a-year situations unless you're at the top); they are also allowed to take free trips and gifts, which helps in developing relationships with press and advertisers. Essentially, they cost very little to operate and make a good amount. I was told by someone on the business side that WSJ. lost about $4 million in 2021, although that could have been a "Covid blip," as one editorial staffer reminded me. (The magazine returned to profitability in 2022.)

One longtime WSJ. advertiser and I tried to do some back-of-the envelope math on how much the mag was generating overall, and deduced that they were probably bringing in at least $1.5 million for front-of-book advertising each month, so it's unlikely they'll stop producing the print product, even if brand interest has dulled a bit.

It's also worth noting that Tucker's husband is Peter Howarth, a former editor of British Esquire and a supporting character in the 1990s lad-mag boom in London. He's been consulting for many years, including for Tucker, for whom he was editing the Luxx Report (what a name) men's style issue at The Times as recently as this year.

The timing of the change, however, does feel a little weird, given that the magazine has not closed the September issue, the most important driver of revenue for any fashion publication. And there was no funny business involved—unlike a few years ago, when two senior people, one in editorial and one in business, were fired for egregious expenses and accepting freebies. (I'm not going to name them here because they've been embarrassed enough!) I'm also told that several top executives on the revenue side were not aware that O'Neill was being dismissed.
However, Tucker is under tremendous pressure—not only to get journalist Evan Gershkovich out of Russian jail, but to cut costs, and I'm told there has been a halt on outside photo shoots for certain sections through July. There were also layoffs across the Journal on Thursday. But none of those layoffs were at WSJ. or the style news desk, a digital-first group of reporters and writers that was formed last year. The style desk concept was pitched by O'Neill to publisher Almar Latour, who funneled money from the newsroom. They moved the Journal's two star fashion writers, Jacob Gallagher and Rory Satran—both known for generating viral stories—over from the paper's lucrative Off Duty section, and staffed up with reporters and editors from the Business of Fashion, CNN and The New York Times.

From the editorial side, the style desk project is viewed as a success, but there are questions within the business regarding whether there are too many staffers covering the same thing and whether it is being appropriately monetized. (Both Gallagher and Satran were replaced at Off Duty, which is edited by Dale Hrabi. Maybe this is a good time to disclose that I used to be a frequent contributor to Off Duty.)

As for what Tucker's next move will be—she could truly just carry on, minus O'Neill's salary, by promoting her deputy, Elisa Lipsky-Karasz, and digital director Sarah Ball, who lives in London and has access to the top brass on that side of the pond. From my end, NYT Styles editor Stella Bugbee is a clear choice, or the Financial Times' Jo Ellison, although I doubt either is interested. (They both already have good, challenging, secure jobs.) I got some write-in votes for Matthew Schneier, currently a reporter for New York magazine and The Cut who is hugely talented and may be underutilized in his current role.

But I think the answer may lie with Howarth. My guess is that there will be no other staffing changes until the top job is filled.

And finally, some parting thoughts…
What I'm Reading (and Listening To)
Remember when I told you in the first issue of Line Sheet that Tom Ford was retiring from fashion, and the brand's new creative director was Peter Hawkings? Well, that news was officially announced with the close of the Estée Lauder deal. What a class act, that Tom Ford. Very few successful people know when it's time to let go. Congrats to everyone involved. [Businesswire]

Thanks to everyone who's stopped me this week to remark on my interview with Eugene Rabkin, the longtime fashion journalist and editor in chief of StyleZeitgeist, the magazine and online fashion forum that's been cooking since 2006. (It's a "real heads know" type of situation.) We talk about the future of physical retail, the plight of the independent designer, and a bunch of other stuff I can't remember but may be worth your while. The thing about Eugene is that he is far more disappointed by the direction the industry has moved than I am—I'm a realist, I like to say—and yet we're still able to have a productive conversation. [StyleZeitgeist]

Who will get the kiss from Daddy? Loved this detailed piece from Nick Kostov and Stacy Meichtry on Bernard Arnault's succession strategy at LVMH. My quick take: A transition like this isn't going to happen until it absolutely has to—and while Arnault may have more faith in his kids than Logan Roy, none of them are ready and he certainly knows that. Yes, Delphine Arnault is in the lead now with her big Dior-C.E.O. appointment, but is she a killer? If for some reason Arnault had to step down soon, my guess is that they'd do what many family-run companies do—bring in someone like longtime LVMH exec Michael Burke to manage until one of the more serious children is ready in 10 years or so. Remember, three of them are 30 or under! [WSJ]

More Mr. Arnault: the LVMH chairman and C.E.O. talked Tiffany and the (estimated) $500 million renovation (I've heard closer to $1 billion) of its 83-year-old flagship store, spearheaded by his son Alexandre. My quick review: it's a lot. But it's also following a template that has worked incredibly well for LVMH brands like Dior (Ave Montaigne reno estimate: $400 million): fill the space with as much contemporary art as humanly possible, use as many different interior-surface materials as humanly possible, and make sure there are plenty of opportunities to eat. Let the seven-figure high jewelry and $375 thumbprint dish purchases commence. (At the press preview and ribbon cutting ceremony on Wednesday, Alexandre kindly offered to light up an iPad if anyone wanted to make a purchase prior to the official opening.) [WSJ]

This Florence Pugh-Valentino campaign is fabulous. I'm not sure there's a brand that picks its celebrity shills better—and that's because of the creativity and thoughtfulness of those orchestrating things behind the scenes. The boring, bigger, brands should take note. [New York Times]

In other I'm-sorry-magazines-are-dying-news, Paper finally folded and laid off the entire editorial staff. (Sending love to Mickey Boardman, an actual legend and one of the best people in fashion.) I'm sure there are a ton of great people on that staff right now that need new jobs, but I can recommend Mario Abad, who was overseeing the online fashion coverage. Get in touch with him! [Adweek]

Mini trend report: An exec recently told me that her teenage daughter and friends are all wearing Onisuka Tiger's Mexico 66 sneakers, which pair well with longer jeans that drag ever so slightly on the floor. Then I landed in New York and saw it for myself. Everyone is wearing these. [Highsnobiety]

How are you going to capitalize on the pink avalanche of Barbie content and fashion that's about to hit us? One word: Kenergy. [Vogue Runway]

The stylist Julie Ragolia, who most recently has made magic on the runways of Zegna and with celebrity clients like Riz Ahmed, was just named fashion director of the art magazine Autre, and her first issue is now available for pre-order. These ultra-specific art magazines are where a lot of the luxury advertising money is going these days, and this is one to keep an eye on. [Instagram]
Until Thursday,
Lauren
FOUR STORIES WE'RE TALKING ABOUT
Fox News Sweepstakes
News and notes on Tucker's future, his succession, and a new CNN threat.
DYLAN BYERS

The Milley Doctrine
A chronicle of a transatlantic voyage with General Mark Milley.
JULIA IOFFE

Need help? Review our FAQs
page or contact
us for assistance. For brand partnerships, email ads@puck.news.
Puck is published by Heat Media LLC. 227 W 17th St New York, NY 10011.