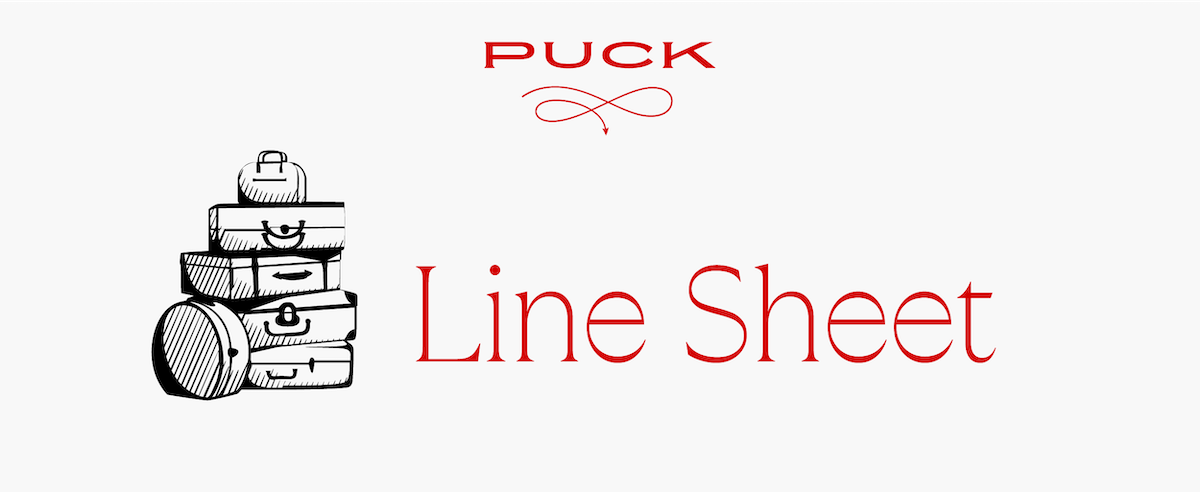 Hello, and welcome to the inaugural edition of Line Sheet, my new private email about what's really going on inside the fashion industry. Thanks to those of you who have tuned in for these past few weeks of previews—and to the dozen or so people who knew I was heading to Puck for many, many months and kept it under wraps. (Don't worry, there is some status-defining Puck merch heading your way.)
Also, thanks for the hundreds of emails that I've received from readers with notes and feedback. It's been so fun to correspond with so many of you, and as one of those crazy inbox-zero people, I'll continue to respond to as many as possible. (I may even incorporate a feedback section in this private email one day.)
Lastly, I've also enjoyed the numerous tips on which designers are headed where. I plan on sharing a lot of these informed hypotheses in the coming weeks and calculating the probability that they may eventually become fact: it's a fun way to dig into what everyone is actually talking about without taking it too seriously. It's not real until it's real, of course, but sometimes these conversations are the leading indicator of what will in fact become real.
One housekeeping note: Some of you have asked about corporate Puck memberships. I have some great news: They exist! Email our concierge at fritz@puck.news and we'll get your team set up. Or email me and I'll introduce you, whatever you'd like. Oh, and others have reached out regarding newsletter sponsorship. Yes, you can sponsor Line Sheet, too. Our co-founder and C.O.O. Liz Gough can't wait to hear from you. Email her at Liz@puck.news.
And now, for the good stuff…
Today, I try to figure out how much Vogue is charging for Met Gala advertising, give you the final word on stealth wealth, and attempt to explain what's going on with Law Roach.
Mentioned in this email: Anna Wintour, David Bamber, Christopher Bailey, Clare Waight Keller, Peter Hawkings, Tom Sandoval, Raquel Leviss, Martin Margiela, Jil Sander, Helmut Lang, Calvin Klein, Donna Karan, Law Roach, Zendaya, Alessandro Michele, Matthieu Blazy, Daniel Lee, Phoebe Philo, Anjelica Huston, Bob Mackie, Cher, Giorgio Armani, Jason Bolden, Wayman Bannerman, Micah McDonald, Kollin Carter, Richard Gere, Uma Thurman, Nicole Kidman, Rachel Zoe, Bernard Arnault, Domenico De Sole and more!
But first…
Tom Ford's Succession Plans?
Word in London is that Tom Ford will officially step down as the creative director of his namesake fashion brand and be replaced by Peter Hawkings, his current right-hand in the menswear studio. I've heard this directly from multiple, credible sources. Representatives for Tom Ford and its clothing partner, Ermenegildo Zegna Group, did not respond to a request for comment. Tom Ford's soon-to-be-owner, the Estée Lauder Companies, responded only to say that they "are unable to comment on rumors or speculation."

Now, I never 100 percent endorse these things until the official statement goes on the wires—agreements can go south fast, crazy things can happen when lawyers work in deal heat, especially when creative people are involved, and strange arrangements and concessions are made. But if this goes through, the twist is that Hawkings will be overseeing both the men's studio, based in London, and women's studios, which was located in Los Angeles while Ford was living there. I haven't heard anything on what will happen with the split studios, or whether David Bamber, the director of the women's studio, will stay on. Bamber has been with Ford for decades (he started at Gucci in 1990), and has been the consistent women's designer by his side as future superstars, like Christopher Bailey and Clare Waight Keller, cycled in and out of his orbit.

This shouldn't come as a terrible surprise to those following the Estée Lauder Companies' $2.8 billion deal to acquire Tom Ford, announced in November 2022, and expected to close within the next couple months. In the densely worded press release, the companies said that Ford would stay on as the "creative visionary" through 2023. What exactly that meant then, or means now, is unclear, but he certainly needed to stick around until the deal was finalized, and perhaps then some in order to ensure a smooth transition, and receive whatever kind of send-off he'd like.

Ford had been pretty open about his desire for a change: his longtime partner, Richard Buckley, passed away in September 2021, and more recently, he bought a house in Palm Beach. In the summer of 2022, he started shopping around not only his fashion brand, but his beauty brand, too, which generates close to $2 billion a year for Estée. The business was structured so that Ford and a group of investors owned the fashion house, but Ford himself owned the right to license the name for beauty, eyewear and other categories, which allowed him to make a generous profit on those partnerships each year. (Smart guy.)

Licensing is a common and useful revenue lever that is deployed when the brand doesn't have the internal expertise to make something, thereby prompting them to outsource the production and distribution to a third party. After Ford and his business partner, Domenico De Sole, left the Gucci Group in 2004, they launched Tom Ford Beauty a year later in partnership with Estée, which owned the rights to develop and distribute beauty and fragrance. In 2007, he launched menswear, followed by women's in 2010.

But the agreement with Estée was nearing its end, and Ford had the instinct that it was time to sell. While there was certainly interest from other parties, the beauty part of the business had become invaluable to Estée, which would have been embarrassed or furious or both if they had lost out to Kering or LVMH in a bidding war. So they bought the whole thing, and entered agreements with Zegna and Marcolin, Ford's longtime partners, to continue to make Ford's clothing and eyewear, respectively.

Hawkings' appointment as creative director would make sense for Zegna, which primarily makes men's clothing and has been partnered with the men's business from the start. While Zegna has dipped further into womenswear with its acquisition of Thom Browne, it's far from a core capability. On the other hand, while Tom Ford's womenswear (like Shiv's $5,490 leather-lapelled, gold-padlocked tuxedo blazer on last night's episode of Succession) has a dedicated following and has ramped up its accessories game in recent years, it's still a tiny part of the business, and doesn't need to be prioritized.

My hunch, however, is that Ford may stay at least a little bit involved in the brand marketing. While there were rumors that Waight Keller, who was most recently at Givenchy and before that Chloé, might be coming in, I don't think it makes sense for the brand to hire another superstar designer at this juncture. Maybe in 5, 10 years. But for now, Ford remains culturally relevant. While some folks might feel his ideas of sexiness are outdated, there is a whole other group, including Y2K-obsessed Gen Zers, who love to wear their thongs peeking out of their hip-huggers and absolutely eat it up.
What does the Met Gala do for Vogue? In the 1990s, the annual Costume Institute benefit was alternatively co-hosted by Anna Wintour and Harper's Bazaar editor Liz Tilberis, one of her most memorable rivals. But as Wintour's grip on the event took hold, and she turned it into a pop culture sensation, the monetization potential for Vogue and its parent company Condé Nast have vastly increased. Anyone who watched last year's live stream might recall how advertisers such as Patrón, Google, T-Mobile, and White Claw (!) populated the interstitials. These brands aren't paying the $1.4 million to $2 million per 30-second ad that ABC can charge for the Academy Awards, but the Gala has passed Vanity Fair's Oscar party to become Condé Nast's biggest tentpole.

Vogue's initial ask for these advertising deals, some of which include banner advertisements and custom content in additional live stream placement, is often upward of $1 million, I'm told. For instance, Condé Nast offered one influencer $180,000 to star in a Met Gala campaign sponsored by St. Regis. Some influencers are paid closer to a million dollars for higher-stakes campaigns. A representative for Vogue declined to comment on the size of the Met Gala-related campaigns.

The guest list is far from finalized, but one person who I do know is slated to attend has the last name Jenner, so forget about those rumors of a Kardashian-free evening. After all, the reason Vogue can charge so much is because Met Ball-day traffic is massive, and ergo the guest list needs to include Internet sensations. According to Vogue's internal numbers, 25 million people watched the live stream—15 million while it was taking place, and 10 million later.

Does that mean you'll see Tom Sandoval and Raquel Leviss on the steps of the Met? Absolutely not, too base. But Wintour knows that she must bring in super-famous talent to get the eyeballs she needs online. Wrangling talent remains one of her signature skills.

And it turns out that Vogue is not the only publication benefiting from the Met Gala frenzy. The first Monday in May has always been a huge traffic day for fashion and celebrity publications. But in recent years, it has eclipsed red-carpet Oscars coverage for many of them, a few editors told me. I asked Launchmetrics—an analytics firm that measures R.O.I. across print, online and social channels—to figure out which media brands benefited the most from the Met Gala in 2022. While Vogue was number one, other publications like E!, People, The Shade Room and Elle ranked high, also. Apparently, The Shade Room comes up a lot when looking at big events like the Met Gala and Fashion Week, so advertisers: allocate them some money if you haven't already.
Bottegapalooza & the Return to Stealth Wealth
Let's talk about it real quick and then we can drop it. "Stealth wealth," "quiet luxury," whatever you want to call it, is cycling in right now. I prefer the term "old money," although the real secret is that those kinds of rich people are still wearing L.L. Bean.

While there aren't monocultural trends like there used to be, there are movements, and after a near-decade of Alessandro Michele-fueled maximalism, the Gucci designer's exit from the Kering-owned brand last November happened just as rich people stopped wanting to look so obviously rich. The logomania that took hold in the late 2010s, followed by the wacko, makes-no-sense styles that cabin-fever sufferers were grabbing for post lockdown, have made way for something more trad.

This return to subtler fashion is benefiting brands like Bottega Veneta, whose creative director, Matthieu Blazy, shrunk the Italian house's famous Intrecciato leather weave, used on most of its handbags, back down to a respectable scale after his predecessor, Daniel Lee (now installed at Burberry) had supersized it just a few years earlier. Loro Piana, The Row: There will always be people into this look. But right now, it is the look.

Great news for Hermès, whose $7,000+ bags don't even seem that expensive anymore now that the majority of high-luxury styles hover around at least $5,000. But what does that mean for the brands that have been dining out for so long on the sales of monogrammed wallets and sneakers?

It's a question a longtime luxury executive posed to me on my first day of work last week. What's happening in the market reminded him of the 1990s, which saw the rise of minimalism inspired by Martin Margiela, Jil Sander, and Helmut Lang, among others. (And Calvin Klein and Donna Karan, obviously.) That was a tough time for retail, he remembered, because the point of this stuff was that you don't need as much of it to feel satisfied—or at least you're not supposed to. Jil Sander and Helmut Lang were small businesses.

The time around, though, the consumer desire to pull back and buy less has been further exacerbated by the pandemic, which first decimated sales and then falsely inflated them. It also really screwed with consumer behavior in ways we still can't really explain. Now that the stimulus checks are long gone and inflation continues rising, sales at many brands are slowing here in the U.S. I requested some stats from Earnest Analytics, which tracks U.S. sales online and in-store, and found that most of the big luxury brands were down year-over-year by at least 20 percent in the first quarter of 2023, and sometimes by more than 30 percent.

That would make them flat from 2021—so, still good, because those numbers were way up from pre-pandemic. But it's going to be a little tougher to show growth every quarter, especially given that, after years of luxury brands relying on China for the brunt of their growth, the U.S. is now a top-line driver for most giant brands.

What can they do about it? As the executive said, the biggest brands will be fine. The others will have to do what they can with what they have, and wait for another aesthetic reset, which could be coming as soon as the fall, with the launch of Phoebe Philo's new collection, backed by LVMH. Philo is the Chanel of her generation, with an unmatched sense of what women, in particular, want to wear. And unlike most of her peers, she's hit gold not once but twice, first at Chloé and then at Céline. This collection, announced almost two years ago, has gone through at least three iterations and I've heard that it looks sort of punk. But regardless of where she landed, many are hoping that it will set a tone that other designers can follow, and get fashion out of the rut that it's in right now.

And now, without further ado, the main event…
Did you hear that Law Roach was retiring? Probably. Do you even know who Law Roach is? If you didn't before March 14, the celebrity stylist's head-scratching Instagram announcement made him famous enough for you to know him now. The story remained top of mind for nearly a month, surviving Gwyneth Paltrow's award-worthy run of ski-trial outfits and a spike in popularity of the word "capacious." In short, Law, best known for styling Zendaya, Megan Thee Stallion, Celine Dion and at one point Cardi B and Anya Taylor-Joy, declared just days after the Oscars that his "cup" was "empty," and that he was done with celebrity styling. "The politics, the lies and the false narratives finally got me! You win… I'm out," he said, noting that, "If this business was just about the clothes, I would do it for the rest of my life, but unfortunately, it's not!"

The comments spread like an Ozempic prescription, through P.R. text chains and celebrity websites, with industry insiders and obsessives alike asking what really happened. Sure, it's a tough job, but why would one of the most revered and powerful celebrity stylists want to quit on the spot at the peak of his powers?

Roach has since deleted the post. (I messaged him to ask why, and have yet to hear back.) And yet, he's still top of mind. Just last week, Roach flew to Mumbai to attend an event, where he walked the red carpet with Zendaya, his most famous and most valuable client, both wearing embroidered looks by the Indian designer Rahul Mishra.

The appearance helped to explicate what exactly Roach wants. Sure, he wants to support Zendaya, whose proliferating fame has benefited him financially, and amplified his own celebrity. But, at the end of the day, the guy also wants to be famous, too, to be a brand unto himself, and to be famous for being famous, perhaps, so that he doesn't have to be a stylist anymore. And famous enough that it is clear that his retirement is actually just semantics.

Roach's behavior in front of the camera, and his alleged behavior behind the scenes, says a lot about the state of celebrity styling today, and what a messy, sordid, unfair business it can be.
Celebrity Styling: A Brief History
For most of the history of Hollywood, celebrities did not employ someone to help dress them for awards shows. In some cases, high-profile types might have had a costume designer make something. For instance, that emerald green asymmetrical dress that Anjelica Huston wore to the 1986 Oscars, when she won for Prizzi's Honor, was created with Tzetzi Ganev. Bob Mackie, best known for the crystal-studded catsuits he designed for Cher, was a costume designer first. In general though, actresses typically bought dresses off the rack.

At least until the early 1990s, when a few fashion houses, most notably Giorgio Armani, began developing relationships with A-list stars. Armani, who designed the broad-shouldered, double-breasted suits worn by Richard Gere in American Gigolo, understood the power of association—the movie, released in 1980, made him famous globally, and catapulted his business, particularly in the U.S. But things really changed when Uma Thurman wore a lilac Prada gown to the Oscars, in 1995, followed by Nicole Kidman in chartreuse Dior in 1997, and so on.

As luxury brands became global brands, they needed to advertise on more than billboards, and what's a better platform than an internationally recognized celebrity at an event watched by zillions of people? These brands also recognized and exploited a key business opportunity. Many actors, believe it or not, don't have great taste or simply don't care about clothes—they just want to look pretty, or handsome, or both, and are too insecure to handle the pressure themselves. They need help not only procuring the garments, but making them look good.

Rachel Zoe, who parlayed her work into creating a media brand and other ventures, helped pave an entrepreneurial pathway for the microindustry. Her ascent in the late aughts coincided with the regularization of the pay-to-play model on the red carpet. At first, luxury brands were so prestigious that they didn't have to offer anything but a free, custom-fit dress to the talent. However, as the red carpet became a more powerful marketing tool, top actors used that leverage to ask for money.

Initially, it was structured like an advertising or sponsorship contract: star in our campaign, and wear our gowns at least three times a year over the course of five years, and we'll pay you $10 million. As competition increased, however, the campaign was no longer always part of the equation. Visit an actress's room at Cannes, for instance, and you might uncover five dresses hanging in her closet, each with an envelope containing a piece of paper with a dollar figure written on it—it's likely she'll be wearing the brand that's willing to pay her the most. "The rule, in general, is that it all has a cost," one luxury executive reminded me.

But a cost to whom? This is where it gets tricky. Today, many brands still claim they don't pay for red carpet placements, but most of them will if they have no other choice, and sometimes that means upward of $100,000 for one appearance. (And it could be plenty more if it's the Oscars.) Sometimes, a brand will bake it into another ask, like, requiring the actor or actress to post on Instagram and tag their brand, calling it "content creation." How the actors' team—the hairstylists, the manicurist, the makeup artist and the wardrobe stylists, not to mention all of their assistants—gets paid is another question.
Today, everyone—even producers, and producers' spouses—wants a stylist for big awards events, and agencies like The Wall Group (owned by Endeavor) have a deep roster of people on hand to help them get dressed. It used to be that the studios would pony up. These days, however, the studios only have budgets for the biggest films and the biggest stars. More often than not, the talent has to pay their glam team out of his or her own pocket—something most working actors can't afford—or the brand needs to pay the fees. It's a push-pull between the brands, the actors, their representatives who negotiate the deals, and the support team, who often also have representation, too. (Endeavor also owns WME, which represents Puck.)

Often, stylists are the last priority, and so they can resort to some fairly questionable behavior. Many big brands, both fashion and fine jewelers, put stylists on financial retainers—say, $250,000 a year—so that their products get prioritized. (Stylists will often keep these agreements hidden from their clients, and it can create tension if and when the client finds out.) Another popular thing to do is to slip the bill for the styling fee to the brand at the last minute—or even after the event—so they have no choice but to pay up. (Someone like Roach can receive upward of $30,000 for one major look.)

Roach made a name for himself by taking a page from Zoe's self-branding playbook, and being the first Black stylist to do so. But he's not as well-liked as she once was. Over the years, he has been accused behind the scenes of many of the worst fashion offenses: he's been described euphemistically as "difficult" and "defensive" by many of the designers and V.I.P. publicists I caught up with after his announcement. They said that he often made things more complicated for himself and those working with him.

At the same time, they still feel like they need him. His proximity to Zendaya made him too powerful to push back against. And many empathize with his personal struggles as a Black person who came from a lower-income background and managed to rise up the ranks in this weird little pocket of fashion where, to be clear, you need to be difficult in order to navigate all the sharp elbows thrown your way.

Not being rich and white poses challenges in every part of the fashion industry, but particularly in the realm of celebrity styling. Stylists are perpetually in a state of uncomfortable fashion limbo. Their need to be near the stars forces them to live in Los Angeles, which the Paris and New York people view as tacky—and yet those Paris and New York people still need their looks and connections. Other than Kate Young, who came up in traditional fashion editorial (and was Anna Wintour's assistant at one point), I can't think of another celebrity stylist deeply embedded in the traditional fashion world. Shirley Kurata, maybe, because she's cool. And up-and-comers, like Danielle Goldberg—again, cool. Most of them, though, aren't part of fashion's inner circle.

Roach may be a victim of industrial snobbery, but he's also got haters closer to the ground. Many of his predecessors, bitter from losing clients to younger, cheaper stylists, resent Roach and the attention he brings to himself, scoffing at his trademarking of the highfalutin term "Image Architect," annoyed by the fact that he wants to be treated like the talent when he is, in reality, support staff. Styling might require skill, but in the end, it's a service job.

If history is any indication, it's unlikely that Roach will be able to turn this brand-building exercise into a long-term business. And how long he'll remain in such a powerful position will depend on whether he can maintain his relationship with Zendaya, and build new ones. Because the tide is changing once again, with a new crop of stylists, willing to work for cheaper, and with a smile, rising up.
What I'm Reading… (and Listening to…)
L'Oreal's $2.5 billion bid for Aesop felt late to me—haven't all the cool restaurants moved on to stocking Flamingo Estate in their washrooms? But the reality is, even if an Airbnb bathroom photo features a bottle of Aesop, once you get there it's usually just Mrs. Meyer's. The total addressable market has not been addressed! [Business of Beauty]

The late Michael Roberts was "in the fashion world but not of it": the best compliment. [The New Yorker]

Still not sure if content-to-commerce, or the idea of directly converting readers into paying customers, ever works, but there's some great writing and ideas on Ssense and their spring trend report is no different. [Ssense]

Reformation is one of the few apparel retail success stories from recent years, and their smart-ass approach to marketing has always impressed me. Casey Lewis, the writer of the stellar daily Gen Z report After School, tipped me off to social media strategist Rachel Karten, who breaks down how they're using TikTok by having creators of popular videos recreate those videos while wearing Reformation clothing. It's working really well. [Link in Bio]

I've recently found myself revisiting the work of Stefano Pilati at YSL in the 2000s and early 2010s. This Vice interview, which happened shortly before he was replaced by Hedi Slimane, is prescient. [Vice]

I really don't love listening to most podcasts about fashion because it feels like work and I end up wanting to just yell at the people talking about how it doesn't actually happen like that, but a friend nudged me to put the time into this three-and-half hour depiction of how Bernard Arnault built LVMH, and, while I have some notes, in this case I do think it's worth your time. [Acquired]

Los Angeles isn't a great shopping city compared to London or Paris (or New York on a good day), but I'm obsessed with the development of the Sycamore District and love to meet people for lunch at the Tartine next to Just One Eye. (Added bonus is that Calvin Klein feels the same and I see him there nearly every time.) Deborah Belgum tracks how it became the most interesting neighborhood in the city to open a store. [WWD]

If you're interested in costume design, there's no one who covers it better than Fawnia Soo Hoo, a frequent contributor to Fashionista and The Hollywood Reporter. I enjoyed her recent interview with the costume designer behind Air, Charlese Antoinette, who explains that the reason there were only three styles of Nikes featured in the film was, well, because it mostly takes place in an office, and people, not even Nike employees, wore trainers to the office in those days. Also, she assures us that Air is not an ad for Nike, which, okay! [Fashionista]
Enjoy the rest of your week—and if you got this far, let me know what you think!

Lauren
FOUR STORIES WE'RE TALKING ABOUT
Elon's Debt Roulette
Notes on Twitter's looming debt fiasco, Apple's M&A "wallet," and more.
WILLIAM D. COHAN

Lil Dicky Monologues
Comedian, rapper, and actor Lil Dicky on his hit FX show, 'Dave.'
MATTHEW BELLONI

Need help? Review our FAQs
page or contact
us for assistance. For brand partnerships, email ads@puck.news.
Puck is published by Heat Media LLC. 227 W 17th St New York, NY 10011.