Greetings from San Francisco.
And welcome back to The Stratosphere. Today, we have two stories on the intersection of Silicon Valley and Washington. Mentioned in today's email: Pete Buttigieg; Eric Holder; "Wine Cave" owner Kathyrn Hall; possible Pelosi successors Christine Pelosi and Scott Wiener; Blake Masters; Chris Buskirk; and Paul Singer.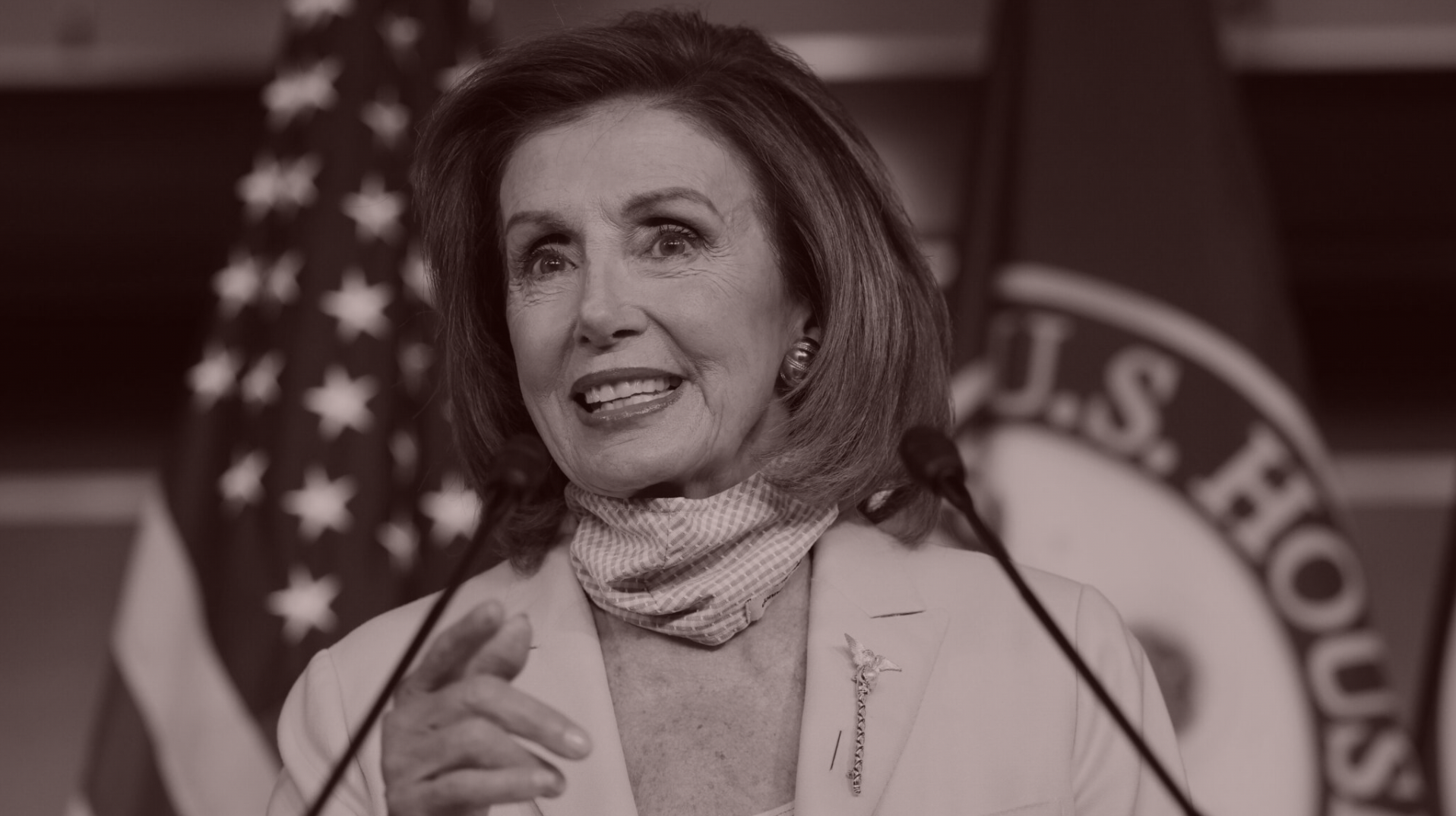 Pelosi's "Hot Ticket" & Thiel's Donor Mystery
In San Francisco, speculation that Nancy Pelosi will soon depart Congress has given way to excitement and apprehension surrounding a potential last hurrah fundraising bacchanalia in Napa. Plus, news on the rise of a little-known G.O.P. shadow project aligned with Peter Thiel.
Among the worst kept secrets in politics is the widespread expectation that Nancy Pelosi, the 82-year-old Democratic Speaker currently finishing her 18th term in Congress, will almost certainly retire sometime next year when Republicans retake the House. Her presumptive successors are already angling for both her seat in San Francisco and her leadership perch in Washington, where New York's Hakeem Jeffries, assistant speaker of the House Katherine Clarke, and impeachment star Adam Schiff are all pre-positioning themselves for draft day, even if they'd never admit it publicly.

The Speaker's inevitable departure will create a Pelosi-sized hole in the Democratic Party's fundraising machine. After all, an enormous obligation of the House leadership role is the ability to coax Democratic donors into parting with veritable mountains of cash. And Pelosi, a centimillionaire herself who grew up in a political family, is perhaps the most gifted high-dollar fundraiser and ego-stroker in politics today. Last April, she raked in $4.4 million in a single week—the largest ever individual donor event for the Democratic Congressional Campaign Committee. Her successors though would be wise to read beyond the headline figures and pre-baked narratives about her "powerhouse" operation to understand exactly how she does it. And the best glimpse of that is in Napa.

"Napa," of course, is the donor world metonym for the August retreat that marks the highlight of the Pelosi-era fundraising circuit. Every summer during the congressional recess, Pelosi and dozens of Democratic lawmakers converge on the vineyards north of San Francisco to snap photos and entertain donors in an ornately-arranged pageant of fundraising events across the region, all organized by Pelosi's office and the D.C.C.C. It's a weekend that showcases Team Pelosi's finesse, attention to detail, and careful donor maintenance that she has cultivated over decades.

The "2022 DCCC Napa Valley Weekend & Issues Conference" from August 19 to 21 is open to all so-called "Speaker's Cabinet Members," a top bundling category for the Pelosi team. The donors at center stage tend to be more Bay Area old-money than tech money—among the main players at the Napa event traditionally are vintners like Kathryn Hall (the Obama-era ambassador now more recently known for hosting the infamous Pete Buttigieg "Wine Cave" fundraiser of 2020) and members of the Staglin family, who run their own winery in Rutherford and are hosting donors at their home for a Saturday luncheon. Special guests this year include Buttigieg and Eric Holder, I'm told. "Everyone in the political fundraising world and D.C. knows what a hot ticket Napa is," as one Democratic fundraiser familiar with the event put it to me. "There's a lot of mystique around it."
ADVERTISEMENT
The metaverse will help future aviation mechanics gain skills
In the metaverse, aviation mechanics will have an immersive way to learn and master their work from any location—helping them better prepare to keep us all moving.
The metaverse may be virtual, but the impact will be real.
That mystique is hardly because the Napa weekend is some sort of secret—last summer, the retreat made rare headlines with a made-for-Fox "controversy" over a maskless outdoor lunch. But it is logistically complex in a way that defies simple media coverage. Typically, dozens of members of Congress flow into the Bay Area for a series of fundraisers that surround the annual Pelosi-driven confab. For instance, Schiff has a fundraiser on Thursday evening in San Francisco. On Sunday morning, Pelosi, D.C.C.C. chair Sean Patrick Maloney, and Napa Rep. Mike Thompson are hosting a brunch in Yountville alongside 15 battleground Democratic congressional candidates who are in town, with tickets ranging from $100 to a max-out check to each ($43,500).

With so many candidates encircling the same few donors and interest groups, organizational tetris is required. For instance, some Native American tribes host their own events that run concurrently with the main Pelosi-led schedule. Team Pelosi will put on their own policy and politics roundtables for donors on specific topics, but donors often like to skip the sessions to do their own wine tours and return for the lunches and dinners, or this year a Saturday evening cocktail reception at the Pelosis' longtime local estate in St. Helena. "It's mostly a weekend-long sales pitch," one donor and frequent attendee said. "Except instead of a timeshare, it's a Democratic majority."

The weekend is particularly momentous this year—not because it comes on the heels of Paul Pelosi's unfortunate D.U.I. arrest in Napa County, but because it could plausibly be the last time that the weekend ever happens, at least one with fanfare like this. Again, no one will admit that, of course. Pelosi is running for reelection this fall and continues to insist that means she's sticking around. Nevertheless, the succession chatter is simmering in Pelosi's home district, where Democrats are anticipating an open primary to include her politically active daughter, Christine, and the city's state senator Scott Wiener. (Reed Jobs, the millennial scion of Laurene Powell Jobs and the late Steve Jobs, has also expressed some interest in Pelosi's seat, as I reported earlier this year.)

Is this summer the end of an era? Back in Washington, Democratic fundraisers aren't sure whether Pelosi's successors can replicate the soft skills that have taken her decades to hone. Donors who for years have looked forward to an August weekend sipping cabernet on the wine train may find themselves invited by Jeffries to throw back craft beers in a trendy warehouse in Brooklyn, instead.
ADVERTISEMENT
Also facing a big August is Peter Thiel, who on Tuesday will learn whether his protégé and right-hand man, Blake Masters, will become the Republican Senate nominee in Arizona, as is highly anticipated. But today I want to look ahead to the fall, because as impressive as it may be for Thiel to have waged come-from-behind wins for two G.O.P. nominees, his work is hardly done.

The Masters super PAC, and to a lesser extent the groups backing J.D. Vance in Ohio, will need to raise a ton of money this fall to compete with incumbent Mark Kelly. And key to that will be a still-stealth group of donors known as the Rockbridge Network and a Republican strategist named Chris Buskirk. Buskirk is not really a traditional political operative, or even a traditional donor whisperer. Instead, he's something of a self-styled MAGA intellectual, a writer whose recent publication, American Greatness, has achieved a cult following with younger, Claremont-reared members of the New Right. "American Greatness is to MAGA what The Watchtower is to the Jehovah's Witnesses," as one Republican operative who knows Buskirk put it. But the writer is trying to pivot to big-money fundraising.

Rockbridge is still fairly under-the-radar—many normally plugged-in G.O.P. fundraisers are in the dark, even some aligned with Masters—and Buskirk hasn't returned requests for comment. (The Rockbridge Network filed paperwork in Delaware last year, but befitting my home state's penchant for secrecy, the paperwork doesn't tell you much, of course.) It remains to be seen, as it does to many Republican finance sources, whether the donor table actually has any heft behind it. Is this a cute little passion project of a few donors, or is it a Koch network being built in plain sight? "It's a combination of cute and headed somewhere," one Republican fundraiser who talks with Rockbridge said.

Unlike the Kochs, however, there isn't a principal at the helm, picking their causes and funding them with their vast industrial fortune. "This is not really a Peter thing," the Republican fundraiser continued, indicating that Thiel wasn't singularly puppeteering Rockbridge with his personal fortune. "Peter is a participant, Peter is a supporter. There's the allure of Peter," this person said. But Buskirk also effectively runs the Masters super PAC, and Thiel, I've been told often, is paranoid about running afoul of campaign finance law, which governs how precisely Thiel, Masters and Buskirk can talk. So while Thiel is certainly involved with Rockbridge, it is not even like the Republican Jewish Coalition, the donor advocacy group for a long time organized around Sheldon Adelson, or the American Opportunity Alliance, the Wall Street-heavy consortium assembled by Paul Singer.

Rockbridge may have the most success blending Buskirk's old work in media with his new work. For instance, one new Buskirk project that interests me is called the Arizona Freedom Foundation. The nonprofit, started last year, publishes a website called Arizona Free News which promises to "hold Arizona's politicians, news media, and other local leaders accountable." In addition to writing about standard G.O.P. media fare like crime and immigration, the small publication, run by a conservative communications consultant named Eric Porteous, at times has favorably covered the Masters campaign. Buskirk is on the foundation's board and helped start the foundation and publication. Porteous told me for the record that there was "zero connection" between his publication and Rockbridge. But more broadly, these are the exact type of publications that Buskirk wants to help fund through his new donor collaborative. Rockbridge has specifically told its prospective contributors in a document unearthed by the Times that it wants to build a new generation of conservative media—budgeting $8 million in 2021 for the purpose of "cultural influence and renewal."
FOUR STORIES WE'RE TALKING ABOUT
The Carried Interest Wars
Notes on Lina Khan's antitrust trial balloon & the "end" of the carried interest loophole.
WILLIAM D. COHAN

Meyer's Legal Woes
Hollywood's most sordid lawsuit in decades comes to a head.
ERIQ GARDNER
You received this message because you signed up to receive emails from Puck

Was this email forwarded to you?

Sign up for Puck here

Interested in exploring our newsletter offerings?

Manage your preferences

Puck is published by Heat Media LLC

227 W 17th St

New York, NY 10011

For support, just reply to this e-mail

For brand partnerships, email ads@puck.news