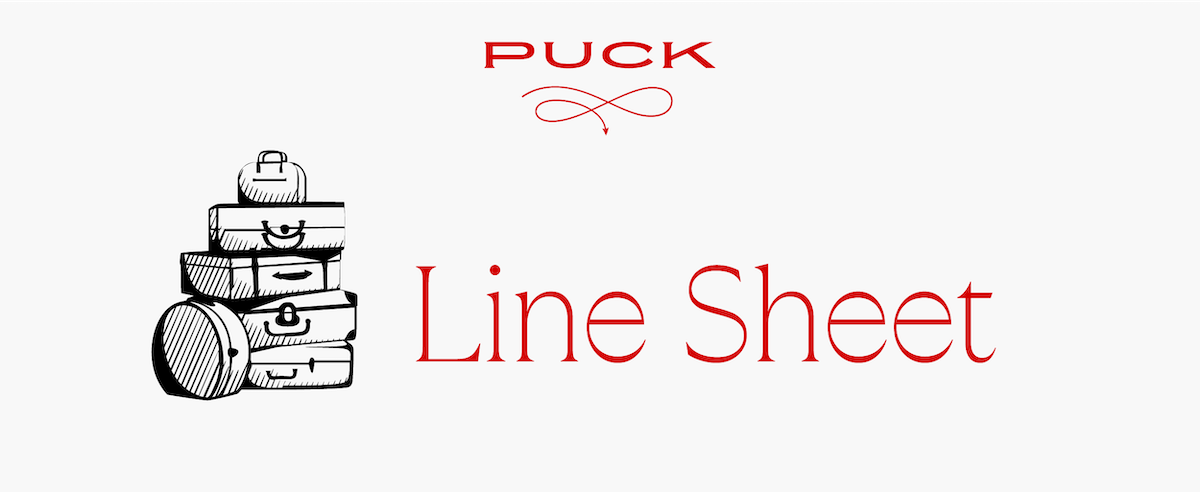 Hi, and welcome back to Line Sheet. By the time this lands in your inbox, I'll be on my way to the Natural History Museum to celebrate American fashion at the annual CFDA Awards. Say hi, because I'm only in New York for a minute—feel free to corner me and air your grievances.
Somehow, this is my second black-tie event in the last 48 hours. On Saturday night, I stopped by LACMA's annual Art + Film Gala, where still-new Gucci designer Sabato De Sarno was indoctrinated into the Hollywood machine in a room covered in blood-red velvet, the color he's chosen as Gucci's new signature. As I mentioned last week, Gucci always sponsors the Eva Chow and Leonardo DiCaprio-chaired Gala, which this year honored Judy Baca and David Fincher, raising more than $5 million for the museum. The night's 50-star-deep notables list included Kim Kardashian, J.Lo (and yes, Ben Affleck), and Salma Hayek and husband François-Henri Pinault (who happens to own Gucci, and CAA).
As requisite, De Sarno and his team dressed dozens of guests (from Hayek and Affleck to Kirsten Dunst and Greta Lee) in often-glittery, glamorous, flash-bulb worthy frippery. (They're calling the eveningwear collection Ancora Notte.) While there was less audible chatter than usual, given the actors' strike and the war, it was still a pretty fabulous coming out party.
Mentioned in this issue: Phoebe Philo, Sarah Ball, Tory Burch, Paula Sutter, Carlos Nazario, Harper's Bazaar, Samira Nasr, Alo Yoga, Daniel Marks, Julietta Dexter and David Pemsel, Jenna Lyons, Birkenstock, Karlie Kloss, Shawn McCreesh, and jumbo totes.
A MESSAGE FROM ME+EM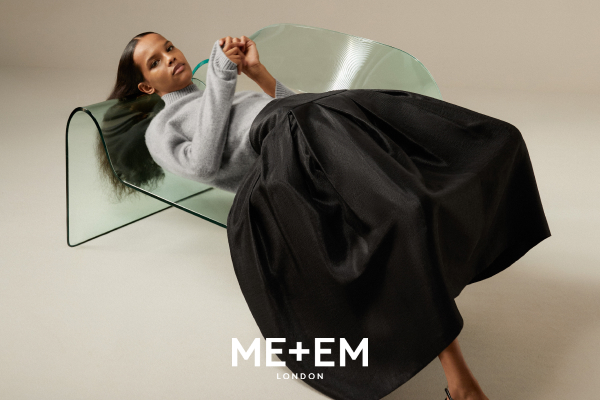 'Intelligent style, now and forever,' We are a modern luxury womenswear label specialising in considered collections for busy women. Discover exceptional luxury quality from the world's finest manufacturers with an accessible price tag at meandem.com.

Attention, P.R.s: I had a lot of other agency heads pinging me about the closure of U.K. and U.S.-based Science Magic, formerly known as The Communications Store, which shut down early last week because, to put it bluntly, they couldn't pay their bills. After listening to a recording of partners Julietta Dexter and David Pemsel announcing the news to employees last week, I gleaned that the duo, who formed Science Magic in 2020, thought as recently as 10 days before that there was a way through. But business was projected to be down 50 percent in the first quarter of 2024, and without further outside investment, they wouldn't be able to make rent, let alone payroll.

The question from the outside: Why were they so deep in debt? In 2021, the most recent financial report filed by the UK registrar, the company lost over £740,000, and recorded £3.2 million of debt due within one year and £957,000 due after that. That isn't unusual for a fashion business, because of the stop-and-stop nature of the cash flow. Why did a service business, run on monthly retainers, need to borrow so much?

For one, their annual rent at their main offices was nearly £400,000 a year, but that can't be the only reason.

Perhaps Dexter and Pemsel—who, along with since-departed Daniel Marks, partnered in 2020 with a pitch to build a communications agency built on data analytics and other buzzwords people wanted to hear—were too ambitious given the macro environment. The exit of Marks, who left the business in August 2022, couldn't have helped with securing new business and/or maintaining client relationships. (Dexter and Marks were first partners at The Communications Store, one of the most important P.R. firms in the U.K. in the 2000s and 2010s, and Marks was the one who predominantly worked with top-talent clients like Donatella Versace and Christopher Kane, who also shut down his business earlier this year.)

Pemsel, who is also the chairman of the British Fashion Council, was an unexpected choice to lead a P.R. firm. Previously, he was the C.E.O. of the Guardian Media Group and was about to run the Premier League in 2019 when tabloid reports surfaced "about his personal life" that compelled him to withdraw from the position.
Big Changes Coming to Harper's Bazaar…: The talk all over town (and by "town," I mean slivers of New York, London, Paris… and even Los Angeles) is that stylist Carlos Nazario is joining Samira Nasr's masthead. The company, as usual, did not comment.

Nazario is currently a consultant and global fashion director at London-based ID, the Alastair McKimm-led, Vice Media-owned book that Karlie Kloss was in talks to buy earlier this fall. (I hear that her deal is still in the works and near-closed.) Laura Genninger, Bazaar's creative director, also used to work at ID.

Poaching Nazario is kind of a big deal. He was the first Black stylist to style a cover of Vogue—he still contributes—and will bring something new to Harper's Bazaar, a preferred title for advertisers (and a 2022 National Magazine Award winner for General Excellence). Alas, Bazaar has struggled with the covers, which are far better than American Vogue's and ultra sophisticated but don't always communicate what's happening inside the magazine with the necessary verve. Newsstand sales don't matter these days, but covers do, because they can travel on the internet. With Edward Enninful out at British Vogue, I can't think of a mainstream publication that generates compulsively sharable covers. (Lots of nice and fine covers, sure, but nothing dynamite that warrants an Instagram Story.) ID does, though.

What does this all mean for the Bazaar fashion closet? The rumor among the fashion mongers was that there would be some layoffs, but that was sharply denied by a Hearst insider. After all, Bazaar is a pretty lean staff already. (When Hearst did those broad layoffs over the summer, only a couple of people were let go from Bazaar.)

It's been a particularly challenging month for Nasr, who faced internal and external criticism after re-posting something about the Israeli-Hamas war on Instagram that some people found offensive. Well done for moving forward with what feels like a necessary and exciting decision amid all the chaos and difficulty.
Phoebe, One Week Later: Everyone had an opinion about Phoebe Philo's launch, and I heard them all. I had more than a dozen meaningful conversations about it, and read a few snippets as well. After swallowing that, I'm spitting this back out:
The selling approach: An expert in physical retail thought the lack of an in-person presence in major cities was misconceived given the price of the clothes, and balked at the overall messy execution. A former seasoned fashion writer wished there was a runway show—she needed more convincing. In the end, the drop model was the right choice. It brought a sense of urgency to the experience, and felt uncompromising on Philo's part. (As someone reminded me, LVMH might be paying for a lot of this, but they are not a majority owner, and she did what she wanted to do here.) And despite all the ordering hiccups, items are arriving fast. (I already received my shirt.) Plus, the return policy is clear and easy. I know that top Old Céline clients were actually invited to preview and shop the collection, but I agree with the retail expert that pop-ups in London, Milan, New York, and Paris would have upped the frenzy.

The price: Obviously this stuff was outrageously expensive. Was it too expensive? Extreme inflation, coupled with extreme income inequality, mean these prices reflect what the market can bear. (In the end, even the $8,000 jumbo tote sold out. The only items left are pieces that aren't available. And one piece that is "price upon request.")

The design: This was funny to watch play out, because it did feel a bit like the Olds versus the Youngs, or at least the old-fashioned hitting up against the new thinkers. The best example of this was Cathy Horyn calling the collection "completely new," while Laura Reilly calling the collection's cargo pants "dated."

I fall somewhere in between. Like Laura, I noticed the traditional critics falling all over this collection like it was the second coming—well, it was the third coming—of Philo. My greatest emotion was not awe, but relief. I still frequently wear the clothes I bought when Philo was designing Céline, and since she's been absent it's often felt like we were stuck in time. Seeing something that looked familiar, but also new, was comforting.

As for it feeling dated… I think it's easy to forget, five years on, that practically everything we wear comes from Philo's collections at Céline. I know I say this all the time, but because we live in an era when imagery is so accessible, it's difficult to see where something started because nothing ends. For all the commercial hounds, there were tons of big (and small) details in here that will be copied incessantly, like the way she stitched the collar of the cotton shirt so that it's perennially popped.
On Friday, I had lunch in L.A. with Paula Sutter, best known for turning around Diane von Furstenberg in the early 2000s. These days, Paula mostly works behind the scenes, sometimes advising, sometimes investing, other times as a board member. She sees a lot. We got to talking generally about the M&A scene, and why so many of the fashion businesses that went public a few years ago are now penny stocks, and what it takes to meet investor (and consumer) expectations in this era.

Our lunch capped off a week filled with phone calls to analysts and investors, some about Alo Yoga—the Los Angeles-based activewear-plus brand looking to raise private capital at a $10 billion valuation—and others about Tory Burch, which WWD reported has hired Morgan Stanley to explore "options," which the paper speculated could be an I.P.O. or sale.

Is it a good time to go public right now? Obviously not, given the paucity of companies doing so, the scarcity of a pipeline, and the fact that investors have less risky ways to make money in an environment where Treasuries alone yield five percent.

Also, the public markets have punished the last generation of companies: Farfetch, The Real Real, Rent the Runway, and Allbirds are all trading at under $2 a share. These are all very different businesses, but they share a common trait: they're not growing, they struggle with profitability, and they only went public because their V.C. investors were impatient and demanded an exit. For The Real Real and Rent the Runway—both businesses that I admire from a use-case perspective—the unit economics have never made sense, especially once their growth trajectories plateaued.

Farfetch, which I've written about before, has a good core business, but the management team almost seemed to view its platform as insufficiently sexy as they sought out an incoherent M&A strategy. Allbirds, well, got it from all sides: it got stuck in the growth-trumps-profitability mindset while Amazon copied its products. All these companies befell fates familiar to many direct-to-consumer companies, fashion and otherwise: their core competency was marketing, until it wasn't. And that's a red flag for institutional investors and mutual funds.
Then there's Birkenstock, whose recent I.P.O. was portrayed as disappointing, since the stock debuted at $41 per share, 11 percent below the target price of $46 per share. In reality, though, the stock may have just been priced too high. (The Arnault family had a piece on all sides—they are L.P.s in L Catterton, the P.E. firm that controlled Birkenstock, and also bought a block of shares from the public offering. And current favorite son Alexandre now sits on the board. That sort of support also helps prop up the stock.) The stock is currently trading around the debut price of $41, and the company has responsibly used the proceeds to pay off two loans, reducing its debt by €550 million.

We are undergoing a complex market swoon. Things were even looking brighter three or four months ago, prior to the Birkenstock I.P.O., when Skims raised funds at a $4 billion valuation with an intention of going public. That's when the Capri-Tapestry deal was announced, which perhaps got the Tory Burch team thinking about their options. However, when I talked with people connected to Alo Yoga, they said they were not interested in going public, even though that had been a consideration just a couple of years back. The market has softened for many brands this year—all those macro issues (inflation, war, China) are making sales harder. An I.P.O. now feels risker.

But I'm not sure that's the case for Tory Burch, the nearly 20-year-old company, founded on a caftan and a dream. It's a majority direct-to-consumer business (something like 85 percent of sales are made through its own stores), it's profitable, and it generates close to $2 billion a year. The company no longer plays the traditional advertiser game, but has instead continually invested in its own editorial channel and developed long-term relationships with influencers who drive sales. The business is managed so well that investors, including the eponymous Burch and her family, who are the majority owners, were paid out a dividend at the end of 2021, WWD said.

The brand, which was valued at $3.5 billion in 2015, has some debt—it opened a $200 million revolving line of credit, due in 2026, and a $600 million first-lien loan, due in 2028—which funds raised in an I.P.O. could help pay off. And it's got heat. We all love Tory Burch right now: fashion editors, yes, but consumers, too. (In Q3, online searches for Tory Burch were up 15 percent, according to the shopping app Lyst.) That shift in sentiment—Tory Burch going from cute to cool—is the result of a conscious, meticulously planned effort to be original.

Prices for luxury fashion are scary-high for even the wealthy, and fast-fashion does an excellent job of covering trends if you don't want to pay top dollar. Brands in the middle have gotten squeezed out for the most part, and generate the majority of their sales in the off-price market. Burch has done a good job of nodding to the big ideas of the season coming from Prada and the like, but making her take feel new and interesting. I'm in a focus group of one, but it's not a coincidence that I bought something from Tory Burch for the first time this past year. (A pair of straight-leg jeans.)

And even if she's now charming weird fashion people like me, Burch hasn't turned away from her original target audience, who can still buy Main Line-appropriate floral dresses with pussy-bow blouses and glittery sandals. It also helps that Burch continues to live her brand in the vein of Ralph Lauren. All of that, though, is largely immaterial to analysts on Wall Street, where only the cash flow matters.

But if the business remains as profitable as suggested, Burch might not ever need to go public. Indeed, she has expressed, time and again, privately and publicly, that she has no interest in selling the company, or initiating a public offering. My hunch is the WWD piece reflected a case of bankers getting ahead of themselves: It's likely that General Atlantic and Byron Trott's BDT & MSD Partners, which bought out most of co-founder (and ex-husband) Chris Burch's shares in 2013, are ready for an exit. If she manages to buy them out on the strength of the business, as she did with her other investor, Tresalia, in 2018, everybody wins. But especially Burch.
If you worked in fashion media in 2011 and you were still young in 2011, you'll enjoy this. [TikTok]

A few of you reached out and asked for my opinion on Shawn McCreesh's WSJ. piece. Great headline. Loved the Marc Jacobs quote, he is the best. I thought it was missing some points around the Kristina-and-Magnus situation: One was that they were getting paid plenty of money and had been around for a long time, and it was probably a good moment to make a change. I also don't think advertisers really care if new editor-in-chief Sarah Ball is a fashion person or not. As one of them said to me, WSJ. is just ticking a box: Sarah is great and will play ball (no pun intended), and as long as she continues to put out a decent publication that rich people read, so will they. [NYMag]

Anna Holmes on what Jezebel did or didn't do to the internet and society at large. [New Yorker]

Amazon is closing down its two Amazon Fashion stores, presumably because they were terrible! [Retail Dive]

TheWrap has hired stylist Michaela Dosamantes and writer Rachel Marlowe to work under Stefano Tonchi on a print product and weekly newsletter, respectively, with a focus on the L.A. fashion scene. Fun! [TheWrap]

R.I.P. 12ft Ladder [The Standard]

Jenna Lyons skipped BravoCon, fans are mad. [People]

And finally… I hope you all had fun at the WSJ. Innovators Awards… or the other dinner that took place that night.
Until Thursday,
Lauren Sherman
FOUR STORIES WE'RE TALKING ABOUT

Need help? Review our FAQs
page or contact
us for assistance. For brand partnerships, email ads@puck.news.
You received this email because you signed up to receive emails from Puck, or as part of your Puck account associated with . To stop receiving this newsletter and/or manage all your email preferences, click here.
Puck is published by Heat Media LLC. 227 W 17th St New York, NY 10011.