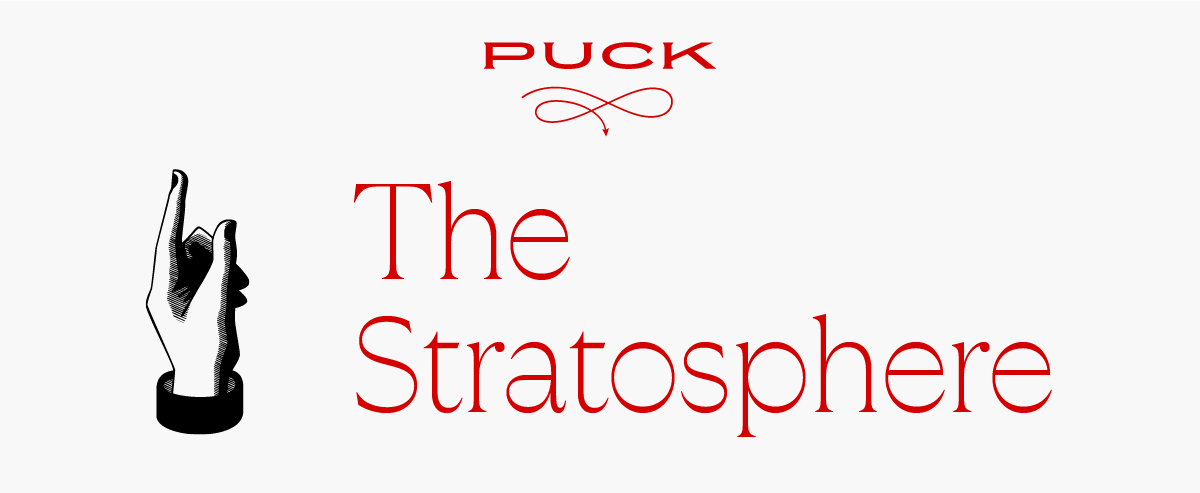 Happy Friday, and welcome back to The Stratosphere.
In today's special issue, I take a close look at Sam Bankman-Fried's recently-made, dubious claim that he donated "about the same amount" of money to Republicans this past election cycle as he did to Democrats—but that these donations were made through "dark money" channels to avoid leaving a paper trail for the media. Yes, a newly-disclosed $1 million donation from FTX to Mitch McConnell's main super PAC was just one part of a new push from FTX to win allies on the right. I have new exclusive details on all of that. But as you'll read below, my sources inside and around S.B.F. world are highly skeptical that the contributions to Republicans came anywhere close to his spending for Democrats. As with everything S.B.F. and FTX, nothing is really what it seems.
Teddy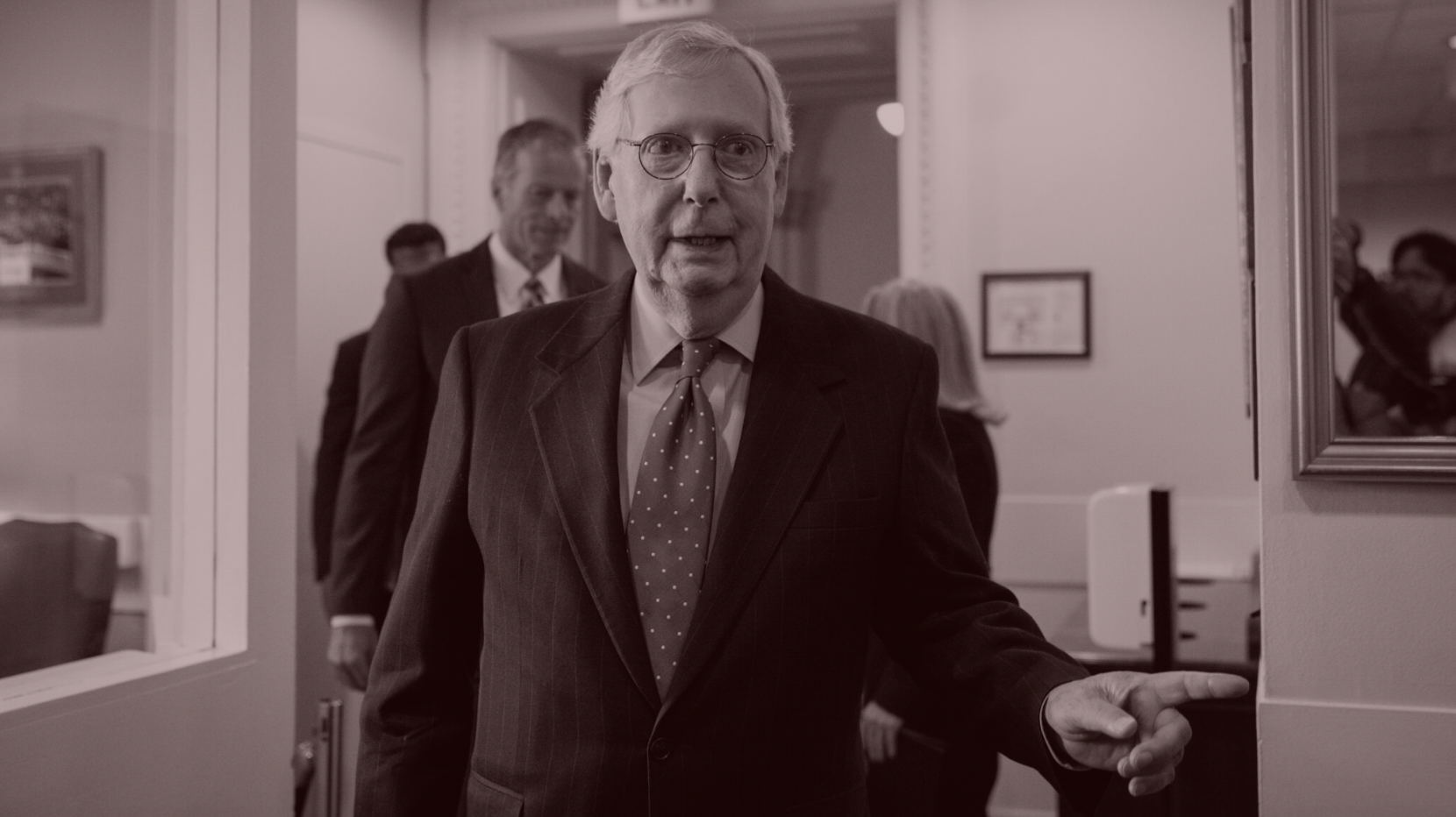 S.B.F.'s McConnell Money Tickle
In his previous life as crypto boy king, S.B.F. was fetishized as a modern Soros. But he cared about power and relevance, which is why, yes, he gave some dark-money to Republicans, too.
In the final months of this year's midterms cycle, the teams behind
Sam Bankman-Fried
and FTX began to grow concerned about a Republican takeover of Congress that would leave him poorly positioned in Washington, I'm told. S.B.F., after all, had spent about $40 million boosting mostly Democrats, and as the C.E.O. of FTX—the largely unregulated, now bankrupt cryptocurrency exchange—he could see that was likely to be a liability in a G.O.P.-run legislature. He was
saying
all the right things about his desire to be bipartisan. But there was no doubt that he appeared, on paper at least, to be just another Democratic mega-donor.
That looming image problem was why, in the final days of the election season, FTX cut a newly-disclosed $1 million check to Senator Mitch McConnell's main super PAC. The donation was effectively another way of "hedging the bet," according to a person familiar with the FTX team's thinking. The S.B.F.-FTX team "seemed pretty confident that [McConnell] would be the Majority Leader and there'd be a big margin in the House." It also explained why in the middle of this year, FTX hired Paula Dukes, a top Republican fundraising strategist with close ties to congressional leadership, to join the company's and S.B.F.'s campaign to develop "a Republican money strategy" to make inroads on the right and "have more parity."
Bankman-Fried's little-known strategy to play both sides was made public this week after he remarked that he believed he donated "about the same amount" of money to Republicans this cycle as he did to Democrats, but elected to donate to the right through undisclosed "dark money" so the media wouldn't "freak the fuck out." That comment raised eyebrows all across the world of G.O.P. fundraising, and in Democratic circles too, especially as S.B.F. came under relentless attacks in conservative media for connections to the left. "Is this true, do you think? Or is he bullshitting?" one senior Democratic official asked me, a question I've received repeatedly by both top Democrats and top Republicans in private over the last 48 hours.
I find it very hard to believe that S.B.F.'s giving to Republicans matched his donations to Democrats—he was the second-largest disclosed donor to Democrats in the 2020 cycle at $40 million—and sources close to S.B.F. don't think this is true, either. More likely, S.B.F. was speaking loosely and hyperbolically, as he is prone to do. But it is true that in the sprint, S.B.F.'s aides at FTX and on his personal donor-advisory team began moving major money to G.O.P.-aligned groups, generally to entities affiliated with Republican leadership, I'm told. Some of that money was through disclosed vehicles, like McConnell's Senate Leadership Fund. But some of it was not.
Despite Fox News ripping S.B.F. as a
George Soros
-lite, liberal mega-donor, S.B.F.'s politics are better understood as a cocktail of
Josh Gottenheimer, Elon Musk
and
Maxwell Frost
. He didn't seem to care much for the Democratic Party's traditional priorities—abortion rights, income inequality, criminal justice reform, etcetera—but rather gargantuan, quixotic targets such as international poverty, climate change, and, of course, his pet issue, pandemic prevention. As the founder and C.E.O. of what was then the world's second-largest crypto exchange, he was also intently focused on shaping crypto policy and regulation in Washington. Much of his efforts outside of philanthropy were directed at investing in politicians, themselves—Democrat
Kirsten Gillibrand
of New York, Republican
John Hoeven
of North Dakota, and Republican
John Boozman
of Arkansas, among others—who sat on the relevant committees overseeing the industry.
Naturally, part of that protection strategy was to cultivate relationships with the right. Although Sam's pandemic-prevention lobbying group endorsed some 15 Republicans in their primaries, its affiliated super PAC spent almost all of its money on Democrats. And so, over the summer, S.B.F. made sure to begin spreading the love: He and FTX spent $200,000 on Katie Britt, who was running in a competitive G.O.P. primary for the Alabama Senate nomination, and FTX gave $750,000 to the Congressional Leadership Fund, the super PAC run by allies of Kevin McCarthy. Just before Election Day, S.B.F. took to Twitter to make sure people were aware of his Republican bona fides, noting the "millions" he had given to Senate and House Republicans to "bring a bipartisan climate to D.C" and criticizing "restrictive mandates" on Covid.
Meanwhile, one of S.B.F.'s top lieutenants, Ryan Salame, put $15 million into his own super PAC that backed Britt, Boozman, and other G.O.P.ers in their competitive primaries. Salame, later in the cycle, gave another $2.5 million to McConnell's super PAC, and $2 million to McCarthy's. Of course, Salame's contributions were separate from S.B.F.'s, but I've been told that S.B.F.'s team of (mostly Democratic) advisors would often weigh in on Salame's giving. It's possible, as several sources speculated, that when S.B.F. spoke about moving large amounts of dark money to Republicans, he was actually referring to Salame's donations. After all, at the end of the day it all rolled up to the same FTX-affiliated political machine. Perhaps S.B.F. was speaking somewhat imprecisely about "dark money."
Obviously, S.B.F.'s credibility is more than a little shaky right now. But I have confirmed that he and FTX was making some last-minute contributions to conservative causes, primarily as a matter of regulatory hygiene. I'm sure there will be more contributions that are disclosed in the next few weeks. There are also some dark-money contributions that may never truly be disclosed, especially given that S.B.F. began shifting away from public gifts as he faced growing scrutiny later in the campaign cycle. "One of their takeaways from Carrick Flynn was having vehicles that could be traced to them was a big mistake," said a person close to their pandemic-preparedness operation, referring to the whopping $12 million that S.B.F. poured into Flynn's losing congressional campaign in Oregon and backfired spectacularly.
Regardless, it is my understanding based on conversations with sources that while S.B.F. was indeed making some contributions to Republicans through dark-money vehicles, it was still nowhere near the amount that he was spending on behalf of Democrats. No, he was not the country's third-biggest donor to Republicans. But before it all came crashing down, S.B.F. did have designs on being a major player in Washington—and bipartisanship, he hoped, would be a key part of the brand. He wanted a piece of everyone. Now, of course, everyone in Washington wants a piece of him.
FOUR STORIES WE'RE TALKING ABOUT
CNN's Haircut
Peter and Dylan discuss CNN's green room massacre.
PETER HAMBY & DYLAN BYERS

Pompeo's '24 Curiosity
Reporting on McCarthy's Speakership "five saboteurs," Herschel's touch-up, and more.
TARA PALMERI

The S.B.F. Orphanage
A close reading of institutional investors' remorse over the FTX implosion.
WILLIAM D. COHAN

Need help? Review our FAQs page or contact us for assistance. For brand partnerships, email ads@puck.news.
Puck is published by Heat Media LLC. 227 W 17th St New York, NY 10011.