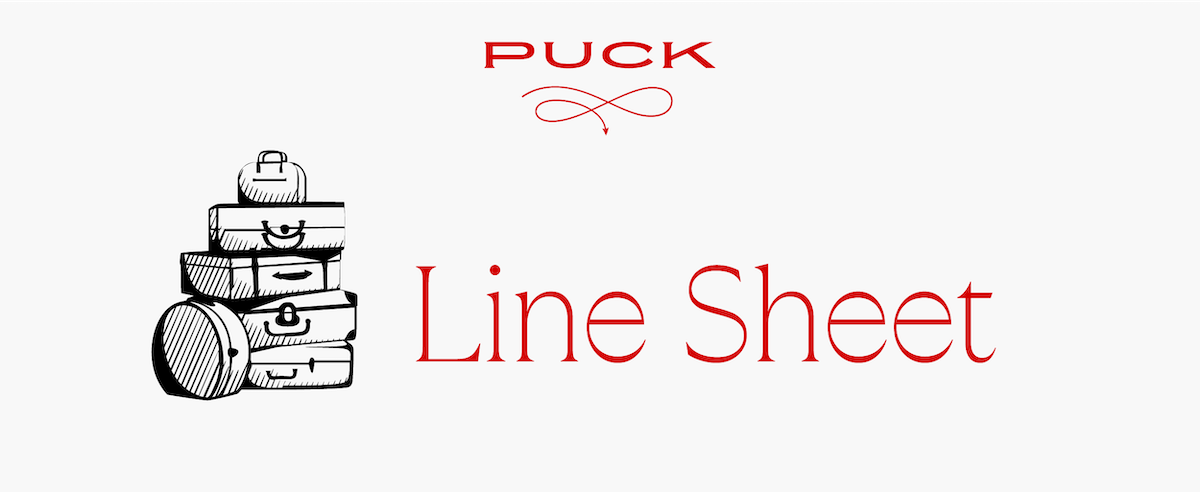 Hello, and welcome back to Line Sheet, my new private email, which a mentor recently called "already essential reading," a heart-swelling compliment and all that I really want out of this life. I hope you, too, are finding it essential, or at least useful, whether you work in this industry or simply follow its comings and goings. Thanks for all the sharp feedback and specific questions. I'll answer many of them in an upcoming mailbag.
In other news, I'm in New York for a while to attend some Puck events and meet with as many of you as humanly possible. The visit just so happens to fall during the Met Gala, so invite me to your parties—I might even stay up past 10 p.m. on May 1.
Remember, my private email is only free for the next couple of weeks. I hope that new readers subscribe to Puck: my colleagues aren't merely journalists; they are domain experts. Matt Belloni will bring you into the inner sanctum of Hollywood dealmaking; Dylan Byers offers an unparalleled view of the media business and the titans who run the show; and so much more. I don't want you to miss out, so subscribe early and use my code LINESHEET for a special deal.
Mentioned in this issue: Simon Porte Jacquemus, Laura Brown, Matthew M. Williams, Carine Roitfeld, Kanye West, Virgil Abloh, Bernard Arnault, Jerry Lorenzo, Alfred Chang, Sally Holmes, Julie Wainwright, Rati Sahi Levesque, Sidney Toledano, Michael Burke, Andi Owen, Pierre-Yves Roussel, Maximilian Bittner, and many more.
And now a story in miniature on what everyone is talking about, plus a few more items about what's on everyone's mind…
The Jacquemus-Givenchy Elephant in the Room
I've heard that we should be expecting an announcement soon regarding the future of LVMH-owned Givenchy, whose current designer, Matthew M. Williams, has had a tough time. A lot of people are lukewarm on him: retailers, editors, and consumers, even as the product and styling (shoutout Carine Roitfeld) have improved. Williams was appealing to LVMH, in part, because of the company he kept: he was in the Kanye West/Virgil Abloh circle, and his own line, 1017 Alyx 9sm—yes, it sounds like a bomb or a paint swatch—was more than merch at a time when merch was the thing. Williams was early to tap into the trend of late 1990s, early 2000s fashion nostalgia. Once upon a time, I asked him backstage at a show why he was using seat belts as belts, and he mentioned roller coasters… that's all I remember.

But the Kanye association doesn't really do much for you these days. When Ye, as he is now known, was having his meltdown in the fall of 2022, he posted his own concerns for Williams' position at the company on Instagram (originally in his customary all-caps style): "Matt I didn't like the way Sidney Toledano spoke to you before your show the other day and they forced you to make clothes that weren't you…."

Anyway, LVMH tends to stick by its designers far longer than expected if the parentco believes that they will eventually find their footing and become commercially successful. (Under Hedi Slimane, Celine took a while to get going, but is now growing rapidly, surpassing $2 billion a year in sales.) And of course, LVMH executives interview a ton of people for a position before landing on the right person. Last fall, the names that were being thrown around to succeed the late Abloh at Louis Vuitton were not Pharrell.

Last week, Givenchy rumors abounded, with a Paris-based source floating the notion that longtime Givenchy designer Riccardo Tisci was set to return after his stint at Burberry and flirtations with Versace. But I wasn't convinced that was true. Then, I heard from two people with superior access to information (including someone inside Givenchy) that Simon Porte Jacquemus, whose namesake line is a global sensation, generating more than $200 million in 2022 through sheer will, is the guy. Of course, as I wrote the other week regarding Tom Ford's likely exit from his namesake brand, one should never 100 percent endorse informed speculation, especially in the fashion business, until the official statement goes on the wires.
And indeed, it seems that the speculation was wishful thinking. I'm sorry to report to you all that Jacquemus is not going to Givenchy, according to a person with direct knowledge of the situation. (Glad I asked!) Maybe Mr. Williams is sticking around for a while after all—we will see. It was just announced at LVMH's annual investor day that the head of the fashion group, the aforementioned Sidney Toledano, is stepping down, so there's also a chance it'll be his successor's job to sort it out.

But there's little doubt that LVMH would want to hire Jacquemus: he's one of a few designers working right now who has it all. His brand is successful because his prices are high, but not too high, his clothes have an original look, and his marketing is eye-popping. He's best known for staging off-calendar runway shows in gorgeous locations, like a lavender field in the South of France or a beach in Hawaii, and he recently pulled off a stunt wherein he sent ginormous handbags on wheels (worthy of the Macy's Thanksgiving Day parade) speeding down the streets of Paris. His store on the Avenue Montaigne consistently has a line out the door, partially because his teen-tiny handbags and cutout-forward dresses are irresistible to young people, and partially because it's cheaper than anything else you can buy on the boulevard.

Jacquemus has long resisted overtures from these types of companies regarding these types of jobs. But even if he's not taking Givenchy, I think now might be the right time for him to consider a move. Building a fashion business is tough at any size, but crossing the $500-million-a-year revenue threshold requires significant capital, whether you're paying to acquire customers online or in newly opened stores. Any sort of deal with LVMH would likely include some sort of equity investment in the Jacquemus brand, and who wouldn't want their operational support? Otherwise, he could go the private equity route, but that may be less glamorous. (He'll get access to fresh capital, but his operational leads will also be replacing his colleagues' MacBooks with Acers.). Like I said last week, it's one of the few brands that investors are keen on right now.

For LVMH, it's simply very sensible to have a talent like Jacquemus under its umbrella. Bernard Arnault, the world's richest man, is obviously an economic animal, but he also understands a self-evident point that a lot of American retail executives nevertheless don't totally get: creative talent, whether in design or marketing or a combination of both, is the key to building lasting, powerful brands. So yes, Jacquemus could make any LVMH brand cool and desirable in the short term, but he is also just a good person to have in the tent.

The risk for Jacquemus, if he were to take on a second brand, is that he doesn't get it exactly right and his personal credibility suffers. This has happened to other designers, like Alexander Wang, when he was designing for Kering-owned Balenciaga. I guess it just depends on what he really wants for his brand, and how he thinks he can achieve it.

And now, as promised, a couple more hors d'oeuvres before the main course…
More Kanye and Calvin Klein 2.0-ish
"The best part of L.A. is that you don't have to go to events," replied a friend after I asked him if he planned on heading to the Hollywood Bowl for the Fear of God show last Wednesday. But in this case it felt like it was worth the traffic jam, if only to clock the crowd. (I noted several elegantly dressed dudes in crewneck sweaters and oversized chesterfield coats, comedian Bill Burr in a Fear of God sweatshirt, Beef's Young Mazino in a muted knit and the Clermont twins in… Rick Owens? Everyone else was wearing black.) Plus, the Hollywood Bowl is one of the most perfect places to see live music in L.A., with nary a bad seat in the house, which makes it an ideal fashion show venue, too.

The last show held in the historic venue was Calvin Klein, exactly 30 years ago, and Fear of Good is a fitting follow up, given that designer Jerry Lorenzo is also categorizing his main line as luxury, à la The Row, Khaite, and newer brands Fforme (launched by longtime fashion executive Laura Vazquez and product designer/venture capital royalty Nina Khosla) and Stoffa. The new collection was filled with the monochromatic, broad-shouldered suiting that is dominating the collective fashion consciousness right now, so obviously inspired by the great Giorgio Armani. What makes Lorenzo's take so American, and modern, is that the look is sophisticated yet not costume-y at a time when much of what's on the runway feels out of touch with reality. Backstage, he said that he wasn't interested in designing "showpieces"—even the finale look, a giant fur coat, is something he'd want to wear himself.

Lorenzo has style, but he also has a successful line of jazzed up blanks that at one point, I've heard, generated $100 million a year for Ssense alone, a simulacrum of '90s-era Calvin Klein. Depends on who you are and where you live, but Fear of God is the biggest brand in the world in the eyes of many people, particularly teenagers in the suburbs, who buy the "Essentials" line—t-shirts, basketball shorts in muted colors—at PacSun, one of the few remaining mall stores still around from the '80s and '90s. The two businesses have fed off each other for some time. In January, Alfred Chang, PacSun's longtime C.E.O., left to run Fear of God.

The risk for Essentials in the long term is that it becomes the B.U.M. Equipment of the 2010s, not the Calvin Klein. For now, though, it's still moving forward. The commercial success of Fear of God was evident in how the whole thing was staged: the venue, the fireworks, the finale performance by Pusha T. I've been to fashion shows that cost $20 million or $30 million to put on, and while I doubt this was that much, it wasn't nothing. The company certainly got a bump from Adidas, which is releasing its first sneaker with Lorenzo after two and a half years of development. Lorenzo likes to take his time on everything—the show also started an hour and a half late, just after West, with whom Lorenzo has also had a long friendship, slipped into a seat. What really caused the delay, I wonder: Kanye or the pursuit of perfection?
The InStyle Chronicles: Life After Laura Brown
The tragedy of womens' magazines is sadder than a country song. For generations, Glamour, Elle, InStyle, and Marie Claire, among others, were leading voices in teaching women how to dress, introducing them to pop culture trends, and in advising them on personal issues before the Internet turned everyone into advice columnists. Sure, they weren't ever going to reach the altitudes of true fashion journals, like Vogue or Bazaar or even Tatler, but their editors were stars: Cindi Leive was a genuine New York cultural figure during her extensive run at Glamour, with some people speculating that she might run for office someday.

But obviously, that all began to change after 2008, as the cultural fabric was broadly torn asunder by two trends: the migration of consumer packaged goods advertising to the Internet, and fashion houses' decision to focus their marketing spend only on the core endemic titles. True fashion magazines and newspaper supplements that appeal to older people with money have remained slightly insulated—WSJ, How to Spend It, etc.—and, of course, wealth porn like Town & Country. I thought InStyle might fall into that category. That magazine was thick when Ariel Foxman was running it.

Perhaps it seems contradictory, but InStyle's move upmarket upon the appointment of Laura Brown as editor in chief was actually the beginning of the end. Brown made InStyle younger, and more insidery, and she also brought reporting on social issues into a magazine that was mostly known for intel on celebrity beauty routines. But in abandoning those middle-class ladies who just wanted to know where to find a pair of nice-fitting trouser-jeans at the Glendale Galleria—at one point the median age of the magazine was 45—something was lost.

Alas, there was no time to see what could be gained under Brown's new vision. She came along as the brand was getting ripped up through multiple sales—from Time Warner's Time Inc. to the orphaned Joe Ripp-era Time Inc. to Meredith to Barry Diller's Dotdash, a rollup of once-prestigious brands perpetuated to arbitrage search algorithms. Brown exited when the print publication ceased in February 2022. Such is life.

So I was only relatively surprised to hear that the company hired Sally Holmes, the editor in chief of Marie Claire—once owned by Hearst, now under the watch of U.K.-based Future—as its first editor in chief since Brown's departure. While Brown brought celebrity connections and industry gravitas to the magazine—she's friends with everyone; just see who comments on her Instagram—Holmes represents a new generation. She can sit comfortably on stage with a Fortune 500 C.E.O. or A-list star, but also grew up on the Internet and understands the realities of the new business model.

Perhaps Dotdash is looking to her to elevate what's left. The team over there sent me a comment saying as much: explaining that Holmes is the first combo E.I.C.-general manager hired by the company, and that her track record on and offline (developing events, shepherding Marie Claire through sale to Future, etc.) made her an ideal candidate.

After all, the brand still holds value to the consumer and has a lot of pull with celebrities. (Unique visitors totalled 15.7 million in February 2023, up almost 8 percent from a year earlier, according to Comscore.) Holmes, whom I've known for a long time, can certainly play both sides. However, she's coming into a place that one former InStyle employee called "very internet 2016." During the company's January 2023 layoffs, the goal became "to hire a bunch of contractors on Monday and double the content by Thursday," this person said. "Guys, we've already been through this. It doesn't work."

While I don't think Dotdash execs would disagree that the goal is to publish more stories, the internal M.O. seems to be to create high-quality content: just do a lot of it. We'll see if it works at InStyle.

And now, at long last, this fabulous story I've been waiting to tell you about…
The other day in trampoline class—yes, it's great cardio, happy to tell you about it—my workout buddy, who runs a hedge fund, brought up The RealReal in between dynamic kicks. She noted that there was an increasing interest in the fashion resale site's debt. While her firm wasn't gobbling it up, she knew many that were interested in accumulating positions.

The vultures are out for a reason. The company currently has a market cap of around $120 million and its stock is down more than 90 percent from its (totally unnatural but nevertheless real) pandemic high. It's been downgraded by virtually every analyst covering the stock. Operating at a loss, by the end of 2022 The RealReal had $450 million in convertible debt, with an accumulated deficit of $950 million.

At some point, The RealReal will likely have to find a buyer that will take it private, or file for bankruptcy protection, restructure, and then find a buyer. I doubt it will shut down, though. Unlike a traditional-but-beloved retailer, such as Barneys New York, which sadly went bust in 2019, The RealReal feels essential to many of its users. It's a good product with an unproven business model. Hopefully one of the debt vultures might also be a savior.
When The RealReal was founded, back in 2011, shopping for secondhand clothing was a sport played only by enthusiasts. (As a teenager raised in the Pittsburgh suburbs in the '90s, the fact that my friends and I shopped at Goodwill for vintage prom dresses made us "alternative.") Even lower-income people weren't prioritizing charity shops and the like: clothes at Target and Walmart were both new and inexpensive, so why bother sifting through musty-smelling racks?

I'm not exactly sure what changed a decade ago, other than technology and acceptability and, perhaps, an extended generational recession that disadvantaged consumers. And maybe the rise of fast fashion, which made it easy to stuff your closet with cheap-and-cool clothes, weirdly rendered secondhand goods more appealing. Soon enough, thrifting became a part of the customer "journey" in the U.S., just another thing you do when you're looking for a dress to wear to a wedding, or a pair of loafers, or a blouse in a particular shade of blue.

The total addressable market for secondhand clothing is expected to double by 2027 to $350 billion, according to an annual consumer trends report released by online secondhand retailer thredUP. And yet, despite the demand, it's really hard to make money off of pre-worn garments, at least at scale. The logistics are labor-intensive and human-intensive. The brilliance of a traditional peer-to-peer marketplace, like eBay, is that demand determines the price and labor isn't a fixed cost: The seller usually sends the goods to the buyer.

The RealReal operates on a consignment model, meaning that a seller ships the product to a warehouse. From there, it gets examined and priced based on quality, scarcity, popularity, etc. The seller then gets a commission on each purchase: The more expensive the item is, the higher the pass-through fee. Business models are everything, and this one has a lot of leakage.

When I interviewed The RealReal founder Julie Wainwright in 2012 for my first story surveying this flourishing market, she was in the process of rebranding herself after her failed journey as the former C.E.O. of Web 1.0 horror story Pets.com. But she was also recreating some of the same mistakes that plagued that era. She was adamant that the company would win because she would raise the most money, and would scale the most quickly. By 2012, she had already raised $8.5 million for The RealReal, and would hit $288 million by 2018.

Obviously that was a suboptimal answer that hasn't aged well for a money-losing business that operates upside down. More fundraising on such a model also led to more costs and losses, and then there's the issue with fakes, or misidentifying products—like when my friend claimed they priced a $30,000 exotic-leather bag at $400—which honestly, I don't even think they can really control any better than they already do. (That's a risk connected to buying secondhand that's difficult to mitigate.)

Overall, though, this has created a false market, one where consumers get things for much cheaper than they actually should, and the expectations are skewed. I thought that something like Vestiaire, which operates a sort of hybrid model where items are sold peer-to-peer but pass-through authentication if they're over $1,000, might have a better shot. But the business remains unprofitable, and faces many of the same challenges as The RealReal. It's promotional in certain regions, with a lot of money wrapped up in operations—and because the U.K. was a big market for them, Brexit had a major impact on trade. (They only recently opened an authentication center there.)

Maximilian Bittner, Vestiaire's current C.E.O., who joined (and invested in) the business in 2019, after selling Lazada.com, a Southeast Asian online marketplace, to Alibaba, argued that this narrative was false. He told me that Vestiaire's model is unique, and that the company could be profitable in "three or four months" if he wanted it to be, but has instead chosen to invest in new technology and business, like opening in new markets, instead of showing profitability on a unit basis.

While Bittner may disagree, one former employee called Vestiaire's strategy "chaotic" and "short-term," noting that the luxury part of the secondhand market is still fairly small, and trying to scale relative to the amount of money they've raised—more than $700 million, including an $80 million revolving credit line at the end of last year—would be difficult. "I don't think they have a clear vision of what will make it profitable or how to do it," the person said. "It costs so much, and it also relies on [sellers] to take good photographs, and price things properly."
So, what's going to happen to these businesses? The market is already consolidating, with Vestiaire picking up Tradesy, a middling competitor to The RealReal in the U.S., in 2022. And there's certainly a chance that The RealReal and Vestiaire could merge or be combined through a multi-step M&A transaction. (Bittner called the two business models "complementary.")

I asked both The RealReal and Vestiaire how they plan to become profitable. The team at The RealReal sent me a very thorough explanation from Rati Sahi Levesque, the company's chief operating officer, who's been with The RealReal since the beginning and is a huge reason it's so popular.

In short, Levesque said she believes resale can be profitable if it's more efficient, which includes everything from decreasing processing times (so more stuff gets on the site faster) and tweaking the pricing model to lowering the costs associated with authentication and mining new revenue streams, like on-sight advertising. "We wholeheartedly believe we can do this," she said. "It's just a matter of time."

Meanwhile, Bittner told me that there are three big things he's done to move toward profitability: create a close-to-seamless customer experience with lower logistics costs; increase engagement (peer-to-peer selling is inherently social); and build a business rooted in circularity (a word the fashion industry likes to use when they're talking about clothes that have an endless life cycle). He also argued that Vestiaire is far less promotional than many of its competitors, especially outside of the U.S.

One industry insider made a separate observation that seemed directionally correct: the key for individual brands is to own the secondhand experience, as the auto industry has done for generations and the TV business did, to some extent, with Hulu. I've seen that come to life in a seductive way, like at the Dries Van Noten store in Los Angeles, where there is a room filled with pristine past-season pieces. Valentino has partnered with vintage shops all over the world, like Recess in Los Angeles and The Vintage Dress in Tokyo, to create shop-in-shops populated with refurbished wares. Coach sells second hand bags under the Reloved moniker, and just launched an entire two-years-in-the-making sub-brand, Coachtopia, that features accessories, handbags and clothing made from recycled materials.

If this becomes the case, The RealReal and Vestaire may become valuable to existing players on account of their existing tech, supply networks and expertise. But until then, the hedge funds will keep hovering.
What I'm Reading… And Listening To…
Alessandro Watch: This Italian publication reports a rumor that Mayhoola, the Qatari-backed luxury firm, has hired Michele to relaunch Walter Albini. [Panorama]

As mentioned briefly above, big-name fashion exec Sidney Toledano, best known for transforming Christian Dior into a luxury powerhouse over the course of 20 years, is no longer going to run the LVMH fashion group, which he's been doing since 2017. This is a surprise to no one. A while back, I heard from a high-level LVMH source that his original contract was only for three years, and my guess would be that the pandémie slowed the process of finding a successor. The big rumor, reported by Astrid Wendlandt, is that former Louis Vuitton C.E.O. Michael Burke is up next. What's most interesting to me is: What kind of person should be in that role? Prior to Toledano, it was held by Pierre-Yves Roussel, now the C.E.O. (and husband) of Tory Burch. Roussel was a serious talent scout, bringing the likes of Jonathan Anderson and Phoebe Philo into the LVMH fold. But LVMH is a much bigger business than it was even 10 years ago, and the brands, including Loro Piana and Rimowa, are more commercial than ever. From a brand-management perspective, Burke, who brought Virgil Abloh to Louis Vuitton, is ideal. [Vogue Business]

Everything about Lemon8, TikTok's Instagram-y app. [BoF]

If you want to know what Calvin Klein's 1993 show at the Hollywood Bowl was like, read Bernadine Morris. It makes you remember how much more slowly the fashion business used to move. [NY Times]

I'm sure a lot of you know MillerKnoll C.E.O. Andi Owen, as she was a Gap lifer prior to joining the furniture company. She has since apologized for telling employees to "leave pity city" over missed bonuses in a video that went viral, but I imagine there was still a good amount of schadenfreude coursing through veins at planning and allocation meetings in San Francisco last week. [WSJ]

Here's an in-depth report on how to avoid another Rana Plaza—and the good and bad of the Bangladesh Accord—from my former colleague (and the leading industry reporter on this stuff) Sarah Kent. [BoF]

Is there an LVMH store not designed by Peter Marino? I need to fact check that. No matter, I'm looking forward to checking out the newly renovated Tiffany flagship while I'm in New York. [NY Times]

If you want to get better at P.R., I suggest you listen to this interview with Kevin McIntosh Jr. Thanks to Alexander for the tip. [Spotify]

Apple's "mixed reality" goggles are on their way. Can't wait for the "what are the implications for fashion" essays. Until then, you can read my husband's explanation of what they are exactly, what they'll do for you, and why you should pay attention. [The New Consumer]

Gucci is being investigated by E.U. regulators regarding potential antitrust violations. Doesn't sound good. But how bad is it? [Reuters]

Fashion search index's Lyst's quarterly ranking of fashion's "hottest" brands, measured by "searches, product views and sales," is out. Prada and Miu Miu rank #1 and #2—I can't disagree!—with other top-performers including Moncler, Valentino, Loewe and Bottega Veneta. [Lyst]

The idea of Coachella—the heat, the crowds in denim cut-offs sporting dirty fingernails, porta potties—makes my skin crawl, as does most Coachella-related fashion reporting. But Chavie Lieber's take on the big, often messy, influencer party that L.A.-based fashion site Revolve throws each year is worth a scan. [WSJ]
FOUR STORIES WE'RE TALKING ABOUT
Tom Cruise Index
A list of the movie stars audiences crave most.
MATTHEW BELLONI

Pity City Postcards
Springtime for I.P.O.s, jitters in P.E. land, and an unfortunate rant.
WILLIAM D. COHAN

Bidenland Travelogues
A Biden inner circle denizen on the re-election, Hunter, DiFi, and more.
TARA PALMERI

Need help? Review our FAQs
page or contact
us for assistance. For brand partnerships, email ads@puck.news.
Puck is published by Heat Media LLC. 227 W 17th St New York, NY 10011.