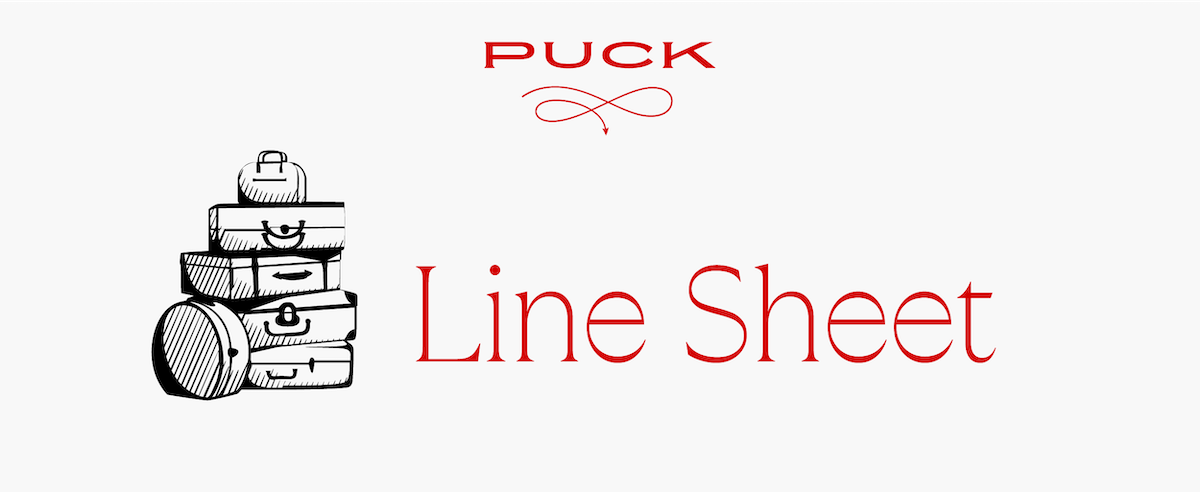 Hi, and welcome back to Line Sheet. I'm writing to you from sunny Los Angeles, where apparently there was some sort of storm on Monday? I don't know, I'm from the East Coast, but it seemed pretty mild to me!
This week, I'm answering the unanswered questions, such as: What's up with all these fashion people promoting Prenuvo body scans? And: What happened to all those canceled photographers? And most importantly, for all you DTC heads, I've got the exclusive on an unorthodox plan to sell and revitalize Outdoor Voices, which has been bleeding cash over the past few years.
I look forward to seeing many of you next month, when the real work begins. Don't miss a dispatch—use my special code, LINESHEET, for a discount.
Mentioned in this issue: Tyler Haney, Bruce Weber, Kim Gordon's closet sale, Mickey Drexler, more Wintour succession gossip, Denver Rayburn, Silicon Valley Bank, Tyler Mitchell, Alo Yoga, Ashley Merrill, Terry Richardson, the Kardashians (sorry!), David Bellemere, Greg Kadel, and many more.
But first… an update on fashion's greatest medical breakthrough since cigarettes and Ozempic…
Did You Get Your Prenuvo Scan Yet?
Zac Posen, Gabriella Karefa Johnson, Kim Kardashian: Why are all these fashion people on Instagram promoting Prenuvo? No, it's not a newfangled filler or weight-loss drug. The Los Angeles-based company, with locations across the U.S. and one in Canada, and London, and other cities coming in 2024, offers a $2,500 full-body MRI scan that can aid in early detection of various diseases.

I first noticed Laura Kim, the Oscar de la Renta creative director, posting about it in May, with a referral link at the bottom of her note. It wasn't surprising to see health-conscious Kim and her close circle of friends—including Nicky Hilton and UBeauty founder Tina Chen Craig—on the Prenuvo train, but things got a little weirder when influencer Aimee Song and Posen, then Kim and stylist Kareefa Johnson, all took to the grid, urging their followers to get scanning.
Kardashian is the odd woman out here. Of course she'd shill for something like Prenuvo, founded by a Stanford MBA with tech industry bonafides. And of course Prenuvo would want her and her family (including Kris Jenner) to share her experience with their millions of followers. But when it comes to the others, why target fashion industry insiders in particular? There must be some sort of orchestrated campaign, right?

Besides reaching out to Prenuvo, I pinged a couple of these ambassador-types, as well as people who know these people, and the strangest part may be that it doesn't appear that any of them are getting paid. (Not even on the affiliate link at the bottom of each post.) Kardashian even tagged her missive with #notanad. There also doesn't seem to be an organized recruitment plan: Some of the Prenuvo posters learned about the service through friends, others reached out directly to the company, I'm told.

In an email, Raja Haddad, the C.M.O. of Prenuvo, said that the company does not work with an agency to recruit "influential voices," and that no one is paid or on contract for "public advocacy." They also don't pay for leads generated from the discount codes or referral links. "That would run against our ethos," he said.

What many of these influencers do get is a free scan. Not a bad deal, and logrolling really is the historic currency of fashion. And it seems to be working, because I have now heard of Prenuvo.

And, before we get to Outdoor Voices schadenfreude, a blast from the '90s (and early aughts) past…
Another Instagram observation: Nearly six years after accusations of on-set misconduct were made against Bruce Weber and other top photographers, it seems that the burly and bandana-ed star has emerged the least damaged, if not entirely pristine. Weber and wife Nan Bush seem to be having one hell of a summer, with friends in The Hamptons @-ing them left and right, and the Webers themselves generously doling out "Love, Bruce and Nan" comments on various posts.

Perhaps it's because he was the most important of the lot. In the 1980s and '90s, Weber aided in defining the look of Americanness, first through bucolic scenes shot for Ralph Lauren, then black-and-white imagery for Calvin Klein and Abercrombie & Fitch that held a more overt sexual charge. After the New York Times report, Weber stopped getting commissions from major brands and mainstream publications. In a statement at the time, Weber said he was "shocked and saddened by the outrageous claims being made against me, which I absolutely deny."

But Weber remained highly influential on imagemaking, and continues to shoot for indie magazines and exhibit his work internationally. (Less than a year after his ostensible cancellation, the Times ran another story about his quiet return.) His primary source of income these days is likely private portraits, which wealthy people commission. Plus, his decades of work had already made him quite wealthy, as attested by his Montauk estate.

Mario Testino, the other subject of the Times investigation, is definitely on the portrait circuit, and is also offering a $188 online course called "Creating Images" through his own website. Just months after the Times story came out, there was a Boston Globe investigation that named Patrick Demarchelier (who died in 2022) as well as a string of other still-prominent, if lesser-known photographers (including David Bellemere and Greg Kadel), but the range of accusations varied so wildly that it was, I'd posit, taken less seriously.

Ironically, the disgraced photog who has truly fallen off the map wasn't named in any of these articles: Terry Richardson, the king of the direct-flash, whose sexual advances were often captured on camera. Occasionally he'll be sighted upstate on the playground—or at Erewhon in Los Angeles—but there are no whispers of covert campaigns, that sort of thing. I guess I find it strange that Richardson has been alienated, given that his actions were never hidden from the public—you could see what he was up to by simply scanning his portfolio—but perhaps that's by his own design.

When it comes to the canceled photographers, the fashion industry seems to want to forgive and forget—or at least forget. Why? Well, for one thing, complicity. Pretty much everyone knew about this behavior, and nobody did anything about it, and many were active participants. The blow-up did, however, clear some hard-to-scrape debris off the slate, allowing younger photographers to rise higher. (I'm thinking of Tyler Mitchell, who is only 28 but producing increasingly compelling work; Collier Schorr; and Renell Medrano, to name a few.) Are things better now? More professional? On commercial shoots, the answer is probably, usually, yes. But there are also a lot of people who were let off the hook when this all went down. I'm thinking of a prominent female photographer, whose name comes up time and again as a bad actor. Not all progress is linear.

Now: Outdoor Voices—the athleisure controversy that just won't quit!
I was on a call yesterday with an Outdoor Voices investor, talking about everything but Outdoor Voices—because who cares about Outdoor Voices these days—when someone texted me a pitch deck. It came from Interweave, a newish investment firm, and two partners, FightClub Management and Goodlife Clothing. Denver Rayburn, Interweave's founder and C.E.O., previously worked at the well-known venture capital firm Norwest, which bought a stake in another, seemingly more successful activewear brand, Vuori, in 2019.

This deck was an attempt to secure financing—"as little as $4 million-$6 million"—to buy Outdoor Voices, the pioneering (and subsequently distressed) activewear brand that ended up being more style than substance. Founded by Tyler Haney and Matt McIntyre in 2012 or 2013, depending on whom you ask, its rise and influence on the way people dress was documented by dozens of outlets, including The New Yorker (ugh, I hated that piece)—and me, here, here, and here—as was its spectacular fall, which perfectly encapsulated the tension that develops when venture capitalists look for fast, profitable growth in apparel companies that require a longer timeline to develop. Not to mention the risk associated with investing in a company founded and run by someone with zero experience. Really, it's the story of the last 20 years of startup culture. But especially in startups that sell apparel.

By the time Haney was ousted as C.E.O. in early 2020, Outdoor Voices was losing money on something like $74 million a year in gross sales, according to this deck. (Mindshare over market share!) Then, a few months later, during the pandemic, an entrepreneur named Ashley Merrill, C.E.O. of the direct-to-consumer pajama line Lunya, bought a majority stake in the brand through NaHCO3, the firm she started with her husband, Marc, one of the guys behind Tencent-owned Riot Games. Merrill and Haney played nice for a few months, and then Haney fully dislodged from the business.

Last year, in the summer of 2022, I viewed another pitch deck—this one from Outdoor Voices, itself, which was looking to raise more capital or sell. At the time, a person with access to the company's finances told me that Outdoor Voices was not profitable on an EBITDA basis, despite the fact that the deck lauded the brand as "first order profitable," whatever that means. Merrill followed up, noting to me that the company closed 2021 as "EBITDA neutral," with month-to-month profitability varying. Nothing came of that attempt to exit—at least nothing that was made public.
What's Going on Here, People?
Why couldn't Outdoor Voices find a buyer last year? Given that the company generated close to $100 million in top line revenue in 2022, the $4 million to $6 million required to finance Interweave's bid seems like a tiny sum. But here's the knife. Despite pretty chunky revenue for a brand that sells mostly direct-to-consumer, the company lost nearly $19 million in 2022, and posted a "profit before taxes" of negative $35 million, accounting for $15 million in interest expenses. (So much for that recent New York magazine story on Haney, which casually claimed that OV was profitable.) "OV has a complex cap table and investor history, all of which can be side-stepped by acquiring the company through its lenders in a bankruptcy process," the deck reads, calling OV "a beloved brand without a business model."

The would-be owners cite an "over-reliance on discounting and markdowns of slow-moving inventory," and a "bloated corporate structure" as major culprits, declaring its COGS (cost of goods sold)—64 percent of net revenue in 2022—"worst in class driven by lack of sourcing sophistication and unoptimized shipping and logistics." One of the more alarming stats is the cost of labor and consulting—$17.6 million in 2022, or 29 percent of net revenue—up from $14 million, or 20 percent of net revenue in 2021. That's not normal. Especially given that marketing expenses—which are actually in line with what they should be—barely increased year over year.

Basically, this says that Outdoor Voices is a shit show, and while there's still plenty of goodwill from consumers, it appears, at least according to this deck, that it's going to sink if someone doesn't swoop in.

When I reached out to Merrill, she said that Outdoor Voices began fundraising talks with Interweave back in April, but that the company decided not to move forward, and that Outdoor Voices is not in any active conversations to sell. And yet, this pitch deck is still circulating in mid-August, outlining a scenario in which Interweave raises $2 million to $3 million to buy the company's debt from Silicon Valley Bank at a discount, then raises another $2 million in financing to allow OV to keep operating during the Chapter 11 proceedings. (The deck says the process would begin on July 24, so it's got to be more than a month old.) When I texted Merrill about this detail, she said that the company has no plans to file for bankruptcy protection, and someone on the Interweave side confirmed to me that Outdoor Voices' debtors are not pushing for this.

In fact, Outdoor Voices has raised an additional $10 million this year, I've learned. According to a top OV executive, the company has improved margins and "drastically" improved operational issues when it comes to sales, inventory management and workforce inefficiencies, although they did not share updated figures.

As for whether Interweave is still trying to secure financing and then go back to Merrill and the board with an offer: it's possible, although it's unlikely that the plan would be the one outlined in this particular deck, but would entail an equity investment instead. (Apparently, there were multiple financing scenarios laid out by Interweave, and I just saw one of them.)
Outside the Color Block Thinking
Regardless of how they did it, would Interweave be a better owner for Outdoor Voices? In the deck, they lay out a four-pronged plan that includes licensing the brand's I.P., further developing the wholesale business, improving the product, and contracting celebrities to help promote and "add freshness to the brand for any consumers who have been turned of [sic] by lack of brand evolution."

Sure, that could work, maybe. I don't know enough about Interweave, Rayburn, and the other players to know if they are capable of a turnaround. Interweave, founded in 2020, already owns Snowe, a direct-to-consumer homegoods line, which it acquired in December 2022. I did find out that the firm, which is made up of financing and supply chain people, has done a couple more deals, and while they're looking at dozens of DTC brands a year, it's not Interweave's only area of focus.

But would Outdoor Voices be open to new ownership? It's been years since the company's original investors were hopeful that they'd make any money at all on the venture, so there likely wouldn't be much pushback. (In New York mag, Haney said that she would expect to make about $90,000 if it sold today.) Moreover, I would hazard a guess that most of Outdoor Voices' investors—which include top consumer firms General Catalyst, Forerunner Ventures, and Google Ventures—don't care what happens to it, having presumably written down their stakes to zero, and are reluctant to waste any more time on the company.

There are people who do care, who can't seem to let go. Including Haney, despite her insistence otherwise. She is certainly passionate about the brand, and the role she played there. When I broke the news of her exit in 2020, she messaged me on Instagram to say, "You're on the wrong side of history." Last year, after interviewing her about her newer ventures, my perception was that she had moved on. Then, just a few months ago, she started leaving correct, if unnecessary, criticisms of the mediocre marketing and product on the brand's Instagram posts. Finally, there was the why-are-you-doing-this-to-yourself New York article, in which she targeted her chosen nemesis, the retail executive and former Outdoor Voices chairman, Mickey Drexler.

I get why Interweave would be interested in Outdoor Voices: Haney created a good brand, and changed the market. Lululemon may have popularized athleisure, but OV made it kind of cool. Or at least fashionable. In the deck, they call "OV" a cultural icon. The word "icon" is vastly overused, but I understand what they are saying here.

The problem, of course, is that the OV consumer has moved on. (Mostly to Alo Yoga, which merged the Lululemon and OV playbooks to make something a little more cheesy, but a whole lot more scalable.) Many investors who might have backed Interweave's proposal have moved on, too. (I reached out to a few potential acquirers, and the ones who had seen the deck all passed.)

Honestly, speaking not as a business reporter for a moment, but as a person who likes clothes: I wish someone would just give Haney money to start something new. She clearly has a talent, and taste, and I want to buy things she makes. Putting my reporter hat back on: After talking to many of Outdoor Voices' investors, as well as others in the investment community over the course of the past 10 years, I don't think there are many people in the world who trust that she is capable of building a business, or capable of letting someone else build a business while she develops product. I actually hope I'm wrong. Because there is something about this dinky little company that gets people riled up. And I do think it's Haney.
A lot of people responded to my item on the evergreen Anna Wintour succession intrigue. Here were some of the most compelling ideas…

"I think Mark Guiducci is in the running… he was on stage with both Anna Wintour and Edward Enninful at the Condé Newfronts." —A marketing person

"Gabriella [Karefa Johnson]—same vibe as Eugénie Trochu [Vogue Paris] and Francesca Ragazzi [Italian Vogue]." —A C.E.O.

"For sure, it's Amy [Astley]. It was always said whomever took Architectural Digest naturally moves to the Vogue post." —A designer

"Totally unsubstantiated hunch but Chioma Nnadi for Anna's job?! Always thought the pattern was Edward to U.S. Vogue; Chioma to British Vogue, and then…?" —A C.E.O.

"On the Wintour replacement… I bet my heart and soul (I have neither fyi) that it's Eva Chen. She's probably the most recognizable fashion person in the fashion world, dare I say even more than Anna who hasn't really embraced social media to reach those new audiences…" —A comms exec
What I'm Reading… and Listening To…
Be sure to listen to my Puck partner Tara Palmeri's new podcast, Somebody's Gotta Win, about the 2024 election, so that the next time Anna Wintour practically forces you to pay thousands of dollars to attend a fundraising dinner for Kamala Harris, you'll feel like you know what you're talking about. [The Ringer]

I'm not as fatalist about brand collaborations as Amanda Mull—I think they are but one marketing tactic, and can still be effective—but I agree that most of them are ill-conceived. Down with Blue Bottle x New Balance! [The Atlantic]

Rory Satran giving us what we want: a primer on yacht fashion. (But I still need to know who is shopping for the lovebirds aboard the Koru.) [WSJ]

Jay McInerney's introduction for photographer Will Vogt's new book, These Americans—composed of snapshots of wealthy Americans in the 1980s—is accompanied by several images and quotes from Vogt, who was interviewed by Apple Martin, currently an intern at Interview. It's simply too much, and I love it. [Interview]

Perfect account of Kaitlin Phillips' wedding from Kaitlin Phillips. [Google Docs]

Congrats to Laila Gohar and her agent, Nick Mainwaring. [Olympia Gayot's Instagram]

Thierry Despont, the architect who designed homes for the likes of Calvin Klein and Mickey Drexler, just passed away. He was also the aesthetic mastermind behind several of The Limited founder Les Wexner's homes, including the now-infamous Upper East Side mansion that he sold to Jeffrey Epstein in the mid-1990s. Epstein used a different designer to redecorate it. [NYT]

Marc Jacobs Beauty is set to relaunch, this time with Coty, the brand's fragrance partner. [Business of Beauty]

An acknowledgement that Wirecutter isn't what it used to be, with an analysis of how online reviews became commodity. The lesson here: Good, nuanced reporting developed with grit and persistence endures and creates loyalty and goodwill. (Which helps to explain why people are obsessed with certain, exhaustively researched Substack newsletters.) Also: It's okay to be subjective. [The Atlantic]

Speaking of collaborations that serve a purpose: Target's Future Collective program, which taps niche influencers to design lines, is a fun, iterative approach to the concept. Most recently, the retailer launched a collection with Reese Blutstein, of @double3xposure fame. [WSB-TV]

Also, Eva Chen just launched a kids clothing collab at H&M. [WWD]

Booth Moore traveled to Santa Fe to meet with a crop of indigenous fashion designers, and it's pretty compelling. [WWD]

And finally… For those of you in Los Angeles who missed the Chloë Sevigny closet sale in New York last spring, Kim Gordon is hosting a similar event on Sunday, August 27 on Rowena Ave. in Silver Lake. I'm sure this will be a dream for anyone who covets X-Girl and multiple eras of A.P.C. You might see me there.
Until Monday,
Lauren
FOUR STORIES WE'RE TALKING ABOUT

Need help? Review our FAQs
page or contact
us for assistance. For brand partnerships, email ads@puck.news.
You received this email because you signed up to receive emails from Puck, or as part of your Puck account associated with . To stop receiving this newsletter and/or manage all your email preferences, click here.
Puck is published by Heat Media LLC. 227 W 17th St New York, NY 10011.