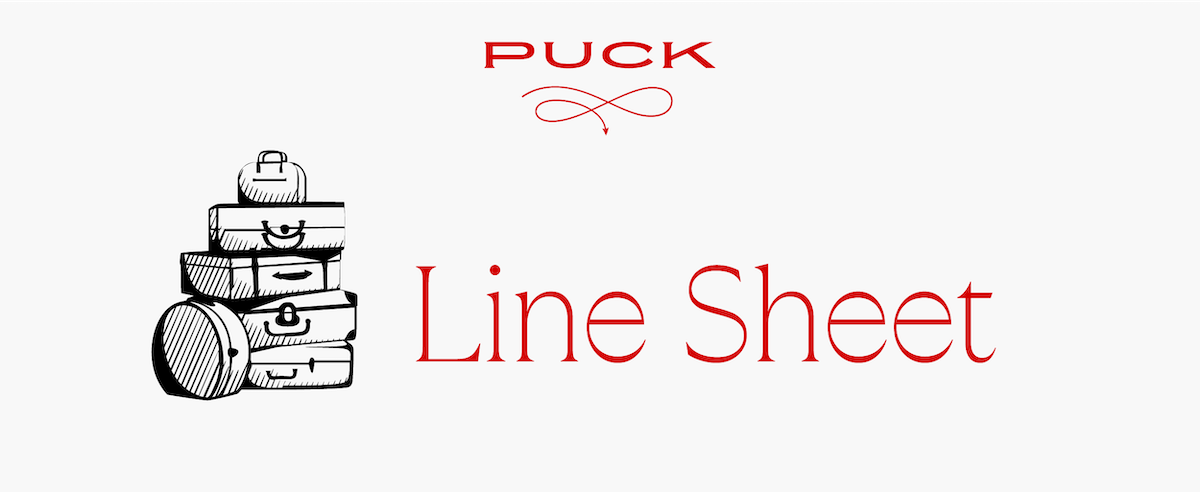 Hi, and welcome back to Line Sheet. Hope you're feeling okay. Social media is crazy.
Spoiler alert: you won't see me at any LA Fashion Week shows or events over the weekend. My myriad excuses include, but are not limited to: I have a wedding to attend, a small child to attend to, a book to finish (ugh, yes, I'm still at it), and also, I am tired. Please send reports, though. I want to believe.
More on the LAFW trying to make fetch happen below, along with my take on VF Corp's activist investor (maybe a blessing in disguise for Supreme?) and an analysis of the Taylor Swift–Travis Kelce fashion strategy (speaking of blessings, god bless the Ssense social media team).
For the main event, I dug into the back of my brain after years of covering the online luxury wars to give you a fresh take on Farfetch, and what its inability to cross the finish line into consistent profitability, among other challenges, really means.
Mentioned in this issue: José Neves, Taylor Swift and Travis Kelce, James Jebbia, Davide De Giglio and Andrea Grilli, Ciarra Pardo, Stephanie Phair, Condé, Sergio Hudson, Farfetch, Luis de Javier, Bethann Hardison, Federico Marchetti, Riccardo Tisci, and many more…
Activist investor coming for Supreme owner: VF Corp. is known, among many things, for a dedication to cost-cutting at the expense of brand development. Now, the activist investor Engaged Capital, which currently owns an undisclosed stake in the Denver-based company, is calling for more cost cuts: $300 million worth, as well as a $100 million reinvestment in Vans and The North Face, the group's two biggest brands. They're also encouraging VF to consider selling Supreme, Dickies, and a few of its other small brands, according to WWD. Ruhroh.

Let's think about this: Supreme was valued at a little over $2 billion when VF purchased it in late 2020, but it has failed to scale as fast as they had hoped post-absorption into the larger group. Some of that has to do with timing. Pretty much every apparel brand is struggling right now in the U.S. (yes, I know some are okay, but not many), and Supreme is at a tough moment in its lifecycle. It grew steadily in the days before the Internet, when chasing cool required a visit to a retail store. Then it blew up after it got investment, and consumers could buy the product online. Now, it's sold at mainstream retailers like Urban Outfitters and Pacsun, which may help raise topline revenue numbers but could also chill the core, once-rabid customer base. Supreme is a decidedly Gen X brand with Gen X values, and the selling-out distribution strategy feels goofy.

Perhaps it would be a better fit for another strategic group. But, hey, maybe it'll stay put, or return to private equity, or VF will let founder James Jebbia buy it back with a partner. No matter, it's still a wildly valuable property.
LA Fashion weak?: There are many, many fashion shows happening in the next few days under the auspices of LA Fashion Week, a newish initiative spearheaded by organization President Ciarra Pardo, the former creative director of Fenty. Some of these shows merit attention: On Wednesday, Tara Subkoff presented the latest iteration of Imitation of Christ at The Hole gallery; tonight Sergio Hudson is showing a capsule collection; on Saturday, Luis de Javier, who is being mentored by Riccardo Tisci, will launch his Spring 2024 collection in Hollywood. Despite my best efforts, it doesn't seem like I'm going to be able to make any of these events, due to scheduling conflicts. And, also, I've seen a lot of fashion shows lately…

Which brings me to my big question: What's the point of this? To make money, of course. But the problem with these ancillary fashion weeks is that few have a strong enough value proposition to get enough people to come. Copenhagen Fashion Week has succeeded, at least from my viewpoint, because there is a mix of local and globally recognized designers, and maybe most importantly, it takes place at the end of August, when it's beautiful in Denmark. It feels like a party. So far, LA Fashion Week does not feel like a party. But they seem to have some runway—pun sort of intended—so let's see what happens next year. And let me know what you think if you make it to any shows over the next few days; I'll include some feedback in Monday's newsletter.
The Traylor (Tayvis?) Fashion Equation
The Taylor Swift–Travis Kelce dalliance can be summed up as a series of strategic tactics, one of the most important being their fashion choices—both as individuals, and now as a maybe, actual couple. Just when I thought I was out on this celebrity "relationship" featuring two people I care little about, they pulled me back in with a few, uh, convincing public appearances and an entire wardrobe sourced from the Ssense end-of-season sale.

Just kidding, Travis Kelce happily pays full price for his clothes, which he buys himself, I'm told. Like many 34-year-olds with money to spare, the Kansas City Chiefs' tight end (still don't really know what that means) is a regular customer of the Montreal-based online retailer (pronounced S-sense), known best for its disturbingly deep discounts, but also for taking under-the-radar brands and transforming them into globally recognized names. (Fear of God, for instance, benefited from early distribution through the site.)

Last Saturday on a very public date, Kelce wore a $3,970 jacquard-knitted jacket by Jil Sander from a few seasons ago (ID-ed by the brilliant Ssense social media team). His new girlfriend, Swift, wore a $1,750 cropped bustier by Versace, some silly trousers that you probably already own, and a $340 handbag by the indie-label Aupen. Oh, and a checked coat, of which she seems to have many. (Town & Country identified this one as a sold-out style from Gant.) The next night, he wore a suede shacket-and-trousers set with a god-knows-what t-shirt, and she wore a sheer floral top by Jean Paul Gaultier, which retails for $320, a Balenciaga corset underneath, and a $1,958 Khaite mini skirt (marked down on Matches to $587) twisted backwards.

I'll spare you further outfit credits, but I will break down what I believe is the strategy behind their fashion choices. Herewith…

Let's start with Kelce. He makes $14.25 million a year in base pay, he likes clothes, and shops for himself, sometimes with the help of one of those dedicated salespeople who assist top spenders. According to the Wall Street Journal, Kelce doesn't work with a stylist. Fashion is a hobby, as it is for many professional athletes. However, his wardrobe is more important now because of his association with Swift. Here's a pretty remarkable example of her power: After Kelce wore KidSuper's "Bedroom" denim jacket and jeans, designer Colm Dillane renamed the set "1989 Bedroom." It sold out, of course. (It probably would have sold out regardless, but the name change couldn't have hurt S.E.O.)

My question: Is Kelce already influencing Swift? She is known for anti-Fashion fashion that I previously described as Anthropologie Gone Wild. In collaboration with her stylist, Joseph Cassell Falconer, Swift tends to favor looking conventionally attractive, often by ignoring trends. (You have to admire it.) Her fashion is aspirational to many 14-year-olds, or someone of any age who wishes to look like a senior at Emerson College in 2006.

Last weekend, however, something changed. The checked coat, the affordable handbag, those were expected choices. The wearing of the Khaite skirt backwards also felt very on brand. (As in, I doubt it was on purpose.) But the Y2K Gaultier, the gold-chain-strapped Versace… that's new. As I wrote a few weeks ago, Swift is nothing if not intentional, and there is a reason she doesn't front any luxury advertising campaigns despite arguably being the most famous entertainer in the world at the moment. But her Ssense turn says something about how she is using the Kelce relationship to shape her personal brand narrative. I'm not saying he's shopping for her, but…
Farfetch Dreams vs. Realities
Once upon a time, Farfetch seemed like the future of online luxury—and fabulous boutique brands and beauty and even a secondary market for sneakerheads. Is the YNAP deal its white whale, or the prelude to another public failure?
In September, by the time that Milan Fashion Week rolled around, it had been several months since the founders of New Guards Group, Davide De Giglio and Andrea Grilli, exited the business that they'd sold four years earlier to Farfetch, the luxury marketplace, for an enterprise value of $675 million. And yet, on some level, the reality of their departure was only just sinking in. Stephanie Phair, the president of Farfetch, based in London, was spending more time in Milan as NGG's new chairman, and there had been layoffs at the company—a.k.a the brand "platform" that operates Off-White™. As one employee described it, "We would walk in and an entire section of floor would be gone."

Like many senior Farfetch executives, including those who came from rival Net-a-Porter, Phair has a good reputation—even if many in Milan openly resented that her remit seemed to include "cleaning house." (A representative for Farfetch said that layoffs reduced headcount to 2021 levels, nothing more.) Regardless, there was no other choice for Phair and Farfetch: NGG generated $67 million in revenue (not including sales in the director-to-consumer channels) in the second quarter of 2023, down 42 percent from the year prior. NGG's biggest revenue driver, Off-White™, is struggling two years after the death of its founder, Virgil Abloh. And while other brands in the portfolio have done well—including Palm Angels, in which it has a 60 percent ownership position—none have become a breakout hit, which Farfetch had banked on when it acquired NGG in 2019. (A deal with licensing firm Authentic Brands Group to serve as Reebok's operating partner last year shows promise, but it's still early.)

The mess at NGG, of course, is minuscule in the scheme of Farfetch's larger problems. Dipping in and out of profitability during its 16-year existence, Farfetch long ago lost the confidence of public market investors, and is currently trading at $1.66 on the New York Stock Exchange, down more than 97 percent from its peak in February 2021, when its sales soared amid the lockdowns. Its market cap is currently $656 million.

Just this week, BoF reported that Farfetch was trying to sell Violet Grey, the niche beauty retailer it bought in January 2022 for about $49 million in cash and $5 million in stock. At the time of acquisition, Violet Grey was generating something like $20 million a year in sales and had raised more than $30 million in capital. Not the worst outcome, given that some investors did get a minor return; but definitely not the best outcome, either, for a business that had been pegged as the future of luxury beauty retail. In retrospect, Farfetch's attempt to crack the beauty market was simply another public experiment gone awry.

Now, Farfetch C.E.O. José Neves is waiting to see if European antitrust regulators approve his deal to acquire a 47.5 percent stake in Yoox Net-a-Porter Group (YNAP) from Richemont, the Swiss conglomerate that has owned the business outright since 2018. U.K. regulators already approved the agreement, which will give Richemont shares in Farfetch and offer Farfetch the option of buying the whole thing within three to five years. The deadline for the ruling is tomorrow, October 20. Phew. Because when I say that's not the half of it, I am not exaggerating.
Farfetch started humbly with an online marketplace that sold luxury goods from independent stores around the world, yes, but things got a lot more complicated. Over the past 15 years, Neves raised a lot of money, often billing Farfetch as the Amazon of luxury fashion. By 2016, the company had sucked in more than $300 million. A year later, Chinese e-commerce player JD.com invested nearly $400 million. Before you knew it, Farfetch had acquired Browns, the famous British fashion boutique, in 2015. Oh, and Neves also acquired StockX, a sneaker resale platform based in the U.S., to own a chunk of that market, too.

When Farfetch I.P.O.ed in 2018, the company raised $885 million, which made Neves a billionaire on paper. Then, a few months later, it raised $250 million more by selling convertible notes to Tencent and the San Francisco-based investment firm Dragoneer. Alas, while Neves' marketplace concept was sound, it wasn't sexy enough for all this new capital. In 2019, Farfetch acquired NGG and Neves envisioned a grandiose pipeline that started with brand creation—through the New Guards Group and Violet Grey—and ended on the sales floor at Browns.

In theory, that all makes sense: Farfetch could own the whole customer journey, from concept to second-hand sales. The problem was that a) none of these businesses was hugely profitable in their own right and b) Neves was so good at getting P.R. that every move he made, no matter how small or inconsequential, was closely examined. Many of the initiatives he touted never materialized, were delayed, or were not successful. (Remember the "Store of the Future," and the widely discussed partnership with Chanel that sort of vanished?) While I hear the partnership with Bergdorf Goodman—a re-platforming, using Farfetch technology—is still underway, it has been delayed by several quarters. Beauty, sold to investors as a significant opportunity to broaden the customer base, never took off.

When Farfetch signed the deal to acquire Yoox Net-a-Porter Group from Richemont in August 2022, it seemed that Neves' grand plan might finally pan out. Sales were falling as the pandemic boom died down, but the hybrid model—a mix of owned and managed inventory—was now becoming the norm. And Richemont, which never should have owned YNAP in the first place, was desperate to erase the nightmare from its balance sheet. Anyway, the deal made sense, or at least Neves could spin it. The online luxury industry was finally beginning to consolidate, and who better to lead the charge than Farfetch, which had emerged as the category leader? Meanwhile, despite struggling through mismanagement (in particular, former C.E.O. Federico Marchetti's ill-fated tech investments), Net-a-Porter was still beloved.

The challenge a year later is that things are 10 times tougher than they were, and still no multi-brand retailer has figured out a way to sell luxury goods online profitably past a certain scale. Neves' ambition to create this ecosystem through often unconventional acquisitions may have been a smart way to raise new capital, but many industry observers and Farfetch insiders alike believe that these initiatives—from NGG and Violet Grey to the Store of the Future—meant it was harder to keep his eye on the prize. (As investors love to say, most businesses die of indigestion, not starvation.) But perhaps the problem is that no one really knows what that prize should be any more.
What I'm Reading… and Watching…
Armani is selling a selection of garments from its archives at Bergdorf Goodman. Great idea. [Inbox]

I love the way Gwyneth Paltrow looks in these photos. Please, everyone, stop trying to be tasteful, it's so boring. [Bustle]

In the latest Outspoken Fashion People on Social Media news, Gabriella Karefa-Johnson removed her Vogue contributing editor-at-large title from her Instagram bio. (Remember, Karefa Johnson is not a full-time employee of Condé Nast.) [New York Post]

By the way, if you don't know how to act right now and/or you're pretty sure you're acting wrong, Bonnie Morrison may have some advice for you. [Is It Okay?]

Mark Cuban's streaming platform, Fireside, which raised a $25 million Series A earlier this year, has partnered with Fashionista to launch a network with a focus on career advice. [Inbox]

Kering has completed its acquisition of fragrance brand Creed now that the antitrust cops okayed it. [Inbox]

Jessica Diehl's long-rumored move to Air Mail to launch a style vertical has finally been announced. The gang is now truly back together. [BoF]

A conversation with Bethann Hardison and one of my favorite young fashion journalists, Sheldon Boyd Griffith. [Models.com]

Erewhon makes $864,000 a month selling Hailey Bieber smoothies. [The Hollywood Reporter]

My friend Sarah reported exclusively on the watch industry for several years, and her first personal purchase was a Jaeger-LeCoultre, which I think says something. Now, the brand is bringing its museum-style exhibition to New York in an effort to convince others they should do the same. [Revolution]

I know why I hate the term "quiet luxury." Luxury is not an adjective. [NYT]

Launchmetrics released a report on the power of Instagram as a conversion tool, I was quoted in it! [Launchmetrics]

Noah Johnson's definitive on Jjjjound. [GQ]
Until Monday,
Lauren
FOUR STORIES WE'RE TALKING ABOUT

Need help? Review our FAQs
page or contact
us for assistance. For brand partnerships, email ads@puck.news.
You received this email because you signed up to receive emails from Puck, or as part of your Puck account associated with . To stop receiving this newsletter and/or manage all your email preferences, click here.
Puck is published by Heat Media LLC. 227 W 17th St New York, NY 10011.